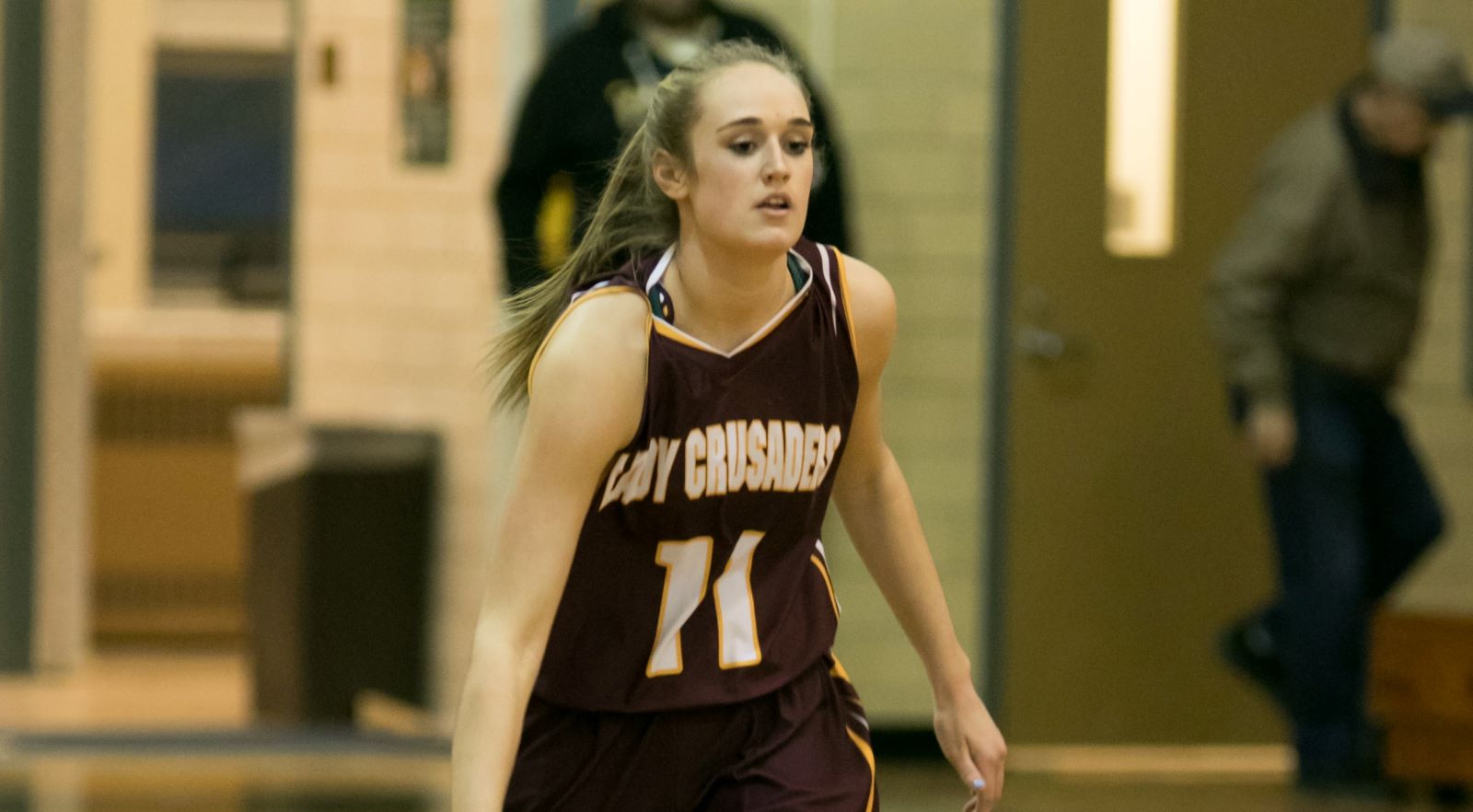 SHIPPENVILLE, Pa. – Three first-team All-District players from a year ago highlight the 2019-20 All American Awards & Engraving D9Sports.com All-District 9 Preseason Girls' Basketball Team.
(Photo of ECC's Taylor Newton. Photo by Jared Bakaysa of JB Graphics. See more of Bakaysa's work here)
Brookville's Marcy Schindler, Elk County Catholic's Taylor Newton and North Clarion's Abby Gatesman were all first-team choices on the 2019 postseason team, and they are joined on the 2019-20 preseason squad by 2019 second-team choice Sarah Weaver of Punxsutawney and 2019 third-team selection Tara Hinderliter of Redbank Valley.
Schindler helped Brookville to the District 9 Class 3A title a year ago by averaging 12.5 points, 9.2 rebounds, 2.4 steals and 1.9 blocks per contest, while Gatesman led North Clarion to its third straight District 9 Class 1A championship by averaging 14.3 points, 8.7 rebounds. 2.8 steals and 1.2 blocks per contest. Gatesman was a third-team Class 1A All-State selection and has committed to playing college basketball at NCAA Division II Clarion University next season.
Newton, who was also a Class 1A third-team All-State choice a year ago, also committed to jumping at NCAA Division I Pitt next year. Last season in basketball she averaged 17.0 points, 10.5 rebounds. 2.2 assists and 1.7 steals per contest.
Weaver, the lone underclassman on the preseason team as a junior, averaged 10.1 points, 3.2 rebounds. 3.0 assists and 2.5 steals per contest for the District 9 Class 4A champion Lady Chucks, while Hinderliter had a breakout season for Redbank Valley averaging 18.2 points, 9.8 rebounds and 6.6 steals per contest.
2019-20 ALL AMERICAN AWARDS & ENGRAVING D9SPORTS.COM PRESEASON GIRLS' ALL-DISTRICT TEAM
March Schindler – Sr., Brookville
Taylor Newton – Sr., Elk County Catholic
Abby Gatesman – Sr., North Clarion
Sarah Weaver – Jr., Punxsutawney
Tara Hinderliter – Sr., Redbank Valley