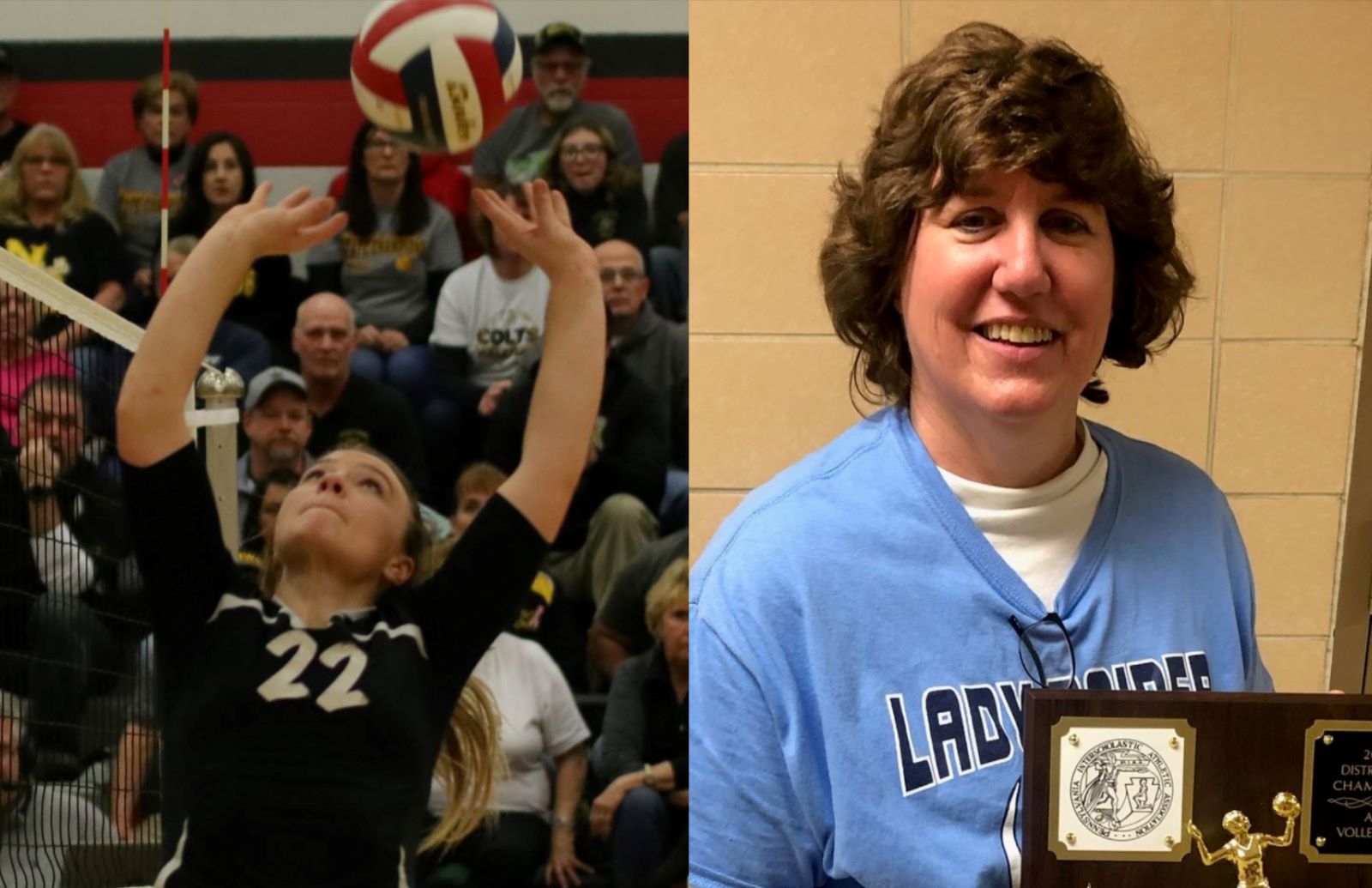 CLARION, Pa. – Clarion's Brenna Campbell highlights the inaugural D9Sports.com District 9 All-District volleyball team as the District 9 MVP.
(Photo: Brenna Campbell (left) and Joyce Reitz (right) were named the D9Sports.com District 9 MVP and Coach of the Year respectively)
Joyce Reitz of Brookville is the Coach of the Year, and a first- and second-team All-District was named.
Campbell, a junior, led Clarion to the District 9 Class 1A championship and to the PIAA semifinals by averaging 8.1 set assists, 1.6 digs, 0.5 aces and 0.25 kills per set.
Reitz guided Brookville to just its second District 9 title and its first since 2003 when she took the Lady Raiders to the Class 2A championship.
Campbell was also chosen as the first-team setter and was joined on the first team by teammates Korrin Burns (outside hitter) and KK Girvan (Libero).
Also on the first team were Elk County Catholic outside hitter Taylor Newton, DuBois middle hitter Sydney Kaschalk, DuBois' Libero Alayna Cornelius and Brookville middle hitter Lauren Hergert.
On the second team were DuBois setter Cate Gregory, Kane outside hitter Audri Marconi, Clarion outside hitter Kait Constantino, Redbank Valley middle hitter Taylor King, Cranberry middle hitter Ava Ferringer, Johnsonburg Libero Haylee Cherry and Cranberry Libero Maddie Cornelius.
The squads were broken into a typical volleyball rotation with a setter, two outside hitters, two middle hitters and two Liberos/defensive specialists chosen for each squad.
The teams were picked by the staff of D9Sports.com in consultation with a select group of District 9 coaches.
2019 D9SPORTS.COM ALL-DISTRICT 9 VOLLEYBALL
MVP: Brenna Campbell, Clarion
Coach of the Year: Joyce Reitz
FIRST TEAM ALL-DISTRICT
S – Brenna Campbell, Clarion
OH – Korrin Burns, Clarion
OH – Taylor Newton, Elk County Catholic
MH – Lauren Hergert, Brookville
MH – Sydney Kaschalk, DuBois
LB – KK Girvin, Clarion
LB – Alayna Cornelius, DuBois
SECOND TEAM ALL-DISTRICT
S – Cate Gregory, DuBois
OH – Audri Marconi, Kane
OH – Kait Constantino, Clarion
MH – Taylor King, Redbank Valley
MH – Ava Ferringer, Cranberry
LB – Haylee Cherry, Johnsonburg
LB – Maddie Cornelius, Cranberry