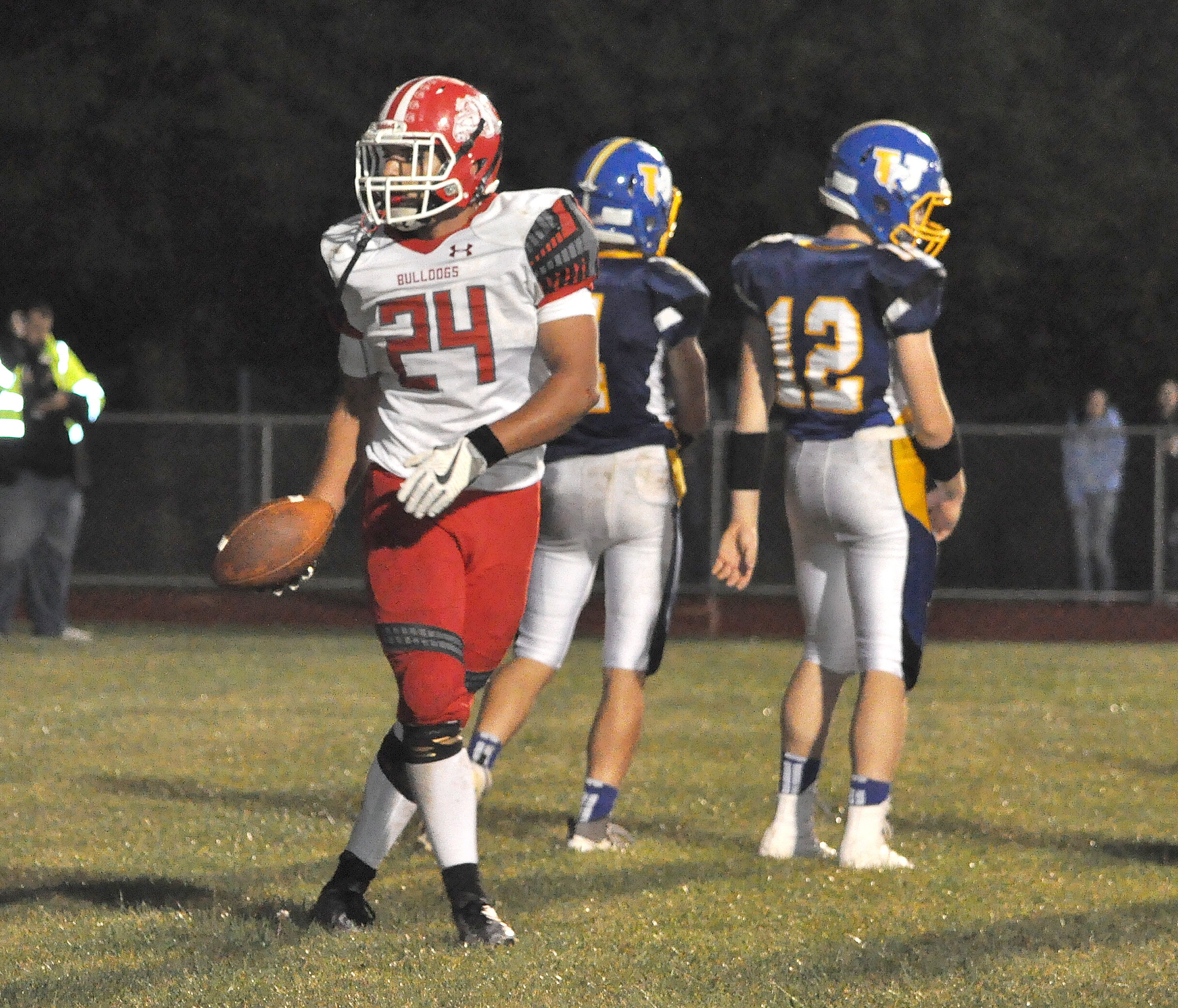 This week's schedule gets started Thursday night as part of the Autumn Leaf Festival celebration when the Redbank Valley Bulldogs host the Clarion Bobcats in New Bethlehem.
Redbank Valley's Clint Thurston and the Bulldogs host unbeaten Clarion Thursday night in New Bethlehem.
The rest of the 13-game Week 6 District 9 schedule is Friday night.
Clarion (5-0) and Kane (6-0) are the only remaining undefeated teams as Curwensville knocked Brockway out of the ranks of the unbeaten last week, leaving just last year's Class 2A finalists.
Both of those teams have road tests as the Wolves, still boasting a long winning streak against district foes at 34 straight games, heads to Bradford (5-1) in an Allegheny Mountain League South Division matchup.
The Bobcats and Bulldogs (3-2) used to be KSAC Small School Division rivals, but Clarion bumped up to the Large School during last year's schedule. Last week, the Bulldogs finished off an unbeaten three-game run through the KSAC Small while the Bobcats lead the KSAC Large with two division games remaining.
Clarion, which has outscored its opponents 228-55 so far, has been tested once in a 25-20 win over Clarion-Limestone two weeks ago. The Bobcats are run-heavy as is usually the case with Colton Rapp (63 carries, 615 yards, 8 TDs) leading the way, but he left last week's win over Keystone early and isn't expected to play this week.
Without Rapp, the Bobcats gave the ball the most to Logan Minich, who ran for 109 yards on 13 carries. Minich (26-222), quarterback Spencer Miller (19-187) and Camden Boggess (33-164) lead the rest of a deep group of runners. Miller has completed 25 of 53 passes for 383 yards, including five touchdowns and two interceptions. Keeven Weaver (10-133) is Miller's top receiving target.
Redbank Valley's Clint Thurston leads the Bulldogs' attack. He's nearing 1,000 yards rushing (96-894, 19 TDs) while scoring 133 of his team's 195 points thanks to his kicking duties. Also for the Bulldogs are quarterback Keaton Kahle (38-for-81, 424 yards, 3 TDs, 3 Ints; 22-198 rushing) and Brock Barrett (21-284 rushing, team-high 22-243 receiving).
Bulldogs head coach Ed Wasilowski is approaching a milestone with 98 career wins, all with the Bulldogs.
Thursday's kickoff is set for 7 p.m.
Kane and Clarion are the only two teams that has gotten any statewide ranking recognition. The Wolves are No. 7 in Class 2A in the Harrisburg Patriot-News' rankings while the two are 7-8 respectively according to pafootballnews.com.
The Wolves, 2-0 in the AML South, travel to Bradford where the Owls own a 1-1 mark in the division after last week's 21-7 loss to Ridgway.
Kane has been stingy defensively, giving up just five touchdowns in its six wins. Quarterback Reed Williams (58-for-98, 1,003 yards, 14 TDs, 5 Ints) just went over 1,000 yards passing and running back Erik DeLong (83-898, 15 TDs) is poised to get to four digits while averaging over 10 yards per attempt. Also leading the Wolves are running back Ange Costanzo (44-516, 9 TDs) and receiver Ray Maze (21-438).
John Eakin (83-832-16 TDs) leads the Owls ground attack, while Donny Pattison (19 of 43, 248 yards, 2 TDs; 151 yards rushing, 1 TD) has been solid at quarterback.
Here's a look at the rest of this week's schedule:
Other action in the AML South
Ridgway (5-1 overall, 1-1 AML South) visits Curwensville (5-1, 1-1) and Brockway (5-1, 1-1) hosts Elk County Catholic (2-4, 0-2) in the other AML South games.
Both the Elkers and Golden Tide bounced back nicely from losses last week, with the Elkers downing Bradford 21-1 and the Golden Tide rallying to beat Brockway, 15-13.
Ridgway's defense continues to get the job done, allowing just six touchdowns all season, three of them coming in the loss to Brockway two weeks ago. Offensively, running back Neil McDonald (61-524, 7 TDs) and quarterback Johnny Mitchell (418 yards passing, 273 yards rushing).
The Golden Tide's defense showed up last week after a 57-0 pummeling at the hands of Kane and limited the Rovers to just 175 yards of offense with Dakota Bloom's fumble recovery in the end zone early in the fourth quarter putting the Tide up for good.
Nick Stewart ran for 168 yards in the win, hiking his season total to 725 yards on 85 carries. His all-time D9 leading rushing total is up to 6,259 yards.
The Rovers, meanwhile, try to bounce back this week against the Crusaders. Quarterback Peter Downer (64-for-113, 1,040 yards, 6 TDs, 5 Ints), running backs Jon Wood (51-451, 5 TDs) and Tyler Serafini (64-283, 4 TDs), and receivers Dylan Lecates (20-289) and Noah Vokes (15-312) lead the Rovers.
Alec Bittler has been the workhorse out of the backfield for the Crusaders, but Stephen Bobby ran for a career-high 184 yards on 18 carries last week against Kane as Bittler didn't play.
Also in the KSAC
There's just one divisional game in the KSAC this week with Brookville (5-1 overall, 2-1 KSAC Large) hosting Moniteau (2-3, 1-2) in the Large School Division. The Raiders are coming off their highest-scoring performance in the program's highest scoring game in its history after beating C-L 60-52. Those 60 points scored eclipsed 10 different entire seasons for the Raiders since 1929.
Quarterback Jack Krug continues to sling the ball effectively (104-for-152, 1,560 yards, 24 TDs, 6 Ints) and he's also a running threat, coming off a 153-yard rushing game against the Lions. Receiver Bryan Dworek (52-870, 14 TDs) has been Krug's primary target.
For Moniteau, quarterback Chance Nagy (51-for-98, 570 yards, 1 TD, 9 Ints; 41-210 rushing), running backs Manny McLean (66-396) and Cody Wise (44-245) and receiver Wyatt Geibel (19-275) lead the way, although Nagy did leave last week's game against Clarion with an injury and his status for this week is uncertain.
In crossover games, Karns City (4-2) hosts Clarion-Limestone (3-3), Union/A-C Valley (1-5) visits Punxsutawney (2-4) and Keystone (2-3) travels to St. Marys (0-5).
The Gremlins' Dalton Beham (75-794, 18 TDs) has rushed for over 100 yards in each of his team's four straight wins and head coach Ed Conto looks for career win No. 201. The Lions continue a rugged streak that's at three straight losses to Redbank Valley, Clarion and Brookville. Quarterback Brenden Makray (76-for-124, 1,292 yards, 19 TDs, 7 Ints) is coming off a six-TD passing game against the Raiders while Riley Hummell (58-566 rushing, 25-406 receiving) ran for 212 yards and caught seven passes for 111 yards. The Lions no longer have the services of running back Chris Peace, who has left the team.
In Punxsutawney, the Chucks are coming off their second win in a 23-6 victory over St. Marys. Quarterback Dylan Ishman (60-for-133, 936 yards, 12 TDs) and receiver Tyler Richardson (34-625, 8 TDs) lead the Chucks while Falcon Knights quarterback Lucas Bowser (67-for-143), 886 yards, 9 TDs, 7 Ints) has thrown for over 200 yards in two straight games, including a career-high 221 yards in last week blowout loss to Redbank Valley.
The Panthers head to winless St. Marys. Running back Corey Rapp (48-225 rushing, 25-397 receiving) and quarterback Nate Wingard (47-for-91, 660 yards, 9 TDs, 5 Ints) lead Keystone while Tim Beimel is coming off a 121-yard rushing game for the Dutch, who have lost seven straight games dating back to last year.
Falcons, Hubbers play for AML North lead
The three AML North matchups have one that features two of the three unbeaten division teams when Coudersport (3-3 overall, 2-0 AML North) travels to Smethport (2-4, 2-0). The other games are Sheffield (0-6, 0-2) at Port Allegany (0-6, 0-2) and Otto-Eldred (3-3, 2-0) at Cameron County (0-6, 0-2).
Coudersport has handled both North Division rivals Sheffield (44-13) and Cameron County (42-0) rather easily while Smethport routed Port Allegany (42-8) last week after winning a wild one at Cameron County (50-34) two weeks ago.
Quarterback Jared Green (27-for-50, 300 yards, 3 TDs, 4 Ints; 53-237, 2 TDs rushing) and running back Stevie Kelly (94-494) lead the Falcons. Running backs Blake Kinner (55-453, 2 TDs) and Nathan Hollowell (84-344) lead the Hubbers.
Otto-Eldred gets Coudersport next week, so the Terrors will try to stay warm for that one when they head to Emporium to play the winless Red Raiders. Quarterback Sawyer Drummond had passed for 1,043 yards and rushed for a team-best 212 yards going into last week's 40-6 rout at Sheffield. The Red Raiders have lost seven straight games and 14 of their last 15.
In the "Something Has to Give" matchup of the week, the winless Wolverines travel to winless Port Allegany. The Gators have lost 17 straight games while the Wolverines haven't won since finishing last year winning three of the last four games.
Beavers head to unbeaten Grove City
DuBois (2-4 overall, 2-2 District 10, Region 5) travels to Mercer County to take on the unbeaten Eagles (6-0, 4-0), who have allowed just six touchdowns in their six games.
Grove City has a 28-12 win over Conneaut, which beat DuBois, 35-14. Both teams beat Warren and Oil City. Going into last week's 28-0 shutout of Slippery Rock, the Eagles averaged just under 300 yards per game rushing with Trey Adams (91-445) and Logan Lutz (39-436) leading the way. Quarterback Brady Callahan (49-for-64, 606 yards, 1 TD, 3 Ints) hasn't been asked to throw much but has completed over 76 percent of his passes.
Beavers quarterback Matt Miller (82-for-162, 1,152 yards, 10 TDs, 5 Ints), running back Dalton Kruzelak (66-397) and receiver Kyle Hopson (40-659, 6 TDs) lead the DuBois offense.
Bison at home in Mountain League
Losers of three of its last four, Clearfield (3-3 overall, 1-3 ML) hosts Tyrone (2-4, 2-3). The Bison are coming off a 55-28 loss to Bellefonte, which beat Tyrone 49-14 two weeks ago. Both teams lost to Huntingdon and Central-Martinsburg — the Bison falling 45-27 and 42-14 and the Eagles losing 26-14 and 31-14.
Clearfield quarterback Isaac Rumery (91-for-150, 1,566 yards, 17 TDs, 7 Ints) unofficially leads the district in passing yardage — official Clearfield stats weren't posted on Max Preps by press time — by six yards over Brookville's Krug. He's also rushed for 315 yards. His top receivers are Micah Heichel (27-561, 7 TDs) and Spencer Graham (20-305).
Ty Bender (63-317, 4 TDs) holds a slight edge over Rumery as the team's leading rusher.
For Tyrone, quarterback Denver Light (49-for-91, 668 yards, 4 TDs, 2 Ints) runs the offense. Brandon Loos (122-553, 8 TDs) is the top rusher and Parker Mitchell (20-318, 2 TDs) is the leading receiver.