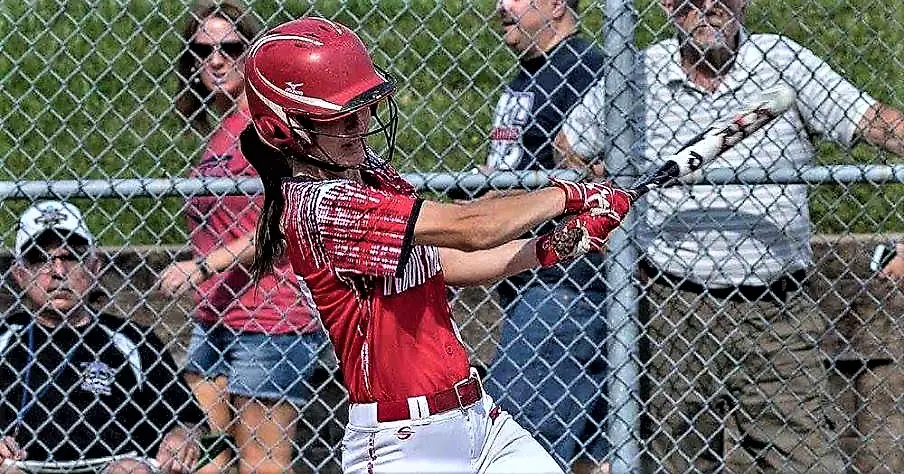 BROCKWAY, Pa. – Breaking open a close game late, DuBois Central Catholic locked up the third seed for the PIAA playoffs with a 9-1 win over A-C Valley at Brockway Wednesday.
(Photo: Shay Gulvas, DCC)
The Lady Cardinals took a 2-1 lead into the bottom of the sixth inning before scoring seven runs. That gave breathing room for pitcher Ashley Wruble, who went the distance and tossed a four-hitter with eight strikeouts and one walk.
Shay Gulvas, Carley Semanick and Chelsea Busatto each had two hits. Semanick tripled, and Mia Meholick and Busatto doubled.
Cami McNany had two of A-C Valley's four hits. Kylee Eaton and Andrea Meals singled.
Sydney Schmidt took the loss, giving up 10 hits while walking three and striking out one.
The Lady Cardinals face the District 5 champion, either McConnellsburg or Meyersdale (they play Thursday) Monday, June 4, in the PIAA playoffs at a site and time to be announced.
BASEBALL
JAMESTOWN 8, NORTH CLARION 4
SLIPPERY ROCK, Pa. – District 10 champion Jamestown scored six runs in the first two innings and cruised to an 8-4 win over D9 third-place North Clarion to grab a Class 1A state playoff berth.
North Clarion, playing in its second game in as many days, managed eight hits. Matson Higgins and Logan Minich each singled twice for the Wolves.
The Muskies took advantage of nine walks from North Clarion pitchers, eight coming in the first two innings. They had just three hits, two of them from Ashtin Conn.
Monday, June 4, Jamestown meets the WPIAL champion, Vincentian Academy, at a site and time to be announced.