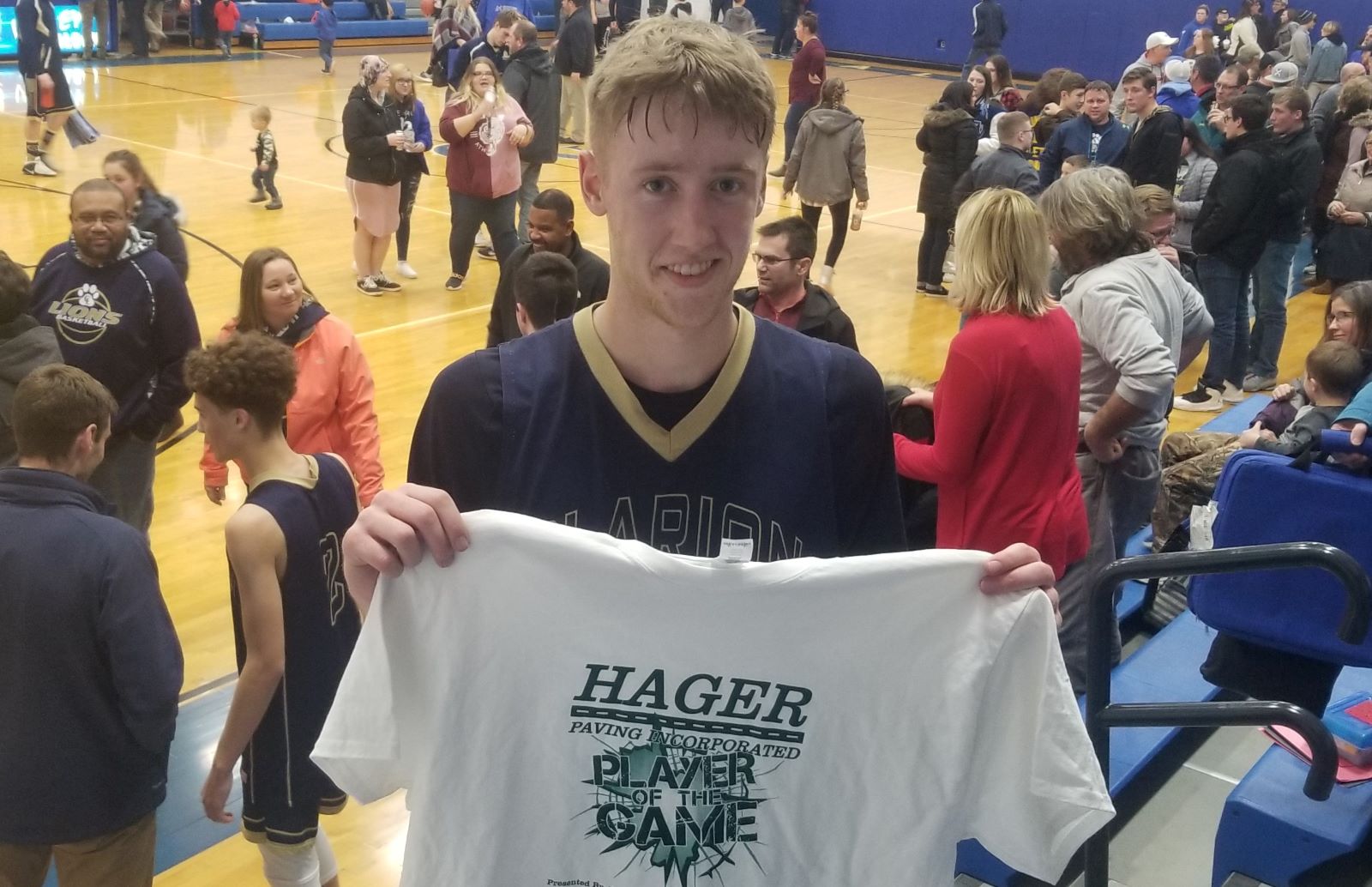 Dec. 11 boys' basketball recaps.
(Photo of Hayden Callen, who had 31 points and seven rebounds in C-L's win over A-C Valley Wednesday)
CLARION-LIMESTONE 71, A-C VALLEY 63
FOXBURG, Pa. – Behind 31 points from Hayden Callen, Clarion-Limestone rallied from a 10-point deficit early in the second half to pick up a 71-63 road win over A-C Valley in the KSAC North opener for both teams.
Relisten to the game:
A 28-19 fourth-quarter advantage, which included a 22-7 run that actually started with just over a second left in the third quarter turned out to be the difference for the the Lions.
C-L, which trailed 32-22 early in the third quarter, had seen a 38-36 lead turn into a 44-41 deficit when Levi Orton, who scored a team-high 22 points for A-C Valley, scored with 13.3 seconds left in the third quarter.
But Callen hit a turnaround jumper in the lane with 1.8 seconds left in the third quarter to get the Lions within a point, 44-43, heading to the fourth quarter.
Callen then scored eight of C-L's first 12 points of the fourth quarter – part of a bigger stretch that saw him score 12 of his's team 17 points dating back to one-minute mark of the third quarter – to give the Lions a 55-45 lead with 4:24 to go.
Watch a postgame interview with Callen, who was named the Hager Paving Player of the Game.
That lead grew to 12 points, 63-51, on two free throws by Deon Deas, who added 22 points of his own, with 3:02 left.
Still down 10, 65-55, following two more Deas free throws with 1:55 left, A-C Valley rallied to within six, 68-62, thanks to Eddie Stevanus, who scored five points during the 7-3 run but couldn't get any closer with Orton on the bench having fouled out of the game with 2:21 to play. The Falcons were aided by the referees not awarding two free throws to Callen despite the C-L junior being fouled with 1:31 to play and A-C Valley being over the double-bonus limit of 10 fouls. Instead, the Lions took the ball out of bounds following a timeout after it was ruled that the timeout came before the foul despite that not being seeming to be the case.
Stevanus had a monster game for A-C Valley with 16 points and a game-high 20 rebounds.
Curvin Goheen added 12 points and 14 rebounds for C-L with Callen chipping in seven rebounds, while Russ Carr had 13 points and Eli Penny 12 points for A-C Valley.
BROOKVILLE 65, CAMBRIDGE SPRINGS 64
CAMBRIDGE SPRINGS, Pa. – Brookville used a balanced scoring effort to grab a 65-64 overtime win at Cambridge Springs.
Jack Krug and Robert Keth each scored 13 points for the Raiders with Aaron Park recording a double-double with 12 points and 13 rebounds and David Cable adding 11 points.
The game was tied at 59 at the end of regulation before Cambridge Springs took a 61-59 lead early in the overtime.
But the Raiders answered wit ha 5-0 spurt to go ahead 64-61 before the Blue Devils got back within a point.
Cambridge Springs then got the ball back with just under 40 seconds to play, and took a time out with 17.7 seconds left. A missed shot by the Blue Devils was rebounded by Jayden Shinsky, who looked like he was going to lay the ball back in to give Cambridge Springs the lead. Park, however, fouled Shinsky, Park's fifth foul of the game, to keep the Blue Devil from the easy two points with 3.4 seconds left.
Shinsky proceeded to miss both free throws to give the Raiders the victory.
Trent Wheeler led Cambridge Springs with 18 points and 11 rebounds with Lance Welker adding 17 points and Shinsky 12 points and nine rebounds.
But Welker and Wheeler both missed shots in the final seconds of regulation allowing the game to go to overtime.
Brookville was helped by a free point before the game even started, as Cambridge Springs was whistled for a technical foul in warm-ups for dunking during warmups. Cable hit one of the two free throws, and that point turned out to be huge at the end.
KEYSTONE 39, CLARION 37
KNOX, Pa. – Alex Rapp's 12-foot jumper with three seconds to play lifted Keystone past visiting Clarion, 39-37, in KSAC South action.
Gavin Hogue had hit a 3-pointer to tie the game before Rapp won it for the Panthers, who were down four, 22-18, at halftime.
Troy Johnson led Keystone with nine points and eight rebounds, while Rapp added seven points, Andrew Lauer six points and Brandon Pierce five points.
The Bobcats were paced by Nick Frederick's 10 points. Skylar Rhoades added nine points and 12 rebounds and Josh Craig chipped in nine points.
CURWENSVILLE 53, MOSHANNON VALLEY 47
CURWENSVILLE, Pa. – Thanks to 26 points from Ty Terry, Curwensville held on to defeat visiting Moshannon Valley, 53-47, in Mo Valley League action.
Terry hit five 3-pointers for the Tide and went 4-for-6 at the line. Trevor Lansberry added 11 points while Adam Kunkle chipped in six.
Joe Bacher paced the Knights with a team-high 17 points.
NORTH CLARION 78, FOREST AREA 44
TIONESTA, Pa. – Devon Walters netted a career-high 20 points to lead a balanced offensive attack in North Clarion's 78-44 victory over Forest Area on the road at West Forest.
Jacob Bauer netted 13 points for the Wolves while adding seven rebounds, five assists and four steals with Collin Schmader chipped in for 12 tallies and five steals. Matson Higgins added eight points, nine steals and seven assists.
Despite the loss, Noah Burke paced the Fires with 20 points, eight boards and 10 steals. Jullian Gillenwater went 3-for-4 from the line and finished with 12 points and seven assists.
COUDERSPORT 71, SMETHPORT 22
SMETHPORT, Pa. – Hayden Keck exploded for 26 points to help Coudersport top Smethport, 71-22, on the road.
Daniel Frame added 15 tallies for the Falcons with Dillon Keglovits recording a double-double with 10 points and 12 rebounds. Kolby VanWhy and Dalton Keglovich each recorded six points.
Layne Shall paced the Hubbers with six points. Noah Lent and Chase Burdick added five points apiece.
KANE 51, BROCKWAY 31
KANE, Pa. – Behind 15 points from Chad Greville, Kane topped visiting Brockway, 51-31.
Carson Whiteman added eight points with Zuke Smith and Caleb Holt each chipping in seven for the Wolves.
Marcus Copelli paced the Rovers with nine points while Alec Freemer added eight.
AUSTIN 59, GALETON 29
AUSTIN, Pa. – Jackson Glover and Parker Glover combined for 25 points to lead Austin past visiting Galeton, 59-29.
Jackson Glover led the Panthers with 13 points while Parker Glover added 12. Skylar Crawford, Payton Shupe and Aydan Nicka each had nine points.
Trey Kalacinski paced the Tigers with a team-high 13 points.
CAMERON COUNTY 84, NORTHERN POTTER 59
EMPORIUM, Pa. – Caden Beldin, Dino Brown and Hayden Brown combined for 74 points and 38 rebounds to lead Cameron County to an 84-59 win over visiting Northern Potter.
All three players had double-doubles with Hayden Brown scoring a game-high 28 points to go with 10 rebounds, Dino Brown adding 25 points and 10 rebounds and Belding grabbing a game-high 18 rebounds to go with 21 points.
Carter Anderson paced the Panthers with 22 points, Ryan Langworthy chipped in 10 points and Erza Sprow grabbed 10 rebounds to go with two points.
UNION 72, VENANGO CATHOLIC 33
OIL CITY, Pa. – Karter Vogle scored 19 points, all in the first three quarters, as Union started KSAC North action with a 72-33 win at Venango Catholic.
Truman Vereb added 16 points and five steals for the Golden Knights, while Caden Rainey had nine points, eight assists and five rebounds. Carter Terwint also chipped in seven points.
Andrew Burda had a double-double for Venango Catholic with 11 points and 10 rebounds while adding three blocked shots. Brady Cicatella chipped in nine points and 12 rebounds and Chase Anderson scored nine points while going 3 of 6 from beyond the 3-point arc.
KARNS CITY 52, REDBANK VALLEY 46
NEW BETHLEHEM, Pa. – Chase Beighley scored 11 of his game-high 24 points in the fourth quarter to help Karns City break a tie game heading to the fourth quarter and gain a 52-46 KSAC South road win over Redbank Valley.
The Gremlins led by seven, 35-28, at halftime but scored just four points in the third quarter and found themselves tied with the Bulldogs at 39 going to the final eight minutes.
But Beighley, who added five assists, scored 11 of Karns City's 13 points in the fourth quarter to lead the Gremlins to victory.
Caiden Corbett added nine points for Karns City with Michah Rupp chipping in eight points, all in the first half, and 10 rebounds and Luke Garing grabbing eight boards to go with five points.
Owen Magagnotti exploded for a career-high 22 points for Redbank Valley with 18 of them coming before halftime. Bryson Bain chipped in nine points.
MONITEAU 53, CRANBERRY 43
SENECA, Pa. – Moniteau used a quick start to pick up a 53-43 KSAC South road win over Cranberry.
The Warriors led 15-2 at the end of the first quarter and 27-10 at halftime. The lead grew to 40-20 by the end of the third quarter before Cranberry rallied to within 10 late.
Quinton Scriven paced Moniteau with 16 points with Gage Neal adding two points, 13 rebounds and four assists, Kyle Pry seven points and six steals, Nate Tack nine points and Ethan McDeavitt eight points.
JT Stahlman got hot late for Cranberry scoring 13 of his game-high 19 points in the fourth quarter while Matt McQuaide added 10 points and Cam Russell seven.