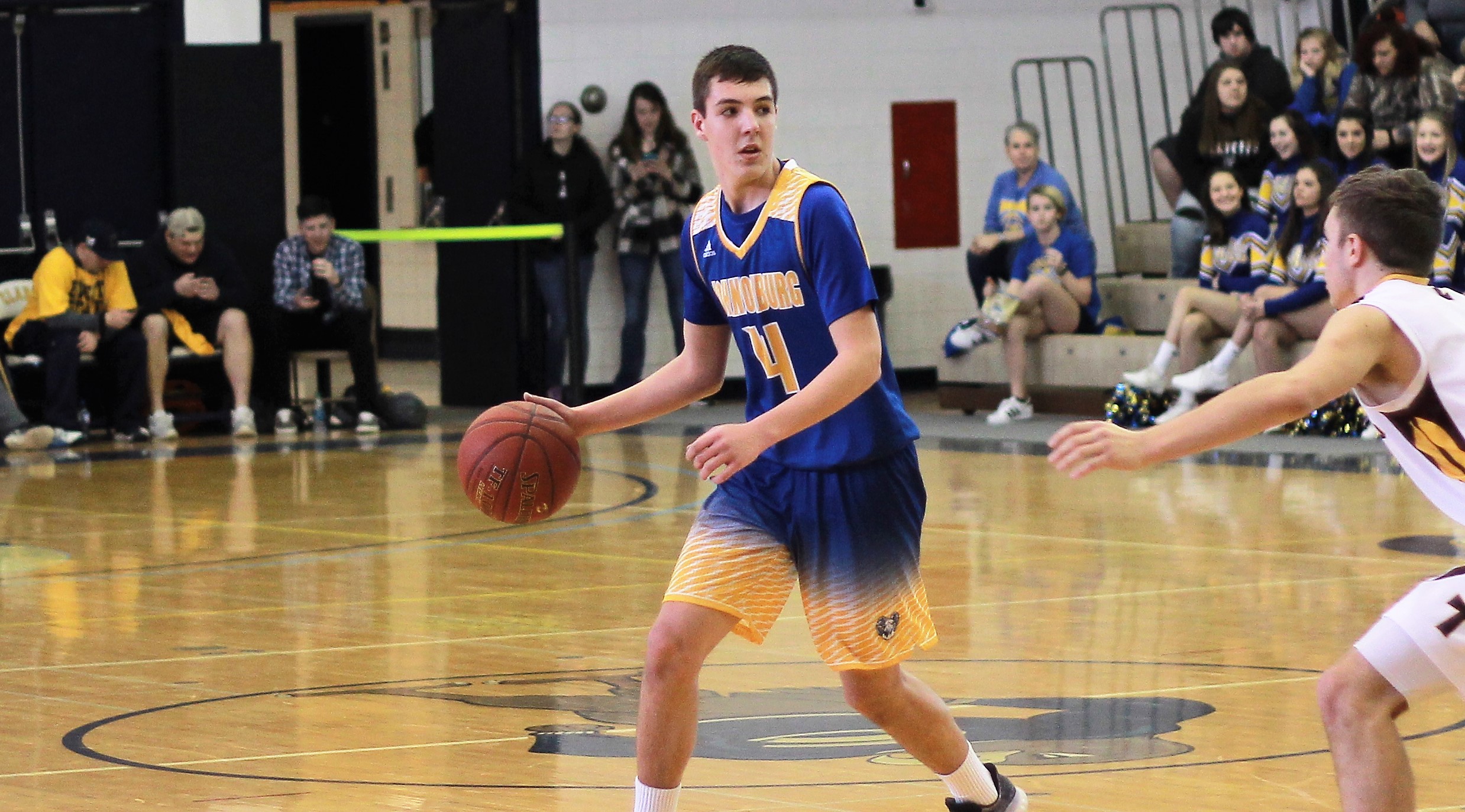 Dec. 7 boys' basketball recaps.
(Photo of Johnsonburg's Austin Green. Photo by Jared Bakaysa of JB Graphics. See more of Bakaysa's work here)
JOHNSONBURG 54, MARION CENTER 43
DUBOIS, Pa. – Austin Green and Gabe Watts combined to score 25 points to help Johnsonburg win the DuBois Central Catholic Tip-off Tournament with a 54-43 win over Marion Center.
Green led all scorers with 14 points with Watts adding 11.
Marcus Badzik led Marion Center with 10 points with Colin Fox adding nine tallies.
PUNXSUTAWNEY 60, DUBOIS CENTRAL CATHOLIC 37
DUBOIS, Pa. – Daren Byers scored 14 points as Punxsutawney used a balanced effort to defeat DuBois Central Catholic, 60-37, in the consolation game of the DCC Tip-off Tournament.
Nick Humble added 13 points for the Chucks with Ethan Presloid scoring 11.
Jalen Kosko paced DCC with nine points with Harrison Starr scoring seven.
DUBOIS 66, ST. MARYS 45
KNOX, Pa. – Thanks in part to 17 points from tournament MVP Chase Husted DuBois won the Keystone Tip-off Tournament with a 66-45 win over St. Marys.
Nick Felix and Lennon Lindholm each added 10 points for the Beavers with Nick Farrell scoring nine points and Jordin Summers eight.
Nick Catalone paced St. Marys with 11 points, Luke Lasko added 10 and Cahill Parrish scored eight.
KEYSTONE 53, CLARION 25
KNOX, Pa. – Tory Johnson collected 12 points, eight rebounds and five assists to lead Keystone to a 53-25 win over shorthanded Clarion in the consolation game of the Keystone Tip-off Tournament.
Marc Rearick also scored 12 points for the Panthers who got 10 points from Isaac Jones and eight from Brandon Pierce.
Skylar Rhoades led Clarion, who was without leading scorer Cal German, with 11 points.
WARREN 62, BROOKVILLE 61
BROOKVILLE, Pa. – Thomas Boblak's buzzer-beating shot from the left wing gave Warren a dramatic 62-61 win over Brookville in the host's Tip-iff Tournament Championship game Saturday night.
The Raiders led 61-60 when Jack Krug hit one of two free throws with 5.2 seconds left and his second miss went out of bounds, giving Warren the ball with 2.6 seconds left needing to go the length of the court.
Out of the timeout, a pass to mid-court and then to Boblak on the wing was quick enough for him to get the shot off and earn the tournament MVP award as he finished with 13 points. Fellow all-tournament pick Ben Berdine scored 17 points with seven rebounds and Payton Barnes had 12 points, 10 coming in the first half.
Robert Keth scored 18 points for the Raiders while David Cable finished with 13 points. Both of those players were all-tournament picks. Jack Krug scored nine points while Jack Miner finished with eight points and Aaron Park scored seven points with seven rebounds.
BROCKWAY 64, ST. JOSEPH'S CATHOLIC ACADEMY 62
BROOKVILLE, Pa. – Jon Wood's two free throws with 1.5 seconds left in regulation won it for Brockway, which blew a big early lead but rallied to edge St. Joseph's Catholic Academy, 64-62, for third place at the Brookville Tip-off Tournament Saturday afternoon.
After St. Joe's tied the game at 62-62 on Brendan Scanlon's shot with 15 seconds left, the Rovers called a timeout with 9.4 seconds remaining and Wood was fouled in a two-shot bonus situation for game-winning points.
Alec Freemer led the Rovers with 27 points, 20 of them coming in the first half when the Rovers opened the game with a 14-0 lead. Brockway led 41-25 by halftime, but was outscored 20-10 in the third quarter and trailed 57-53 midway through the fourth quarter.
Freemer and St. Joe's Scanlon, who scored 37 points with five 3-pointers, both were named to the all-tournament team. Jared Marchiori scored 10 for the Rovers while Wood had eight points. Lewis Painter finished with seven points and 12 rebounds off the bench.
NORTH CLARION 48, PORT ALLEGANY 32
SHEFFIELD, Pa. – Drew Gatesman scored a game-high 14 points to lead North Clarion to a 48-32 over Port Allegany in the championship game of the Sheffield Boosters Tip-off Tournament.
Gatesman added nine rebounds and four assists for the Wolves who also got 12 points and seven rebounds from Collin Schmader and Matson Higgins 11 points, eight steals and four assists.
North Clarion held Port Allegany sharpshooter Howie Stuckey in check limiting him to five total points and no baskets until the fourth quarter. Head coach Andy Bish praised Jacob Bauer's defense for that.
Jordan Card led the Gators with 11 points, Dominic Guerrero added seven tallies and AJ Edgell had six.
JAMESTOWN (Pa.) 68, SHEFFIELD 39
SHEFFIELD, Pa. – Darian Keyser exploded for 33 points to lead Jamestown (Pa.) to a 68-39 win over Sheffield in the consolation game of the Sheffield Sports Boosters Tip-off Tournament.
Peyton McElhinny added 11 points in the win for Jamestown.
Jake Vinopal paced Sheffield with 12 points, five rebounds, two steals and two blocked shots with Mitch McNeal adding eight points.
CRANBERRY 68, VENANGO CATHOLIC 32
SUGARCREEK BOROUGH, Pa. – Matt McQuaide and Brendan Hutchinson combined for 31 points to lift Cranberry past Venango Catholic, 68-32, in the consolation game of the Roy Sanner Memorial Tournament at Rocky Grove.
McQuaide led the Berries with 16 points with Hutchinson adding 15. JT Stahlman and Ryan Groner each chipped in eight tallies.
Andrew Burda paced Venango Catholic with 23 points.
UNION 81, MAPLEWOOD 65
RIMERSBURG, Pa. – Four Union players reached double digits in an 81-65 win over Maplewood on the second day of the Union Tip-off Classic.
Caden Rainey had game-high honors for the Golden Knights with 21 points while adding six rebounds, four steals and three assists.
Tanner Vereb had a double-double with 18 points and 11 rebounds while adding a pair of steals, while Luke Bowser scored 17 points and Karter Vogle had 12 points, six steals and four helpers.
Clay Cox led Maplewood with 15 points.
MONITEAU 59, COMMODORE PERRY 31
RIMERSBURG, Pa. – Led by 10 points from Quinton Seriven, 11 different Moniteau players scored in a 59-31 win over Commodore Perry on the second day of the Union Tip-off Classic.
Cory McKinlay and Dean Hershey each added nine points for the Warriors with all nine of Hershey's tallies coming on three 3-pointers.
Hunter Artman had a game-high 14 points for Commodore Perry.
A-C VALLEY 68, PORTERSVILLE CHRISTIAN 36
FOXBURG, Pa. – Levi Orton and Eddie Stevanus combined for 39 points in a 68-36 A-C Valley win over Portersville Christian on the second day of the Hoops for Heroes Kickoff at A-C Valley.
Orton led the Falcons with 20 points with Stevanus adding 19. Cole Dehart also scored nine in the win.
Christian Kaufman's 12 points paced Portersville Christian.
NORTH EAST 69, KARNS CITY 46
FOXBURG, Pa. – Garret Hein and Carter Hasseplug combined for 34 points to lead North East to a 69-46 win over Karns City on the second day of the Hoops for Heroes Kickoff at A-C Valley.
Hein had a team-high 18 points with Hasseplug adding 16 for the Grape Pickers.
Chase Beighley had a strong game in the loss for Karns City scoring a game-high 29 points while handing out five assists. Ethan McElroy added 10 points and eight rebounds.
FOREST AREA 55, TIDIOUTE CHARTER 36
MARIENVILLE, Pa. – Noah Burke led a balanced offensive attack to help Forest Area top Tidioute Charter, 55-36, on the second day of the Forest Area Tip-off Tournament in East Forest.
Burke had a team-high 17 points while going 5-for-8 at the line for the Fires. Jullian Gillenwater added 15 points and Allen Johnston netted 12.
Derek Klos paced Tidioute Charter with 10 tallies.
COWANESQUE VALLEY 57, OSWAYO VALLEY 50
WESTFIELD, Pa. – Seth Huyler scored 17 points to lead Cowanesque Valley to a 57-50 win over Oswayo Valley on the second days of the Jack Bush Tournament at Cowanesque Valley.
Gunner Bean paced Oswayo Valley with 20 points with Honor Gross adding 12.
CLARION-LIMESTONE 41, REYNOLDS 34
GROVE CITY, Pa. – Deion Deas and Hayden Callen combined for 37 of Clarion-Limestone's 41 points in a 41-34 win over Reynolds on the second day of the Grove City Tip-off Tournament.
Deas led all scorers with 24 points with Callen adding 13.
Curvin Goheen had a team-high 11 rebounds to go with two points with Mitch Knepp grabbing six boards to go with two points. Jordan Hesdon had eight steals.
Luke Faber led Reynolds with 14 points.
SLIPPERY ROCK 54, REDBANK VALLEY 38
NEW BETHLEHEM, Pa. – Zach Thompson and Jack Allen combined for 33 points to lead Slippery Rock past Redbank Valley, 54-38, in the consolation game of the Redbank Valley Tip-off Tournament.
Allen had a team-high 20 points and went 6-for-6 at the line for the Rockets while Thompson netted 13.
Bryson Bain paced the Bulldogs with 16 points and Chris Marshall added nine.
AUSTIN 60, GALETON 28
GALETON, Pa. – Jackson Glover exploded for 25 points to help Austin earn a 60-28 victory over Galeton in the Galeton Tip-off Tournament consolation game.
Skylar Crawford added 15 points for the Panthers with Parker Glover netting eight.
Ty Stover paced the Tigers with 10 points.