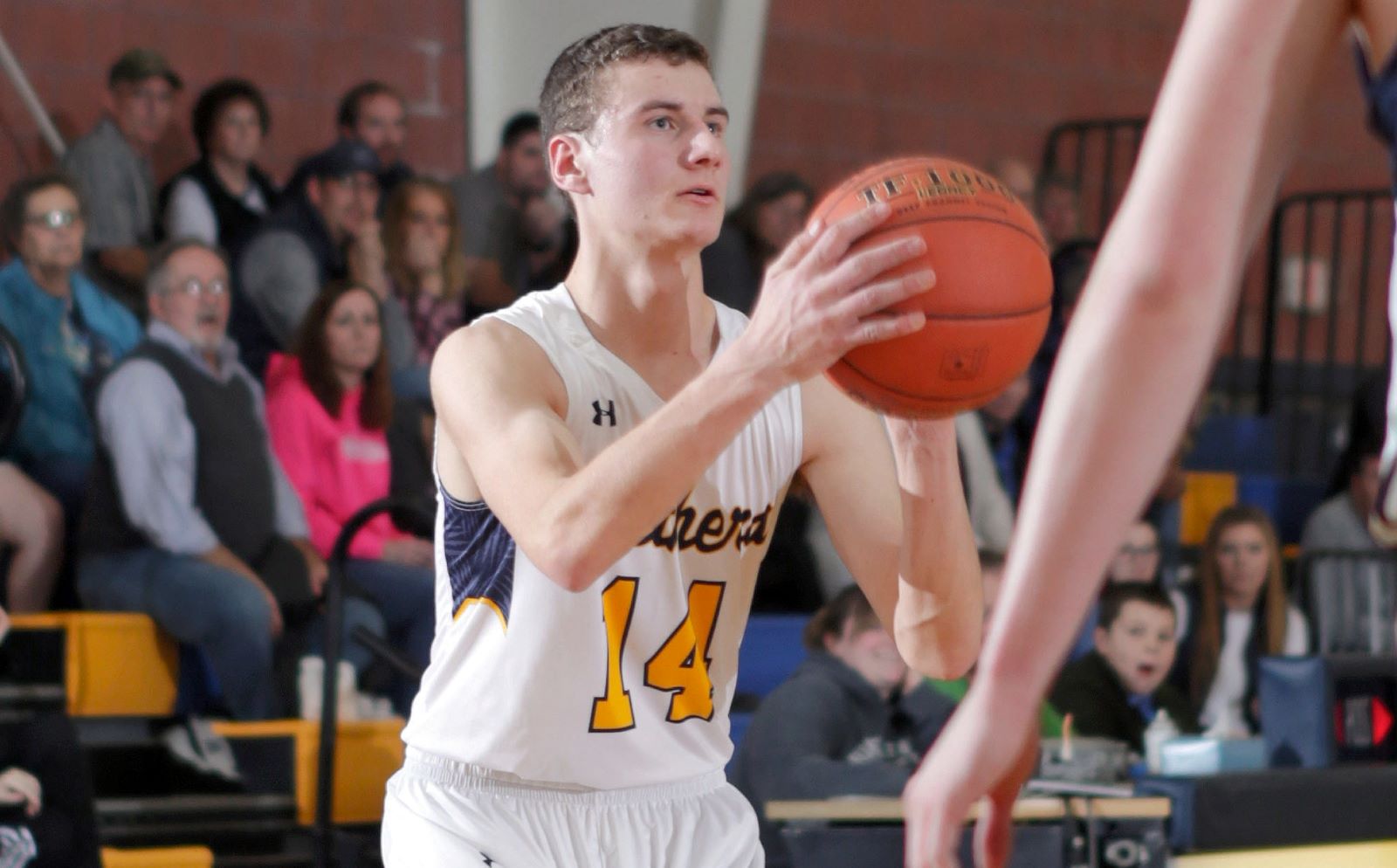 Dec. 9 boys' and girls' basketball recaps.
(Carter Anderson of Northern Potter scored 36 points in the Panthers' win over Cowanesque Valley. Photo by Paul Burdick. Check out more of Burdick's work here)
BOYS
NORTHERN POTTER 59, COWANESQUE VALLEY 58
WESTFIELD, Pa. – Ryan Langworthy drilled a 3-pointer with 10 seconds left to lift Northern Potter to a 59-58 win at Cowanesque Valley on the third day of the Jack Bush Tournament.
Langworthy's shot, the only one he made in the game, came off a feed from Ezra Sprow.
Northern Potter then held off a pair of Cowanesque Valley shots for the victory.
Carter Anderson had a monster game for the Panthers with 36 points, including going 13 of 13 from the free-throw line.
Sprow added four points, all from the free-throw line and 10 rebound
Owen Fitzwater paced Cowanesque Valley with 16 points with Joel Heck adding 15 and Seth Huyler nine.
RIDGWAY 48, KANE 29
RIDGWAY, Pa. – Matt Dush poured in 18 points, including eight from the free-throw line, to pace a 48-29 Ridgway win over visiting Kane in a non-conference game.
Zack Zameroski added 11 points for the Elkers with Dan Park scoring eight.
Chad Greville scored 10 points for Kane with Zuke Smith adding eight.
ST. MARYS 46, WARREN 35
WARREN, Pa. – Luke Lasko scored 16 points to lead St. Marys to a 46-35 win at Warren.
Nick Catalone added 12 points for the Dutchmen.
Mitch Grosch led Warren with 12 points.
GIRLS
PORT ALLEGANY 56, JOHNSONBURG 27
PORT ALLEGANY, Pa. – Cailey Barnett and Shannon Curfman combined for 35 points, 13 rebounds and 11 steals to lead Port Allegany to a 56-27 win over visiting Johnsonburg.
Barnett led the Lady Gators with 18 points, seven assists, seven steals and five rebounds with Curfman adding 17 points, eight rebounds and four steals.
Port Allegany also got a strong game from Bree Garzel, who had 10 points, six rebounds, five assists and two steals with Erin Stauffer adding two points and seven rebounds.
Kaci Stelene led Johnsonburg with 13 points.
WEST SHAMOKIN 48, BROCKWAY 32
BROCKWAY, Pa. – Despite a triple-double from Selena Buttery, Brockway dropped a 48-32 decision to visiting West Shamokin.
Buttery had 16 points, 13 rebounds and 10 blocked shots for the Lady Rovers, who also got two points and nine rebounds from Marcie Smith and six points apiece from Morgan Lindemuth and Danielle Wood.
Shelby Cessna led West Shamokin with 16 points with Sophie Fusaro adding 12 points.
BOLIVAR-RICHBURG (N.Y.) 48, OSWAYO VALLEY 14
BOLIVAR, N.Y. – Aliyah Cole scored a game-high 17 points to pace a 48-14 Bolivar-Richburg (N.Y.) victory over visiting Oswayo Valley.
Kelsey Pacer added 11 points for the Wolverines.
Jadyn Brabham paced Oswayo Valley with nine points.