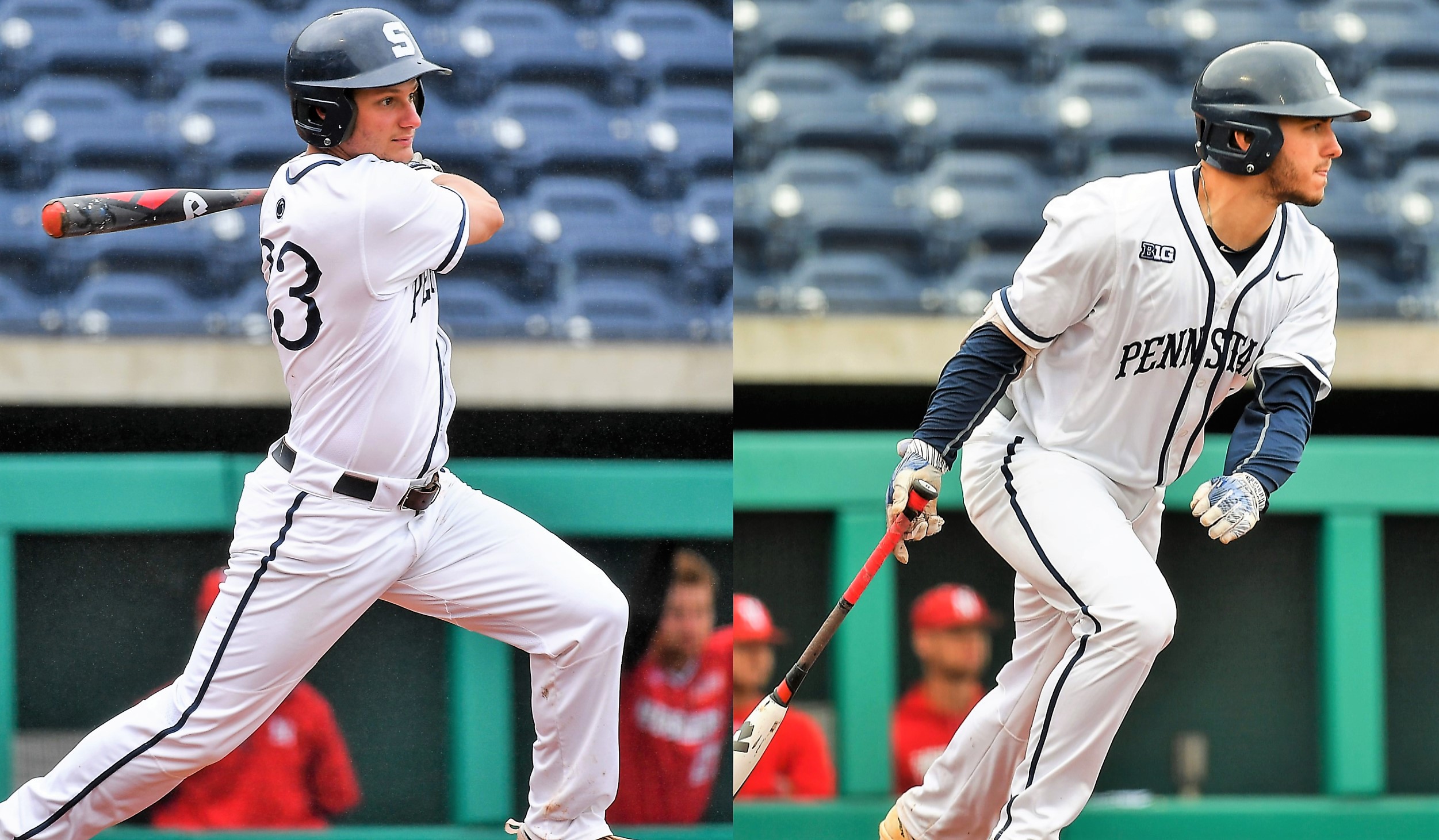 UNIVERSITY PARK, Pa. – From Punxsutawney to University Park, Braxton Giavedoni and Ryan Sloniger have been playing baseball together for a long time.
(Photo: Braxton Giavedoni (left) and Ryan Sloniger (right) were two of the top hitters for Penn State this season. Photos courtesy of Penn State Athletics)
Giavedoni, a sophomore outfielder, and Sloniger, a junior catcher, and both Punxsutawney graduates recently completed their second season together on the Penn State baseball team.
"I think our group, with coach (Mike) Dickey, created a real culture of winning," Sloniger said of his and Giavedoni's days playing for the Chucks. "Guys always wanted to get work in. Those coaches are really good at developing players. It starts at a young age. We all started playing young and have played together for a long time. That builds something special. Guys push each other. Braxton, John (Matthews, who is playing at Kent State) and I all put in work together and pushed each other. That is always going to make a guy better. Braxton and I still push each other. Ultimately, I give Coach Dickey a ton of credit. He has done a great job with different styles of teams. The amount of District 9 titles (Punxsutawney) has won in the last 15 years speaks for it there."
Giavedoni agreed with his teammate.
"The coaches growing up were unbelievable," Giavedoni said. "They pushed you and pushed a winning attitude."
Giavedoni also said seeing Punxsutawney native Devin Mesoraco drafted by the Cincinnati Reds in 2007 – Mesoraco was recently traded from the Reds to the Mets – had a lot to do with everyone in town wanting to play baseball.
"Growing up, it's what everyone wanted to do, especially after Devin got drafted," Giavedoni said.
Speaking of getting drafted, that could be a real possibility for Sloniger in a couple of weeks after he had a breakout season offensively for the Nittany Lions.
Sloniger is coming off a very strong season that saw him hit a team-leading .306 with an on-base-plus-slugging percentage of .898. He led the team in home runs (5), doubles (13) and RBIs (31) while also collecting two triples and stealing 5 of 7 bases.
"For me personally, I'm extremely happy with my season," Sloniger said. "I set some goals and put in a lot of work. I'm really happy with what I did. One of my biggest goals was to hit .300. I was disappointed in my first two years. That was a big goal (hitting .300). I believed if I did that, I could spark the offense."
Sloniger pointed to some adjustments he made at the plate for his offensive success.
"At the plate, I hit the ball the other way," Sloniger said. "I learned to hit with two strikes, and I cut down on my strikeouts. That was a big thing coming into this year. Being able to go the other way."
Couple Sloniger's offensive game with the fact he is considered a strong defensive catcher – he threw out nearly 23 percent of all runners trying to steal against him this season – and it isn't a stretch that he could hear his name called at the June MLB draft.
"It would mean the world," Sloniger said of getting drafted. "It's a dream I have had since I was a kid. I wanted to play in the big leagues. If, in two weeks, that opportunity happens, it would be a dream come true. I'm just thankful to be in the opportunity I am now, and I am looking forward to seeing what happens."
Sloniger said he realizes he also has options if he doesn't get drafted or if he doesn't get drafted in a round that would be appealing.
"Obviously, I have the option to come back for my senior year," Sloniger said. "I'm just waiting to see what happens. It's is all going to be decided in a couple of weeks."
According to Sloniger, one of the things he was most proud of this season was his ability to catch most of Penn State's games. He played in 47 of the Nittany Lions 49 games starting all 47 of them.
"I knew I was going to catch a lot of games," Sloniger said. "I got healthy during summer ball, and once I was fully healthy, I put a lot of time in the weight room and in rehab getting my body completely ready. I was able to stay healthy, and I was really proud of that."
Giavedoni said the possibility of his teammate and friend getting drafted is motivation for him going into next season as well.
"It would definitely be nice to see someone from your hometown go in the draft," Giavedoni said. "And it would help you focus and want to follow him. It shows you what is possible."
Giavedoni knows that if he wants the opportunity to get drafted next year – his first of eligibility – he needs to improve his game, something he believes started to happen as the year went on.
A strong finish at the plate, helped Giavedoni finish third on the team in hitting with a .247 average. He had four home runs, seven doubles, two triples and 16 RBIs while stealing five bases in eight tries.
"At times, I have proven I can compete at this level," Giavedoni said. "But there is always room to improve. I'm just trying to get better every day."
Giavedoni said one of the things that helped him as the season progressed was cutting down on his strikeouts – he struck out 52 times on the season while walking just seven.
"Down the stretch, I wasn't striking out as much," Giavedoni said. "The good thing is, that is something I can control. After I cut down on the strikeouts, I had better plate appearances, more base hits and was seeing the ball better."
In addition to striking out fewer times, Giavedoni would also like to improve his outfield defense.
"I can definitely improve my outfield play some," Giavedoni said. "I would like to improve my speed in the outfield, being able to chase balls down in the gap, working on little things like my crow hop."
Giavedoni admitted that when he came to college, he was so concerned about being able to hit at the Division I level that he spent so much time in the weight room putting on muscle mass that he lost some of the speed he had in high school.
"When I came to college, I put on a lot of weight working out so I could hit at this level," Giavedoni said. "I was faster in high school. My freshman year, I was a little slower. This year, I felt faster. I've been trying to stay flexible and stay in shape."
Sloniger pointed to getting into better shape as his biggest improvement from high school to college.
"I got a lot stronger," Sloniger said. "I also worked on my flexibility."
NOTES: With a young team that had only five seniors but 22 freshmen and sophomores on the roster, Penn State finished the year 15-34 but did go 4-4 in its final eight games.