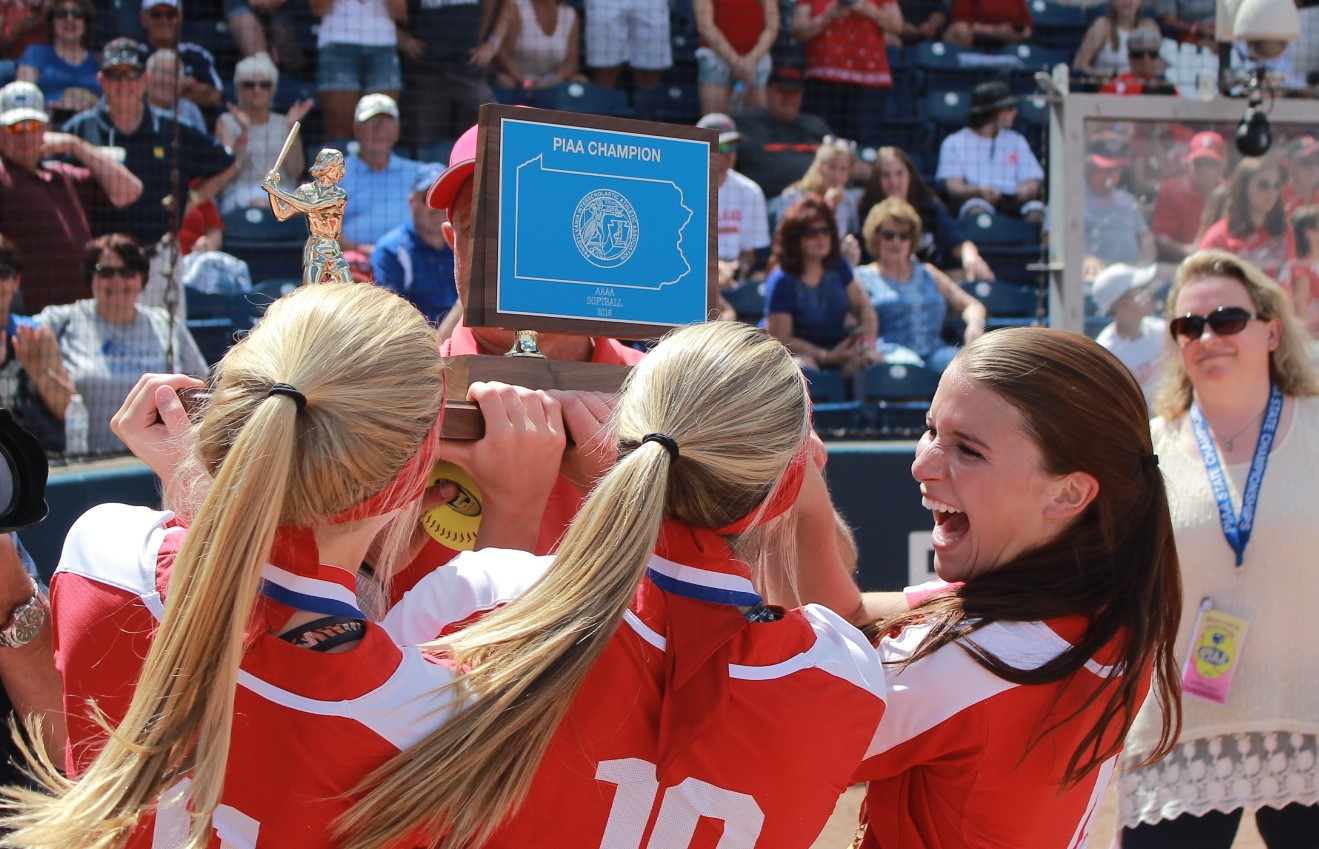 Photo gallery by Jared Bakaysa of JB Graphics. See more of Bakaysa's work here)
UNIVERSITY PARK, Pa. – Punxsutawney is having its cake and eating it too.
(Photo: Toya Jones, far right, screams in joy as her and fellow seniors Kylee Lingenfelter (center) and Mia Lingenfelter (left) receive the PIAA Class 4A softball trophy from Lady Chucks' manager Alan Pifer. Photo by Jared Bakaysa of JB Graphics. See more of Bakaysa's work here)
The Lady Chucks won the school's first-ever PIAA softball championship behind the pitching and hitting of Kylee Lingenfelter, 2-0, over District 11 champion Bethlehem Catholic in the 4A title game Friday afternoon at Beard Field at the Nittany Lion Softball Park on the campus of Penn State University.
"One of the first things I said to the girls when we were talking is that everybody says that getting here, getting this far, win or lose, is icing on the cake," Punxsutawney manager Alan Pifer said. "I said girls, I want to have my cake and eat it too."
The Lady Chucks gave their long-time manager his wish by doing it the way they have done it for four years while winning four District 9 titles (two in 3A and two in 4A) and now the state championship, they rode the right arm of senior pitcher Kylee Lingenfelter.
Lingenfelter, who will be playing on the very same Beard Field next year as a freshman at Penn State, showed the local fans what they are in store for striking out 15 while walking three, hitting a batter and giving up four hits, three weakly hit, in recording her fourth shutout in five postseason games.
"Pitching is a big part of the game of softball," Pifer said. "I think it is bigger in softball than in baseball. You get a pitcher out there and you can see what can happen. When they are on and they are focused and they are hitting their spots, moving the ball around, they can obviously dominate a game. She has been doing that. She has just been phenomenal."
Lingenfelter was practically unhittable in the postseason.
In five playoff games – the District 9 title game and four PIAA playoff games – she gave up one run on 12 hits, eight walks and a hit batter in 33 innings of work while striking out 74.
"I have been practicing a lot more since the playoffs started," Lingenfelter said. "I felt pretty confident (that we would win the state title) after we won our first state game. It feels pretty good."
Lingenfelter did more than just pitch the Lady Chucks to victory Friday, she was right in the middle of both Punxsutawney runs in a two-run third inning with an RBI double that scored the first run and then scoring the second run herself.
The inning started when Riley Presloid hit a grounder to shortstop that she beat out and then went to second on a throwing error by the shortstop, Jessica Indelicato.
"I had two strikes on me, so I knew I had to put the ball in play," Presloid said. "When I hit it, I knew I could probably beat it out."
Lingenfelter followed with a drive off the centerfield wall to put Punxsutawney up 1-0.
"I was just looking for a pitch I could drive," Lingenfelter said.
Two outs later, Madison Stonbracker delivered a key single to left scoring Lingenfelter with the game's second run.
Stonbracker, a sophomore, was one of six freshmen or sophomores in the starting lineup for the Lady Chucks Friday, something that meant the team got better as the year went on.
"I would say (we really started to gel) at the end of the regular season," senior second baseman Mia Lingenfelter said.
"We just really came together as a team, we were really comfortable together," fellow senior, right fielder, Toya Jones added.
Watch the full interview with Jones, Kylee Lingenfelter, Mia Lingenfelter and Presloid.
Up 2-0, the spirits were high in the Punxsutawney dugout knowing the way Kylee Lingenfelter has been pitching, and she showed why striking out seven over the next three innings.
Bethlehem Catholic did threaten a couple of times with the most serious coming in the sixth when Julia Sledz doubled to right-center field with one out in the sixth, perhaps the only hard-hit ball off Kylee Lingenfelter all afternoon.
Alexa Panuccio then hit a flair that looked like it might get over the head of Mia Lingenfelter, who was playing in at second base, but Mia Lingenfelter went back on the ball nicely making the catch at the edge of the infield grass.
"I just remember the ball being hit and I knew I had to go after it," Mia Lingenfelter said. "I wasn't thinking about the run scoring."
Courtesy runner Catelyn Erickson never moved off second base, as Kylee Lingenfelter recorded her 14th strikeout of the game on the next batter, Morgan Christine.
Needing three outs to win the PIAA title, Punxsutawney got a bit of pushback from the Hawks at the start of the seventh inning.
Addison Roche had a fantastic at-bat working an eight-pitch walk after she fell behind in the count 0-2 and then fouled off two pitches with the count at 3-2.
Jaden Spigner then followed with a bunt that turned into two runners on and no one out when Mia Lingenfelter dropped the throw at first.
But Kylee Lingenfelter got Tatum Kresley to pop a bunt up that third baseman Holly Hartman caught for the first out.
"She is just a battler," Pifer said of his pitcher. "She is not going to let this team lose."
Kylee Lingenfelter then got Idelicato, the leadoff hitter, to hit a grounder to Presloid at shortstop who flipped to Hartman at third for the force out on Roche for the second out.
"I have a lot of trust in them," Kylee Lingenfelter said of her defense.
Alyssa Jimenez was Bethlehem Catholic's last hope, but Kylee Lingenfelter made quick work on her on three pitches striking out Jimenez, who entered the game hitting .419 with an eight-game hitting streak, for the fourth straight time to set off a wild celebration.
"It's unbelievable," Jones said.
"It's awesome," Mia Lingenfelter added.
"Not really," Pifer said when asked if it had sunk in yet following the game. "It's just dizzy, trying to take it all in. All the support, just the way these kids have picked it up during the postseason, how they have come to play."
EXTRA BASES
Punxsutawney is the fourth District 9 softball team to win a PIAA title and the first to do so above Class 1A. The Lady Chucks join the 2007 and 2009 Curwensville teams and the 2015 Elk County Catholic team has PIAA Champions.
District 9 is now 4-3 all-time in PIAA softball title games with Punxsutawney moving to 1-1 after losing the championship game in 2006. Clarion (2011) and Moniteau (2016) were also PIAA runners-up.
The loss snapped a seven-game PIAA playoff winning streak for Bethlehem Catholic, who had won the PIAA title in its last appearance in the PIAA playoffs in 2015.
The Hawks came into the game hitting .441 in the postseason while averaging 8.2 runs per game but were 4 of 24 ( .167) against Lingenfelter.
Punxsutawney finished the season 18-3 with Bethlehem Catholic going 20-6 on the year.
The game took 1:17 minutes after starting 25 minutes late because of the length of time the first game of the day took.
PUNXSUTAWNEY 2, BETHLEHEM CATHOLIC 0
Score by Innings
Beth Catholic 000 000 0 – 0
Punxsutawney 002 000 x – 2
BETHLEHEM CATHOLIC – 0
Jessica Indelicato ss 3020, Alyssa Jimenez 4000, Natasha Miner 2b 2000, Julia Sledz c 3010, Catelyn Erickson cr 0000, Alexa Panuccio cf 3000, Morgan Christine 1b 3000, Addison Roche 3b 2000, Jaden Spigner lf 1000, Haley McMeinimer pr 0000, Tatum Kresley 3010. Totals 24-0-4-0.
PUNXSUTAWNEY – 2
Kylee Lingenfelter p 3111, Sarah Weaver cf 3000, Grace Aikens 1b 3020, Madison Stonbracker c 3011, Allie Meko cr 0000, Kendal Johnston dp 3000, Toya Jones lf 3000, Abby Gigliotti lf 2010, Holly Hartman 3b 2000, Riley Presloid ss 2120, Mia Lingenfelter 2b 0000. Totals 24-2-7-2.
LOB: BC 8. Punxsutawney 4. Errors: BC 1. Punxsutawney 2. 2B: Sledz, Kylee Lingenfelter, Aikens (2). HBP: Spigner by Kylee Lingenfelter. SAC: Spigner. CS: Presolid by Sledz.
PITCHING
Bethlehem Catholic
Tatum Kresley 6 IP, 7 H, 2 R, 2 ER, 0 BB, 4 K
Punxsutawney
Kylee Lingenfelter 7 IP, 4 H, 0 R, 0 ER, 3 BB, 15 K, 1 HP
Winning pitcher: Kylee Lingenfelter
Losing pitcher: Tatum Kresley