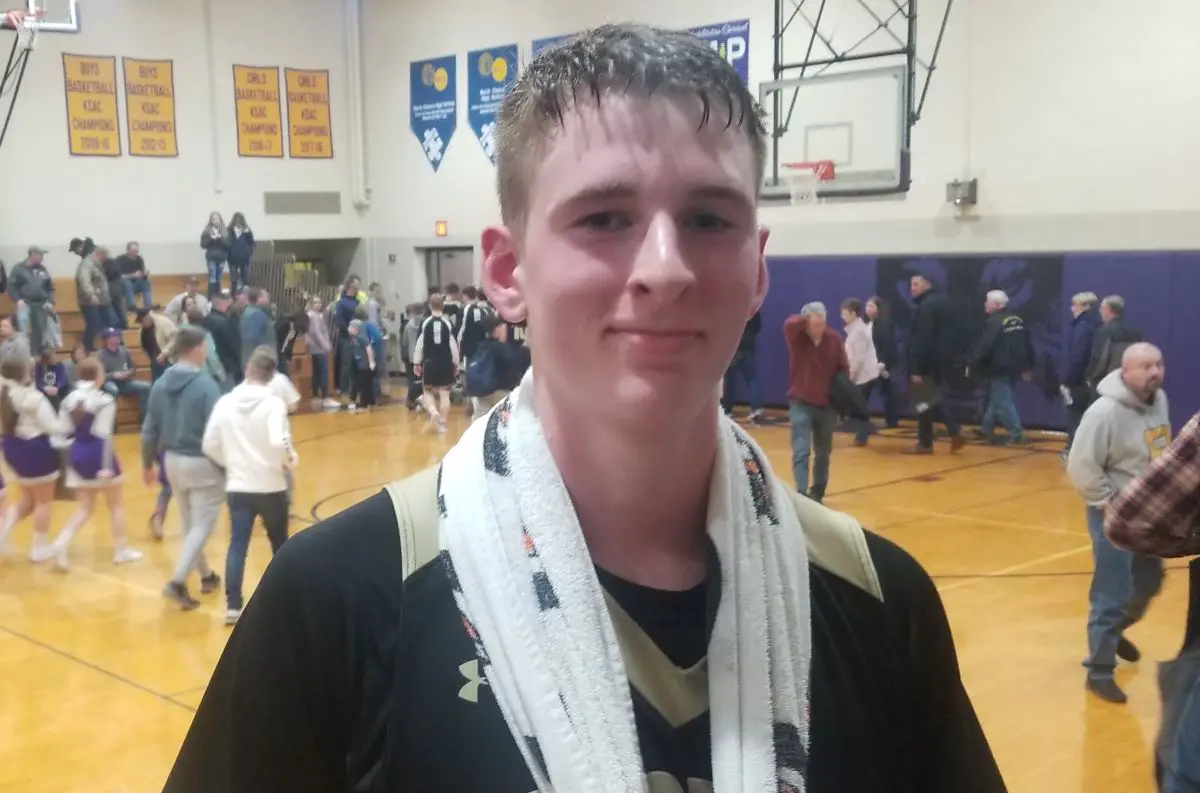 Jan. 13 boys' recaps.
(Photo of Keystone's Troy Johnson, who had 23 points and seven rebounds in the Panthers wins over North Clarion Monday)
KEYSTONE 64, NORTH CLARION 50
FRILLS CORNERS, Pa. – Trailing by three going to the fourth quarter, visiting Keystone went on a 12-0 run to beat North Clarion, 64-50.
Relisten to the game:
Alex Rapp scored seven points in the fourth quarter for the Panthers with Troy Johnson adding six points in the quarter. Andrew Lauer's 3-pointer gave Keystone the lead for good 49-47 lead with 5:45 to play, and the lead grew from there.
Johnson led all scorers with 23 points, including 13 in the second quarter, while adding seven rebounds. He talked about the win.
Rapp added 13 points for the Panthers with Jones chipping in 12 and Lauer seven points and seven rebounds.
Jacob Bauer led North Clarion with 13 points, nine in the first quarter, while Matson Higgins scored 10. Collin Schamder added eight points, Josh Daum chipped in seven and Devon Walters six. Schmader and Daum did all their damage in the second quarter with Walters scoring all his points on a pair of third-quarter 3-pointers. Drew Gatesman collected a team-high six rebounds to go with two points.
THE COACH AND THE SCRIBE POWERED BY THE REHAB CENTRE
Jess Quinn and Chris Rossetti broke down the game on the Jan. 13 edition of The Coach and The Scribe Powered by the Rebab Centre.
The Rehab Centre has six locations serving you, including in Clarion, Brookville, and Kittanning. The Rehab Centre, Chiropractors Caring for Health.
DUBOIS 52, BROOKVILLE 50
DUBOIS, Pa. – Chase Husted's layup with four seconds left lifted DuBois to a 52-50 win over visiting Brookville in D9 League action.
Husted's late shot helped cap a fourth-quarter rally for the Beavers, who trailed, 41-39, going to the fourth quarter before outscoring Brookville 13-9 in the quarter behind five points from Nick Felix and four each from Husted and Lennon Lindholm, who scored all four of his from the free-throw line while going 4 of 4 from the line the quarter and 9 of 9 from the line in the game.
Husted and Felix led DuBois with 13 points each with Lindholm and Jordan Sommers each scoring 11 points.
Jace Miner scored a game-high 22 points for Brookville with all 22 coming in the first three quarters. Robert Keth and Aaron Park each added 12 points for the Raiders with seven of Keth's coming in the fourth quarter.
KANE 73, BROCKWAY 46
BROCKWAY, Pa. – Behind 24 points from Chad Greville, Kane upended Brockway, 73-46, on the road in AML action.
Greville had a game-high six 3-pointers for the Wolves on offense. Mason Zuzek added 11 tallies with Zuke Smith chipping in 10. Matt DeLuca had a pair of 3-pointers and finished with eight points.
Alec Freemer paced the Rovers with 11 points, including three 3-pointers while Jon Wood added nine points.
NORTHERN POTTER 62, OSWAYO VALLEY 57, OT
ULYSSES, Pa. – Ryan Langworthy hit a big overtime 3-pointers with Carter Anderson adding four overtime free throws to help Northern Potter hold off visiting Oswayo Valley, 62-57, in overtime.
The game was tied at 53 at the end of regulation after Oswayo Valley, which led 28-27 at halftime, outscored Northern Potter 16-13 in the fourth quarter.
Anderson scored a game-high 27 points for NoPo while adding eight steals with Langworthy adding 12 points. Ezra Sprow chipped in a team-high 14 rebounds and six points.
Noah Wichert paced Oswayo Valley with 17 points. Alex Phillips added 11 points, and Ian Bilski and Cayden Black each scored nine points.
REDBANK VALLEY 56, VENANGO CATHOLIC 32
OIL CITY, Pa. – Bryson Bain led a balanced offensive attack as visiting Redbank topped Venango Catholic, 56-32.
Bain had a game-high 20 points to lead the Bulldogs offense. Chris Marshall added 17 points, including a pair of 3-pointers while Delcan Fricko tallied 10.
Andrew Burda paced the Vikings offense with 11 points.
BELLEFONTE 44, ST. MARYS 40
ST. MARYS, Pa. – Ben McCartney and Isaiah Nedolsky combined for 25 points to lead visiting Bellefonte over St. Marys, 44-40.
McCartney led the Red Raiders offense with 14 points with a pair of 3-pointers while Nedolsky added 11 tallies. Blair Eckley-James went 4-for-4 from the free-throw line and finished with nine points.
Nick Catalone paced the Dutch offense with 11 points in the loss. Cahil Perrish chipped in nine points and Mitchell Pleiter had eight.
KARNS CITY 60, A-C VALLEY 55
FOXBURG, Pa. – Caiden Corbett scored all 10 of his points in the fourth quarter to help Karns City rally past A-C Valley, 60-55.
The Gremlins trailed 29-22 at halftime and 44-38 going to the fourth quarter before rallying behind Corbett for the win.
Chase Beighley led Karns City with 20 points and seven assists, Ethan McElroy added 12 points, Nathan Waltman chipped in 11 points, Micah Rupp had seven points and 11 rebounds and Luke Garing added seven rebounds.
Levi Orton led all scorers with 25 points for A-C Valley. Cole Dehart chipped in eight points.
MONITEAU 52, UNION 45
RIMERSBURG, Pa. – Ethan McDeavitt recorded a double-double with 19 points and 14 rebounds to lead visiting Moniteau to a 52-45 road victory over Union.
Gage Neal had 11 tallies and grabbed seven rebounds for the Warriors with Quinton Scriven adding 10 points and eight rebounds. Kyle Pry went 4-for-4 from the charity stripe and finished with nine points.
Caiden Rainey paced the Knights with 17 points while Truman Vereb netted 13 in the loss.
CRANBERRY 65, FOREST AREA 53
MARIENVILLE, Pa. – JT Stahlman, Matt McQuaide, Cam Russell and Preston Forrest combined to score 59 points, as Cranberry picked up a 65-53 win on the road over Forest Area.
Stahlman led the Berries with 18 points, McQuiade chipped in 16 points, Russell had 14 and Forrest 11.
Franklin MEals had a game-high 20 points for Forest Area while adding five rebounds, three assists and three steals.
Jullian Gillenwater added 16 points, five assists and three steals for the Fires with Waylon Dashner chipping in seven points and seven rebounds.
CLARION-LIMESTONE 67, CLARION 43
STRATTANVILLE, Pa. – Behind a big game from Hayden Callen, Clarion-Limestone rolled past visiting Clarion, 67-43.
Callen had a game-high 28 points to go with seven rebounds, three blocked shots, three assists and two steals.
Deion Deas added 18 points, six rebounds and six steals for the Lions with Curvin Goheen chipping in nine points.
Cal German and Skylar Rhoades each scored 14 points for Clarion.