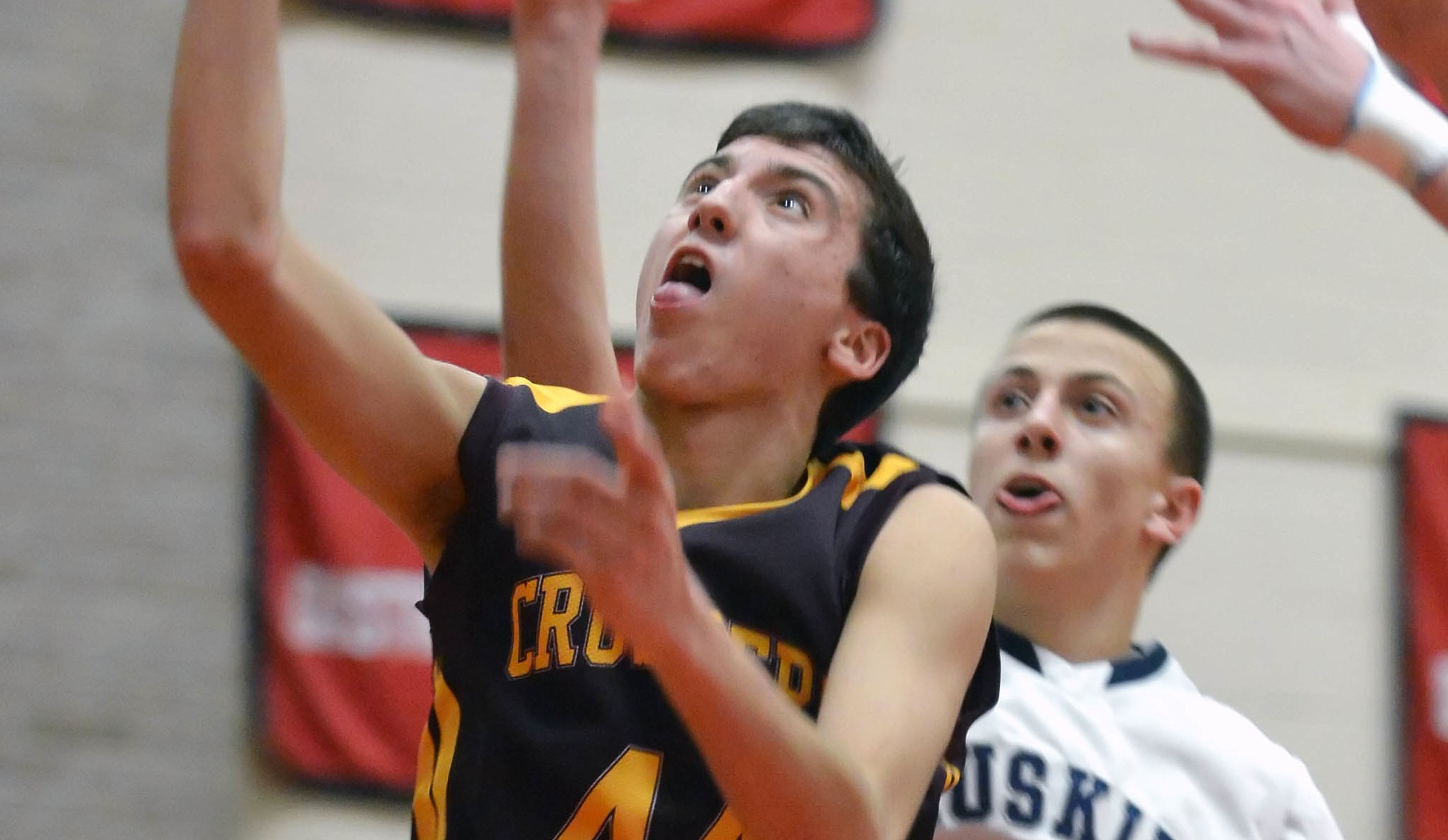 ELK COUNTY CATHOLIC 66, ST. MARYS 46
ST. MARYS, Pa. – Nate DaCanal and Benji Hoffman combined to score 43 points to lead Elk County Catholic to a 66-46 road win at St. Marys Friday night in D9 League play.
DaCanal had a game-high 23 points with Hoffman adding 20 for the Crusaders, who used a 19-10 second quarter to grab a 30-22 halftime lead and then outscored the Dutch 20-9 in the third quarter to put the game away.
Kyle Huff chipped in 16 points for ECC.
Jeff Wehler scored 13 points against his former teammates to lead St. Marys with Parker Housler adding 12.
RIDGWAY 45, KANE 25
RIDGWAY, Pa. — Brothers Andy and Jeremy Breier scored 16 and 12 points respectively to lead the Ridgway Elkers past visiting Kane, 45-25, Friday night.
The Elkers led 26-11 at halftime as the Breiers each scored 10 points.
Davis Gardner led the Wolves with 10 points.
CLEARFIELD 58, PENNS VALLEY 49
SPRING MILLS, Pa. – In a battle of a pair of 10-1 teams, Cody Spaid had 15 points and 16 rebounds to lead visiting Clearfield to a 58-49 win over Penns Valley Friday night in Mountain League action.
Tommy Hazel led the Bison with 22 points while adding seven rebounds, and Will Myers had six points and seven assists.
CAMERON COUNTY 71, NORTHERN POTTER 37
ULYSSES, Pa. – Trae Smith had 22 points and 12 rebounds, as Cameron County flew past Northern Potter, 71-37, in North Tier League action Friday night.
Adam Shaffer added 17 points for the Red Raiders with Derek Rieder adding 11 points and nine rebounds and Vinny Olivett added two points and eight assists.
Frank Gardner led Northern Potter with 13 points with Dylan Foust adding 12.  
OSWAYO VALLEY 48, OTTO-ELDRED 40
DUKE CENTER, Pa. – Oswayo Valley was able to hold off a furious fourth-quarter comeback attempt by Otto-Eldred and gain a 48-40 road North Tier League victory Friday night.
The Green Wave built a 37-20 lead going to the fourth quarter but watched Otto-Eldred double its point total thanks in large part to 3-pointers from Braxx Price-Edmonson, Heath Stewart and Trey Dalton.
Theo Henry led a balanced attack for Oswayo Valley with 13 points including eight in the first quarter helping the Green Wave build an early 8-0 lead – they led 10-8 at the end of the quarter.
Brandon Brabham added eight tallies for Oswayo with Ty Sturdevant chipping in seven and Isaac Threadgill and Alex Bernard six each.
Stewart led Otto-Eldred with 13 points and 15 rebounds. Sawyer Drummond added four points and 12 boards, while Dylan Close scored nine points.
COUDERSPORT 77, GALETON 23
COUDERSPORT, Pa. – Zach Layag scored 15 points and added 11 assists and five steals to help Coudersport to a 77-23 win over visiting Galeton in North Tier League action Friday.
Darren Keglovits scored a game-high 22 points while adding nine rebounds for the Falcons with Jared Green adding 18 points and Owen Chambers and Aaron Wolfinger nine each.
Coudy led 26-6 at the end of the first quarter and 45-14 at halftime.
Joel Griffen paced Galeton with seven points.
BROCKWAY 65, SHEFFIELD 25
BROCKWAY, Pa. – Corey Carr's 12 points led a balanced Brockway effort as the Rovers beat visiting Sheffield, 65-25, over visiting Sheffield in non-conference action Friday night.
Jarrett Esposito added 11 points for the Rovers, who saw 11 players in all score, while Jake Wineberg had nine and Quade Lundberg eight.
Roger Dunham led Sheffield with 10 points.  
BRADFORD 38, BROOKVILLE 25
BRADFORD, Pa. – The Bradford Owls outscored visiting Brookville, 15-4, in the fourth quarter of a low-scoring D9 League game and beat the Raiders, 38-25, Friday night.
The Owls led 23-21 going into the fourth before pulling away for the win. They led 14-10 at halftime.
Nate Higbie and John Eakin scored 11 and 10 points respectively for the Owls.
Kurt Schindler scored nine of his 11 points in the second half for the Raiders.
CRANBERRY 71, MONITEAU 64
WEST SUNBURY, Pa. – Evan Lutz scored 20 points to lead Cranberry to a 71-64 win at Moniteau Friday night.
Brendan Zerbe added 12 for the Berries.
Aaron Marterella led all scorers with 29 points for Moniteau. Jake Jewart added 13 points with Lake Pry adding 10.  
Cranberry led 25-23 at halftime and 43-37 at the end of three quarters before things heated up in the fourth quarter with the Berries outscoring the Warriors 28-27 in the frame. Marterella did all he could to keep Moniteau alive netting 14 fourth-quarter points. But Lutz scored 11 of his 20 in the final quarter to help Cranberry fend off Moniteau.
REDBANK VALLEY 58, VENANGO CATHOLIC 50
NEW BETHLEHEM, Pa. – Led by 20 points from Sam Heeter, Redbank Valley had three players reach double figures in a 58-50 win over visiting Venango Catholic Friday night.
Riley Campbell added 15 points for the Bulldogs, who also got 13 from Dalton Dougherty.
But it was Heeter who was the story. The senior netted nine fourth-quarter points while going 6 of 7 from the free-throw line in the quarter to help Redbank Valley keep the Vikings at bay.
Brady Kingston led all scorers with 27 points for Venango Catholic, including 10 in the fourth quarter alone, while Noah Puleo added 14 points.
CLARION 48, A-C VALLEY 29
FOXBURG, Pa. – Playing without its top two scorers, Jonathan Smith and Cam Craig, didn't slow Clarion down, as the visiting Bobcats beat A-C Valley, 48-29, in KSAC Crossover play Friday night.
Bo Miller led Clarion with 14 points and nine rebound with Ty Burford adding 10 points and eight boards.
The Bobcats started quickly building an 18-7 lead at the end of the first quarter thanks to eight points by Miller. Clarion led 31-13 at halftime.
Austin Heeter led all scorers with 22 points while adding 10 rebounds for A-C Valley. Zach Muhl added seven boards.
UNION 70, FOREST AREA 25
TIONESTA, Pa. – Lucas Bowser had 16 points and nine rebounds to lead Union to a 70-25 win over Forest Area at West Forest Friday night.
Hank Murphy added 15 points, seven rebounds and four steals for the Golden Knights, who also got 10 points and five steals from Gavin Hawk.
Seth Berlin led Forest Area with seven points.
CLARION-LIMESTONE 76, KARNS CITY 46
KARNS CITY, Pa. – Dan Callen and Noah Rankin had big games as the Clarion-Limestone Lions got out of an early hole and turned in a 76-46 rout of Karns City, avenging their only loss of the season.
Callen scored 22 points, pulled down 12 rebounds and blocked five shots while Rankin poured in a team-high 26 points. Ian Callen reached double figures with 10 points.
Karns City led 10-0 to start the game, but C-L led 35-26 by halftime. The Lions outscored the Gremlins, 41-19, in the second half.
Chandler Turner led Karns City with 11 points.
KEYSTONE 37, NORTH CLARION 35
KNOX, Pa. – Tanner Wilson's two free throws with 25 seconds left but Keystone ahead for good as the Panthers beat visiting North Clarion, 37-35, Friday night in KSAC Crossover action.
Keystone trailed 35-34 when Wilson was fouled and calmly sank both charity shots.
Wilson finished with six points, six steals and five assists.
Brayden Shick led the Panthers with 11 points, while Mason Rearick added six points, nine rebounds and five steals.
Zayn Hargenrader paced all scorers with 17 points for North Clarion while adding nine boards. Nathan Banner chipped in nine points.
North Clarion led 20-19 at halftime but the game was tied at 30 after three quarters.