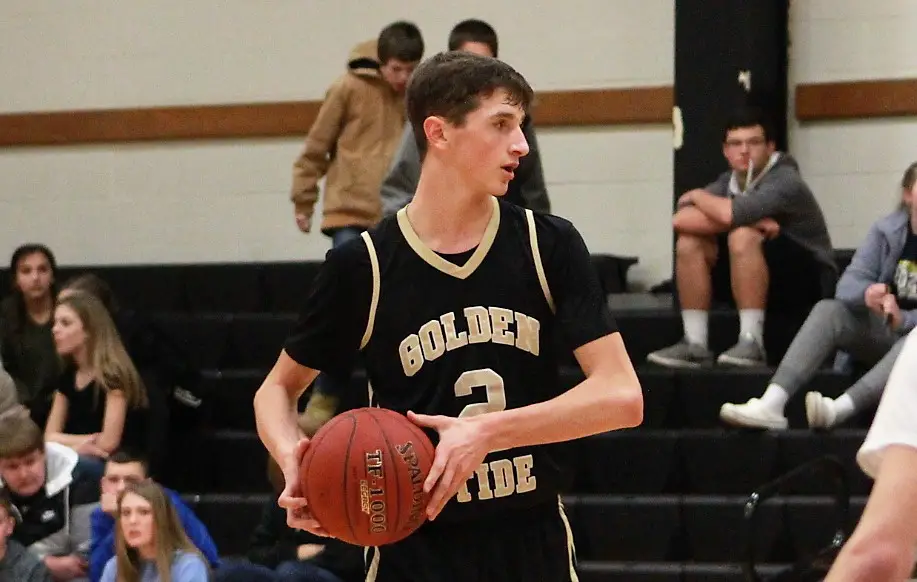 Jan. 9 recaps.
(Photo of Curwensville's Josh Terry. Photo by Jared Bakayska of JB Graphics. For More from JB Graphics check out its Instagram Page)
CURWENSVILLE 58, DUBOIS CENTRAL CATHOLIC 49
CURWENSVILLE, Pa. – Josh Terry and Avery Francisco combined for 38 points to help Curwensville to a 58-49 home AML win over DuBois Central Catholic.
Terry led the Golden Tide with a game-high 20 points with Francisco chipping in 18. Christian Bakayska also reached double figures with 12 tallies.
Justin Miknis paced DCC with 17 points with Thomas Grecco adding 10 and Jonathan Kurtz and Brandon Walker eight each.
RIDGWAY 55, BROCKWAY 44
BROCKWAY, Pa. – Johnny Mitchell, Andy Breier and Neil MacDonald combined for 40 points, as visiting Ridgway stayed unbeaten with a 55-44 AML win over Brockway.
Ridgway outscored Brockway 31-20 in the second half after trailing by three, 14-11, after a quarter and being tied at 24 at halftime.
Mitchell led the Elkers with 16 points, Breier added 14 and MacDonald 10.
Jon Wood paced Brockway with 12 points with Noah Vokes adding 10.
A-C VALLEY 55, VENANGO CATHOLIC 41
OIL CITY, Pa. – Russ Carr had 14 points, six assists and five rebounds to help visiting A-C Valley to a 55-41 win over Venango County.
Dalton Callendar added eight points, eight steals and eight rebounds for the Falcons with Brendan Price contributing eight points and eight rebounds and Eddie Stevanus 13 points.
Parker Slagle had 14 points to lead Venango Catholic with Josh Puelo adding 12.
CLARION 69, MONITEAU 48
CLARION, Pa. – Cam Craig's season-high 28 points lifted Clarion to a 69-48 win over visiting Moniteau.
Craig, who has netted 55 points in his last two games, scored over 20 for the fifth time this season.
Spencer Miller chipped in with a season-best 15 points as well for Clarion with Austin Hummell scoring nine.
Moniteau enjoyed balanced scoring with Jared Lominski tallying 13 points, Ross Tenney 12 and Tyler McFadden 11,
KARNS CITY 57, NORTH CLARION 50
FRILLS CORNERS, Pa. – Freshman Chase Beighley continued his solid play with 16 points to help visiting Karns City surprise North Clarion, 57-50.
Austin Fahlor added 12 points for the Gremlins as did Nolan Riley, who also had nine rebounds. Jacob Friel chipped in with nine tallies.
Keeven Weaver paced North Clarion with 10 points with Nathan Banner adding eight and Zander Hargenrader seven.
KEYSTONE 71, CRANBERRY 43
SENECA, Pa. – Nate Wingard's season-best 20 points helped visiting Keystone roll to a 71-43 win over Cranberry.
Isaak Jones added 15 points for the Panthers with Dalton Jones and Corey Rapp each scoring nine. Brooks LaVan handed out five assists.
Dan McQuaide and Matt McQuaide each had 10 points for Cranberry.