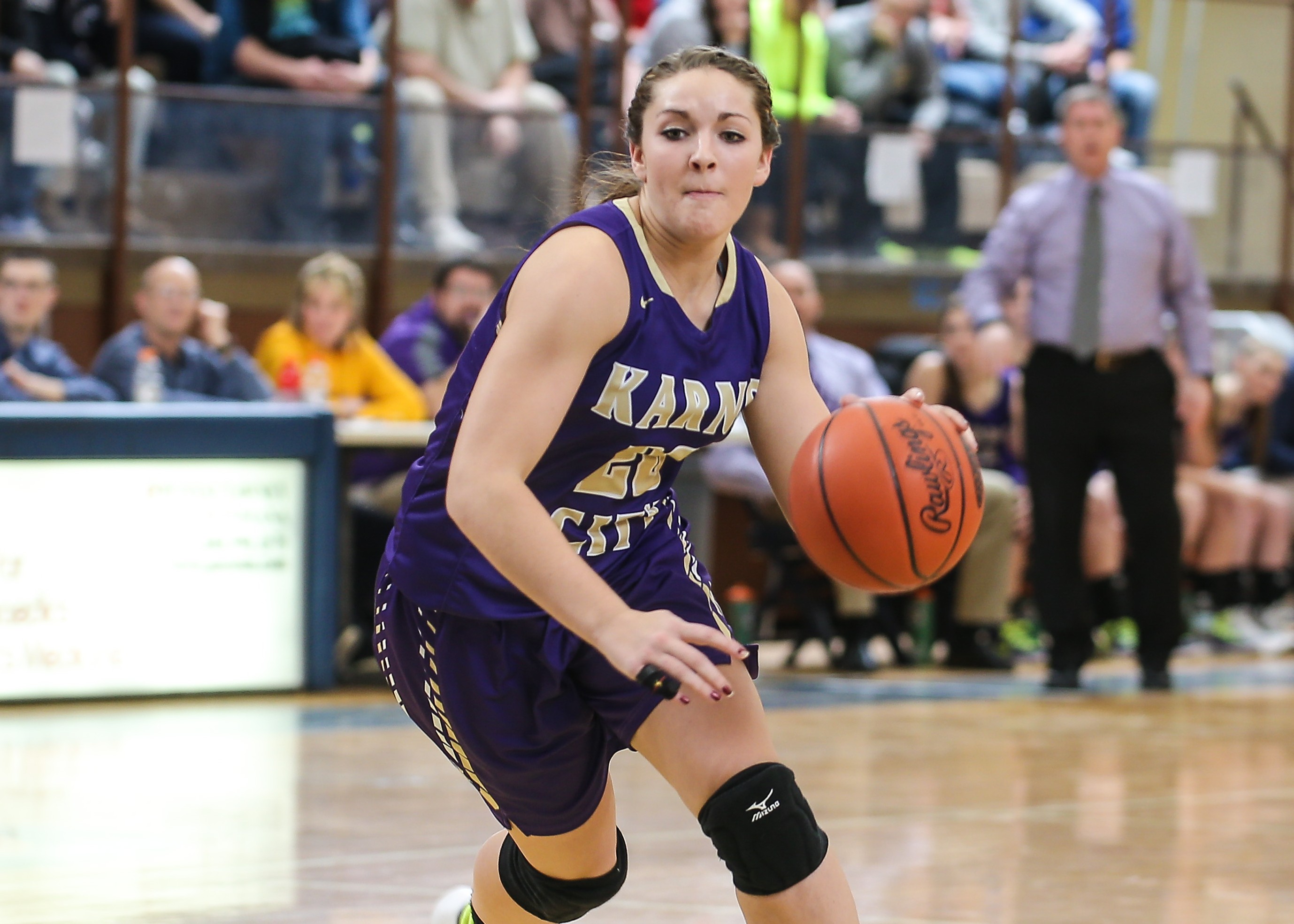 By Chris Rossetti
INDIANA, Pa. – The Karns City girls' basketball team will attempt to reach heights not seen by the Lady Gremlins in 16 years when they meet North Star at 6 p.m. Tuesday at IUP's Memorial Fieldhouse in Indiana, Pa., in the second round of the PIAA Class AA tournament.
Karns City (24-2), the District 9 champs who are ranked ninth in the state in AA by PennLive.com, haven't gotten past the second round of the PIAA tournament since winning the school's only PIAA title in 2000.
In fact, the Lady Gremlins are only playing in their third second-round game since then having lost to Greensburg Central Catholic, 59-45, in 2004, and to Bishop Canevin, 64-40, in 2014.
Senior star LeeAnn Gibson was a sophomore on the 2014 team but the forward who is headed to Slippery Rock University next year to continue her basketball career is the leader of this year's squad.
Gibson is the team's second-leading scorer at 17.0 ppg just behind sophomore guard Emily Hegedus' team-leading 17.4 ppg. But Gibson has been Karns City's go-to player in the postseason averaging 17.8 ppg in four postseason contests including the KSAC Title Game. She is coming off a 26-point, 14-rebound effort in a 59-37 win over Carlynton in the opening round of the PIAA tournament Friday.
Hegedus, who has really burst onto the scene this year, her second at the varsity level hasn't been too shabby herself in postseason playing scoring 14.0 ppg in playoff action.
The duo is a big reason Karns City enters Tuesday night's contest having won 17 in a row since a 68-58 setback to eventual District 10 champion West Middlesex, who is also in the second round, Dec. 29. The Lady Gremlins only other loss was a season-opening defeat to WPIAL Class AAAA foe Latrobe.
But Karns City will have its hands full Tuesday against a North Star team that is on  roll of its own.
The Lady Cougars (24-2) are the District 5 champs and have won nine in a row since losing to District 6 Class A champion Bishop Carroll, 47-28, Jan. 25. That includes a hard-fought 37-26 win over Marion Center in the opening round of the PIAA Tournament Friday.
North Star will have the height advantage inside with 6-foot junior forward Jackie Stanko, who averages 12.2 ppg and 9.4 rpg.
Senior point guard Courtney Schrock leads the Lady Cougars averaging 13.2 ppg and 5.2 apg, while senior guard Olivia Zuchelli adds 9.2 ppg and senior forward Kayla Rice 7.1 ppg and 6.6 rpg.
Additional key players for Karns City including Alyssa Gibson, LeeAnn's sophomore sister, who averages 8.7 ppg and junior forward Mackenzie Craig, who scores 7.7 ppg.
NOTES – Only one District 9 Class AA girls' team has moved beyond the second round since Karns City won the PIAA title in 2000. In 2012, Cranberry beat Girard, 43-33, in the second round before falling to Seton-La Salle, 58-42, in the quarterfinals … In fact, this is only the fifth time since 2000 a D9 AA girls' team has made it to the second round with the Karns City squads of 2004, 2007 and 2014 being the other ones … North Star is in the PIAA playoffs for the first time since 2010 when the Lady Cougars beat Sto-Rox, 42-37, in the first round before falling to Villa Maria, 55-34, in the second round. That was the second straight season North Star had advanced to the second round. In 2009 it beat Riverside, 54-48, in the first round before falling to Villa Maria, 55-34, in the second round.