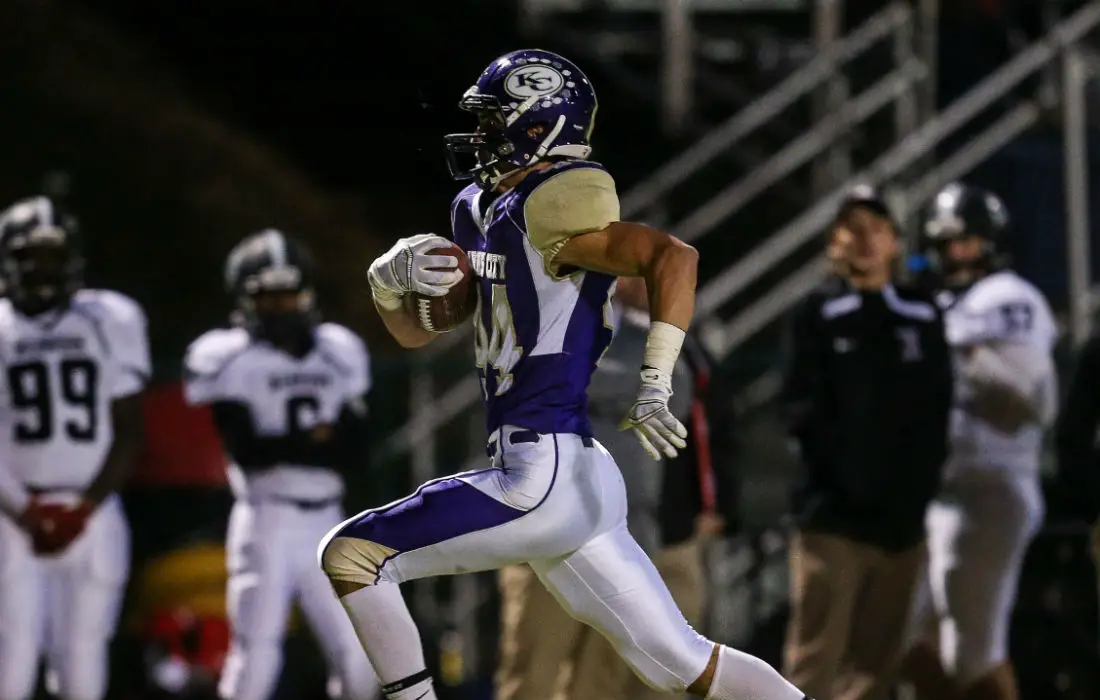 By Chris Rossetti
CLARION, Pa. – It's the same, yet it's different for the Karns City Gremlins as they chase a fifth consecutive District 9 title.
(Cover Photo by Mike Schnelle. Check out more of Schnelle's work here)
What's the same?
Karns City is playing football in November.The Gremlins are in a title game for the sixth straight season and for the 10th time in 11 years having won eight of the last 10 District 9 2A titles.
So what's different?
For starters, Karns City is no longer playing in 2A. With the new six classification system in the PIAA, the Gremlins are now in 3A.
On top of that, it's not strictly a District 9 title Karns City is playing for. With the new classification system also came a new sub-regional set up in some classes for District 9 schools. The Gremlins are in one of those sub-regional set ups with three District 9 schools and one Pittsburgh City League (District 8) school making up the region.
And it's that City League school, Perry Traditional Academy, that Karns City will face in the title game Thursday night – yes another difference – at Clarion University's Memorial Stadium – OK, somethings stay the same. Kickoff for the matchup is set for 7 p.m.
Karns City enters the title game off a week off. The Gremlins (8-2), the top seed in the bracket, had a bye last week and haven't played since a 35-28 loss at Clearfield Oct. 28. That loss ended an eight-game win streak for Karn City.
Perry did play last week. The third-seeded Commodores (4-6) made the long trip to St. Marys worthwhile knocking off the second-seeded Dutch, 38-27.
Entering the game, Karns City would seem to be the favorite.
The Gremlins are strong on both sides of the football averaging 39.7 points per game while allowing just 11.7. Prior to Clearfield scoring 35 in the game two weeks ago, Karns City had allowed just 29 points in its previous six games. That included a 31-7 win over Clarion, which is in the D9 2A title game against Kane Friday as well as a 42-6 win over St. Marys.
Offensively, Karns City averages nearly 405 yards per game with the bulk of that – 283.9 – coming on the ground.
Chandler Turner, who missed the Clearfield game with an injury but should be ready to go Thursday, leads the way with 920 yards and 12 touchdowns. Kaiden Powers (521, 8 TDs), Cullen Williams (479, 9 TDs) and Eric Dodd (397, 5 TDs) are also key components to the running-game-by-committee approach the Gremlins take.
Powers is also the leading receiver with 13 catches for 254 yards and three scores. Jimmy Thompson (15 catches, 234 yards, 4 TDs), Turner (10 catches, 231 yards, 2 TDs) and Williams (12 catches, 188 yards, 1 TD) are also dual threats.
Jacob King is the triggerman in the offense. King, who split time with Williams last year, has taken over the full-time reigns this season and is 70 of 130 for 1,063 yards with 11 touchdowns and just four interceptions.
Defensively, Karns City is led by Turner, who was named the KSAC Large School Defensive MVP earlier this week. Turner averages 3.2 tackles per game from his defensive back position with two interceptions.
Williams has a team-best three picks while averaging 3.8 tackles per game. Sebastian Troutman is the leading tackler (5.4 per game) quickly followed by Aaron Hutchinson (5.2 per game) and Thompson (5.2 per game) while Mitchell McDonald has a team-best 5 ½ sacks. Thompson adds 4 ½ sacks.
That defense will have to find a way to contain a couple of superb athletes for Perry.
Quarterback Doug Johnson accounted for 249 of the Commodores 350 yards of offense last week against St. Marys. He was 11 of 18 passing for 207 yards with a touchdown and a pick while also running 11 times for 42 yards with a touchdown.
Rasaun Taylor was Johnson's favorite target. Taylor had six catches for 136 yards and a touchdown and also returned an interception for a score.
James Goodwine added 94 yards rushing on 18 carries and scored twice against the Dutch.
Perry has won 2 of 3 with the lone loss coming to University Prep, 40-6, in the Pittsburgh City League semifinals two weeks ago. But prior to that, the Commodores had lost three straight and four of five.
On the year, Perry averages 19.3 points per game while allowing 27.5.
The winner will take on the District 10 champion, either Sharon or Hickory, in the PIAA first round next week. The D10 title game will be played at 1 p.m. Saturday at Wilmington High School.