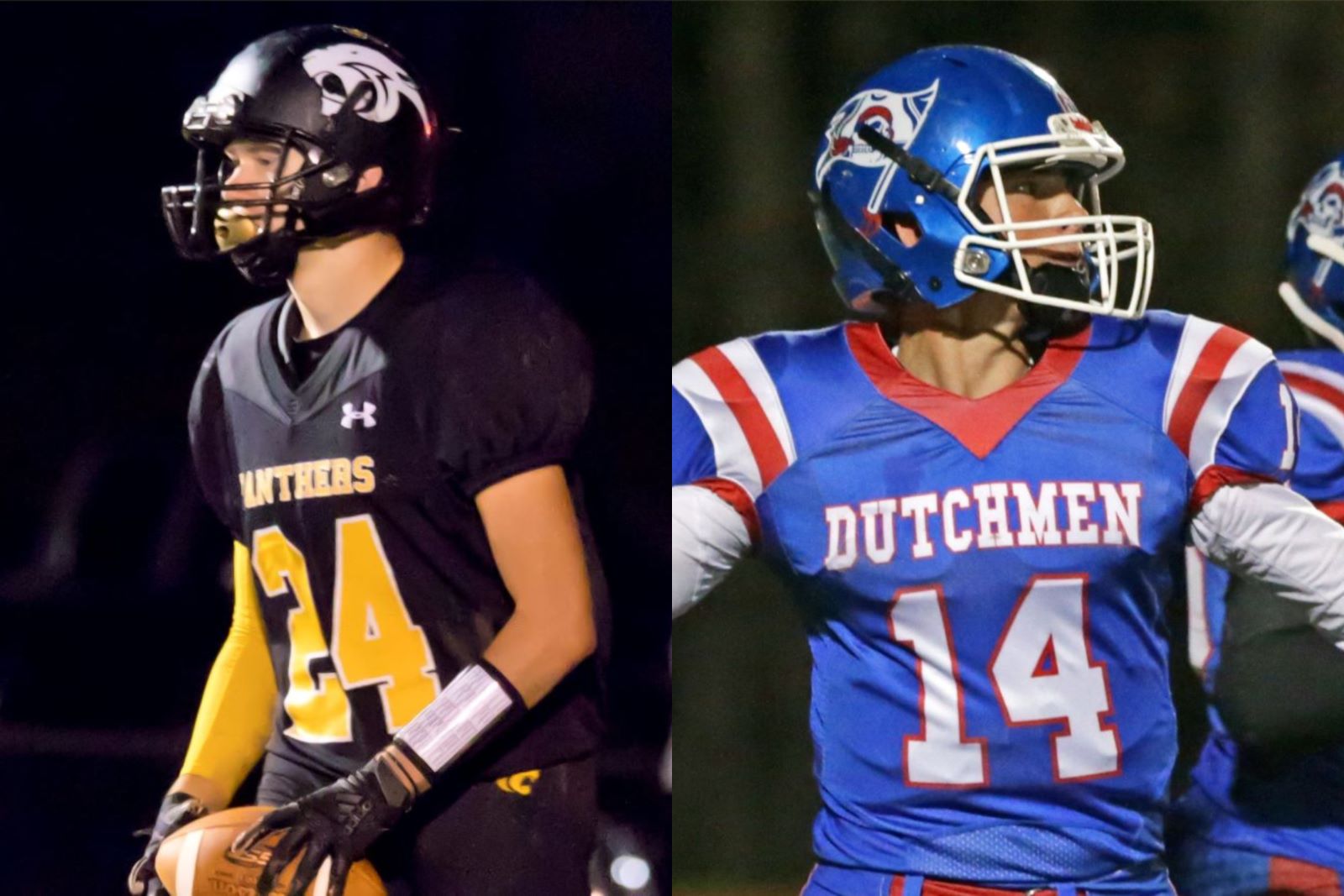 SHIPPENVILLE, Pa. – Nick Weaver of Keystone and Christian Coudriet of St. Marys are the Week Seven 2019 D9Sports.com District 9 Co-Football Players of the Week.
Weaver helped Keystone secure a key 52-24 win over visiting Smethport in a game that was a lot closer than it appeared as the Panthers led by just six and Smethport was driving late in the third quarter. He ran 14 times for 236 yards and five touchdowns and also made nine tackles, including a pair for loss, on defense.
Coudriet, meanwhile, helped St. Marys keep its playoff hopes alive by going 19 of 27 passing for 374 yards and five touchdowns in a 47-11 win over Moniteau.
Weaver and Coudriet are joined on the District 9 Honor Roll for Week Seven by 14 players.
The Player of the Week and Honor Roll honors will continue through the conclusion of the regular season.
D9SPORTS.COM CO-PLAYERS OF THE WEEK
Nick Weaver – Keystone: 14 carries, 236 yards, 5 touchdowns; 9 tackles, 2 TFLs on defense – Keystone 52, Smethport 24
Christian Coudriet – St. Marys: 19-for-27 passing, 374 yards, 5 touchdowns – St. Marys 47, Moniteau 11
D9SPORTS.COM HONOR ROLL
Jon Wood – Brockway: 23 carries, 218 yards, 3 touchdowns; 13-for-15 passing, 146 yards, 2 touchdowns – Brockway 48, Punxsutawney 20
Jack Krug – Brookville: 24-for-44 passing, 291 yards, 5 touchdowns, 4 interceptions – Brookville 33, Kane 14
Ian Thrush – Brookville: 8 catches, 113 yards, 2 touchdowns; 2 interceptions on defense – Brookville 33, Kane 14
Cutter Boggess – Clarion: 7 catches, 137 yards, 2 touchdowns; 10 carries, 31 yards – Clarion 51, Bradford 6
Cal German – Clarion: 12-for-23 passing, 295 yards, 4 touchdowns – Clarion 51, Bradford 6
Travis Gleason – Coudersport: 20 carries, 108 yards, 3 touchdowns; 8 tackles, 2 TFLs, 1 sack – Helped unbeaten Coudersport blowout previously unbeaten Redbank Valley – Coudersport 56, Redbank Valley 0
Hayden Keck – Coudersport: 10 carries, 111 yards, 1 touchdown; 3-for-5 passing, 71 yards; Intercepted two passes on defense returning one of them for a touchdown; Helped unbeaten Coudersport blowout previously unbeaten Redbank Valley – Coudersport 56, Redbank Valley 0
Mason McAllister – Elk County Catholic: 5-for-9 passing, 107 yards, 3 touchdowns; 3 carries, 56 yards – Elk County Catholic 57, Sheffield 14
Jon Wittman – Elk County Catholic: 2 catches, 76 yards, 2 touchdowns; 5 carries, 46 yards, 1 touchdown – Elk County Catholic 57, Sheffield 14
Jake Alcorn – Kane: 5 catches, 117 yards, 2 touchdowns; 7 carries, 7 yards – Brookville 33, Kane 14
Cole Sebastian – Otto-Eldred: 14-for-30 passing, 263 yards, 3 touchdowns; 10 carries, 59 yards – Otto-Eldred 38, Curwensville 22
Matt Dush – Ridgway: 7 catches, 136 yards, 1 touchdown; 3 carries, 29 yards – Ridgway 19, Karns City 13
Luke Bowser – Union/A-C Valley: 16-for-24 passing, 194 yards, 4 touchdowns – Union/A-C Valley 52, Cameron County 0
Michael Fitzgerald – St. Marys: 8 catches, 189 yards, 3 touchdowns – St. Marys 47, Moniteau 11
2019 PLAYERS OF THE WEEK
Week Zero: Jake Lezzer, Clearfield
Week One: Oliver Billotte, Clearfield
Week Two: Jack Krug, Brookville
Week Three: Christian Coudriet, St. Marys
Week Four: Ian Thrush, Brookville
Week Five: Jon Wood, Brockway and Zander McHenry, Keystone
Week Six: Derek Sunafrank, Bradford
Week Seven: Nick Weaver, Keystone and Christian Coudriet, St. Marys
Week Eight: TBA
Week Nine: TBA