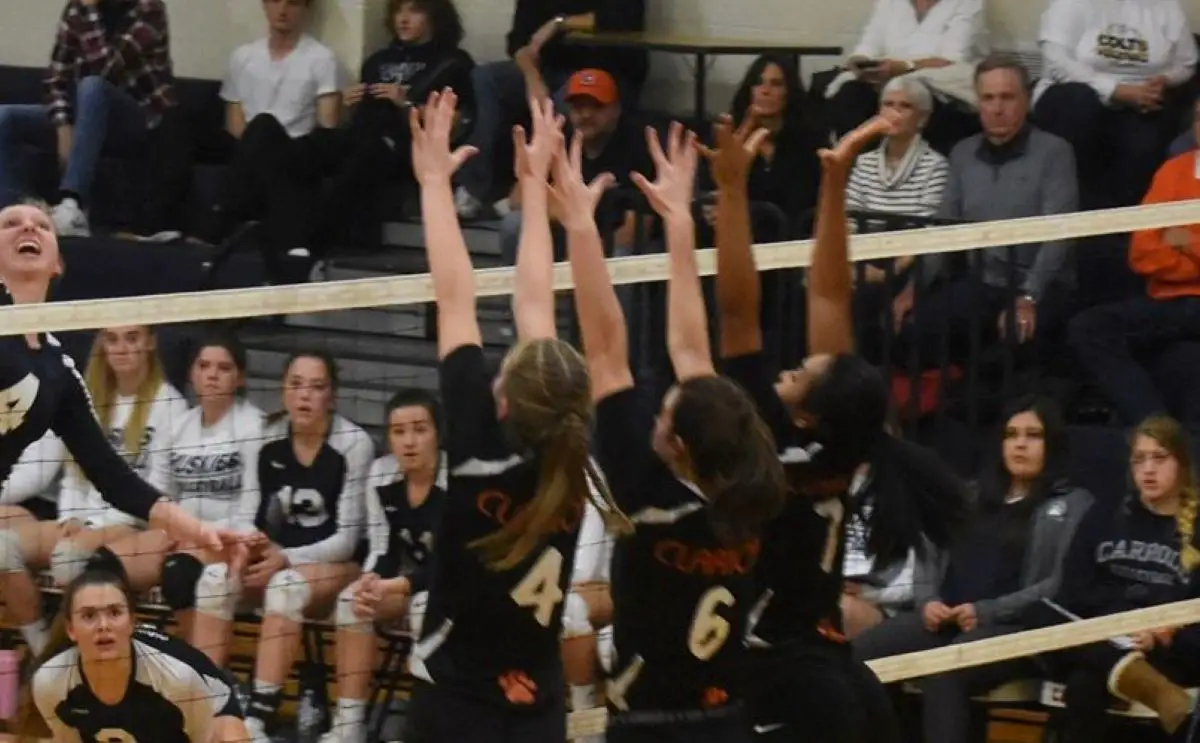 CLEARFIELD, Pa.  – A spot in the PIAA Class 1A title game is on the line when Clarion meets defending PIAA Class 1A champion Northern Cambria in the semifinals Tuesday at Clearfield High School with all the action airing on exploreRadio via exploreClarion.com and D9Sports.com.
(Photo (from left) Clarion's Korrin Burns, Maddie Schill and Aryana Girvan go up a block during the Lady Cats win over Bishop Carroll Saturday in the PIAA quarterfinals. Photo by Kim Constantino)
The match is set for 6:30 p.m. with Chris Rossetti and Mike Kalinowski on the call.
Clarion, the District 9 champion, reached the semifinals with 3-0 wins over Saegertown in the first round and Bishop Carroll in the quarterfinals.
Northern Cambria, the District 6 champion, reached the semifinals with 3-1 wins over Fort Cherry in the first round and Cochranron in the quarterfinals.
This is a rematch of last year's quarterfinal round won, 3-1, by Northern Cambria.
HOW TO LISTEN
Fans can listen to the game live on exploreClarion.com. Go straight to the website and look for the Listen Live story and enter it and the player will work on any mobile device (You may need to hit the play button in order to get the stream to play), or click here to listen.
District 9 Volleyball on exploreRadio is brought to you by:
Pizza Pub in Clarion
Dr. Dirk Vandermeer, OD
Long Shot Ammo and Arms
Friends of Clarion Volleyball
Redbank Valley Volleyball
Clarion Volleyball Boosters