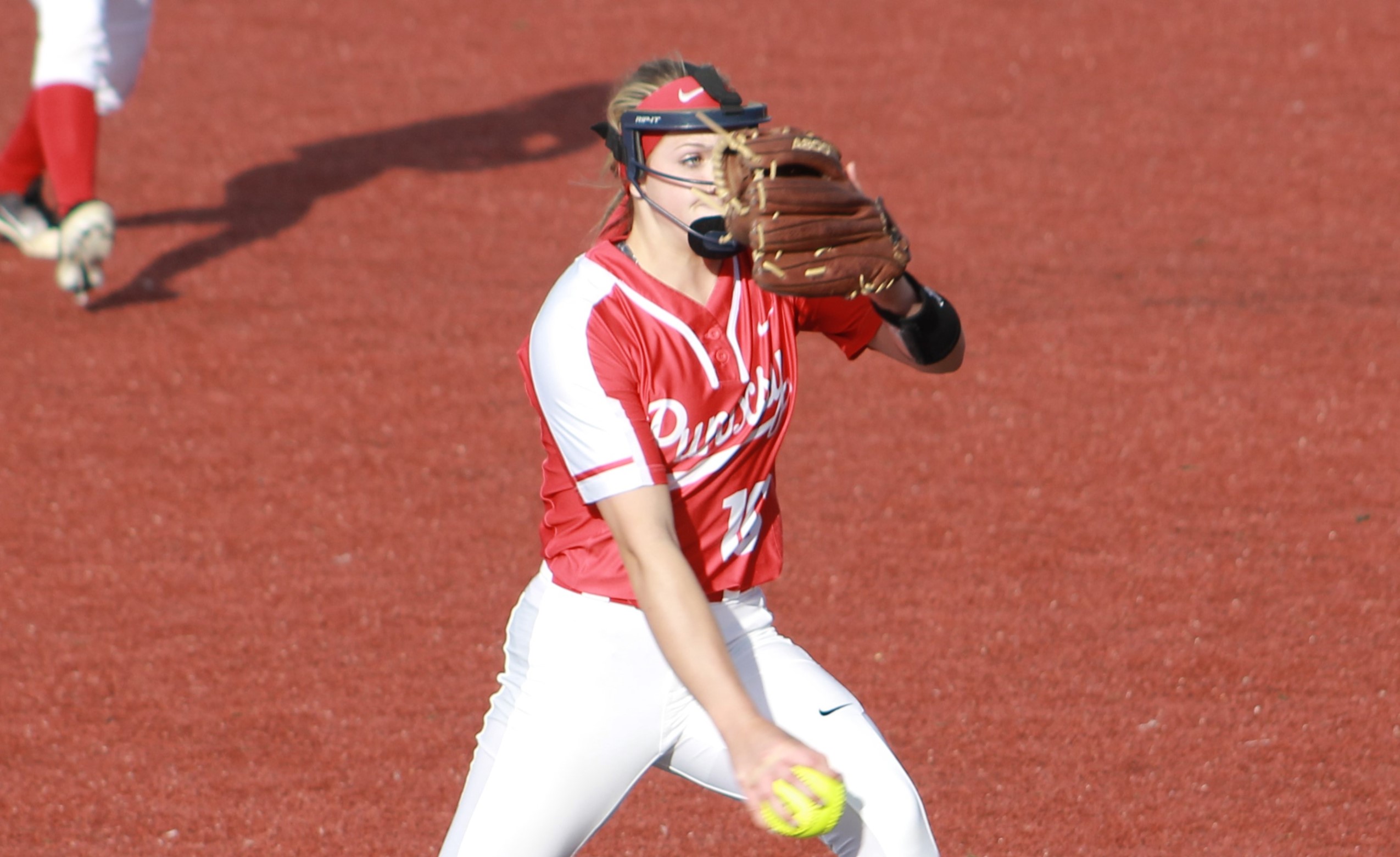 MECHANICSBURG, Pa. – The PIAA Tuesday announced quarterfinal sites and times for Thursday's PIAA baseball and softball playoff games.
(Photo by Jared Bakaysa of JB Graphics. See more of Bakaysa's work here)
Three District 9 teams are still alive in the tournaments and will look to gain semifinal appearances with wins Thursday.
In Class 1A baseball, District 9 runner-up Oswayo Valley will take on WPIAL champion Vincentian Academy at 4 p.m. at Showers Field in DuBois.
Class 1A softball action features District 9 third-place finisher DuBois Central Catholic battling District 6 champion Claysburg-Kimmell at 2:30 p.m. at St. Francis University in Loretto, while in Class 4A softball District 9 champion Punxsutawney takes on District 3 champion West Perry at 4 p.m. at the Milesburg Little League Complex.
Here is a complete look at all six brackets in both softball and baseball.
All games are Thursday, June 7, unless otherwise noted.
BASEBALL
Class 1A
(4-1) Sayre vs. (1-1) Faith Christian, 4 p.m. at Central Columbia High School in Bloomsburg
(3-2) High Point vs. (5-2) Southern Fulton, 4 p.m. at Northern York High School
(9-2) Oswayo Valley vs. (7-1) Vincentian Academy, 4 p.m. at Showers Field in DuBois
(6-1) Homer-Center vs. (7-3) Greensburg Central Catholic, 4 p.m. at North Allegheny High School
Class 2A
(6-2) Bellwood-Antis vs. (3-1) Camp Hill, 4 p.m. at Greene Township Park in Scotland
(11-1) Schuylkill Haven vs. (1-1) Dock Mennonite OR (12-1) Neumann-Goretti (If DM then the game is Thursday at 1 p.m. at Muhlenberg High School in Reading. If NG then the game is Friday at 4 p.m. at Muhlenberg High School in Reading)
(7-1) Cardinal Wuerl North Catholic vs. (5-1) Conemaugh Township, 4 p.m. at Peters Wood Park in McMurray
(10-1) Rocky Grove vs. (6-1) Southern Huntington, 4 p.m. at Seton Hill University in Greensburg
Class 3A
(3-1) Lancaster Catholic vs. (2-2) Mid-Valley, 5:45 p.m. at Pottsville High School
(4-1) Montoursville vs. (3-2) Oley Valley, 3 p.m. at Pottsville High School
(7-1) Brownsville vs. (6-2) Bald Eagle Area, 4 p.m. at Slippery Rock University
(7-3) South Side Beaver vs. (6-1) Huntingdon, 1 p.m. at Somerset High School
Class 4A
(3-1) Berks Catholic vs. (2-1) Valley View, 4 p.m. at Easton Area High School
(3-3) West Perry vs. (11-1) Northwestern Lehigh, 3 p.m. at Walter Stump Stadium in Pine Grove
(10-2) Meadville vs. (6-1) Bellefonte OR (3-2) East Pennsboro (If Bellefonte wins the game is at 1 p.m. at Showers Field in DuBois. If EP wins the game is at 4 p.m. at Somerset High School)
(7-2) Ringgold vs. (7-3) Hopewell, 6:30 p.m. at Peters Wood Park in McMurray
Class 5A
(2-1) North Pocono vs. (1-1) West Chester Henderson OR (3-3) Lower Dauphin, 4 p.m. at Parkland High School in Allentown
(12-1) Archbishop Carroll vs. (3-2) Cedar Cliff, 4 p.m. at Muehlenberg High School in Reading
(7-2) Mars vs. (1-2) Marple Newtown OR (12-2) Boys Latin, Noon at Replogle Field in Enterprise
(7-3) West Allegheny vs. (3-4) Red Land, 4 p.m. at Mt. Aloysius College in Cresson
Class 6A
(1-1) Bensalem vs. (4-1) Williamsport, Noon at Walter Stump Stadium in Pine Grove
(3-2) Red Lion vs. (12-1) La Salle College, 4 p.m. at Manheim Township High School in Lancaster
(3-1) Cumberland Valley vs. (1-2) Council Rock OR (12-2) Frankford, 7 p.m. at Muhlenberg High School in Reading
(7-2) North Allegheny vs. (7-1) Cannon-McMillan, 1 p.m. at Seton Hill University, Greensburg
SOFTBALL
Class 1A
(11-1) Williams Valley vs. (3-1) Greenwood, 2 p.m. at Lebanon Valley College in Annville
(9-3) DuBois Central Catholic vs. (6-1) Claysburg-Kimmel, 2:30 p.m. at St. Francis University in Loretto
(7-1) West Greene vs. (5-2) McConnellsburg, 4 p.m. at Somerset High School
(7-3) Union-New Caste vs. (7-2) Monessen, 2 p.m. at Peters Township High School in McMurray
Class 2A
(1-1) Bristol vs. (4-1) Wyalusing, 4 p.m. at Patriots Park in Allentown
(11-1) Minersville vs. (3-1) Upper Dauphin, 4 p.m. at Lebanon Valley College in Annville
(10-2) Cochranton vs. (7-4) Mohawk, 2 p.m. at Moniteau High School in West Sunbury
(6-1) Mount Union vs. (10-1) Saegertown, Noon at Heindl Memorial Field in DuBois
Class 3A
(2-1) Holy Redeemer vs. (1-1) Springfield Montco OR (12-1) Masterman, 6 p.m. at Parkland High School in Allentown
(11-1) North Schuylkill vs. (4-2) Warrior Run, 5 p.m. at Central Columbia High School in Bloomsburg
(6-1) Phillipsburg-Osceola vs. (7-2) South Park, 4:30 p.m. at St. Francis College in Loretto
(10-1) Hickory vs. (7-1) Southmoreland, 2 p.m. at Heindl Memorial Field in DuBois
Class 4A
(2-1) Tunkhannock vs. (11-1) Bethlehem Catholic, 7 p.m. at Central Columbia High School in Bloomsburg
(3-2) East Pennsboro vs. (2-2) Nanticoke, 4 p.m. at Blue Mountain High School in Schuylkill Haven
(3-1) West Perry vs. (9-1) Punxsutawney, 4 p.m. at Milesburg Little League Complex
(7-1) Belle Vernon vs. (7-3) Mt. Pleasant, 1 p.m. at Latrobe High School
Class 5A
(2-1) Pittston Area vs. (1-1) Bishop Shanahan OR (3-3) Solanco, 6 p.m. at Patriots Park in Allentown
(12-1) Archbishop Ryan vs. (3-2) Lampeter Strasburg, 2 p.m. at Avon Grove High School in West Grove
(7-2) Thomas Jefferson vs. (1-2) Interboro, 1 p.m. at Carlisle High School
(7-1) West Allegheny vs. (7-3) Albert Gallatin, 2 p.m. at Peters Township High School in McMurray
Class 6A
(2-1) Hazleton vs. (1-1) Central Bucks South OR (1-5) Neshaminy, 2 p.m. at Patriots Park in Allentown
(1-3) North Penn vs. (11-1) Parkland, Noon at Patriots Park in Allentown
(11-2) Nazareth vs. (7-2) Latrobe, 3 p.m. at Carlisle High School
(7-1) Hempfield vs. (7-3) Baldwin, 3 p.m. at Latrobe High School