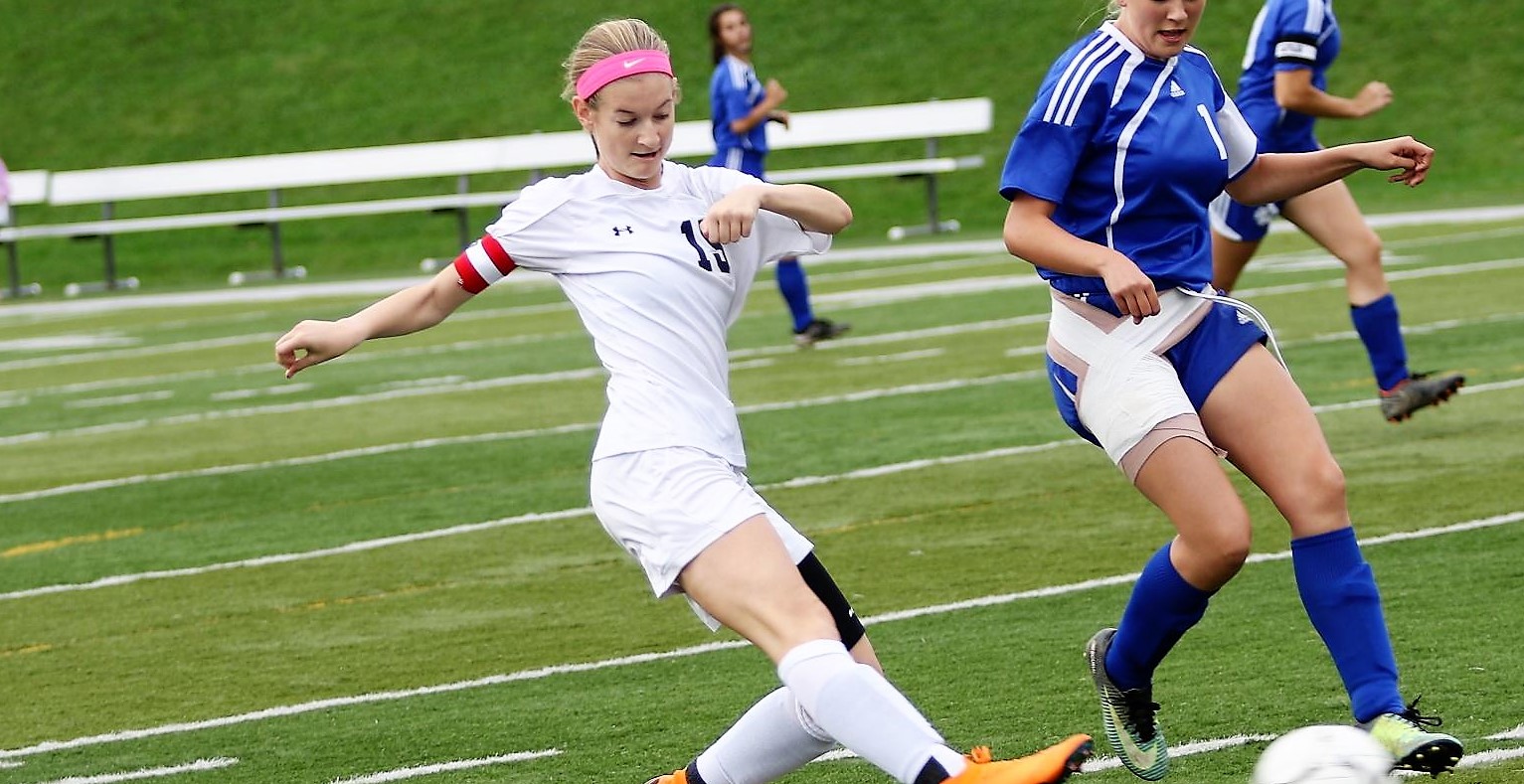 D9Sports.com/EYT Media is doing a series of player profiles on returning high-school athletes this summer. The year in school listed by the athlete is the year the athlete is entering this fall.
(Photo by Tom Weible)
CHANELL BRITTEN – SENIOR – BROCKWAY
Daughter of: David and Marcy Britten
Sports Played: Soccer
Family Members Playing/Played Sports: My dad, David, played soccer for Brockway and now coaches the girls team. My sister, Chanice, cheered and played volleyball. My cousin, Anthony Benson, wrestled and played football.
2018-19 Highlights: First Team UAVSL All-Star, UAVSL MVP, scored my 100th career goal, first undefeated season in Brockway girls soccer history, District 9 Champion, selected for NY/PA Mazza Corporate Cup
Post-High School Plans: Attend a school of her choice majoring in Intelligence and National and Security and continue my soccer career
Q&A With Chanell Britten
D9Sports: What is your favorite sport to participate in and why?
CB: Soccer has always been my favorite sport to participate in because of the bonds I have created with me people and the places I have been able to travel to with my club team.
D9Sports: What is your favorite memory, moment, game from playing high school sports?
CB: My favorite memory is scoring my 100th career goal because all of my family came home to surprise me and I was surrounded by all my teammates. It is something I will forever remember.
D9Sports: Why do you play high school sports?
CB: I play high school sports not only to win D9 championships but to make friends I will forever have and create memories I won't forget.
D9Sports: Who has had the most influence on your athletic career and why?
CB: My dad has had the most impact on my soccer career because he is the one that put a ball at my feet when I was 4. He has helped me to get where I am now and I wouldn't change a thing. My coach from Pittsburgh, Emily Karr, has made me the player I am today and wouldn't give up on me even when I wanted to give up on myself.
D9Sports: If you could change one thing about high school sports, what would it be and why?
CB: I would change private and public schools being in the same bracket.
D9Sports: If you could be president for a day, what would be the one major thing you would do?
CB: I would give universal healthcare.
D9Sports: What is your ideal place to live? County, City, Suburb? Why?
CB: I would love to live in the city.
D9Sports: What would someone who doesn't know you be surprised to find out about you?
CB: I love to play basketball. If I wasn't so involved in soccer, that would be my sport.
D9Sports: What is your strongest subject in school?
CB: I am a full out history nerd!
D9Sports: If there was one period in history or one event in history you could go back to, what would it be?
CB: I would go back to the 1940s.
D9Sports: What question do you wish I would have asked you? And what is the answer to it?
CB: What is one of the craziest injuries you have had? I broke my scapula in my shoulder during a game and continued to play on it because I thought I was okay. I only popped my hip out of place freshman year doing leg lifts and I am not allowed to do those anymore.