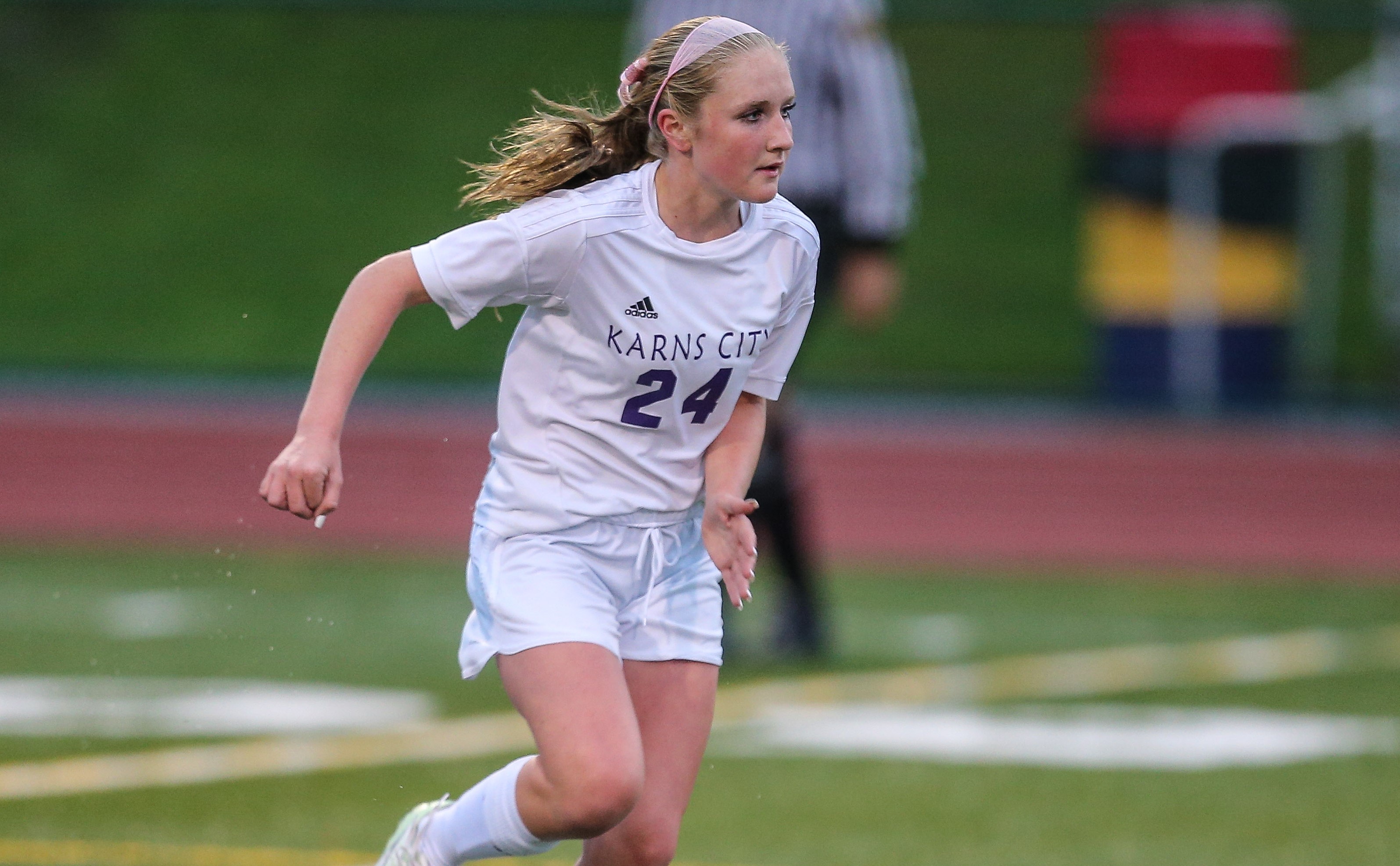 D9Sports.com and EYT Media are doing a series of player profiles on returning high-school athletes this summer. The year in school listed by the athlete is the year the athlete is entering this fall.
HUNTER DITTMAN – Sophomore – Karns City
Daughter of: Scott and Lee Dittman
Sports Played: Soccer and Track & Field
2015-16 Highlights: Hunter was a key contributor on Karns City's PIAA semifinalist team that also won the District 9 title. Her goal in the 26th minute of the semifinal game tied the game, but the Lady Gremlins eventually fell 2-1. In track, she ran a leg on a pair of third-place relay teams for Karns City. The 4×400-meter team took third at the D9 Class AA meet in a Karns City school-record time of 4:14.02, while the 4×800-meter relay team was third in a time of 10:20.48.
Post High School Goals: Hunter wants to be an orthopedic surgeon. She says if the workload isn't too much, she would like to play soccer in college. She said some schools have already contacted her, but a lot of them are far away. She would like to stay closer to home so she can be around her little brother and watch him play sports as he gets older.
Q&A With Hunter Dittman
D9Sports: Do you have a favorite sport, and if so why?
HD: Soccer is my favorite sport because our whole team works together for the result we get. It's not just an individual battle.
D9: What is your best high-school related sports memory and why?
HD: During the game against Wilmington last year, we were tied with less than 20 seconds left and got a corner. Megan McCartney took the corner, and I was able to head it in with less than seven seconds left for the win. I ended up with a fat lip from the girls jumping around and hugging each other.
D9: Has there been a coach and/or teacher who has influenced you the most in your high-school career to this point, and if so, why?
HD: My fitness coach, Tara Jones, pushes me to be the best I can possibly be. She doesn't let me quit, and gets more out of me than I think is possible. Everything that she does with me influences my ability to perform better in my sports.
D9: What do you like best about playing sports in high school?
HD: I like competing along side of my friends.
D9: What is the hardest part about playing sports in high school?
HD: Trying to balance homework and practices/games.
D9: How much offseason work do you put into your sports?
HD: I work out twice per day, every day except Sunday. Usually, it is cross training or plyo in the morning and yoga in the afternoon three days a week, and a 4-mile run and lifting on the other three days. I just do the run on Sundays to rest.
D9: What is your favorite subject in school?
HD: Math
D9: What do you like to do for fun when you aren't playing sports?
HD: Hang out with my brother, swim and hang out with friends.
D9: What are your goals for the upcoming school year both sports wise and academically?
HD: Be a good leader for my soccer team, and help the team get to States and get all 'A's in school.