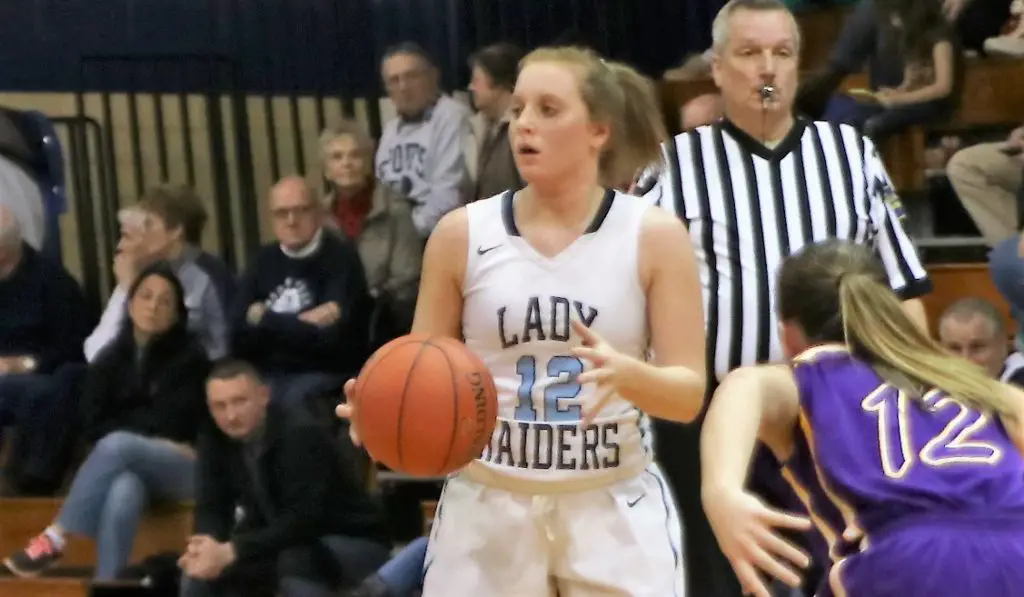 D9Sports.com/EYT Media is doing a series of player profiles on returning high-school athletes this summer. The year in school listed by the athlete is the year the athlete is entering this fall.
(Photo by Jared Bakaysa of JB Graphics. See more of Bakaysa's work here)
MORGAN JOHNSON – SENIOR – BROOKVILLE
Daughter of: Jayna Johnson and Jeff Johnson
Sports Played: Volleyball, basketball, track & field
Family Members Playing/Played Sports: Her twin sister Madison, her brother Ryan played basketball, her father and mother both played sports as did her uncle Tom Hopkins.
2018-19 Highlights: Helped Brookville to its second straight D9 Class 3A title in basketball by averaging a team-leading 13.2 points per game while adding 2.7 assists and 2.4 steals and also hitting 39 3-pointers. Was named a third-team All American Awards & Engraving D9Sports.com All-District 9 performer … Helped Brookville win D9 title in the 4×100-meter and 4×400-meter relays and also finished fifth in the 100-meter dash and third in the 200-meter dash.
Post-High School Plans: She plans to attend a four-year college to major in elementary education. She hopes to play college volleyball.
Q&A With Morgan Johnson
D9Sports: What is your favorite sport to participate in and why?
MJ: My favorite sport to participate in is basketball. I love the sport and I have been playing with the same team since 3rd grade. I always look forward to basketball season.
D9Sports: What is your favorite memory, moment, game from playing high school sports?
MJ: My favorite memory is winning D9 AAA basketball championship back to back. In 2018, winning a state playoff game. Participating in track, winning two team titles.
D9Sports: Why do you play high school sports?
MJ: I play high school sports to be involved with the school and I enjoy being competitive. I love playing sports and being apart of a team with my friends.
D9Sports: Who has had the most influence on your athletic career and why?
MJ: My coaches for volleyball, basketball and track made a big influence on my athletic career. My family is very supportive. Along with my teammates, they push me to play my best and be a good person.
D9Sports: If you could change one thing about high school sports, what would it be and why?
MJ: One thing I would change about high school sports is we should play more teams in our area and not two hours away.
D9Sports: If you could be president for a day, what would be the one major thing you would do?
MJ: The first thing I would do as president is improving health care for all Americans and provide better education for public schools.
D9Sports: What is your ideal place to live? County, City, Suburb? Why?
MJ: I would like to move south in a city where there's warmer weather.
D9Sports: What would someone who doesn't know you be surprised to find out about you?
MJ: They would be surprised to find out I have a twin sister.
D9Sports: What is your strongest subject in school?
MJ: My strongest subject in school is math.
D9Sports: If there was one period in history or one event in history you could go back to, what would it be?
MJ: I would like to go back to New York on 9/11 because it was such a devastating event in history and started a global war on terrorism. It's hard to imagine how something so awful could have happened.
D9Sports: What question do you wish I would have asked you? And what is the answer to it?
MJ: I wish you would have asked me what sports I have competed in prior to high school. I was a gymnast for 10 years and began competing at age five. I swam on the YMCA swim team for four years. Also, I played softball for six years.