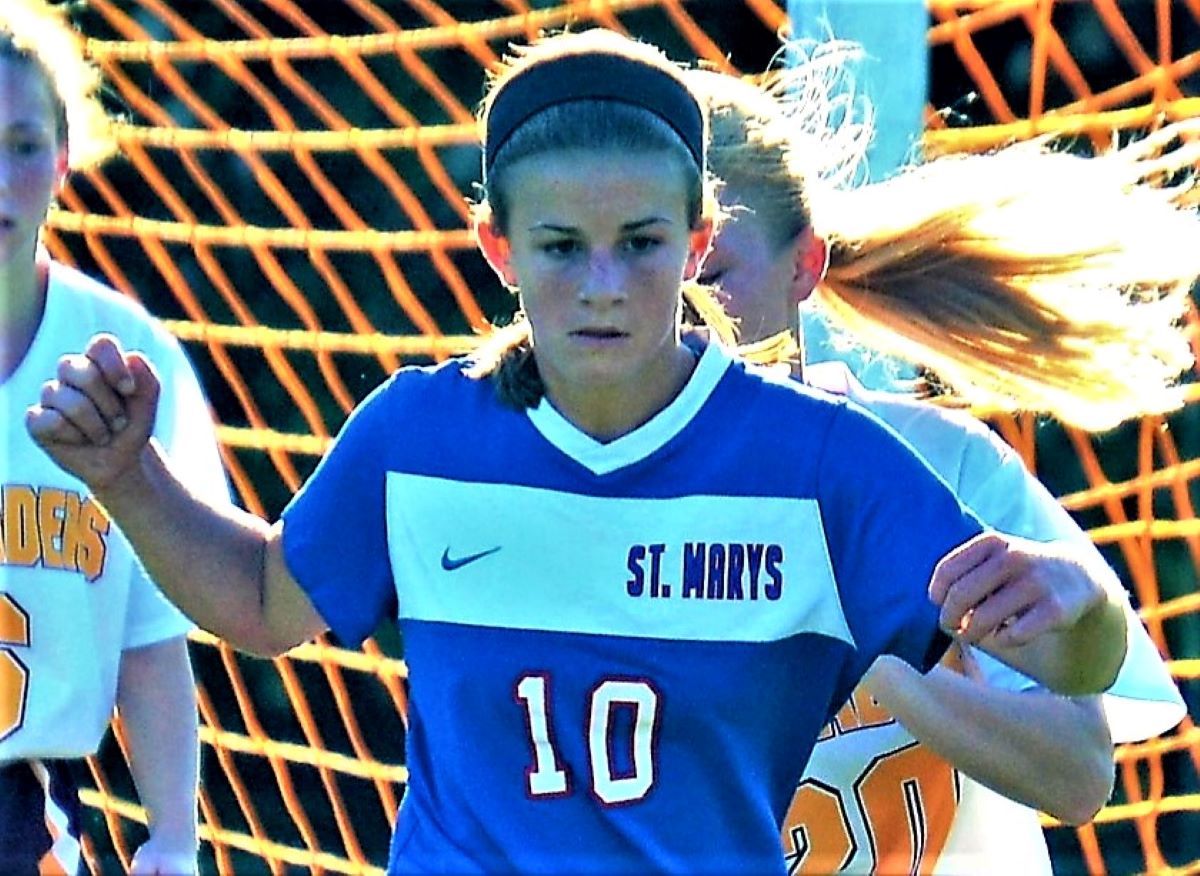 Sept. 13-14 soccer and volleyball recaps.
(Photo of St. Marys Lauren Eckert. Submitted photo)
GIRLS' SOCCER
ST. MARYS WINS BUCKTAIL TOURNAMENT
ST. MARYS, Pa. – St. Marys took home the Bucktail Tournament title in a tournament that was consolidated into one day Saturday.
The Lady Dutch beat Elk County Catholic, 4-0, in the title match with Brittney Shaw making five saves to record the shutout.
Lauren Ecker scored three times for St. Marys with Kaylee Muccio also adding a goal.
In the opening round, St. Marys downed Curwensville, 5-2.
Eckert had the hat trick with Johnson and Izzy Caskey also scoring for the Lady Dutch.
Hailey Sheeder and Chloe Davis scored for Curwensville.
ECC beat Ridgway in the other opening-round contest, but no details were reported.
No details were reported on the consolation match.
BROCKWAY 3, BROOKVILLE 0
BROOKVILLE, Pa. – Chanell Britten scored twice and Morrigan Decker added a goal to give visiting Brockway a 3-0 win over Brookville.
Taylor Little and Emma Cavaline had helpers on Britten's goals for the Lady Rovers, while Mackenzie Overbeck recorded the shutout in net.
KARNS CITY 6, KEYSTONE 0
KARNS CITY, Pa. – Emma Dailey and McKenna Martin each scored twice to help Karns City to a 6-0 win over Keystone.
Brooke Stahlma and McKenna Lavella also tallied goals for the Lady Gremlins, while Ally Fennell had a pair of assists. Cameron Roofner, Jill Morrow and Chloe Linamen also had helpers.
Rossi McMillen recorded the shutout in net.
BOYS' SOCCER
PORT ALLEGANY 4, ST. MARYS 3
PORT ALLEGANY, Pa. – Howie Stuckey had two goals and an assist to lead Port Allegany to a 4-3 win over visiting St. Marys.
Shawn McNeil added a goal and a helper for the Gators with A.J. Edgell also scoring. Simon Burleson had two assists and River Cramer one helper.
Vini Nunes had a hat trick for St. Marys.
Ty Guilds made 14 saves in getting the win, while Jonathan Chambers made nine saves for the Dutch.
KANE 5, COUDERSPORT 3
COUDERSPORT, Pa. – Aiden Zampogna scored twice and added an assist to help visiting Kane to a 5-3 win over Coudersport.
Johnny Feikls and Ben Westerburg each added a goal and an assist for the Wolves, while Josh Greville also scored.
Jonathan Barroquiero, Ethan Ross and Aristotle Smith scored for Coudersport.
Alec Huckabone got the win for Kane making eight saves.
BROCKWAY 4, BROOKVILLE 1
BROOKVILLE, Pa. – Ryan Lin scored twice and Noah Bash and Marcus Bennett each added a goal and an assist to lift visiting Brockway to a 4-1 win over Brookville.
Jared Marchiori also had a helper for the Rovers.
Bryce Kunselman scored off a corner kick for Brookville.
CLARION-LIMESTONE 10, WEST SHAMOKIN 0
STRATTANVILLE, Pa. – Behind four goals and two assists from Beau Verdill, Clarion-Limestone rolled past visiting West Shamokin, 10-0.
Paul Leonhardt added two goals and two assists for the Lions with Austin Coull scoring twice and picking up a helper. Brock Smith and Bailee Verdill each added tallies in the victory.
Chipping in assists were Reece Geiger, Ryker Bingham and Nate Megnin, while Geiger and Tyler Bingham combined on the shutout.
KARNS CITY 11, KEYSTONE 0
KARNS CITY, Pa. – Behind five goals from Nate Rondinelli and three from Dakota King, Karns City rolled to an 11-0 win over visiting Keystone.
Gage Cowoski, Robby Rumbaugh and Brayden Christie also added tallies for the Gremlins, while Nate Boyden made three saves to record his first shutout.
DUBOIS 5, TYRONE 1
DUBOIS, Pa. – Brayten Sedor scored four times to help DuBois beat visiting Tyrone, 5-1.
VOLLEYBALL
ALLEGANY-LIMESTONE (N.Y.) 3, Oswayo Valley 0
SHINGLEHOUSE, Pa. – Madison Smith had six kills and an ace to help visiting Allegany-Limestone to a 3-0 (25-22, 25-154, 25-20) win over Oswayo Valley Friday.
Madison Callen added three kills and four aces for the Lady Gators.
Macy West had five kills for Oswayo Valley with Avaree Kellet adding eight kills. Johanna Dickerson chipped in seven digs and seven assists.
WELLSBORO 3, COUDERSPORT 0
WELLSBORO, Pa. – Visiting Coudersport fell in straight sets to Wellsboro, 3-0 (25-20, 25-7, 25-17) Saturday.
Claudia Miller had five kills, 17 digs and a block for the Lady Falcons, while Emma Saulter had 25 digs, Paige Watson four aces and three kills and Addie Myers four kills, two blocks and a kill.
KARNS CITY 3, MONITEAU 0
WEST SUNBURY, Pa.  – On Saturday, Cassidy Nolan had 10 kills to lead visiting Karns City to a 3-0 (25-15, 25-22, 25-21) win at Moniteau in KSAC volleyball action.
Emma Clark added seven kills for the Lady Gremlins with Mackenzie Dunn contributing six kills, nine digs and three aces. Emily Huff chipped in four kills and 14 digs and Peyton Turner and Rosalie Carden ran the offense with Turner having 19 set assists and 11 digs and Carden 10 set assists.