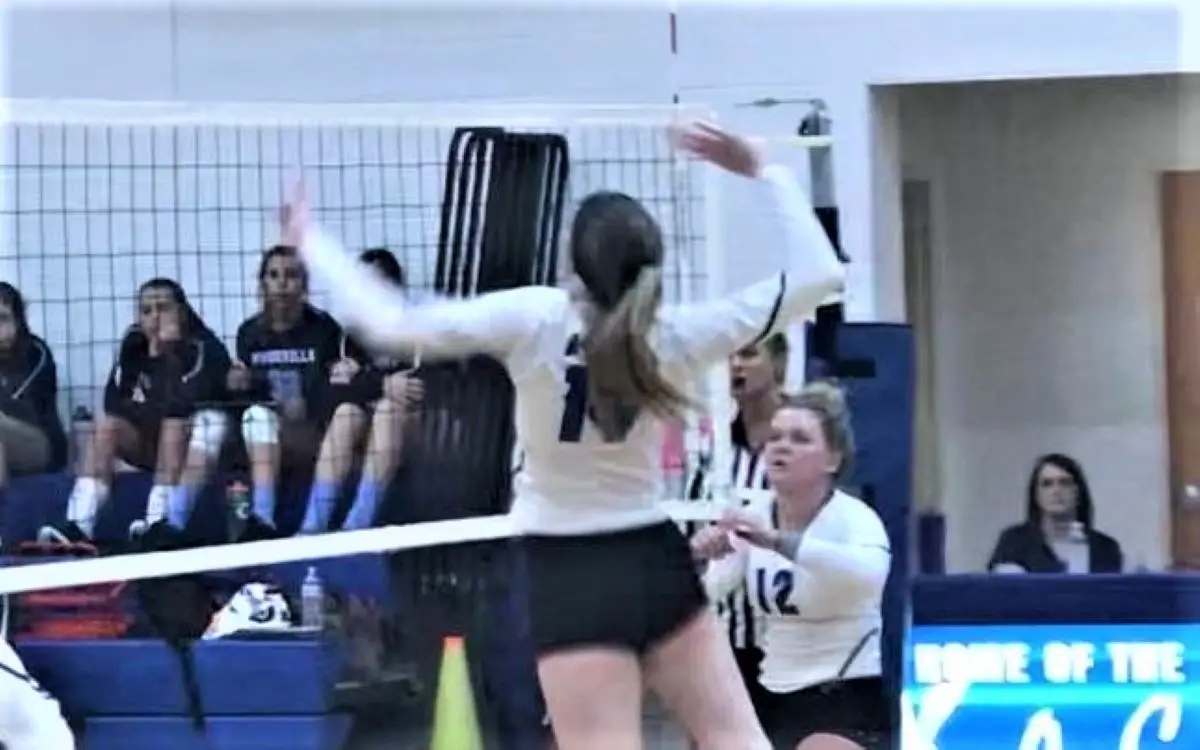 Sept. 9 volleyball and soccer recaps.
(Photo of Mia Sherman of A-C Valley who had 17 kills to lead the Lady Falcons past Brookville)
VOLLEYBALL
A-C VALLEY 3, BROOKVILLE 2
FOXBURG, Pa. – Mia Sherman and Meah Ielsea combined on 30 kills to lead A-C Valley to a come-from-behind 3-2 (25-23, 26-28, 18-25, 25-21, 15-12) victory over visiting Brookville.
Sherman led the Lady Falcons with 17 kills while Ielsea added 13 kills. Andrea Meals also had nine kills for A-C Valley with Hannah Farrington adding seven kills and Emily Wetzel six kills.
Wetzel (27 assists) and Tarra Stefanacci (19 assists) ran the offense for the Lady Falcons, while a strong defensive effort saw Wetzel garner 32 digs, Meals add 31 digs, Farrington 22 digs, Rachel Cullen 19 digs Stefanacci 17 digs and Sherman 12 digs.
For Brookville Lauren Hergert had six kills and five blocks, Morgan Johnson added five kills and Maggie Mackins chipped in four kills and four blocks.
REDBANK VALLEY 3, KEYSTONE 1
KNOX, Pa. – Lauren Smith and Taylor King both recorded double-digit kills to give Redbank Valley a 3-1 (15-25, 25-20, 25-16, 25-17) win at Keystone.
Smith had 11 kills, a block and an ace, while King had 10 kills, three blocks and an ace.
Becca Kunselman added five kills and five aces for the Lady Bulldogs with Kiana Shreckengost chipping in four kills and three blocks.
Tara Hinderliter ran the offense for Redbank Valley with 36 assists and added an ace.
Alyssa Dunlap paced Keystone with 11 kills while Leah Exley had four blocks. Alexandria Johnston and McKenna Kaye each had 16 assists.
DUBOIS CENTRAL CATHOLIC 3, UNION 1
RIMERSBURG, Pa. – Behind 25 digs from Shayleigh Gulvas, visiting DuBois Central Catholic went home with a 3-1 (25-21, 25-19, 23-25, 25-15) victory over Union.
Bella Mangiantini had 13 kills and eight blocks for the Lady Cardinals with Jordy Kosko adding four kills. Maua Cogley ran the offense with 19 assists.
Dominika Logue led Union with 15 kills.
DUBOIS 3, HOLLIDAYSBURG 0
DUBOIS, Pa. – Cayla Donahue and Sydney Kaschalk combined for 24 kills as DuBois beat visiting Hollidaysburg, 3-0 (25-16, 25-19, 25-18).
Donahue had a team-best 13 kills, while Kaschalk added 11 kills and six blocks.
Also for the Lady Beavers, Kaylee Sadowski added nine kills, 11 digs and four aces and Alayna Cornelius had 11 digs.
Cate Gregory ran the offense for DuBois with 35 assists.
OTTO-ELDRED 3, NORTHERN POTTER 0
ULYSSES, Pa. – Otto-Eldred took a 3-0 (25-21, 25-18, 25-19) victory over Northern Potter on the road.
Emmalee Sheeler ran the Lady Terrors offense with 19 assists. Reilly Raught had five kills and Jade Spinney added six digs.
Savannah Herring had 11 kills for the Lady Panthers. Courtney Martin had a team-high 14 digs whole Madison Hoopes had 13.
OSWAYO VALLEY 3, COUDERSPORT 0
SHINGLEHOUSE, Pa. – Macy West had six kills and seven blocks in Oswayo Valley's 3-0 (25-20, 25-19, 25-23) victory over visiting Coudersport.
Jaclyn Brebham had 10 kills, six digs and two blocks for the Lady Green Wave while Avaree Kellert added nine kills, six digs and three blocks. Johanna Dickerson ran the offense with six digs and 15 assists.
GALETON 3, SMETHPORT 0
GALETON, Pa. – Behind 12 kills, four blocks s and two digs from Alli Macensky, Galeton topped visiting Smethport, 3-0 (25-8, 25-21, 25-12).
Alexis Johnson added nine kills, six aces, a block and a dig for the Lady Tigers with Makenna Shuemaker adding seven assists, six digs, three aces and three kills and Cara Parsell five digs and an ace.
PORT ALLEGANY 3, AUSTIN 2
PORT ALLEGANY, Pa. – Port Allegany held off a strong challenge by Austin to get a 3-2 (26-24, 21-25, 25-16, 16-25, 15-12) home win in NTL action.
Kylie Welsh led Austin with five kills, while Taylor Brewer added four kills.
Port Allegany stats weren't available.
BOYS' SOCCER
COUDERSPORT 4, WILLIAMSON 0
COUDERSPORT, Pa. – Jonathan Barroqueiro scored a pair of goals and helped Coudersport shutout visiting Williamson, 4-0.
Both Barroqueiro goals were penalty kicks. Aristotle Smith had a goal and Jacob Hooftallen added a goal and an assist on the Smith goal.
Coudersport keeper, Rosalyn Page made 11 saves to earn the shutout.
Josh Jolts made nine stops for Williamson.
BROCKWAY 3, DUBOIS CENTRAL CATHOLIC 0
BROCKWAY, Pa. – Brockway's team effort earned a 3-0 victory over visiting DuBois Central Catholic.
Marcus Bennett tallied the first score for the Rovers with a penalty kick in the first half. Ryan Lin scored the second goal and Nathan Bennett got a goal that was assisted by Marcus Bennett.
Lewis Painter and Garrett Park split the shutout for Brockway.
PHILIPSBURG-OSCEOLA 3, BROOKVILLE 1
BROOKVILLE, Pa. – Ashton Crownover scored twice after halftime to break a 1-all tie and lead visiting Philipsburg-Osceola to a 3-1 win over Brookville.
The Mounties took a 1-0 lead early in the game on a Parker Matson goal before Jace Miner tied the game for Brookville off a feed from Logan Oakes.
REDBANK VALLEY 3, WEST SHAMOKIN 0
NEW BETHLEHEM, Pa. – Owen Magagnotti made nine saves to help Redbank Valley to a 3-0 win over visiting West Shamokin.
Nick Moore, Declan Fricko and Kolton Kline scored for the Bulldogs.
West Shamokin took its players off the field with 23 minutes left because of an apparent disagreement with the officials.
WEST MIDDLESEX 5, KEYSTONE 3
KNOX, Pa. – Despite a pair of goals from Cameron Easton, Keystone lost at home to West Middlesex, 5-3.
Koby Buzard also scored for the Panthers.
GIRLS' SOCCER
CURWENSVILLE 6, REDBANK VALLEY 5, 2 OVERTIME
CURWENSVILLE, Pa. – Emma Rebar broke a 5-5 tie in double overtime to help Curwensville to a 6-5 victory over visiting Redbank Valley.
Rebar also scored once in regulation for the Lady Tide. Chloe Davis and Haylee Mullins each had a pair of goals.
Brook Eberle found the back of the net four times for the Lady Bulldogs. Quinn Fricko also had a goal that was assisted by Rhiannon Laughlin.
RIDGWAY 4, KANE 3, OVERTIME
KANE, Pa. – Gina Gerg's overtime goal lifted visiting Ridgway over Kane, 4-3.
Gerg had all four goals for the Lady Elkers.
Sadie Walter, Rachael Buhl and Victoria Hallberg all found the back of the net for the Lady Wolves.
TITUSVILLE 2, FOREST AREA 1, 2 OVERTIME
TIONESTA, Pa. – Despite a late comeback, Forest Area fell in double-overtime to visiting Titusville, 2-1.
Mackenzie Bauer scored the tying goal for Forest Area on a penalty kick with less than a minute left to play.
Abby Gatesman made 10 saves for Forest Area.
BALD EAGLE 5, CLEARFIELD 0
WINGATE, Pa. – Bald Eagle Area topped visiting Clearfield, 5-0.
Addison Proctor led the Lady Eagles with a pair of goals while Falen McHenry scored once and assisted on two. Sierra Sirovec and Zoey McHenry each chipped in on a goal.
Hayley Moore made 15 saves for Clearfield.
Bald Eagle Area keeper, Rachel Veneziano made six saves in the shutout.
BRADFORD 16, OIL CITY 0
OIL CITY, Pa. – Behind six goals and four assists from Regan Johnson, Bradford rolled to a 16-0 road win over Oil City.
Maddi Cowburn added a hat trick and three assists for the Lady Owls, while Marissa Miller, Abbie Nuzzo and Mackenzie Lucas each scored twice and Emily Prince once.
Chloe Shaw had three assists in the win while Miller, Nuzzo, Taylor Komidar and Emily Bosworth each had one helper.
Lucas (two saves) and Jaylynn McKinney (two saves) combined on the shutout.