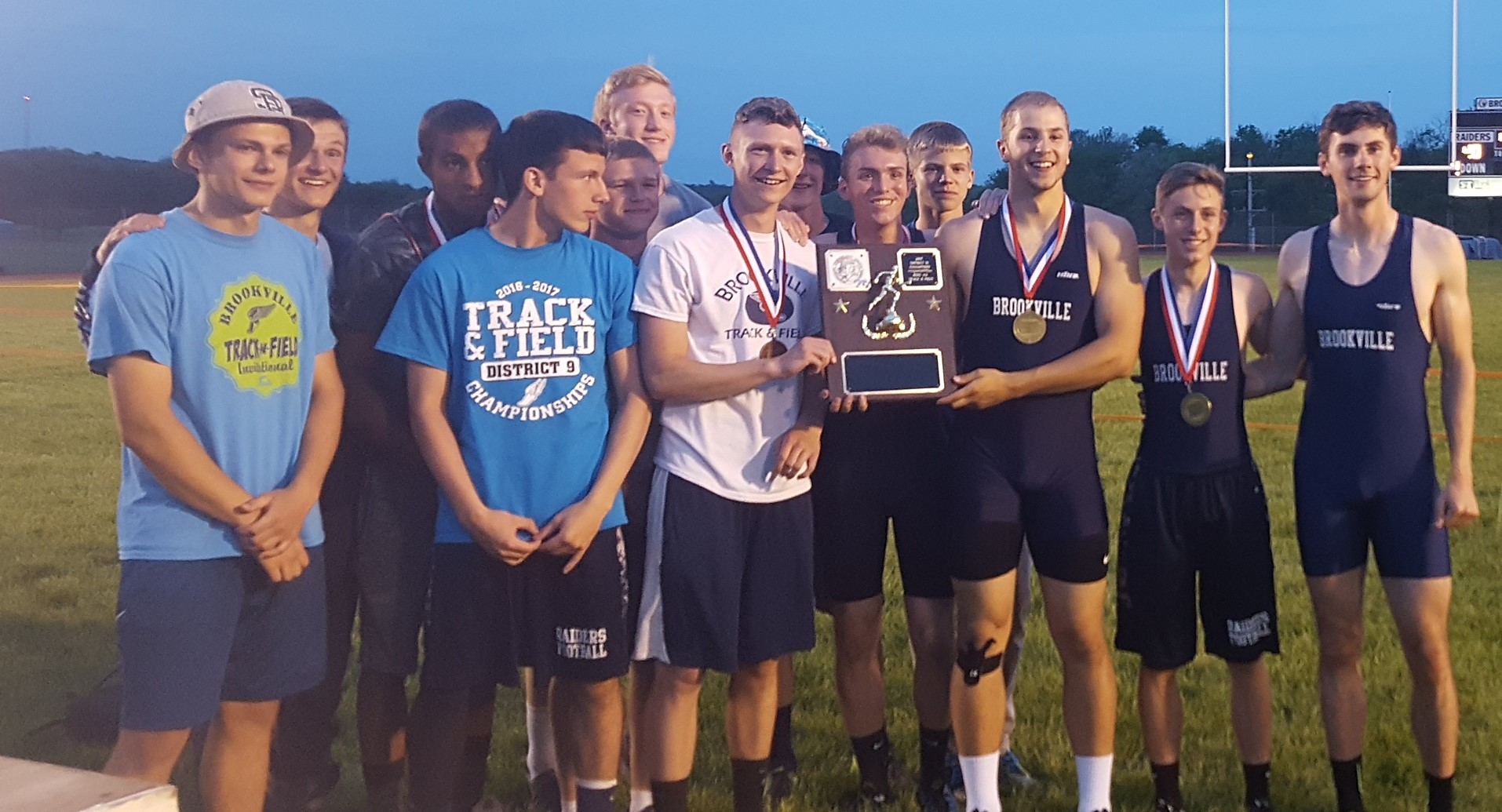 BROOKVILLE, Pa. – Ryan Thrush of Brookville won his second consecutive Jim Manners Award for meet MVP while helping the Raiders to the District 9 Class 2A boys' track and field championship.
View photo gallery of the meet • Full meet results 
Brookville ran away with the title scoring 105 ½ points. Second-place Elk County Catholic wasn't within a javelin throw scoring 69 points with Kane taking third with 56 points, Moniteau fourth with 51 and Clarion fifth with 44.
By himself, Thrush would have finished tied for eighth with 28 points, and when you add in a winning relay he helped account for 38 points.
The senior won the 400-meter dash in a time of 50.03 and the 800-meter run in a time of 2:00.81 while finishing second in the 200-meter dash in a state-qualifying time of 22.83. He also anchored the 4×400-meter relay team that won in a time of 3:28.09 and included John Frank, John Matheny and Ian Thrush as well.
Thrush along with the girls' James Manners Award winner Brooke Hummel of Brookville talked about their performances.
Brookville had one additional champion with Bryan Dworek winning the long jump with a leap of 22-1 with the Raiders taking the top three spots in the event thanks to a second-place leap of 21-4 by Seth Ray and a third-place jump of 21-3 ¾ by De-Angelo Coffey
Meanwhile, Frank grabbed third in the 400 (52.28), the 4×100-meter relay team of Brandon McGranor, Dworek, Ian Thrush and Frank was second in a time of 44.38 and Coffey was second and Ray third in the triple jump with leaps of 43-5 ½ each (Coffey needed fewer attempts).
Clarion's Brendan Zerfoss cemented himself as the fastest boy in District 9 with the junior winning both the 100-meter dash (11.00) and the 200-meter dash (22.32) while anchoring the 4×100-meter relay team where he caught Frank from behind to give Clarion the victory in a time of 44.32 – he was joined on the squad by Marshall Powers, Archer Mills and Ty Burford).
Zerfoss talked about becoming the fastest guy in District 9 after winning the 100.
Tom Bojalad of St. Marys also won a pair of throwing events he was heavily favored in taking home the shot put title with a toss of 54-11 and the discus with throw of 167-7.
He talked about winning the shot put and how he became a shot putter.
Joseph Newton of Kane and Jared Kespelher of Redbank Valley both had strong meets as well with Newton winning the 110-meter hurdles in a meet-record time of 14.40 in front of Kespelher, who ran a state-qualifying time of 15.27. The previous meet record was 14.86 set by Smethport's Mike Mitchell in 2005.
Newton was also the D9 champ in the high jump (6-0) tying Ben Koss of ECC in the event before out jumping Koss in the jump off with a leap of 6-1, and Newton took fourth in the 300-meter hurdles (41.43).
Kespelher, who has now run four 300 hurdle events in his life was the D9 champion in the event in a time of 40.43. He talked about his performance.
ECC had a pair of individual champions and a relay title as well.
Zachary Wortman won the 3,200-meter run in a time of 9:49.12, while Koss took home the pole vault going over the bar at 14-0. The 4×800-meter relay team of Logan Hoffman, Wortman, Jacob Carnovale and Matthew Dippold took gold in a time of 8:24.33.
Kane had a second athlete win a title as well with Austin Labesky taking home the javelin with a throw of 178-0.
The triple jump championship went to Coudersport's Michael Kane with a leap of 43-7 ¼, and Cranberry's Sam Lander defended his crown in the 1,600-meter run in a time of 4:35.91.
Lander talked about going back-to-back in the 1,600.
Additional athletes who ran, vaulted or threw PIAA qualifying times regardless of place were Keaton Kahle of Redbank Valley in the 100 (11.24; 2nd), Dalton Anders of Moniteau (15.29), Noah Vokes of DuBois Central Catholic (15.34) and Jacob Patton of Moniteau (15.49) in the 110 hurdles finishing third through fifth respectively, Zachary Pistner of St. Marys in the pole vault (13-6; 2nd place) and Ryan Kilhoffer of Johnsonburg in the discus (155-0; 2nd).
Earning PIAA spots with second-place finishes were Ray Maze of Kane in the 400 (50.89), Linkin Nichols of DCC in the 800 (2:03.02), Dippold of ECC in the 1,600 (4:38.96), Ben Hoffman of ECC in the 3,200 (10:03.10), Jacob Patton of Moniteau in the 300 hurdles (40.99), Koss in the high jump, Ray in the long jump, Coffey in the triple jump, Luke Barshinger of Coudersport in the shot put (47-9) and Dylan Close of Otto-Eldred in the javelin (167-7). It is also believed that
Ryan Little of DCC will get a berth in the 200 after taking third behind second-place finisher Thrush in a time of 23.00 because Thrush is believed to have opted-out of the event for PIAAs.
Three second-place relays also are headed to Shippensburg with Brookville's 4×100 being joined by Moniteau's 4×400 team of Anderson, Steven Fawcett, Wyatt McDeavitt and Emmanuel McLean (3:32.94) and Smethport's 4×800-relay team of Christian Tanner, Darion Gregory, Eric Szarowicz and Justin Tanner (8:28.30).