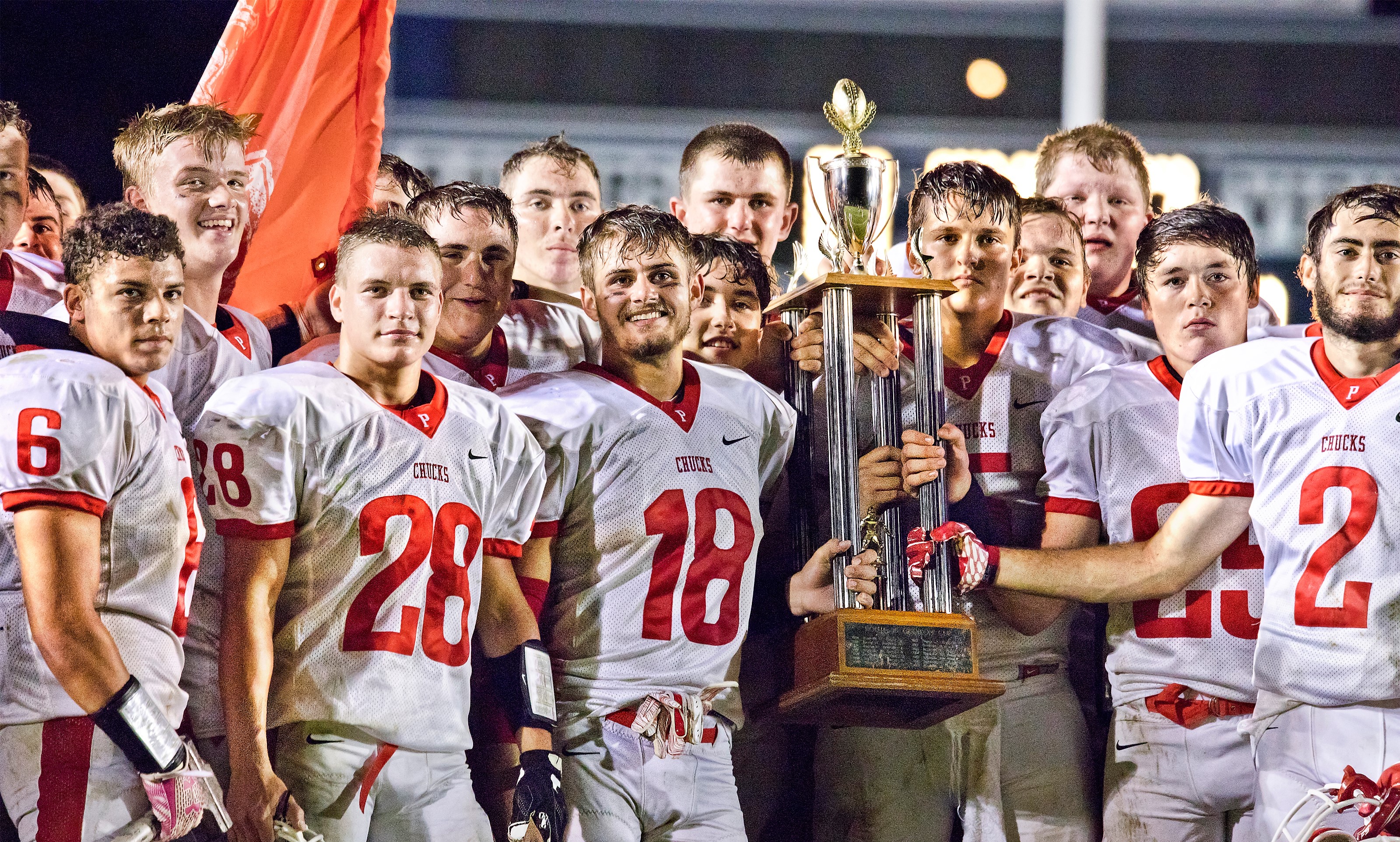 PUNXSUTAWNEY, Pa. — The first Thursday night game of the District 9 football season goes off at Punxsutawney where the Chucks host the Brookville Raiders in what's the annual Route 36 Trophy game.
Kickoff is set for 7 p.m. at LaMarca Stadium.
The Punxsutawney Chucks celebrate with the Route 36 Trophy after last year's win over Brookville. They'll try to win their first game of the year and retain possession of the trophy in Thursday night's showdown at home against the Raiders. (Photo by Kyle Yates www.facebook.com/YatesPhoto)
The traveling trophy is held by the Chucks, who beat the Raiders 23-21 last year in Brookville. Going into this one, it's a tale of two seasons so far as the Raiders are off to a 2-0 start for the first time in six years and the Chucks are 0-2.
The Raiders haven't given up a touchdown yet, routing Bradford 51-0 and beat Brockway 26-8 last week in a game where they gave up two field goals and a safety. Meanwhile, the Chucks have been outscored 119-13 in losses to what looks to be two solid teams in Clarion (70-6) and Karns City (49-7).
Offensively, the Raiders are averaging 413 yards per game and it's somewhat balanced at 221 passing and 192 rushing. Raiders junior quarterback Jack Krug leads the way by accounting for most of those yards. He's thrown for 362 yards and four TDs while completing 36 of 63 passes with two interceptions. He's run for a team-high 304 yards on 18 carries and four TDs.
Last week, Krug passed Jon Guth on the Raiders' all-time passing yardage list, breaking Guth's 26-year-old record. He now stands at 4,148 yards in all or parts of 16 career games.
Kyle MacBeth (10 catches, 118 yards), Robert Keth (11-123) and Ian Thrush (7-53) are his top receivers.
MacBeth leads the Raiders' takeaway defense that's forced eight turnovers so far. MacBeth has four interceptions, two in each of the first two games. 
For Punxsutawney, junior quarterback Kameron Falgout has completed 14 of 28 passes for 160 yards and a touchdown. Senior running back Max London has rushed for 63 yards on 12 carries. He's also the leading receiver with seven catches for 116 yards.
Last year, the Chucks trailed the Raiders 21-20 with 1:32 left after recovering a Raiders fumble and turned into the winning points when Alex Gianvito kicked a 20-yard field goal. The Raiders were playing without Krug, who was knocked out with a broken collarbone the week before in Brockway.
Punxsutawney and Brookville have split their last 12 games and the Chucks lead the all-time series, 26-17-1.