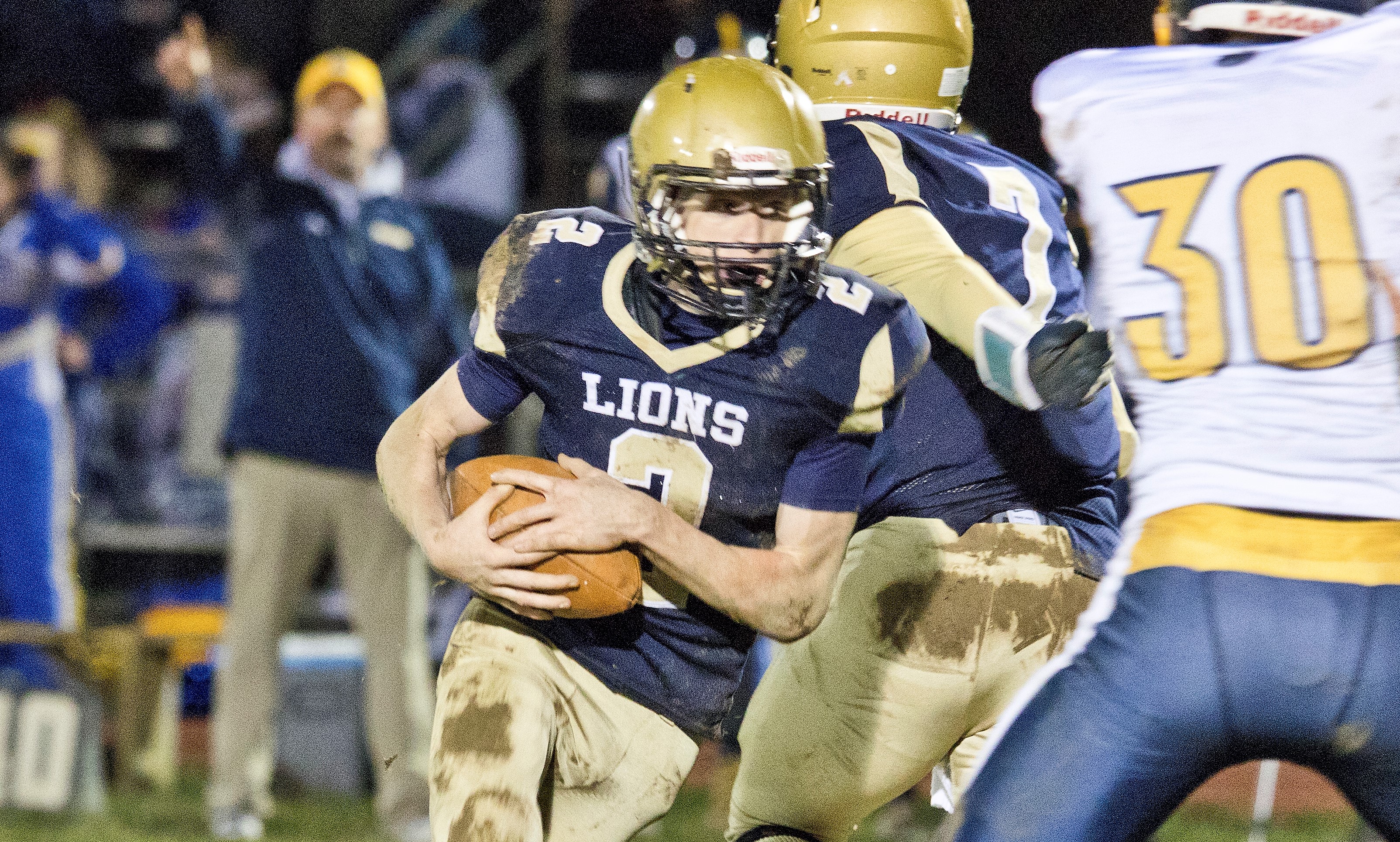 CLARION, Pa. – Over the next few weeks D9Sports.com's Chris Rossetti we will take a look at his the Top 25 stories that impacted District 9 during the 2018-19 school year.
(Photo by Kyle Yates www.facebook.com/YatesPhoto)
NO. 9 – NEWCOMB RUNS INTO D9 RECORD BOOK
Every once in a while a player comes along so good that it really doesn't matter what the other team does to stop said player.
Clarion-Limestone's Austin Newcomb was one such player during the 2018 football season.
Despite consistently facing defenses that stacked to stop the run, Newcomb couldn't be stopped.
In fact, the Lions junior became the most prolific single-season rusher in District 9 history rushing for a D9 record 2,627 yards on 254 carries, an average of 10.3 yards per carry. He also ran for 35 touchdowns. If that wasn't enough, Newcomb also caught 25 passes for 572 yards and five touchdowns and scored three additional touchdowns giving him 43 total touchdowns, two shy of the D9 record of 45 set by Clearfield's Dave Richards in 2002. All this despite the running back missing the equivalency of one full game.
On the year, Newcomb scored 58.7 percent (298 out of 508) of C-L's total points.
A force on defense as well, Newcomb averaged 7.1 tackles per game from his safety position and intercepted three passes while also causing two fumbles, recovering a fumble, blocking a field goal and breaking up five passes.
Rushing for at least 200 yards on six occasions while breaking 300 twice including a school-record 416 in a win over Curwensville, Newcomb was named the Jim Kelly Award Winner as the District 9 MVP while also earning Pennsylvania Sports Writers All-State honors and Pennsylvania Football News first-team All-State honors.
ROSSETTI'S TOP 25 MOST IMPACTFUL HIGH SCHOOL SPORTS STORIES FROM 2018-19 SCHOOL YEAR
10. Young Clearfield softball team reaches PIAA semifinals
11. Cranberry softball reaches PIAA semifinals
12. Winning one for the coach, Kane rallies behind Dave Kiehl
13. A-C Valley girls' basketball makes school history
14. Clarion Volleyball Wins D9 Title, Advances to PIAA quarterfinals
15. Ridgway Boys' Basketball reaches PIAA quarterfinals
16. Six D9 Cross Country athletes medal at PIAAs
17. North Clarion Girls' Basketball gets unexpected three-peat
18. Moving up in class? No problem, Ridgway Football wins third straight D9 title
19. ECC Baseball goes from D9 fifth seed to final eight in the state
20. Moniteau Baseball battles back to win D9 title
21. Brookville Wrestling, a D9 Dynasty
22. Chambers steal and miracle Shot
23. Callen nearly unhittable
24. Wruble's Clutch Hit
25. Ella Marconi's terrific season caps terrific career