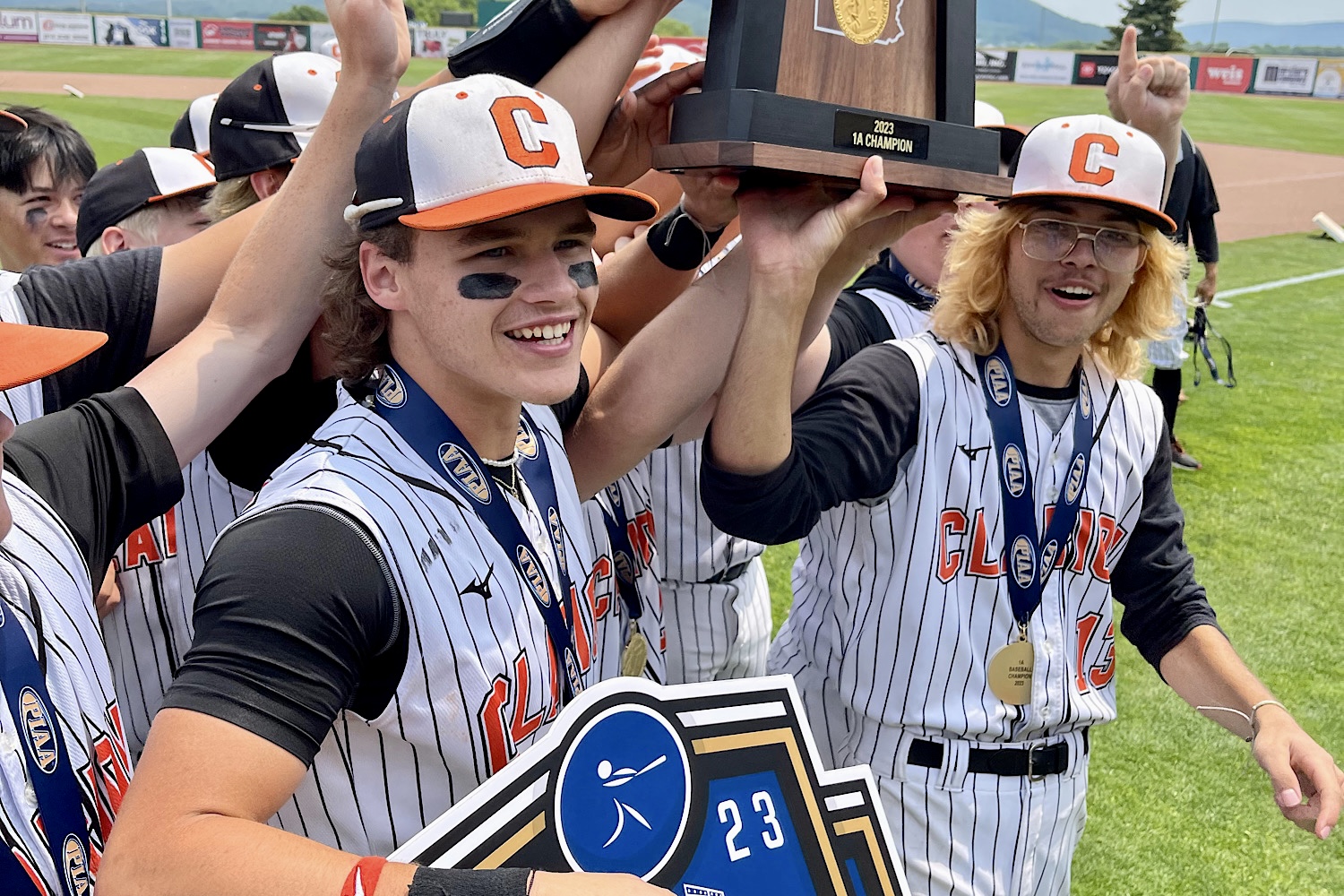 CLARION, Pa. (EYT/D9) — On the first day of baseball practice this spring, Clarion coach Rob Jewett gathered his team and made a startling proclamation.
"This is the first step to the state championship," he said.
In the chill of early spring, where snow flurries often mix with rain showers, optimism reigns.
Still, Jewett was unsure anyone in that huddle REALLY believed him.
A few months later, that statement became a reality in the most startling and impressive way.
Clarion went 10-7 in 2022 and came into this campaign with a wealth of young talent that had played together for many years before reaching high school.
That talent gelled in 2023. A potent lineup produced. A solid pitching staff stifled opponents and Clarion cruised to the District 9 Class A title game where the Bobcats faced defending PIAA Class A champ DuBois Central Catholic.
Clarion entered the final inning down 3-1, but erupted for five runs in the top of the seventh to win the district crown.
It vaulted the Bobcats to one of the most dominating runs in PIAA playoff history.
Clarion thumped Harmony, 15-0, then routed Saegertown, 10-0, to reach the state semifinal. Against Southern Fulton, ace Devon Lauer was sharp again, tossing four shutout innings. Derek Smail came on and worked three more scoreless to help the Bobcats to a 3-0 win.
Three state playoff victories. Three shutouts.
"That's pretty unheard of," Jewett said after the win against Southern Fulton. "I don't know, but I give credit to the guys. They are putting the work in. They trust our system and it's been fun to sit back and watch."
Lauer was key to the postseason run.
The junior right-hander doesn't throw the hardest. He doesn't cut the most imposing figure on the mound, either. He just knows how to get outs and he got a whole lot of them this season.
Lauer closed his exceptional campaign with a scoreless streak of 26⅓ innings, including the final four against old nemesis DCC in the state championship game — a 4-1 victory.
Lauer's numbers were eye-popping. He was 9-1 with a 0.50 ERA.
"Devin — I never expected him to pitch like that," Derek Smail said. "But he really blew my mind."
Clarion outscored its opponents 32-1 in the state postseason.
But what made this championship even more special was the fact it came in an all-D9 title game.
When the PIAA brackets were first released in Class A, it didn't go unnoticed that DCC was on the opposite side of the bracket from Clarion.
It sparked the dream of a D9 state championship matchup.
While the Cardinals battled their way through an eastern-heavy slate of games, Clarion blitzed through the west to set up a date on June 15 at Penn State against each other.
A District 9 coronation. The dream became a reality.
"The district should be really proud," DCC coach Adam Fox said in the days leading up to the championship game. "I said it last year, 'Iron sharpens iron.' These kids from all these schools, whether it's football, basketball, baseball, wrestling, soccer — whatever other sports I'm missing — if you want to be competitive in the district, you have to put the work and time in. You have to be dedicated. You have to have coaches and staff and parents who are willing to go the extra miles and sacrifice things for the kids. And I think that's what District 9 is. It's a hotbed for people who care and people who want to succeed."
The Clarion state championship win in an all-D9 title clash is just one of several big moments from the 2022-23 school year.
As the calendar turns to the new high school athletic year, here's a look back at some of the other top stories from a year full of milestones and accomplishments:
TRUE BLISS
Evie Bliss' story reads like a Hollywood script.
A successful swimmer throughout her youth, when she reached high school at Union, she was without a team. So, the homeschooled student swam independently, latching on where she could.
And she was highly successful.
As a javelin thrower for Union and then for the co-op of Union/A-C Valley, Bliss was just another arm. Nothing spectacular. Nothing extraordinary. Nothing to indicate she would become special.
Then, something unexpected.
A plot twist.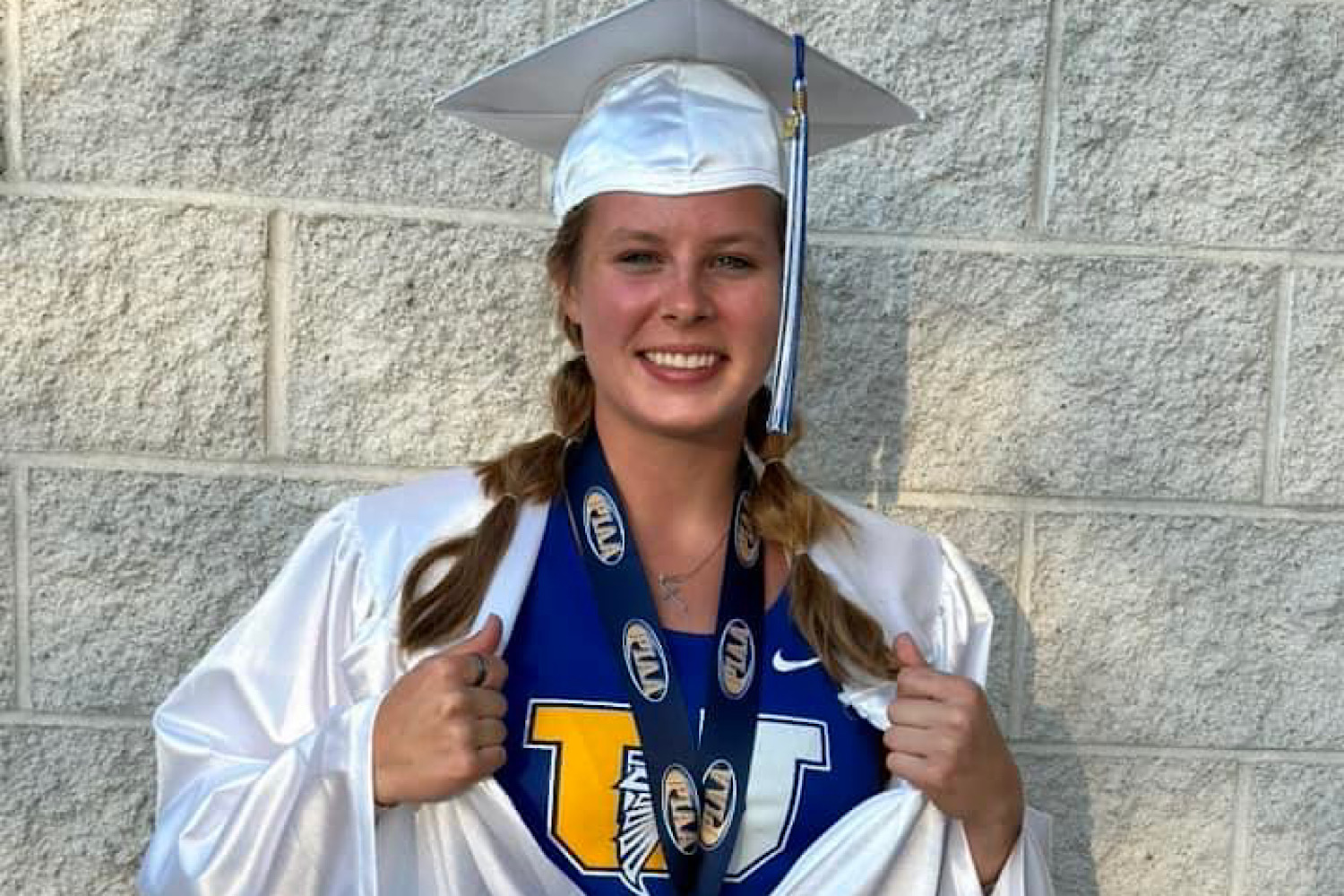 She reached the PIAA Track and Field Championships as a junior, placing second in the District 9 championships. Her first throw in Shippensburg landed just 67 feet away.
Bliss recovered and eked her way into the finals in ninth place. Then, she uncorked a throw of 140 feet, 11 inches to snag a silver medal.
She continued that success throughout last summer and then into this spring season.
Bliss returned to the state meet this year and rocked a throw of 170-2 to shatter the Class 2A record and win gold.
"I mean, I feel like a completely different person," Bliss said, a gold medal hanging around her neck and big smile creasing her face. "It's just incredible."
Bliss isn't done. Her next act has been just as riveting.
She won the U20 women's javelin title at the USATF Outdoor Championships in Eugene, Ore., on July 9 with a throw of 169-11. She will compete as a member of Team USA in the Pan American U20 Championships, which will be held from Aug. 4-6 in Mayaguez, Puerto Rico.
"Oh my gosh, it's surreal," Bliss said. "Very surreal. I don't even think words can describe it."
SMITH SOARS AGAIN; CHALMERS COMPLETES UNDERDOG STORY
It's a golden age of track and field at Union/A-C Valley these days.
In addition to Bliss, The Falcon Knights won two more gold medals at the PIAA Track and Field Championships in May.
One was expected. One perhaps wasn't.
Junior Hayden Smith came in to the state championships as a heavy favorite to repeat as the Class 2A high jump champ. He didn't disappoint, clearing 6 feet, 8 inches to win his second consecutive gold.
His first gold-medal run as a sophomore was fraught with obstacles. Rain pushed the competition indoors and Smith didn't have proper shoes for the surface. He had to borrow shoes from Evie Bliss' father.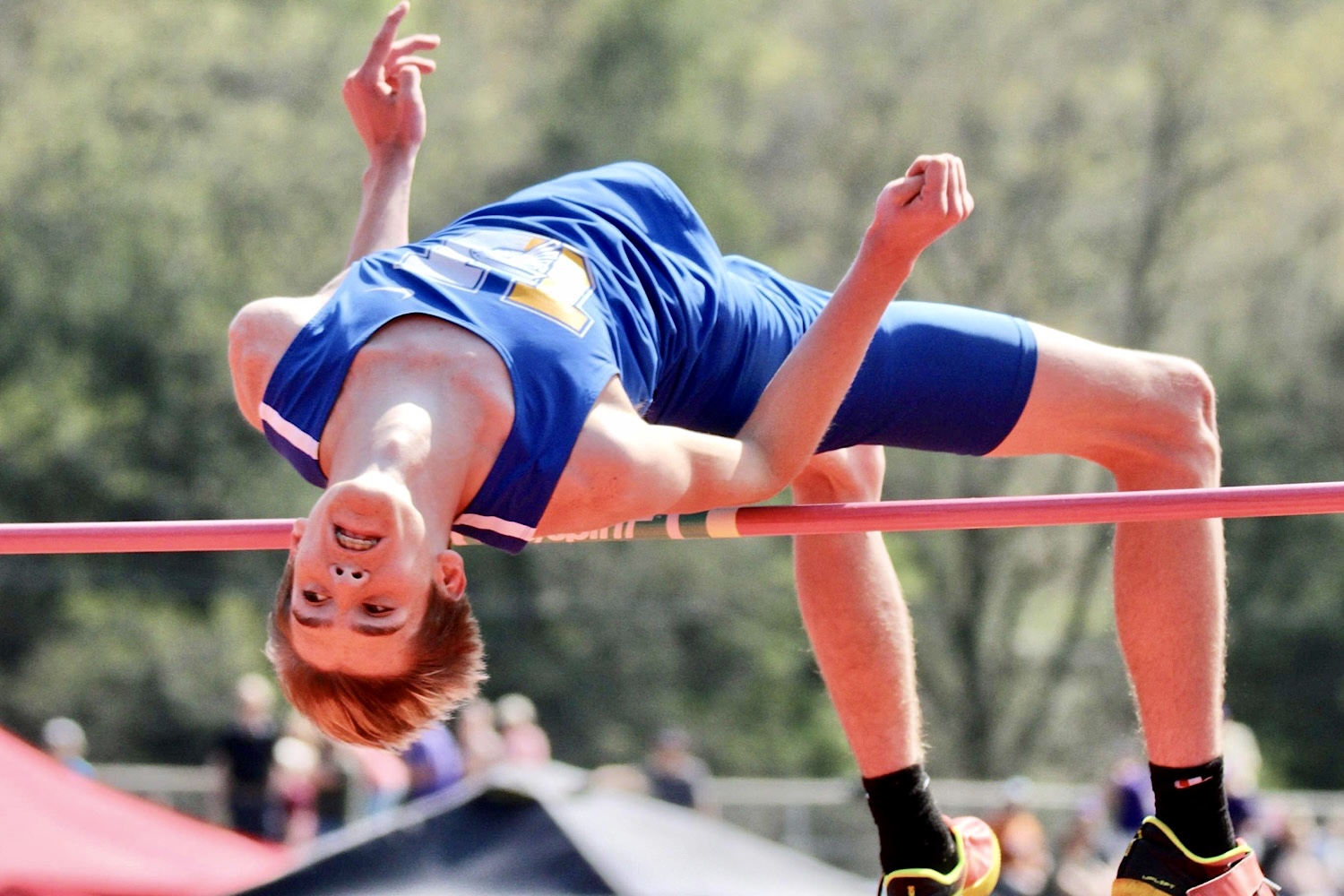 The second time around, all Smith had to deal with was a broken umbrella that he used to shield himself from the sun.
"My umbrella kind of went, so I didn't have any shade," Smith said, shrugging. "It didn't affect me. Just came out and did our thing."
So did Smith's teammate, senior Landon Chalmers, who had a forgettable time at the state championship in the discus the year before as a junior.
Chalmers faulted on all three of his throws in Shippensburg in 2022.
He more than made up for it in his final chance this May.
Chalmers threw 171-5 on his final attempt, following up on a heave of 171-1 to emphatically win the gold.
"I was just happy to redeem myself at states," he said. "Last year I didn't have a single mark. This year I got a pretty good mark and won states with it."
REDBANK'S RUN
The run of success for the Redbank Valley girls basketball program over the last four years was punctuated by one of the program's best seasons in 2022-23.
Redbank went 26-2 — which included a 19-game winning streak — and won the third District 9 championship in four seasons.
The Bulldogs also won a state playoff game before falling to Bishop McCort in the PIAA Class 2A second round.
A snapshot of those four dominant seasons: Three 20-plus-win seasons; Three district titles (two in 2A and one in 3A); Two KSAC championships; A 30-game KSAC win streak and a 24-game winning streak at home in the regular season; A record of 83-21 over that span.
But this past winter was special.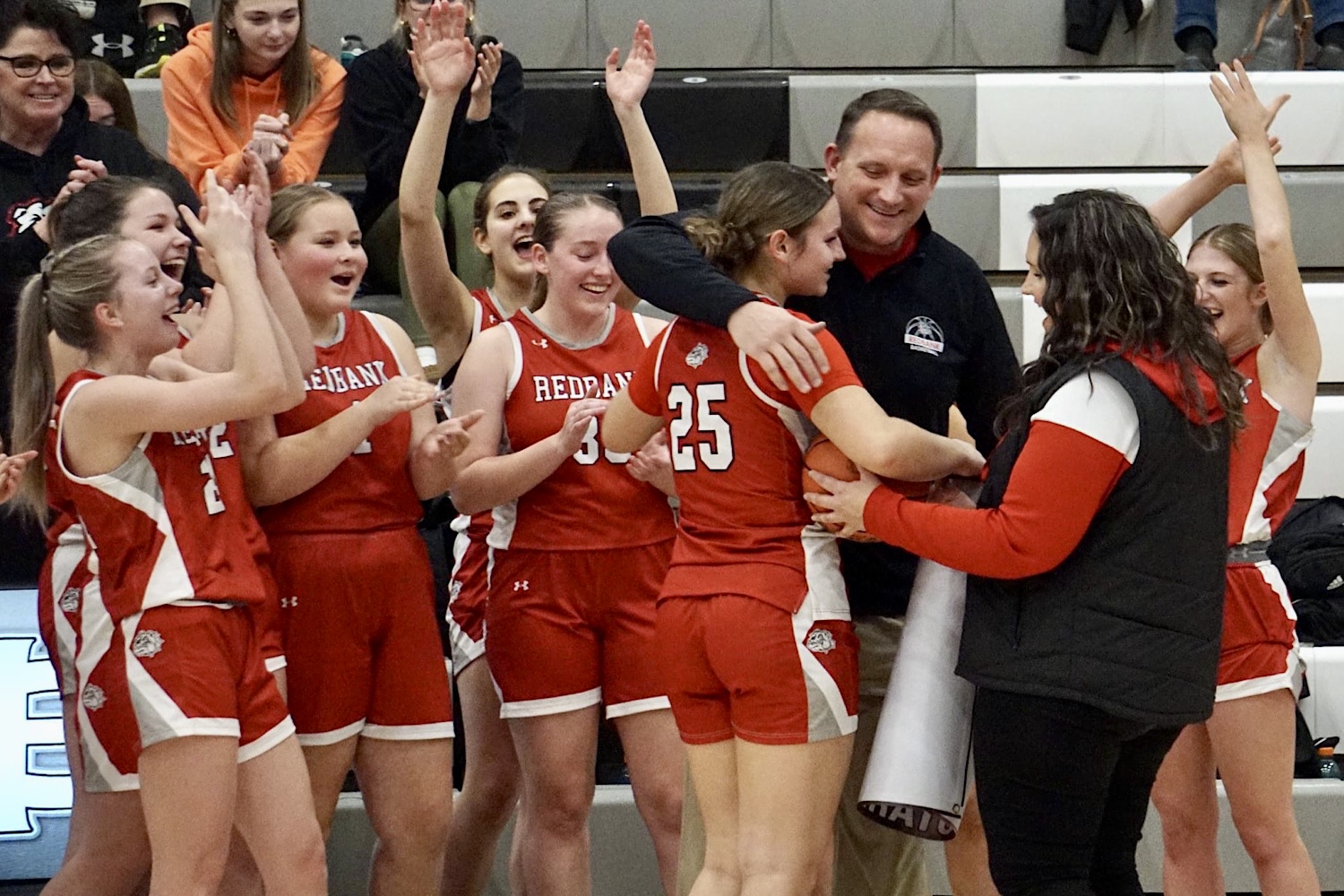 Senior Alivia Huffman and sophomore Mylee Harmon became one of the most dangerous 1-2 tandems in the district, as well as the state.
Huffman, who will play at PennWest California this winter, averaged 15.8 points, 8.6 rebounds and 3.7 steals this past season.
Huffman also surpassed 1,000 career points.
Harmon, the KSAC MVP, put up 21 points, 5.6 steals and 4.5 assists per night. She is already close to 1,000 points in her career.
"Every one of these seniors were so special to me," Harmon said after the tough loss to Bishop McCort. "It will not be the same without them and I will miss them all so much. … It was so special being able to play with these girls."
SMALL TOWN, BIG SEASON
Nestled in a valley where the Oswayo River and the Honeoye Creek converge is a borough in Potter County of about 1,250 people.
It's the only town in the United States that bears the name Shinglehouse.
One could throw a rock from town-center and nearly hit New York state. The winters can be brutal.
But last fall in Shinglehouse — and at Oswayo Valley High School — volleyball was king.
The Green Wave were a tsunami, sweeping through their schedule unbeaten. They won their first ever District 9 championship, drowning Elk County Catholic in a flood of kills behind threats at the net, Avaree Kellert and Olivia Cook.
The Wave crashed all the way to the PIAA Class A semifinals — another first for the Oswayo Valley volleyball team.
"I would say it feels amazing," said Kellert after another hard-fought win in the state playoffs over Conemaugh Township. "I mean, my team and I have been working so hard to get to this point and now that it is finally here, it feels surreal."
The season ended, however, in the semifinals in a loss against eventual state champion Maplewood.
Still, it was a season that will be long remembered in the small town of Shinglehouse.
"It's a big milestone for our school," Kellert said. "The whole town was into it, not just the school or us as a volleyball team. That made it pretty special."
END OF THE DROUGHT
At midseason, the Union boys basketball team was watching their season swirl down the drain.
The Golden Knights dropped seven of eight games and in late January looked doomed.
But Union turned things around and made an underdog run to the District 9 Class A championship game, falling to Elk County Catholic.
Then, history.
Union hadn't won a state playoff game since 1974. That changed with a 64-28 win over Turkeyfoot Valley.
"The win means a whole lot to us coming off the tough loss to Elk (County Catholic) in the D9 championship game," said Union senior guard Payton Johnston. "But it means so much more for the community. It's been (49) years since we have won a state playoff game."
GATOR GREATNESS
Behind its triplets — Drew Evens, Blaine Moses and Noah Archer — the Port Allegany football team made a big run to a District 9 Class A championship and the PIAA semifinals.
The Gators, though, were in actuality more than those three seniors stars.
Sure Evens had a big year at quarterback, throwing for 1,589 yards and 12 touchdowns and rushing for 545 more and six scores. Sure, Moses was a beast, lowering his shoulders on the way to 1,183 yards and 23 touchdowns rushing. And, sure, Archer was another big threat, gaining 970 yards on the ground and another 870 on 66 receptions and scoring a combined 20 touchdowns.
But Port Allegany was more than the sum of its parts.
"Our kids have heard all year long about somebody else has the better o-line or somebody else had the better running back," said Port Allegany coach Bienkowski before the semifinal game against Union-New Castle. "(Our kids) are motivated by hard work and dedication. Nothing fancy. Nothing complicated. There's no element that I'm bigger than the team anywhere on this team."
The Gators gave Union-New Castle all they could in a 46-36 loss in the semifinals.
Port Allegany finished the season with a 12-2 record.
The entire District 9 football fraternity rallied behind the Gators on their run.
"I've gotten a lot of test messages and phone call and messages on social media wishing us well," Bienkowksi said before the semifinal game. "It's awesome. It speaks to the level of sportsmanship and character of District 9 football. I can can show you text message after text message of guys who we've kicked each other's butts and beat each other up during the year, but they're saying, 'Go Port and go D9.'"
OH SO CLOSE
Brookville senior wrestler Jackson Zimmerman was nearly untouchable during the season for the Raiders, sporting a 38-5 record with 20 pins at 189 pounds.
His goal all season was clear: win a state championship.
As a junior, he finished second in District 9, third at the regional and did not place at the state tournament.
In his final season, he won D9 and regional crowns convincingly and rolled through the state bracket where he met Rune Lawrence of Frazier in the Class 2A title bout.
Zimmerman lost, placing second.
Zimmerman will wrestle at Mercyhurst University this winter.
Brockway's Weston Pisarchick was third at 114 pounds, Brady Collins of Clearfield at 139 and Carson Neely of Port Allegany at heavyweight were fourth at the state tournament.
Gavin Thompson, a heavyweight from Brockway, battled back from a knee injury suffered at the district championships to place fifth in the state to highlight a strong season for D9 wrestlers.
OTHER NOTABLE STORIES
Otto Eldred boys basketball team reaches state semifinals; Terror girls basketball team wins first D9 title and makes it to state quarterfinals. … Clearfield football coach Tim Janocko retires with the most wins in D9 history at 307. … Keystone senior Natalie Bowser reaches 1,000 career points and rebounds during the same game. … DCC girls basketball team wins first state playoff game since 1999. … Katie Sheeler becomes the all-time leading scorer for the Otto-Eldred girls basketball program with 1,699 points. … Keystone's Leah Exley reaches 500 career kills. … Clearfield senior Elle Smith surpasses 150 career goals, finishes with 180. … Karns City girls soccer team wins 22nd D9 title in last 25 years. … Siblings McKayla Kerle and Kameron Kerle win girls and boys D9 golf titles respectively.