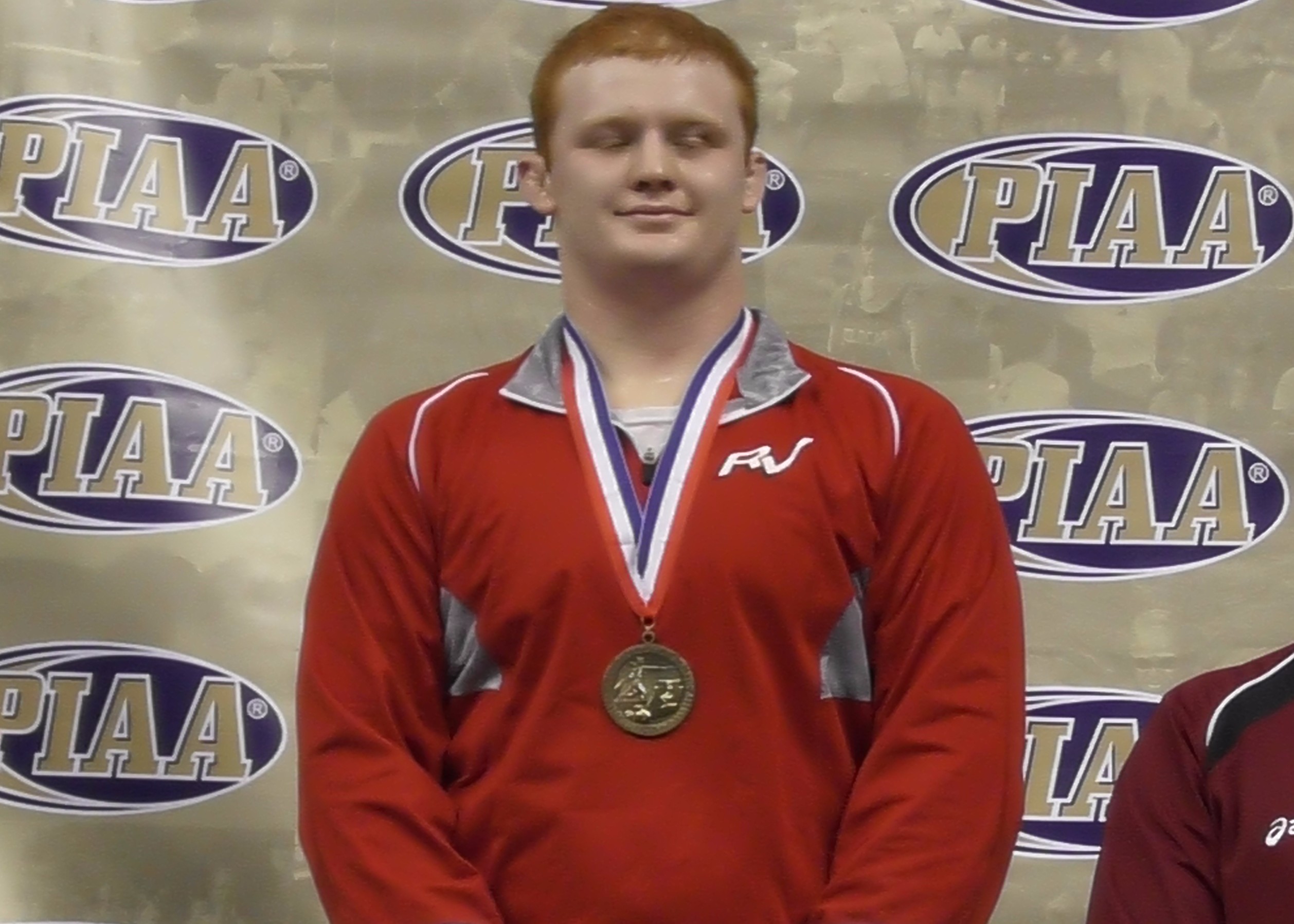 By Scott Shindledecker
HERSHEY, Pa. — Thirteen District 9 Class AA wrestlers claimed state medals Saturday the PIAA Championships Saturday afternoon at Hershey's Giant Center.
Team champion Brookville crowned a champion at 132 pounds when Tate Ortz beat Bishop McDevitt junior John Pipa, 7-2, to win his first PIAA Class AA championship.
Ortz finished 44-0 and his championship helped lead the Raiders to the team title with 72.5 points, two ahead of runner-up Huntingdon. The Raiders also had four other medalists, including Keelan Kunselman at 106, Gavin Park at 113, Cole Aaron at 138 and Caleb Hetrick at 152.
Kunselman was fifth at 106 pounds after he beat Bishop McDevitt freshman Chase Shields, 7-0. Park was seventh after edging Notre Dame Green Pond's Ritchie Markulics, 1-0, at 113 pounds.
At 138, Aaron dropped a 3-1 decision in overtime to Fort LeBoeuf's Jarret Carter and placed fourth.
Hetrick was eighth at 152 pounds after losing a tight match, 4-3, to Huntingdon's Jon Wagner.
For the Brockway Rovers, they had two medalists in 126-pound Mason Lindenmuth and 120-pound Ryan Carlson.
Lindenmuth was fifth after beating Redbank Valley's Tanner Altobelli, 3-1, in overtime. Altobelli had an escape in the second period, but Lindenmuth's escape in the third forced overtime. For Lindenmuth, it was his second medal. He was seventh at 132 pounds in 2015.
At 120, Carlson won his third state medal after placing eighth. Carlson lost a 6-3 decision to Habor Creek's Mark Sallot. Carlson was eighth two years ago and sixth in 2015.
For Smethport Hubber Jimmy Duffy, he placed second Saturday at 145 pounds, dropping a 3-1 decision to South Fayette senior Mike Carr in the finals.
Duffy entered the finals at 36-0 and his runner-up finish is the best ever at Smethport. Prior to Duffy's silver medal finish, he and Kirk Gregory were third-place finishers. Duffy was third at 145 in 2015 while Gregory was third in 1991.
Clarion's Zach Sintobin was fifth at 195 pounds for the first Bobcats medal since 2002 when Kyle Cathcart placed second at 189 pounds. Cathcart was Clarion's last champion winning 189 pounds in 2001.
Sintobin talks about finishing fifth
The Redbank Valley Bulldogs had two medalists, including 285-pound senior BryLee Shumaker and 126-pound Tanner Altobelli.
Shumaker placed third after escaping and getting a takedown in the sixth overtime against Salisbury Township senior Alex Nicholas to garner a 4-1 win.
For Altobelli, he was sixth after dropping a 3-1 decision to Brockway's Mason Lindenmuth.
Shumaker and Altobelli gave the Bulldogs their first medalists since 2014 when Willie Gruver was eighth at eighth. Jonathan Brothers is Redbank's last state champ, winning it all in 2008 at 160 pounds.
Port Allegany senior Ethan Budd won his first state medal as he placed fourth at 220 pounds. Budd dropped a 5-4 overtime decision to Greenville senior Gage Gladysz in the consolation finals.
Budd was Port's first medalist since the Gators crowned two in 2013. Alex Gular was sixth at 170 pounds and Nick Budd was second at 285.
For the Curwensville Golden Tide, senior Shae Bloom ended his career with a state medal at 152 pounds. Bloom was fifth at 152 pounds. He was fifth at 138 a year ago.
Bloom won by technical fall, 17-1, in 4:43 over Chestnut Ridge's Morgan Deremer.