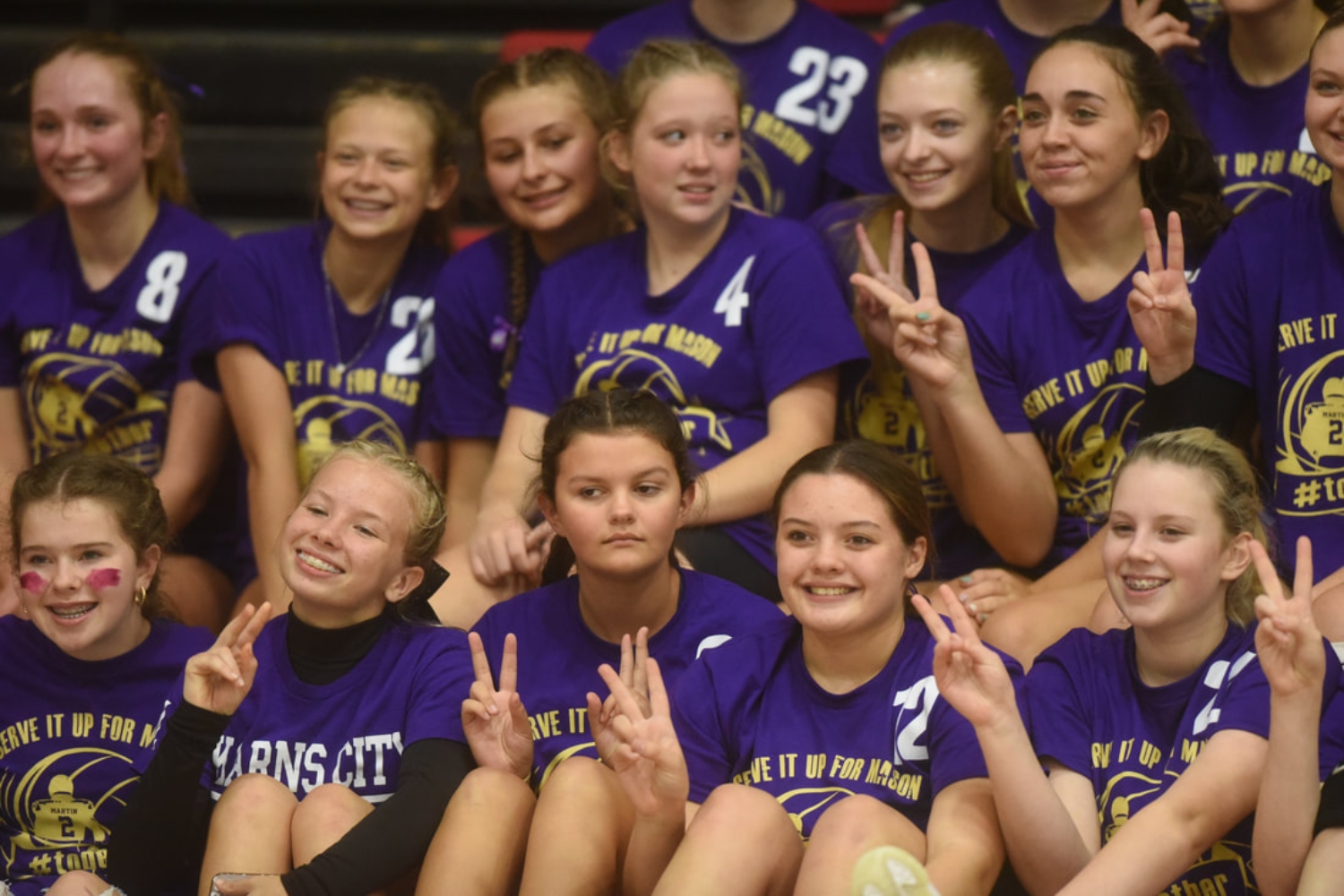 STONEBORO, Pa. — There has been a long-standing relationship between the Rocky Grove and Lakeview girls volleyball programs, according to the Orioles head coach Mike Stevenson.
(Photos and article by Richard Sayer of Eight & 322.)
Lakeview, over the years, would help the Grove raise money for the Kirkland Cancer Foundation in Venango County in their annual Pink Out game.
This year, Lakeview wanted to do something to help raise money for the family of Mason Martin, a Karns City football player who was seriously injured almost three weeks ago and still has not regained consciousness.
Stevenson said when the Lakeview coaches approached him about doing this fundraiser during their match that it was an honor.
"This was a great opportunity to come be a part of a great event," Stevenson said after the game. "This is a great cause. I'm glad that they included us."
Stevenson said the Orioles did their own collecting of donations at their school and in their community for the event prior to Thursday night's match. He wasn't sure of the amounts raised.
Both teams wore purple shirts with a #2 illustration on the front of the shirts.
In the lobby, parents and teachers sold baked goods and t-shirts with 100% of the proceeds to be given to Mason's family. A portion of the concession was also donated.
The winner of the 50/50 donated the winnings back.
The hope of this effort was to ease some of the financial toll of staying in Pittsburgh for weeks on end.
Beyond the good this game was doing for a family in need, there was also a region match that had to be played.
Rocky Grove started slow but rebounded to have a very solid first set anchored by top-notch serving from several players, including Olivia Faust, who had four aces on the night. But beyond the aces were good serves that put the sailors on their heels, setting the Orioles to get some points.
Faust and Natalee Sloss each had 19 points to lead Rocky Grove. Kaidlynn Burger added 12 points and had an impressive nine digs. Katie Biggs added five digs and 12 assists as the team's setter. Abby Cable was a beast with 11 kills.
But it just wasn't enough for the Orioles who, after winning the first set 25-22, dropped the next three sets 18-25, 19-25 and 15-25 to lose the match 3-1.
"We started out strong, but we're making errors," Stevenson said about going into the second set with momentum.
He's noticing more mistakes and their early energy seems to be dwindling as sets go on deeper in matches. He isn't sure why.
"I noticed in game three we kinda let our heads down and our shoulders drop," he said. "They came out in the last set with more excitement, he thought, but they were just making too many mistakes. That's been our thing all season. We just can't minimize our errors."
Stevenson said he can't tell if it's fatigue, but thinks they should be conditioned at this point in the season.
Stevenson is looking to see what the rest of the season will look like now that they will have a stretch of home matches. The Rocky Grove gymnasium has been under renovation all season, forcing the Orioles to play their first half of the season on the road.
The team expects to practice in the gym on Monday and host their first home match of the season against, oddly enough, the purple-shirted Jamestown Muskies. The Orioles are 1-8 overall and 1-5 in the region, but will now have home crowd support.
"(Lakeview) had a big student section tonight and I think it really helped them stay up, stay positive to work hard on their side of the court," Stevenson said. ​And we're going to finally get that on our own court on Tuesday."
Rocky Grove will hold an open house Tuesday afternoon with a meet the team's event starting at 5 p.m. in the newly renovated gym. The junior varsity match will start at 6 p.m. with varsity to follow.
Lakeview will come to Rocky Grove in October to take part in their Pink Out game to raise even more money for a good cause.