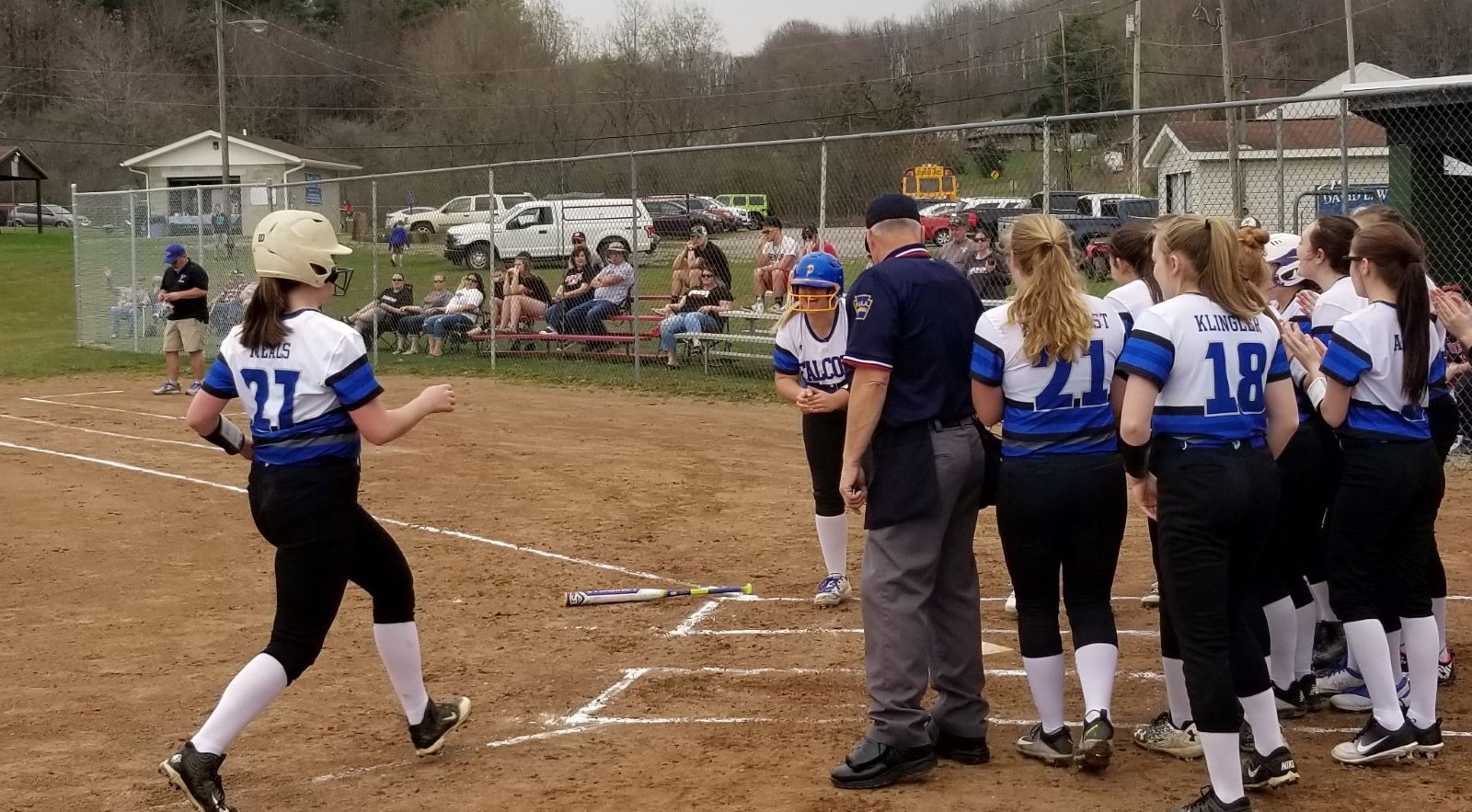 April 18 softball recaps.
(A-C Valley's Andrea Meals is greeted at home plate after her first-inning home run Thursday. Photo by Chris Rossetti)
A-C VALLEY 15, MONITEAU 5, 5 INNINGS
WEST FREEDOM, Pa. – Breaking out the bats for 19 hits, A-C Valley topped visiting Moniteau, 15-5 in five innings.
All 10 players who played in the game for the Lady Falcons either had a hit, a run scored on an RBI led by Sydnie Schmidt (2-for-3, 2B, 2 R, 4 RBIs), Kelsie Terwilliger (4-for-4, 2 R, 3 RBIs), Cami McNany (3-for-4, 2B, 4 R, 2 RBIs), Meah Ielase (2-for-3, 2 2B, 1 R, 1 RBI), Myia Page (2-for-3, 2 RBIs), Baylee Blauser (3-or-4, 2 R), Emily Wetzel (2-for-4, 1 R) and Andrea Meals (1-for-3, HR, 2 R, 2 RBIs).
Schmidt talked about the win.
Moniteau got doubles from Lexi Miller and Dolcey Shunk, Miller was 2-for-3 with a run scored with Shunk going 1-for-2 with a run scored and two RBIs. Madison Clark also had a two-run single for the Lady Warriors, who fell to 3-7 with the loss.
Blauser picked up the victory going five innings allowing five unearned runs on four hits and five walks while striking out one.
A-C Valley led 12-0 going to the fifth before Moniteau scored its five runs thanks in part to three Lady Falcons' errors to keep the game going. But A-C Valley had all five batters who came to the plate in the bottom of the fifth reach including a two-run double from McNany and a game-winning, walk-off single by Terwilliger.
The victory keeps A-C Valley unbeaten at 6-0.
CURWENSVILLE 10, JOHNSONBURG 9
CURWENSVILLE, Pa. – Ally Hess scored on steal of home in the bottom of the seventh and lifted Curwensville over visiting Johnsonburg, 10-9.
Abby Pentz led the Lady Tide offense going 4-for-5 with a pair of runs while Joslynne Freyer went 4-for-4 with a run and two RBIs. Bella Giuffre had three hits and an RBI and Taylor Luzier hit a home run. Mackenzie Wall doubled and Bailey Bloom had a pair of hits.
Jordan Bundy, Jenna Pavlock and Lindsey Kocjancic each had a pair of runs to pace the Ramettes. Alysa Kasmierski tripled and drove in two scores while Haylee Zimmerman went 3-for-4 with a run and an RBI.
Freyer struck out 11 batters and earned the victory for Curwensville.
Julie Peterson took the loss for Johnsonburg with four strikeouts.
COUDERSPORT 14, NORTHERN POTTER 1, 5 INNINGS
ULYSSES, Pa. – Rosalyn Page and Shaelyn Black each hit a home run and helped visiting Coudersport defeat Northern Potter, 14-1 in five innings.
Black went 2-for-4 and drove in six runs to lead the Lady Falcons offense. Chelsey Streich and Paiton Whipple each had three runs with Claudia Miller adding two. Hope Daisley doubled and drove in a run.
Alyssa Burchell paced the Lady Panthers going 2-for-3 with the line run. Marissa Bliss singled and drove in the Burchell run.
Black struck out seven and gave up three hits and the lone run to earn the victory for Coudersport.
Megan Hyde took the loss for Northern Potter.
LEECHBURG 2, KARNS CITY 1
LEECHBURG, Pa. – Leechburg scored two runs in the first inning and held on to defeat visiting Karns City, 2-1.
Kristen Knapp had a run following a double and Olivia Shimer added a run to lead the Lady Blue Devils. Kiera Jones doubled with Mckenna Pierce and Emma Ritchie each hitting singles.
Mackenzie Dunn paced the Lady Gremlins with a double and Zoe King scored the lone run.
Emma Ritchie got the win for Leechburg striking out five while giving up three hits and a run.
Dunn and Logan Byers split time in the circle combining for seven strikeouts and four allowed hits.
BALD EAGLE AREA 9, CLEARFIELD 0
WINGATE, Pa. – Makena Baney drove in a pair of runs, and Madison Peters threw a six-hit shutout to lead Bald Eagle Area to a 9-0 win over visiting Clearfield.
Baney was 2-for-4 with a run scored, while Peters struck out nine in the win.
Lauren Ressler had a double for Clearfield while going 2-for-3. Emma Hipps was also 2-for-3 for the Lady Bison.
CRANBERRY 20, FOREST AREA 0, 4 INNINGS
TIONESTA, Pa. – Andrea Watson was 4-for-4 with a double, three RBIs and two runs scored to lead Cranberry to a 20-0, four-inning win over Forest Area at West Forest.
Malliah Schreck added a 3-for-3 day with a triple, three runs scored and three RBIs for the Berries with Emily Duncan adding a 2-for-4 day with a double, two runs scored and two RBIs.
McKayla Kerns and Tamera Flinchpach each scored three runs in the win, and Alisha Beggs scored twice.
Watson and Jenna Seigworth each pitched two innings in the circle for Cranberry and combined for six strikeouts and allowed one hit in the win.
REDBANK VALLEY 15, BROCKWAY 5
NEW BETHLEHEM, Pa. – Shylie Shreckengost went 2-for-3 with two RBIs to lead Redbank Valley to a 15-5, five-inning win over visiting Brockway.
Teha Hageter was also 1-for-1 with two RBIs for the Lady Bulldogs.
Morgan Lindemuth paced the Lady Rovers with a pair of runs scored. Emma Cavalline went 1-for-3 and drove in three runs.
Brooke Holben got the win for Redbank Valley striking out seven while allowing five hits.
Lindemuth took the loss for Brockway.
BROOKVILLE 10, DUBOIS 9
DuBOIS, Pa. – Scoring five runs in the top of the sixth inning, Brookville rallied past DuBois for a 10-9 win in the first of its two wins Heindl Memorial Field.
Brookville trailed 9-5 before scoring all five of its runs, all of them unearned, with two outs. Carlie McManigle hit a two-run single, Megrah Suhan singled in a run and Leah Kammerdeiner broke the tie with a run-scoring single.
Then in the bottom of the seventh, the Lady Beavers threatened to tie the game, but Brookville turned a game-ending double play to secure the win.
McManigle went 2-for-3 with three RBIs while Kammerdeiner was 2-for-4 with two RBIs. McManigle was the winning pitcher, scattering 12 hits while striking out one and walking one.
Maddie Smith, Lauren Walker and Lexi Smith each had two hits for DuBois.
BROOKVILLE 22, KEYSTONE 12, 6 innings
DuBOIS, Pa. – Carlie McManigle struck out a career-high 15 batters and Brookville took control of the game with 18 runs in its final three at-bats to post a 22-12, six-inning win over Keystone, also at Heindl Field in the second of two wins.
Brookville trailed 5-4 after three innings, then erupted for nine runs in the fourth inning, four in the fifth and enacted the 10-Run Rule with five more runs in the sixth.
Lauren Hergert and Dani Maring each had two hits with Maring driving in four runs with a pair of two-run singles. The Lady Raiders also took advantage of 15 Keystone walks.
McManigle gave up nine hits with no walks, hitting a batter. Eight of Keystone's 12 runs were unearned.