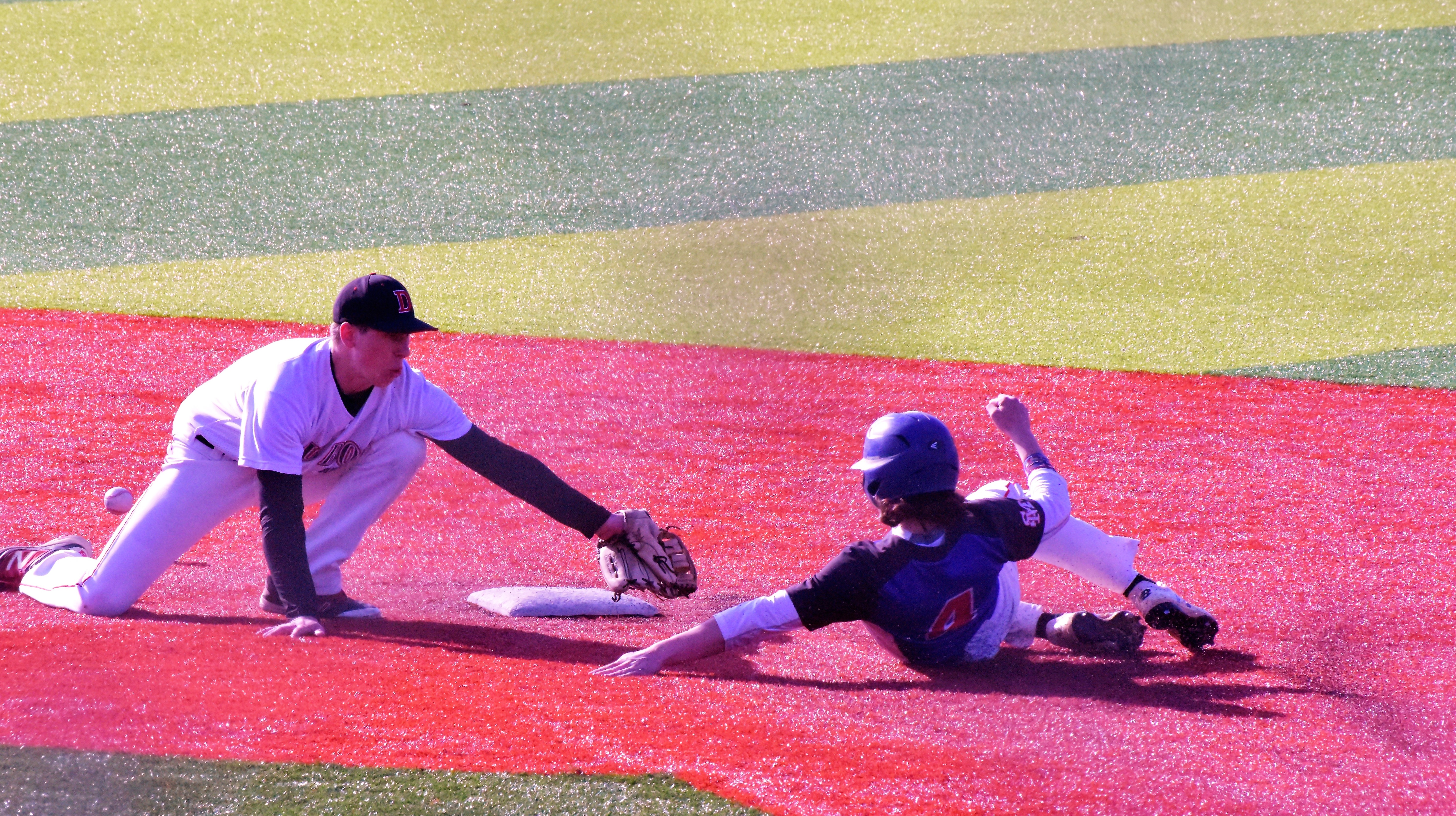 April 6 baseball/softball recaps.
(Photo of Jake Meeker. Photo by Ronda Beimel)
BASEBALL
ST. MARYS SPLITS GAMES AT ALTOONA CURVE CLASSIC
ALTOONA, Pa. – The St. Marys baseball team split a pair of games at the Altoona Curve Classic held at Peoples Natural Gas Field in Altoona, Pa.
The Dutch started the day with a loss to Hollidaysburg, 2-0 before defeating Bellwood-Antis, 7-4, in the evening matchup.
In the first game, Sam Servello and Caleb Gampe combined for a 1-hit shutout for the Golden Tigers.
Jake Meeker had the lone hit for the Dutch.
Nate Beimel pitched the first four innings and struck out eight while allowing two hits. Matt Bellina took the loss giving up five hits and two runs in the final two innings.
In the second game, Beimel went 3-for-4 with two runs and an RBI while Meeker tallied a pair of runs on three hits. Garrett Bauer drove in two scores and Conner Bressler doubled with two RBIs.
Brandon Sicheri got the win with five strikeouts while giving up 13 hits in five innings. Christian Coudreit got the save with two strikeouts and two allowed hits in the final two innings on the mound.
PORT ALLEGANY 6, COWANESQUE VALLEY 0
PORT ALLEGANY, Pa. – Howie Stuckey had three hits and drove in two scores to help Port Allegany defeat visiting Cowanesque Valley, 6-0.
Stuckey went 3-for-4 with a double and one score for the Gators. Trey Ayers drove in a pair of runs while going 2-for-4 scoring both times. Drew Benson scored twice with Carter Moses and Montgomery Tanner each picking up a hit.
Seth Huyler paced Cowanesque Valley with a pair of hits and a double. Christian Kemp and Kurtis Easton chipped in for a hit apiece.
Stuckey struck out eight and allowed four hits to earn the win for Port Allegany.
Caleb Nunn took the loss for Cowanesque Valley allowing four hits and three runs to start the game. Owen Fitzwater threw five innings in relief and struck out nine while allowing two hits and a run.
JOHNSONBURG 1, OTTO-ELDRED 0
JOHNSONBURG, Pa. – A Gavin Elmquist run in the second inning was enough for Johnsonburg to defeat visiting Otto-Eldred, 1-0.
Elmquist went 1-for-2 and scored the lone run for the Rams. Dom Allegretto added a hit.
For Otto-Eldred, Andrew Sheeler, Cole Sebastian and Jacob Merry all recorded a hit.
Daunte Allegretto struck out eight and allowed two hits in the win for Johnsonburg.
Chase Sebastian took the loss for Otto-Eldred allowing two hits and a run while striking out five.
TYRONE 3, CLEARFIELD 2, 9 INNINGS
TYRONE, Pa. – Kevin Lehner's sacrifice fly in the bottom of the ninth lifted Tyrone over Clearfield, 3-2.
Lehner went 2-for-3 for the Golden Eagles and drove Bryce Hunter in for the winning run. Blaine Hoover scored once while Matt Savino went 2-for-3 with a double and run scored. Rodeny Shultz had a pair of hits and an RBI.
Hayden Willaims had a team-high four hits to pace the Bison. Caullin Reed and Eli Glass had a pair of hits while Karson Rumsky doubled.
Lehner and Aiden Coleman each allowed six hits and struck out one for Tyrone.
For Clearfield, Hunter Dixon allowed nine hits while striking out two in 7 ⅔ innings on the mound.
COUDERSPORT 7, SMETHPORT 0
COUDERSPORT, Pa. – Six different Coudersport players scored to earn a 7-0 victory over visiting Smethport.
Derek Easton led the Falcons going 1-for-3 with two scores while Jacob Pitcher scored a run and had an RBI. Blake Burgett doubled on his way to a score with Owen Chambers, Kolby VanWhy and Eli Ayers adding a score apiece.
The Hubbers managed four hits in the game that came from Noah Costa, Brandon Higley, Alex Ognen and Alex Sanderson.
A.J. Redmon pitched four innings and got the win for Coudersport striking out five while allowing three hits.
Nate Hollowell and Grant Ognen combined to allow five hits and seven runs with four strikeouts in the loss for Smethport.
SOFTBALL
KARNS CITY 7, BROOKVILLE 2
KARNS CITY, Pa. – Alyssa Stitt doubled and tallied two runs to help Karns City defeat visiting Brookville, 7-2.
Stitt went 3-for-4 and drove in a run for the Lady Gremlins while Emily Wofle racked up three hits and two scores. Brittney Friters had a pair of hits and Mackenzie Shay chipped in for a run while driving in a score.
Ashton Pangallo paced the Lady Raiders going 3-for-4 with a double. Megrah Suhan had a pair of hits with Lauren Hergert and Dani Maring adding a score apiece.
Mackenzie Dunn struck out five and allowed seven hits in five innings to earn the victory for Karns City.
Carlie Mcmanigle took the loss for Brookville and allowed 10 hits and seven runs while striking out three.
COUDERSPORT 14, SMETHPORT 2, 5 INNINGS
COUDERSPORT, Pa. – Coudersport used a balanced scoring attack to earn a 14-2, five-inning victory over visiting Smethport.
Emma Saulter led the Lady Falcons going 2-for-4 with a run while driving in a pair. Kaylee VanWhy doubled and scored twice while Kayla Korb hit a triple and drove in two runs. Jope Daisley had a pair of runs and Shaelyn Black went 1-for-2 with a run and an RBI.
Baylea Storm and Dani Nelson each scored a run to pace the Lady Hubbers. Rylee Crowley chipped in for an RBI.
Saulter got the win for Coudersport with five strikeouts and two allowed hits.
Coryn Mcclain allowed eight hits and 14 runs in the loss for Smethport.
PHILIPSBURG-OSCEOLA 3, CLEARFIELD 1
PHILIPSBURG, Pa. – Kameryn Harris homered and drove in two runs to lead Philipsburg-Osceola to a 3-1 victory over visiting Clearfield.
Madison Lucas went 1-for-2 for the Lady Mounties with a run scored while Kendra Carns added a run.
Emma Hipps homered the lone run in the fourth inning for the Lady Bison.
Harris struck out nine while allowing four hits and a run in the win for P-O.
Hipps took the loss for Clearfield with seven strikeouts and three allowed hits.