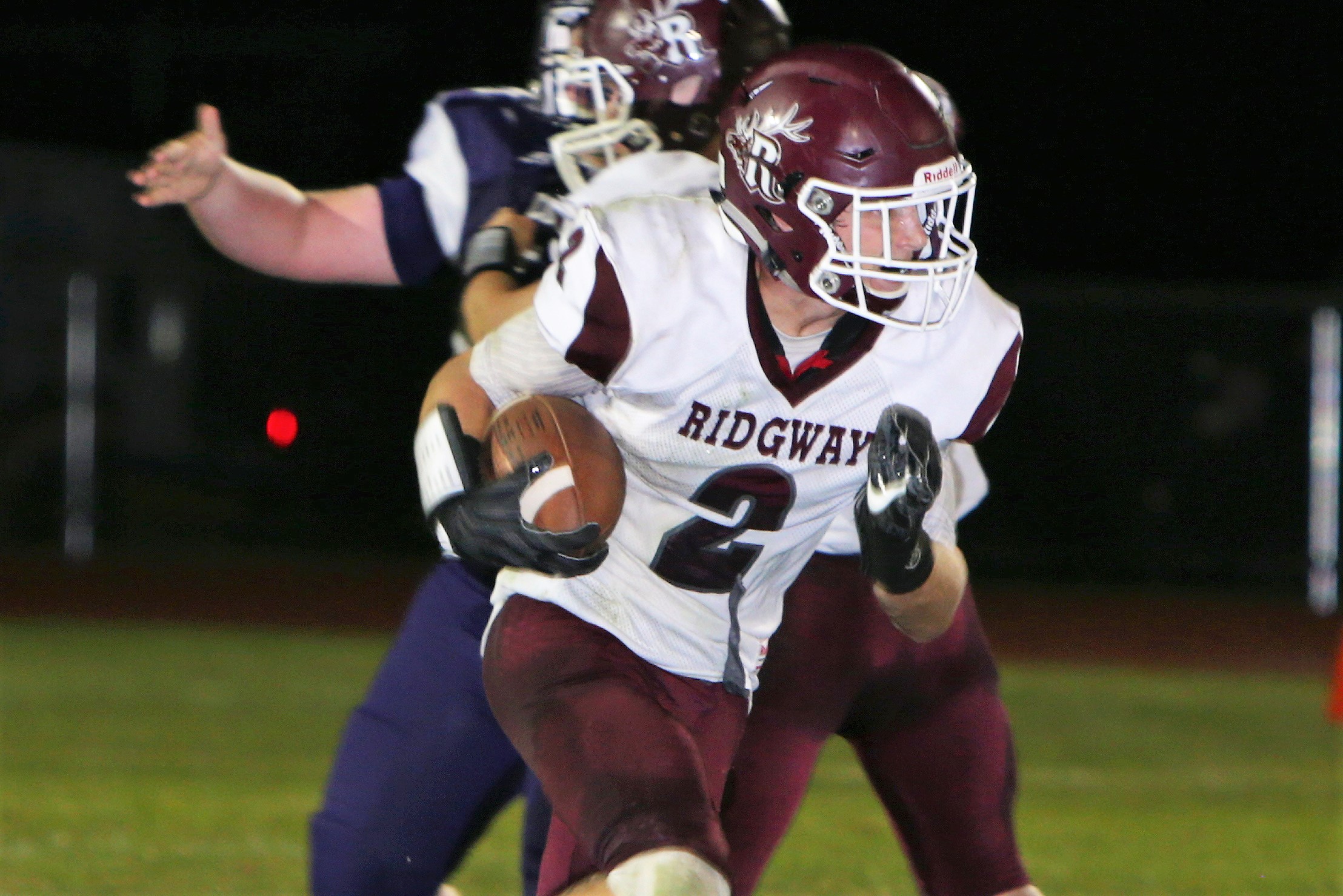 Aug. 25 District 9 football recaps.
(Cover photo of Ridgway's Neil MacDonald. Photo by Paul Burdick. Check out more of Burdick's work here)
RIDGWAY 29, COUDERSPORT 8
COUDERSPORT, Pa. – Neil MacDonald and Johnny Mitchell each scored twice on the ground, as Ridgway started its District 9 Class 1A title defense with a 29-8 win at Coudersport.
Mitchell's two first-half touchdown runs – both from a yard out – gave the Elkers a 14-8 halftime lead before MacDonald broke open a close game by scoring twice in the fourth quarter on runs of three and 62 yards.
After a scoreless first quarter, Coudersport got on the board first on a 13-yard Jared Green to David Burd touchdown pass and Chase Whitman two-point run six seconds into the second quarter.
But Ridgway scored twice in the final 4:24 of the half to take the lead for good with Mitchell's 1-yard scoring run followed by a MacDonald two-point run tying the game at eight with 4:24 left in the half and Mitchell's 1-yard run with 1:04 left before the break giving the Elkers the lead.
MacDonald, who ran 16 times for 138 yards and had one catch for 17 yards, then gave Ridgway some breathing room with his 3-yard run 23 seconds into the fourth quarter before putting the game away with the 62-yard scamper with 8:56 to play.
Mitchell added 14 carries for 91 yards and was 3 of 12 passing for 30 yards.
Green was 5 of 13 for 27 yards and the touchdown, while Stevie Kelly ran 16 times for 30 yards. But the Falcons were limited to 63 yards of offense being outgained 338-63.
CLEARFIELD 21, DUBOIS 0
HYDE, Pa. – Isaac Rumery threw a pair of touchdown passes and ran for a third while also being part of a shutdown Clearfield defense, as the Bison shut out visiting DuBois, 21-0.
It is believed to be the first time DuBois has been shutout since 2008, and it's the first time the Bison have shutout the Beavers since 2001.
Rummery finished the game 11 of 18 passing for 181 yards and the two scores while also rushing for 67 yards and the touchdown.
But just as important, he played a key role in shutting down DuBois' record-setting receiver and 2016 The Rehab Centre District 9 Offensive Player of the Year Kyle Hopson limiting the senior to three catches for 32 yards. Meanwhile, DuBois quarterback Matt Miller was just 7 of 21 for 58 yards.
The Beavers did have chances, though, having the ball inside Clearfield territory six times, including on each of their first three possessions but couldn't score.
Clearfield took a 7-0 lead on a 5-yard Rumery to Spencer Graham touchdown pass 37 seconds into the second quarter and then went up 14-0 on a 4-yard Rumery to Eli Glass scoring toss.
Rumery then put the icing on the cake with a 62-yard second-half run. The Bison dominated the half outgaining DuBois 179 to 47 while running 36 plays to the Beavers 12.
BROOKVILLE 54, WARREN 20
WARREN, Pa. – Freshman Jack Krug made his varsity debut a memorable one, leading Brookville to a 54-20 win at District 10's Warren Friday night.
Krug threw for a school-record 372 yards, completing 25 of 37 passes with five touchdowns. His junior receiver Bryan Dworek caught a school-record 12 passes for 169 yards and three TDs covering 10, 56 and 11 yards. Krug's other TD strikes went for 27 yards to Nick Keth and 22 yards to Tyler Park. Keth caught three balls for 96 yards.
Brandon McGranor ran for 102 yards on 18 carries, scoring on a 9-yard run in the fourth quarter. Cabe Park added a 65-yard run in the second half.
The Raiders led the Dragons, 28-20, at halftime before scoring the game's final 26 points on four unanswered touchdowns. After Warren scored the game's first TD on Noah Myers' 21-yard run, the Raiders scored 28 unanswered points before another Myers run and a Jake Kupchalla TD pass to Kohl Nosel cut it to 28-20 by halftime.
Myers ran for 155 yards on 15 carries for the Dragons, who were outgained by the Raiders, 541-292.
Krug's 372 surpassed Ben Marzullo's 1999 mark of 362 yards thrown against Meadville while Dworek's dozen receptions broke Topper Moir's 10 catches in a 1995 game against Farrell.
PENNS VALLEY 22, PUNXSUTAWNEY 21
SPRING MILLS, Pa. – Ryan Ripka scored from a yard out with 9:26 to play in the game, as Penns Valley rallied past visiting Punxsutawney for a 22-21 win.
The Chucks led 21-10 midway through the third quarter but couldn't hold the lead, as Ripka, who finished with 22 carries for 97 yards, scored twice in the game's final 15:10 to rally for the win including a 4-yard run with 3:10 left in the third quarter that got the Rams to within five, 21-16.
Punxsutawney, which had an early 7-0 lead but trailed 8-7 after a quarter, built the lead thanks to an 18-yard touchdown pass from Dylan Ishman to Tyler Richardson and an 18-yard Ishman to Alex Gianvito scoring pass. Ishman was 15 of 39 for 178 yards and three scores.
BROCKWAY 17, OTTO-ELDRED 6
DUKE CENTER, Pa. – Visiting Brockway was outgained by Otto-Eldred 296-252, but the Rovers used a defensive touchdown to help knock off the Terrors, 17-6.
Cameron Baka, who had a pair of interceptions, returned one for a touchdown in the victory.
Brockway also got a short scoring run from Dylan Lecates and a 22-yard field goal from Zane Puhala.
It was a team effort on offense for the Rovers with eight different runners combining to pick up 163 yards led by 40 from quarterback Peter Downer, who was also 10 of 17 for 89 yards passing in his first varsity start.
LeCates, who ran four times for a yard, also had five catches for 42 yards.
Sawyer Drummond had a big night for Otto-Eldred going 17 of 35 for 234 yards, a touchdown and an interception. He also ran 14 times for 59 yards. Cameron Magee had 11 catches for 183 yards and a touchdown.
BRADFORD 56, SMETHPORT 0
BRADFORD, Pa. – John Eakin ran 14 times for 202 yards and four touchdowns, as Bradford rolled past visiting Smethport, 56-0.
Behind Eakin, the Owls ran for 322 yards as a team with Jaron Ambrose adding 32 yards on three carries.
Also scoring touchdowns for Bradford, which was playing without anticipated starting quarterback Donny Pattison who had to sit out the game after being ejected from the Owls final game of last season vs. Warren, on the ground were Vinny Burgess and Austen Davis. Douglass Hannon also threw a touchdown pass to Anthony Bruno.
Nathan Hallowell led Smethport with 21 yards on 10 carries with Grant Ogden adding 18 on six totes. Ogden was also 3 of 9 passing for 43 yards. Hallowell and Matthew Stratton each had 10 tackles on defense, while Devin Young recovered a pair of fumbles.
CLARION-LIMESTONE 64, SAEGERTOWN 6
SAEGERTOWN, Pa. – Scoring the game's first 64 points, Clarion-Limestone rolled to a 64-6 Mercy Rule win at District 10's Saegertown Friday night.
The Lions led 39-0 by halftime, starting the second half with the PIAA's Mercy Rule running clock. They outgained the Panthers, 453-61, holding them to just five first downs and causing three turnovers.
Chris Peace (14 carries, 133 yards) and Riley Hummell (7-100) both hit the 100-yard rushing mark. Hummell and Ayden Wiles each ran for two touchdowns while Peace and David Wiles added TD runs. Quarterback Brenden Makray threw for three TDs, two of them going to Kyle Kerle and the other to Colby Himes.
KANE 56, PORT ALLEGANY 6
KANE, Pa. – Ange Costanzo and Erik DeLong both rushed for over 100 years, as Kane rolled past visiting Port Allegany 56-6.
Costanzo led the way with six carries for 115 yards and a touchdown while also catching two passes for 20 yards and a score.
DeLong, the reigning Rehab Centre D9Sports.com Jim Kelly Award Winner as the District MVP, added 12 carries for 102 yards.
Meanwhile, Reed Williams tossed three touchdown passes going 10 of 16 for 172 yards and added a 1-yard touchdown run. Bobby Rumick had four grabs for 57 yards and a score, and Ray Maze added three grabs for 41 yards and a touchdown.
Jake Alcorn also had two catches for 97 yards and a touchdown, ran for a score and also took the opening kickoff back 87 yards for a score.
ELK COUNTY CATHOLIC 27, SHEFFIELD 12
ST. MARYS, Pa. – Alec Bittler ran 29 times for 246 yards and three touchdowns, as Elk County Catholic beat visiting Sheffield, 27-12.
Bittler scored on runs of eight, 12 and 52 yards, while Stephen Bobby had perhaps the play of the game returning a kickoff 87 yards for a score.
Bobby's kickoff return was the third touchdown in the game in a span of 33 seconds early in the second quarter.
Bittler had given the Crusaders a 7-0 lead with his 8-yard score with 10:33 to play in the half, but Sheffield answered when Cale Albaugh hit Joshua Agudio with a 75-yard scoring pass 19 seconds later to cut the lead to 7-6.
But Bobby returned the ensuing kickoff to push the lead to eight, 14-6, with 10 minutes to go, and Bittler added a 12-yard run before the half making it 20-6.
Tyler Dilley chipped in 18 carries for 65 yards while going 4 of 9 passing for 48 yards and an interception.
Kevin Evans had a big game for Sheffield catching nine passes for 100 yards while rushing 12 times for 92 yards and a touchdown – a 3-yard run.
Albaugh was 12 of 26 for 196 yards, a touchdown and an interception. Agudio added two catches for 90 yards and the score.
CURWENSVILLE 38, CAMERON COUNTY 8
EMPORIUM, Pa. – Despite not having the services of star running back Nick Stewart, Curwensville cruised to a 38-8 win at Cameron County.
Without Stewart, who missed the game with a minor injury, six different Golden Tide toted the ball and five scored touchdowns led by 89 yards and a score by Matthew Carter on 10 carries. Avery Francisco added 65 yards and a touchdown and Blake Passarelli chipped in 44 yards and a score.
Bryce Timko was 3 of 9 passing for 93 yards, a touchdown and an interception. Noah VonGunden caught two passes for 81 yards and a score.
Adam Streich threw a 15-yard touchdown pass to Ethan Vislay for Cameron County's lone score. Streich 3 of 12 for 45 yards, the score and an interception. He also ran 11 times for 25 yards and had seven tackles and an interception on defense. Jared Whiting led the Red Raiders with 18 carries for 76 yards.
ARMSTRONG 41, KARNS CITY 14
KITTANNING, Pa. – Dawson Porter threw two touchdowns, ran for two touchdowns, returned an interception for a touchdown and returned a punt for a touchdown to lead Armstrong to a 41-14 win over visiting Karns City.
Porter tossed touchdown passes for 18 and 58 yards to Ryan Pearce late in the first quarter to give the River Hawks a 15-0 lead at the end of one. He then single-handedly put the game out of reach in a span of 12 seconds late in the half returning a punt 70 yards for a touchdown with 1:17 to play and then an interception 35 yards for a score with 1:05 left. Porter chipped in touchdown runs of 14 and 50 yards in the second half and finished the game with 170 yards rushing on 12 carries while going 8 of 14 for 88 yards and an interception.
Pearce added four grabs for 81 yards for Armstrong.
Clay Garing had a 6-yard scoring run for Karns City, which also scored when Jacob Friel recovered a fumble in the end zone.
Hunter Rowe led the Gremlins with three carries for 35 yards, while sophomore Anthony Kamenski was 6 of 17 passing for 52 yards and the interception. Noah Kepple had two catches for 16 yards.
IMANI CHRISTIAN 50, UNION/A-C VALLEY 22
RIMERSBURG, Pa. – Sam Fairley caught nine passes for 216 yards and scored two touchdowns on two long passes from Tawaun Wesley as WPIAL Class 1A contender Imani Christian built up a big early lead on its way to a 50-22 win over Union/A-C Valley at Vidunas Field Friday night.
Both of Fairley's TD receptions of 75 and 77 yards came in the first half, the first one part of a 30-0 run to start the game for the Saints, who had that lead by the 9:23 mark of the second quarter.
Wesley, who shared QB duties with Israel Reed in the first half, completed 18 of 29 passes for 284 yards. Both of his TDs went to Fairley while Reed completed 4 of 6 passes for 56 yards with a touchdown to complete a 340-yard passing night for the Saints.
Running back Asantae Watkins ran for 159 yards on 14 carries, scoring twice in the second quarter on runs of 15 and 77 yards. The Saints amassed 532 yards of offense, which was offset somewhat by their 19 penalties for 155 yards.
After falling into a 30-0 hole, the Falcon Knights played Imani fairly even the rest of the way. Jeffery Ginn scored on runs of 5 and 35 yards, Greg Dunan ran for 124 yards on 24 carries and Nolan Cumberland intercepted two passes and caught a 28-yard TD pass from quarterback Lucas Bowser.