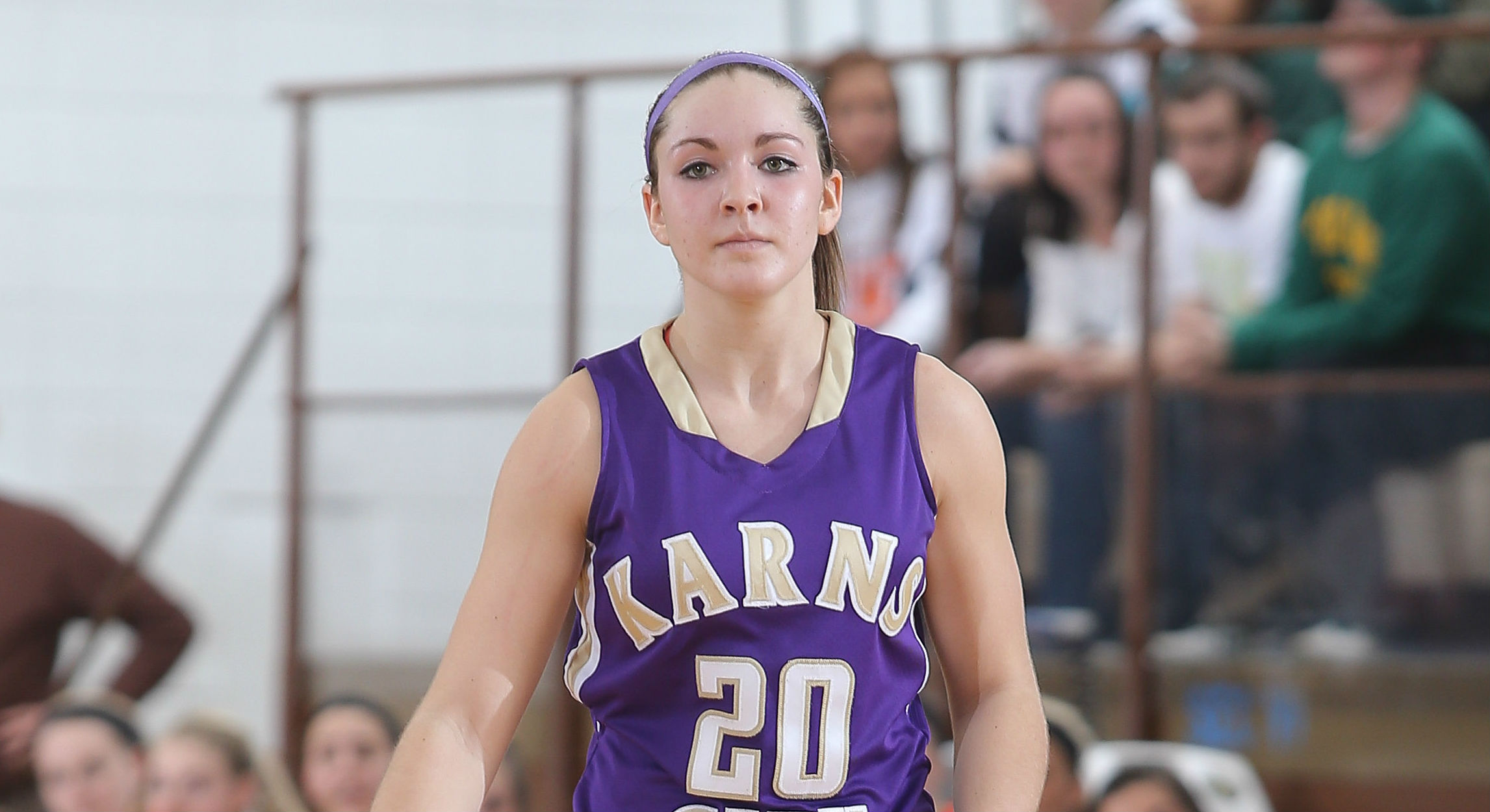 By Rich Rhoades
CLARION — With eight screws and a metal plate to help fix a broken finger on her left hand, Karns City junior LeeAnn Gibson turned in a playoff-worthy performance.
After missing the Lady Gremlins' final three games because of the injury, Gibson returned to the lineup for Wednesday night's District 9 Class AA semifinal game against Moniteau and scored a season-high 22 points in a 49-29 win at Clarion Area High School.
Gibson was 7-for-12 from the field, made all seven of her free throws and grabbed a team-high seven rebounds.
"It was very nice to have Ms. Gibson back in the lineup," Lady Gremlins head coach Dave Kerschbaumer smiled. "She's one of the toughest girls I've coached. She's got all the hardware in her finger, but she can game it and block some things out. I know she's still hurting, but she plays through stuff and she's a trooper."
The 21-3 defending champs now meet Redbank Valley in Saturday's championship game at Clarion University at a time to be announced. Both finalists will head to states with their opening-round game set for March 6.
Gibson last played in Karns City's win over Clarion-Limestone Feb. 7, so her layoff was a bit longer than the rest of her teammates who hadn't played since beating Venango Catholic in the KSAC Championship game Feb. 13.
So the team was shaking off some layoff rust, with the exception of Gibson. She was 5-for-8 from the field with 16 points in the first half while the rest of the Lady Gremlins combined to go 3-for-20 from the field for nine points.
"Her game is all about power inside," Kerschbaumer said. "A couple times she got whacked and kept going. She knocked down a three tonight. She was itching to go. It was kind of weird. She was the one who hadn't played the longest, but she got her legs first. She was the first to understand some things on what we wanted to do and kind of carried us a little bit in the first half when everybody was trying to get up to game speed."
While Karns City struggled offensively in the first half, its defense did the job and forced 17 of Moniteau's 27 turnovers. Even with that, Moniteau still hung around and only trailed 25-20 at halftime.
After Karns City started with a 7-0 lead, the Lady Warriors (15-9) answered with their own 8-0 run. The 8-7 lead was their only lead of the game as Karns City led 15-11 after the first quarter and then by five points at halftime.
From there, the Karns City defense continued to make things difficult for Moniteau with 10 second-half turnovers while holding the Lady Warriors to just nine points on 3-of-15 shooting.
"That's been what we've been preaching all year," Kerschbaumer said. "Putting pressure on people is what we do. Some teams handle it and some don't."
Emily LoPresti also reached double figures for the Lady Gremlins with 12 points. Shanel Preston had an off-night shooting and scored eight points.
Moniteau got 13 points from Alazia Greaves. Stephanie McCall scored nine points while Kristina DeMatteis finished with five points and nine rebounds.
"We beat Moniteau three times and I know they were coming to get us as everybody in the league has done, but them especially," Kerschbaumer said. "For our girls to fight through that … the first game was weird, the second game was without LeeAnn and the third game was tonight in a playoff atmosphere. I thought our girls did a great job of handling certain situations and not getting overwhelmed by it."
KARNS CITY 49, MONITEAU 29
Score By Quarters
Moniteau        11        9          3          6          –           29
Karns City     15        10        9          15        –           49
Moniteau – 29
Stephanie McCall 3-8 3-4 9, Alycia Brehm 0-2 0-0 0, Alazia Greaves 3-6 4-4 13, Kristina DeMatteis 2-11 1-4 5, Sara Hull 1-4 0-1 2, Kara Mentel 0-1 0-0 0, Emma Bair 0-0 0-0 0, Cortney Claypoole 0-0 0-0 0. Totals: 9-32 8-13 29.
Karns City – 49
Alyssa Gibson 0-2 2-2 2, Emily LoPresti 4-9 2-4 12, LeeAnn Gibson 7-12 7-7 22, Annie Hegedus 1-4 0-0 2, Shanel Preston 2-13 3-4 8, Emily Hegedus 1-3 1-2 3. Totals: 15-43 15-19 49.
3-pointers: Karns City 4-9 (LoPresti 2-6, L. Gibson 1-1, Preston 1-2), Moniteau 3-8 (Brehm 0-2, Greaves 3-5, Mentel 0-1). Rebounds: Karns City 29 (L. Gibson 7), Moniteau 27 (DeMatteis 9). Turnovers: Moniteau 27, Karns City 17.