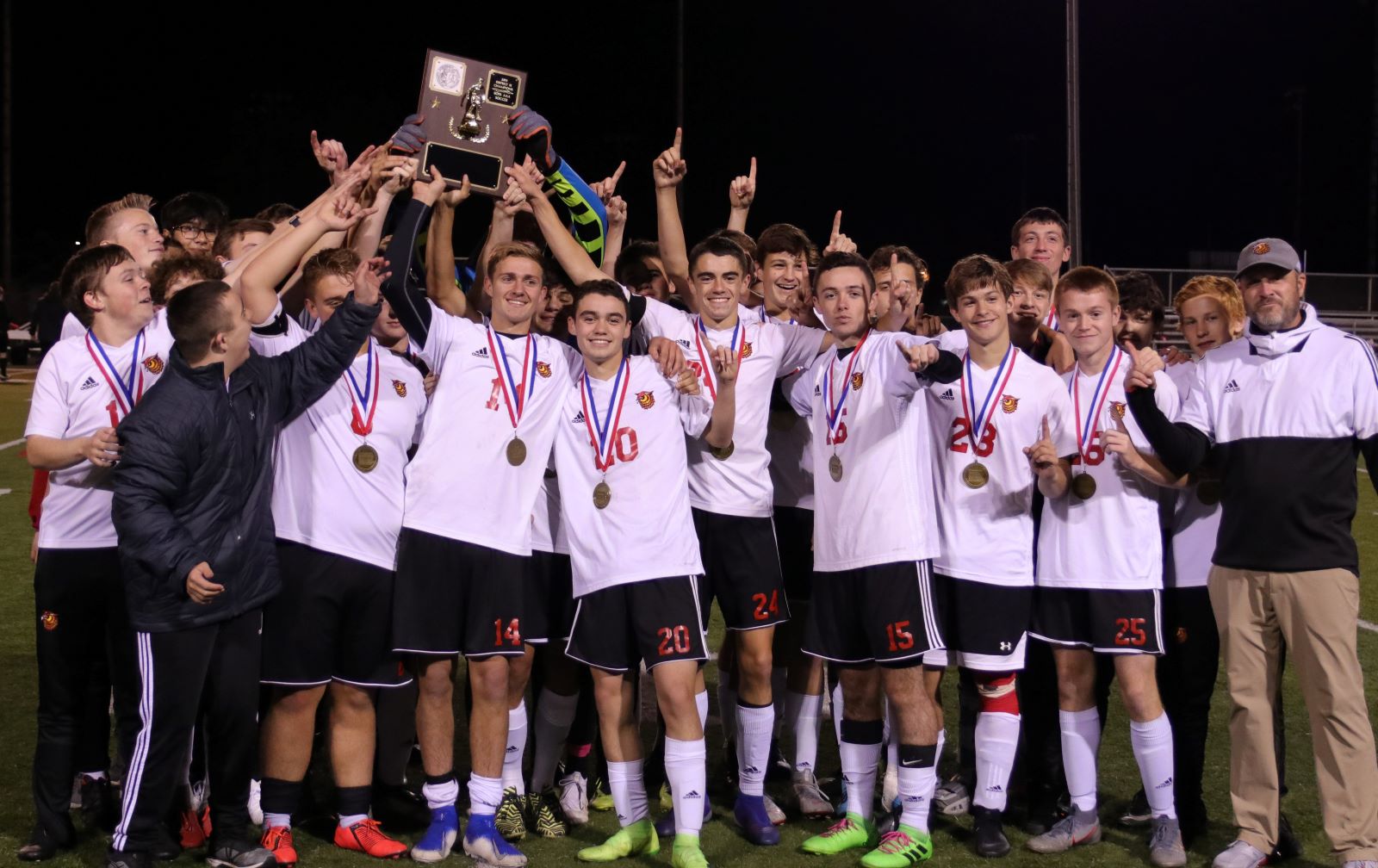 BROCKWAY, Pa. – Ian Grady's second goal of the game with 17:22 left lifted second-seeded Bradford to its second straight District 9 Class 3A title with a 3-2 win over top-seeded Clearfield Thursday night at Varischetti Field in Brockway.
(Photo by Jared Bakaysa of JB Graphics. See more of Bakaysa's work here)
"This group has been together for a long time," Bradford head coach Wes Lohrman said. "They're brothers. They really wanted to have a back-to-back district title run and they did that. They now have their sights set on being the first team in program history to go a little bit deeper into the state playoffs."
Clearfield twice had rallied from a goal down to tie the game on penalty kicks with Andrew Lopez scoring both for the Bison.
Bradford, while scoring on a penalty kick, did score on a free kick in the first half by Grady.
"It was physical tonight," Lohrman said. "They can get a little subjective. It looked at times like players were working to have the contact, but we try to tell them to keep it as clean as you can."
A handball by Clearfield at the 15-minute mark in the first half set up Bradfords first score of the game on Grady's free-kick. Grady took the shot about 30 yards out and got the ball just over Graves' hands on the right side.
The Bison responded with Lopez' first penalty kick just four minutes later to tie the game 1-1 with 21:52 left in the first half
Ryan Miller helped the Owls regain the lead midway through the second half with a goal set up by Swanson.
Swanson was driving down the field on the right side and attempted a shot on goal, Graves mishandled the ball and Miller, who was coming from the left side of the field, found the rebound and put it past Graves to put Bradford back up 2-1.
"Ryan's a hard worker," Lohrman said. "He put himself in the right places tonight and he put pressure when we needed pressure. Ultimately, he was able to be a difference-maker tonight on the field."
Watch Lohrman's full postgame interview.
Once again, Clearfield answered back to tie the game 2-2 with 20:58 left in the game on Lopez's second penalty kick of the game.
"We just had to keep our heads in the game," Miller said. "We can't get frustrated. We just have to play the way we know how to play and we ended up on top."
Despite giving up the penalty kick goals, Evan Schmidt made some key saves in the final 11 minutes to keep control of the game. He made two saves on free kicks from both the right and left side and a shot from Nate Barr in the middle that was set up on a corner kick.
"He was key in this one," Miller said. "He helped a lot. He was able to make a lot of key saves and he just played his game. Even when they got a couple of PKs on him, he kept his head and helped us win."
Watch Miller's full postgame interview.
Bradford has now won three District 9 titles in the last five years after winning the Class 2A title in 2015.
The Owls will take on the District 7 Champion on Tuesday, Nov. 5 in the PIAA Class 3A first-round at a time and location to be determined. The WPIAL playoffs are in the semifinal round with Franklin Regional playing Blackhawk and West Allegheny taking on Hampton with both of those games Saturday.