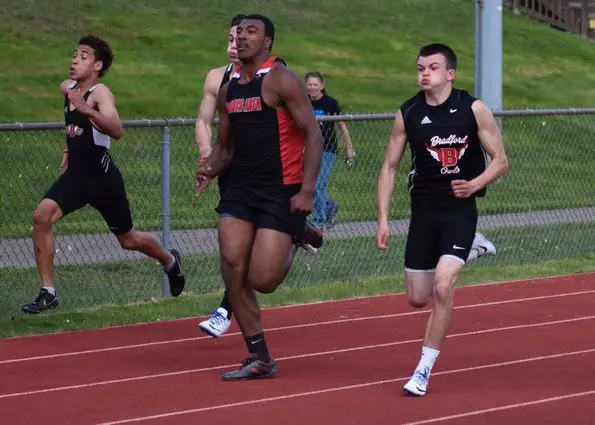 KANE, Pa. – Thanks to a pair of individual titles from Mitch Vleminckx and Alex Colosimo and a sweep of the relays, Bradford won the 2016 District 9 Class AAA boys' track and field title Wednesday at Kane High School.
The Owls, who won the title for the 17th time in 18 years, scored 130 points easily outdistancing second-place Punxsutawney, who had 85 points, in the five-team field.
Vleminckx won the 100-meter dash (11.66) and the 200-meter dash (23.23), while Colosimo won the 110-meter hurdles (15.37) and the 300-meter hurdles (41.28).
Colosimo was also part of the Bradford 4×100-meter relay team that won in a time of 44.97. He was joined on the team by Jacob Soto, Andy Pantuso and John Eakin.
Vleminckx was a member of the winning 4×400-meter relay team (3:37.80), which also consisted of Tyler Nuzzo, Vinnie Bizzaro and Jaron Ambrose.
Bizzaro was also on the champion 4×800-meter relay team (8:32.39) along with Nuzzo, Bizzaro and Max Paterniti.
Paterniti also won the 1,600-meter run in a time of 4:40.80, while Jacob Soto gave the Owls nine champions by winning the pole vault going over the bar at 13 feet, 9 inches.
Tom Bojalad of St. Marys was also a double winner with a pair of PIAA qualifying distances in the shot put and the discus. He set the meet record in the discus with a throw of 171 feet, 2 inches, which was two inches better than the previous meet mark of 171-0 set by Aaron Ross of Bradford in 2000. Bojalad also had a PIAA throw in the shot put with a throw of 52 feet, 7 ½ inches
Clearfield's Matt Collins also had a PIAA throw in the discuss at 162-06 finishing second to Bojalad.
Punxsutawney had four champions.
Matthew Wehrle won the 800-meter run in a time of 2:02.63, Ethan Riley won the long jump with a leap of 21-feet, 4 ½ inches, Jared Manners was the champion in the triple jump (41 feet, 7 inches) and Ryan Jones took the javelin title (155 feet, 2 inches).
Clearfield had two winners with Kyle Biancuzzo taking the 3,200-meter run in a time of 10:33.09, while David McKenzie took the high jump (5 feet, 11 inches).
Parker Smith joined Bojalad as a St. Marys champion winning the 400-meter dash in a time of 52.35.