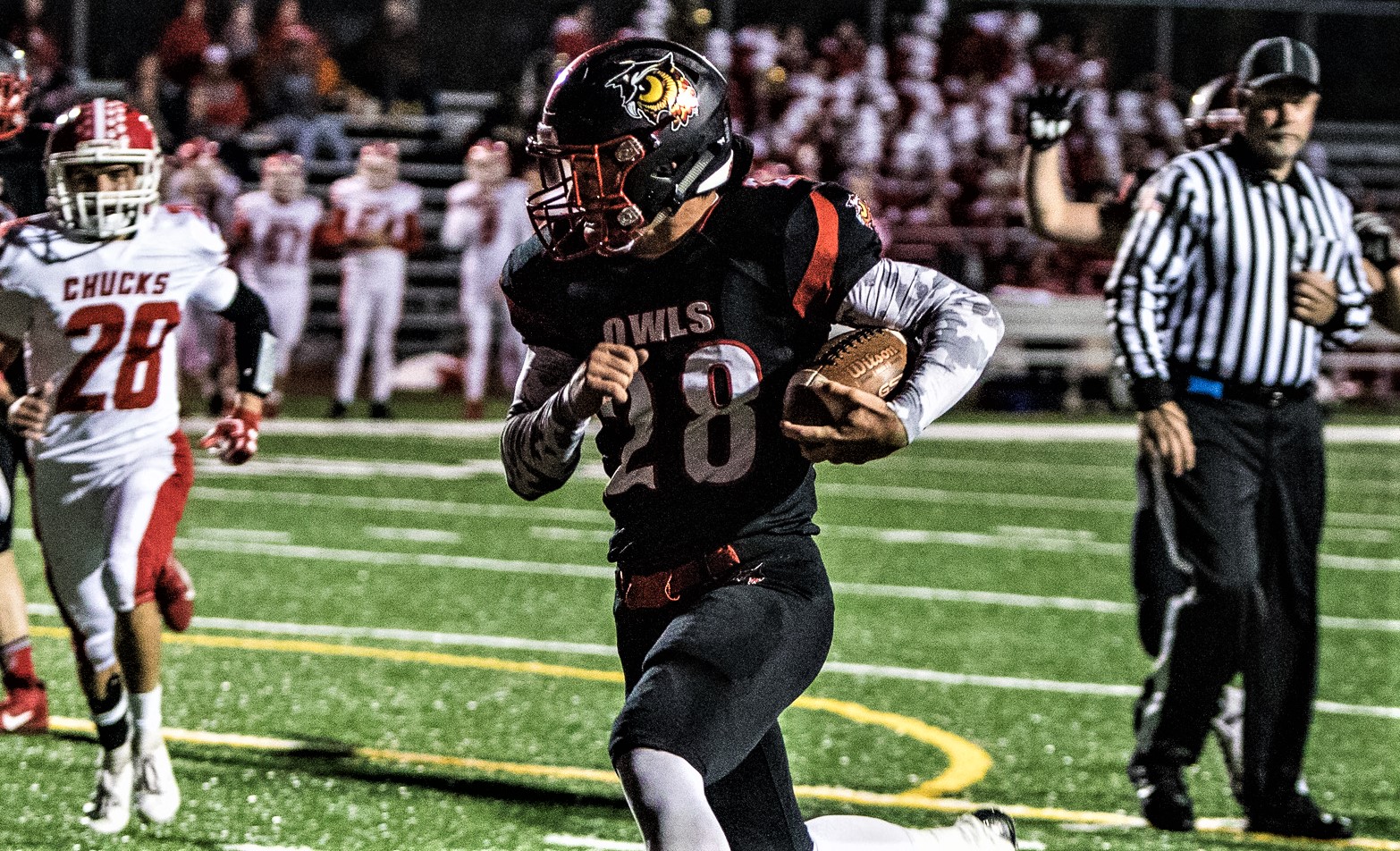 SHIPPENVILLE, Pa. – Derek Sunafrank put his team on his back and carried them to their first victory of the season earning the Bradford running back the D9Sports.com District 9 Football Player of the Week award for Week Six of the 2019 season in the process.
(Photo by Shawn Murray. Check out more of Murray's work here.)
Sunafrank ran 21 times for 198 yards and five touchdowns in the Owls 59-34 win over Punxsutawney.
He is joined by 15 players on the District 9 Honor Roll for Week Six.
The Player of the Week and Honor Roll honors will continue through the conclusion of the regular season.
D9SPORTS.COM PLAYER OF THE WEEK
Derek Sunafrank – Bradford: 21 carries, 198 yards, 5 touchdowns – Bradford 59, Punxsutawney 34
D9SPORTS.COM HONOR ROLL
Robert Keth – Brookville: 6 catches, 71 yards, 1 touchdown; 5 carries, 21 yards, 2 touchdowns – Brookville 42, St. Marys 22
Jack Krug – Brookville: 21-for-32 passing, 209 yards, 3 touchdowns; 4 carries, 42 yards, 1 touchdown – Brookville 42, St. Marys 22
Brett Zattoni – Clearfield: 24 carries, 131 yards, 2 touchdowns – Clearfield 28, Tyrone 14
Travis Gleason – Coudersport: 17 carries, 255 yards, 3 touchdowns – Coudersport 73, Otto-Eldred 12
Hayden Keck – Coudersport: 5-for-5 passing, 129 yards, 1 touchdown; 8 carries, 82 yards, 1 touchdown – Coudersport 73, Otto-Eldred 12
Riley Davis – Karns City: Blocked a punt and returned it to the 3-yard line to set up Karns City's go-ahead touchdown in the fourth quarter as the Gremlins rallied from a 9-0 deficit in the fourth to win – Karns City 22, Kane 9
Alex Rapp – Keystone: 2 interceptions on defense – Keystone 44, Union/A-C Valley 14
Nick Weaver – Keystone: 19 carries, 142 yards, 3 touchdowns – Keystone 44, Union/A-C Valley 14
Max London – Punxsutawney: 12 carries, 175 yards, 2 touchdowns; 2 catches, 124 yards, 1 touchdown – Bradford 59, Punxsutawney 34
Sam Hetrick – Redbank Valley: 4 catches, 96 yards, 2 touchdowns; Intercepted a pass on defense – Redbank Valley 39, Curwensville 0
Paul Gresco – Ridgway: 8-for-10 passing, 130 yards, 1 touchdown; 2 carries, 6 yards, 1 touchdown – Ridgway 42, Clarion 0
Jake Wickett – Ridgway: 10 carries, 150 yards, 2 touchdowns – Ridgway 42, Clarion 0
Jahid Bennett – Sheffield: 20 carries, 154 yards, 1 touchdown – Sheffield 22, Port Allegany 14
Braedon Johnson – Smethport: 7 carries, 93 yards, 1 touchdown; 2 catches, 60 yards, 1 touchdown – Smethport 39, Cameron County 7
Noah Lent – Smethport: 11 carries, 113 yards, 2 touchdowns; 4-for-7 passing, 84 yards, 1 touchdown – Smethport 39, Cameron County 7
2019 PLAYERS OF THE WEEK
Week Zero: Jake Lezzer, Clearfield
Week One: Oliver Billotte, Clearfield
Week Two: Jack Krug, Brookville
Week Three: Christian Coudriet, St. Marys
Week Four: Ian Thrush, Brookville
Week Five: Jon Wood, Brockway and Zander McHenry, Keystone
Week Six: Derek Sunafrank, Bradford
Week Seven: TBA
Week Eight: TBA
Week Nine: TBA