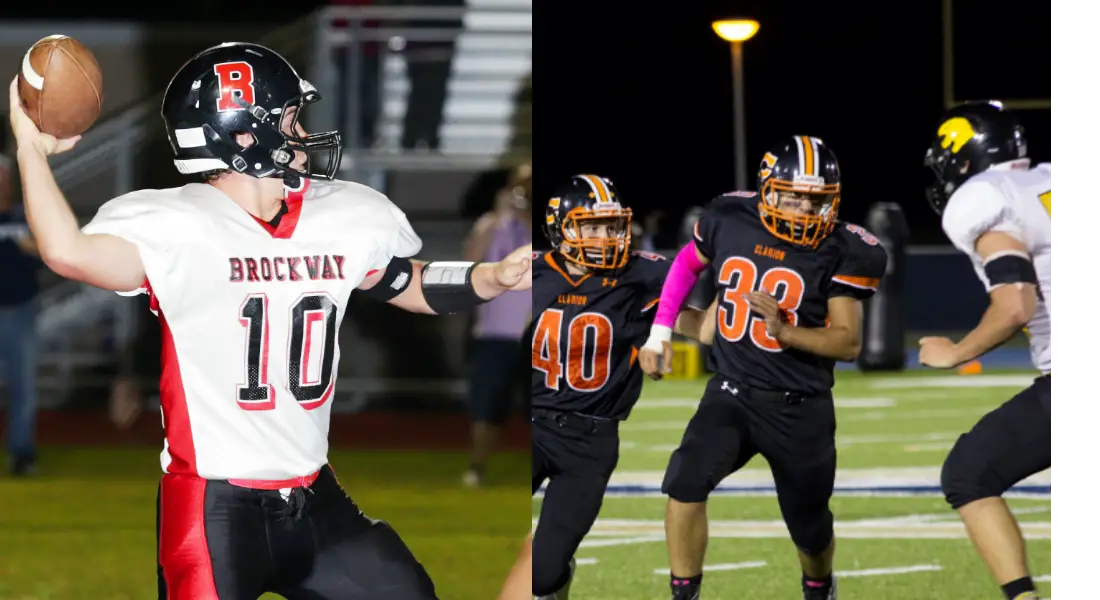 CLARION, Pa. – In key games that had both playoff and league implications, Brockway's Hunter Miller and Clarion's Michael McCloskey rose to the occasion combining to account for nine touchdowns in their teams' victories Friday night.
That is why both of them are the Week 4 D9Sports.com District 9 Co-Football Players of the Week.  
In a 36-16 win over Ridgway, Miller was 15 of 24 passing for 261 yards, four touchdowns and an interception.
McCloskey, in a 34-14 win over Clarion-Limestone that doubled as head coach Larry Wiser's 200th victory, scored five times. He carried the ball seven times for 71 yards and four touchdowns and also caught a 6-yard touchdown pass. On defense, the senior added eight tackles with two tackles for a loss.

Joining Miller and Mccloskey in being honored are 14 players on the District 9 Honor Roll.  
The Player of the Week and Honor Roll honors will continue through the conclusion of the regular season.  
D9SPORTS.COM CO-PLAYERS OF THE WEEK
Hunter Miller – Brockway: 15-for-24 passing, 261 yards, 4 touchdowns, 1 interception – Brockway 36, Ridgway 16 
Michael McCloskey – Clarion: 7 carries, 71 yards, 4 touchdowns; 1 catch, 6 yards, 1 touchdown; Made 8 tackles with 2 TFLs – Clarion 34, Clarion-Limestone 14 
D9SPORTS.COM HONOR ROLL  
Dylan LeCates – Brockway: 5 catches, 34 yards, 2 touchdowns; Intercepted three passes – Brockway 36, Ridgway 16
Colton Rapp – Clarion: 26 carries, 210 yards; Made 11 tackles – Clarion 34, Clarion-Limestone 14  
Riley Hummell – Clarion-Limestone: 5 catches, 95 yards, 2 touchdowns – Clarion 34, Clarion-Limestone 14
Brendan Makray – Clarion-Limestone: 17-for-34 passing, 204 yards, 2 touchdowns, 1 interception – Clarion 34, Clarion-Limestone 14
Nick Stewart – Curwensville: 39 carries, 184 yards, 1 touchdown – Kane 43, Curwensville 12
Kyle Hopson – DuBois: 9 catches, 175 yards, 2 touchdowns – DuBois 62, Warren 28
Matt Miller – DuBois: 15-for-22 passing, 263 yards, 3 touchdowns; 2 carries, 11 yards – DuBois 62, Warren 28
Jared Braun – Elk County Catholic: 15 carries, 140 yards, 1 touchdown; Returned an interception for a touchdown – Elk County Catholic 27, Bradford 7  
Evan DeLong – Kane: 16 carries, 168 yards, 2 touchdowns – Kane 43, Curwensville 12
Kaiden Powers – Karns City: 4 carries, 168 yards, 2 touchdowns – Karns City 47, Punxsutawney 0
Steven Fawcett – Moniteau: Hit two field goals (37 yards, 26 yards) – Moniteau 33, Keystone 6
Devon Brown – Smethport: 25 carries, 135 yards, 1 touchdown; 9 tackles, 1 sack – Smethport 12, Cameron County 7
Keaton Kahle: Redbank Valley: 11-for-21 passing, 224 yards, 2 touchdowns; 8 carries, 72 yards, 1 touchdown – Redbank Valley 42, Brookville 2
Matt Marconi – St. Marys: 21 carries, 122 yards, 2 touchdowns – St. Marys 32, Union/A-C Valley 14
2016 PLAYERS OF THE WEEK
Week Zero: Braden Paulinellie, DuBois
Week One: Nick Stewart, Curwensville
Week Two: Isaac Rumery, Clearfield
Week Three: Sam Leadbetter, Clarion-Limestone
Week Four: Hunter Miller, Brockway and Michael McCloskey, Clarion
Week Five:
Week Six:
Week Seven:
Week Eight:
Week Nine: