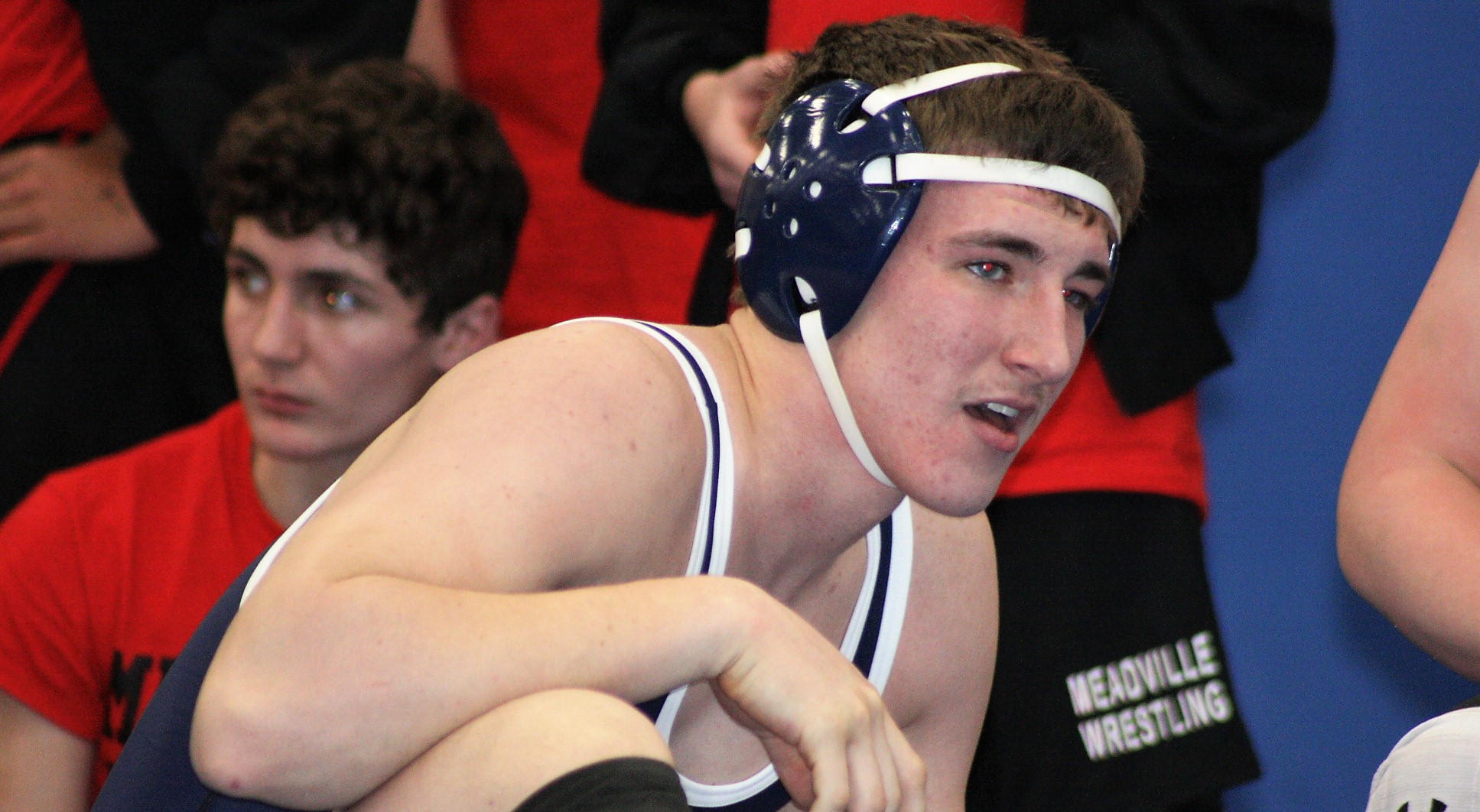 HERSHEY, Pa. – It was not a joyous day for the Brookville and DuBois wrestling teams Thursday in the opening round of the PIAA team championships at the Giant Center in Hershey, Pa..
(Cover photo: Noah Cieleski of Brookville, photo by Alli Zacherl)
Brookville will not repeat as Class 2A state champs after losing, 29-27, in the first round to District 3 third-place finisher Northern Lebanon while DuBois dropped a 42-22 decision in Class 3A to District 10 champion Erie Cathedral Prep.
The best hope for both squads will be third-place finishes. They will need to win two matches each Friday and Saturday reach the consolation finals Saturday.
Brookville will wrestle District 10 runner-up Harborcreek at 8 a.m. while DuBois will take on Cannon-McMillan at 10 a.m.
NORTHERN LEBANON 29, BROOKVILLE 27
In Thursday's match, the Raiders fell behind 11-0 after three matches before 152-pounder Caleb Hetrick pinned Ethan Walmer in 1:29.
But Northern Lebanon came back with two wins to make it 20-6.
Noah Cieleski won at 182 for Brookville, beating Ethan Herb, 6-2, to make the score 20-9.
At 195, Luke Funck claimed a key win for Northern Lebanon, edging Raider Xavier Molnar, 8-5, to make it 23-9.
Brookville cut the lead to 23-14 with Tyler Cook's technical fall over Hunter Wallace, 22-7.
But a pair of back-to-back wins for Northern Lebanon pushed the Raiders to the brink of defeat.
Kyle Sonnen's 2-0 win at 285 pounds over Colby Whitehill made it 26-14 and an 11-5 decision by Kyler Anspach over Parker Fleming made it 29-14.
Trailing by 17 points with three matches remaining, the Raiders needed at least two bonus point wins to move on.
But Northern Lebanon's Brandon Breidegan lost by just a 4-2 score to Raider Cabe Park at 113 pounds and Colin Leonard held off a pin attempt by Gavin Park at 120 in an 18-6 loss to render the final match a moot point.
ERIE CATHEDRAL PREP 42, DUBOIS 22
DuBois started strong against Erie Cathedral Prep jumping up 15-6, but the Ramblers rambled off four pins in a six-bout stretch to take control of the match.
Prep started off with a pin from Kawaun Deboe over Alex O'Harah in 1:23 at heavyweight to go ahead 6-0 before Trenton Donahue pinned Alex Chelton in 3:28 at 106 pounds to tie the match at six.
The Beavers then took the lead when 113-pounder Ed Scott pinned Brady Sittinger in 3:38, and Dalton Woodrow won a 5-1 decision over Andrew Stark at 120 pounds to put DuBois ahead 15-6.
Tyler McKinney got Prep back in the match when he pinned Jake Myers in 3:32 at 126 pouunds, but Kolby Ho made it 19-12 DuBois when he won a 15-7 major decision over Spencer Staab at 132 pounds.
Three falls and a decision in the next four bouts gave the Ramblers control of the match.
At 138 pounds, Marques McClorin pinned Austin Fairman in 2:41 to cut DuBois' lead to one, 19-18.
Then at 145 pounds, Albert Taylor won a 4-2 decision over Brock Adams to put the Ramblers in the lead for good, 21-19.
Pins at 152 pounds by Carter Starocci over Lance Henninger (2:31) and at 160 pounds by Dazjon Casto over Dom Dilullo (25 seconds) made it 33-19 Prep.
DuBois stayed alive when Carson Hanna won an 11-4 decision over Kyle Carter at 170 pounds to get the Beavers back within 11 points, 33-22.
But any hope of a comeback went away at 182 pounds when Luigi Yates won a 3-0 decision over Izsak Kerner to make it 36-22.
The Ramblers then finished off the match with decisions at 195 pounds (8-6 by Michael Hughes over Dave Henninger) and and at 220 pounds (2-1 by DjJeheir Norman over Matt Starr).