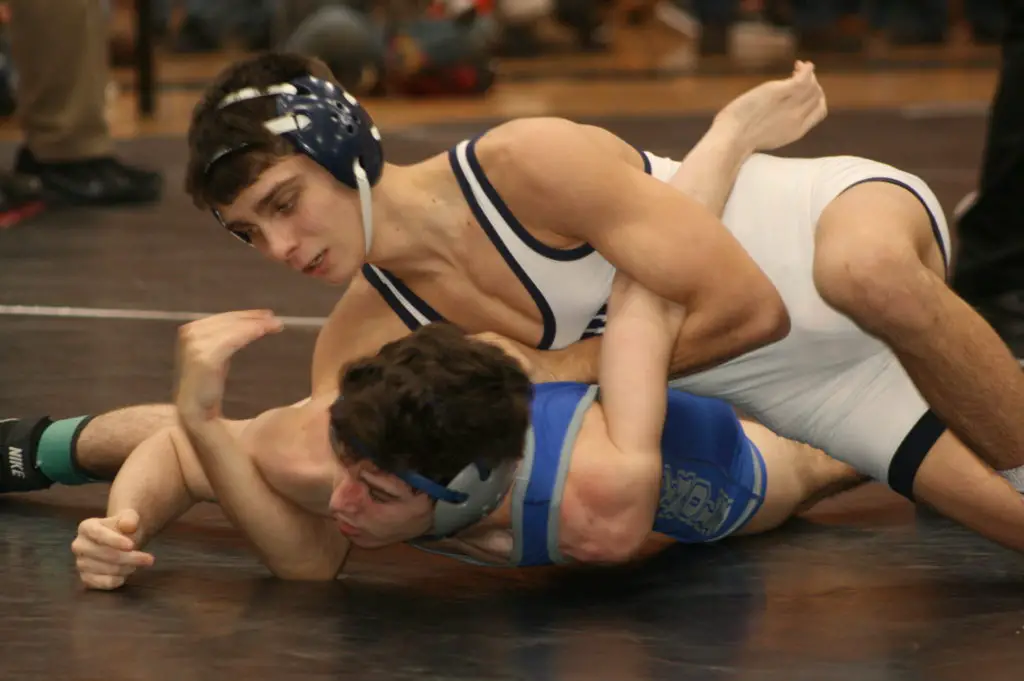 CLARION, Pa. (EYT) – Clarion University head wrestling coach Keith Ferraro announced the signing of five high shool wrestlers to National Letter of Intent (NLI) for the 2017-18 season including Brookville senior Gavin Park.
(Photo of Brookville's Gavin Park. Photo courtesy of Clarion University Athletics)
Park, who projects as a 125 pounder at the college level, helped Brookville to the PIAA Class 2A state title last year and the District 9 title. He finished seventh in the state in 2016 at 113 pounds and has won a pair of District 9 titles and two Northwest Regional titles. He enters the 2016 season with a career record of 83-20. He is one of five returning PIAA qualifiers for Brookville.
"Gavin continues the healthy pipeline of talent from Brookville," Ferraro, a Brookville graduate, whose late dad, Lenny, was the long-time Raiders head coach. "He's had consistent success at the high-school level and has the tools needed to be impactful at Clarion."
According to the current roster on ClarionGoldeneagles.com, the Golden Eagles have four Brookville wrestlers on the 2016-17 roster: Brock Zacher, Brodie Zacherl Taylor Ortz, Jimmy Miller
In addition to Park, Clarion also signed Ty Bagoly, Toby Cahill, Jalin Hankerson and Max Wohlabaugh.
"We're very excited to announce these five incoming freshmen as we continue to grow and improve our program," Ferraro said. "They fit the bill for the program in terms of not just their ability but also their character, and we're confident they'll bring those same qualities to Clarion."
Bagoly, from Reading, Pa., and Exter Township High School, is projected to wrestle at 174 pounds.
In 2016, he went 22-5 and has a record of 106-42 entering this season. He was a Fargo Freestyle Cadet All-American in 2015, a NHSCA Junior National All-American in 2016 and a 2016 Berks County and District 3 sectional champion.
"Ty has amazing upside," Ferraro said. "We feel he's nowhere near his pear as an athlete."
Cahill, from Berlin, Pa., and Berlin Brothersvalley High School, is projected to wrestle at 285 pounds.
He has helped Berlin Brothersvalley to three straight Westpac champions and is a 3-time district finalist with one District 5 championship. Also a 3-time PIAA qualifier, he is a 2-time place winner at Escape the Rock taking four and fifth. He has earned Southwest Regional runner-up and third-place honors and has totaled more than 100 career wins. He has two older brothers who have competed in collegiate wrestling including Tanner, who wrestlers for Pitt-Johnstown, and Taylor, who is a red-shirt freshman for Clarion.
"Toby is a proven heavyweight with the athleticism it takes to get it done at the college level," Ferraro said. "We're excited to have him joining his brother on our team here at Clarion."
Hankerson is from Carlisle, Pa., and Boiling Springs High School. He is projected as either a 133-pound or 141-pound wrestle at the college level.
In 2015, he helped Boiling Springs to a PIAA dual meet championship and to a regional championship in 2016. He has posted a career mark of 86-27 and is a 3-time sectional finalist, a 3-time district medalist, a 2-time state medalist, a 3-time Mid-Penn All-Conference selection, a 2-time All-Sentinel All-Star and a PennLive.com Big 15 All-Star. He is ranked No. 40 in the PA Power 300 and a No. 1 in preseason rankings.
"Jalin is an incredible athlete and a super kid," Ferraro said. "He fits perfectly into our culture."
Wohlabaugh, the only out-of-state wrestler in the class, hails from Winter springs, Fla., and Winter Springs High School. He is projected to wrestle at 157 pounds.
He won a Florida 1A state championship at 138 pounds as a freshman, place third in the 3A state tournament as a sophomore at 152 pounds and was a state-runner up in 3A at 160 pounds as a junior. A member of the highly successful USA Wrestling, he was a double finalist at 160 pounds in both Greco and Freestyle as par of the USAW Cadet World Team at 69K. He was a double All-American as a USAW Cadet in 2015 winning Greco at 152 pounds and taking fifth in freestyle at 1660 pounds. He also took fourth at 152 pounds in 2016 at NHSCA Juniors earning All-American status. His uncle, Dave Wohlbaugh, played nine years in the NFL as an offensive lineman.
"Max has proven himself at the highest levels for his age group," Ferraro said. "We expect him to be a staple in our program for the years to come."