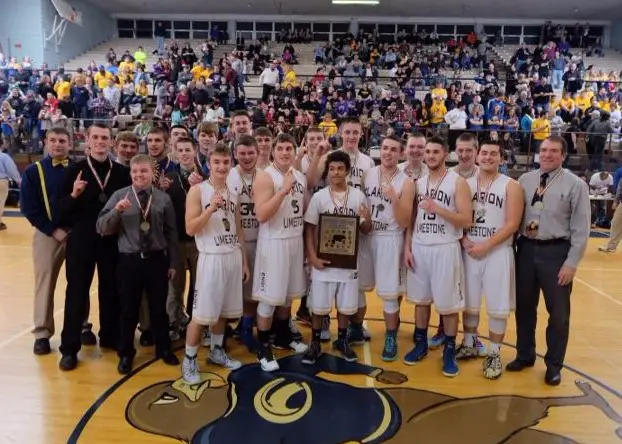 CLARION-LIMESTONE 64, UNION 39
Read full story on ExploreClarion.com
CLARION, Pa. – Dan Callen and Noah Rankin each recorded double-doubles and Taylor Smith also had a strong game to lead Clarion-Limestone to its third straight KSAC Title with a 64-39 win over Union Friday night at Clarion University's Tippin Gym.
Callen had 18 points and 17 rebounds for the Lions (21-2), while Rankin added 11 points and 11 boards and Smith 18 points.
Union's shooting was as cold as the temperature outside with the Golden Knights hitting just 22.8 percent (13 of 57) of their shots including shooting only 4 of 25 in the first half while falling behind 31-15 at the break.
C-L outscored Union 18-2 in the second quarter after the game was tied at 13 following the first eight minutes.
Cole Morris led Union (16-7) with 16 points and 10 rebounds, but he was only 5 of 22 shooting and started the game 2 of 18 before hitting 3 of his final 4 shots.  Gavin Hawk and Lucas Bowser each added eight points.
C-L has also won four of the past five KSAC Titles.
The teams will meet again in the opening round of the District 9 Class A playoffs next week at a day, site and time to be announced.
ELK COUNTY CATHOLIC 61, DUBOIS CENTRAL CATHOLIC 27
ST. MARYS, Pa. – Unbeaten Elk County Catholic built a 25-point halftime lead and never looked back on its way to a 61-27 win over visiting DuBois Central Catholic in the AML Semifinals Friday night at Aaron Straub Gymnasium.
The Crusaders (23-0), who will take on Ridgway in the AML title game at 7:30 p.m. Saturday at St. Marys High School, led 33-8 at the break.
Nine different ECC players scored led by a game-high 11 points from Gabe Kraus, who hit three first-quarter 3-pointers. Jack Wolfe and Frank Singer both added eight points with Singer hitting a pair of 3-pointers and Nate DaCanal had seven tallies.
Christian LaParne paced DCC (15-8) with 10 points.
RIDGWAY 38, JOHNSONBURG 24
RIDGWAY, Pa. – Ridgway moved into the AML Title game with a 38-24 win over visiting Johnsonburg in the AML Semifinals Friday night.
Ridgway trailed 8-3 at the end of the first quarter but rallied to take a 14-12 halftime lead. The Elkers (21-2) then outscored Johnsonburg 14-5 in the third quarter to break the game open.
Jeremy Breier paced Ridgway with 12 points with Andy Breier and Johnny Mitchell each scoring eight points.
Ryan Kilhoffer paced Johnsonburg (9-14) with eight points with Drew Akers adding seven.
Ridgway will face nemis Elk County Catholic at 7:30 p.m. in the AML Title Game Saturday. ECC has handed Ridgway both of its losses this year.
PUNXSUTAWNEY 63, BRADFORD 51
BRADFORD, Pa. – Dylan Huey scored a game-high 21 points, as visiting Punxsutawney knocked off Bradford, 63-51, in the D9 League and regular-season finale for both teams Friday night.
Brandon Matthews added 16 points for the Chucks (14-8 overall, 5-5 D9 League), while Devin Kelly added 10.
Deondre Terwilliger paced Bradford with 12 points and five steals, while Nate Higbie had 10 points and six rebounds for the Owls (10-12, 5-5).