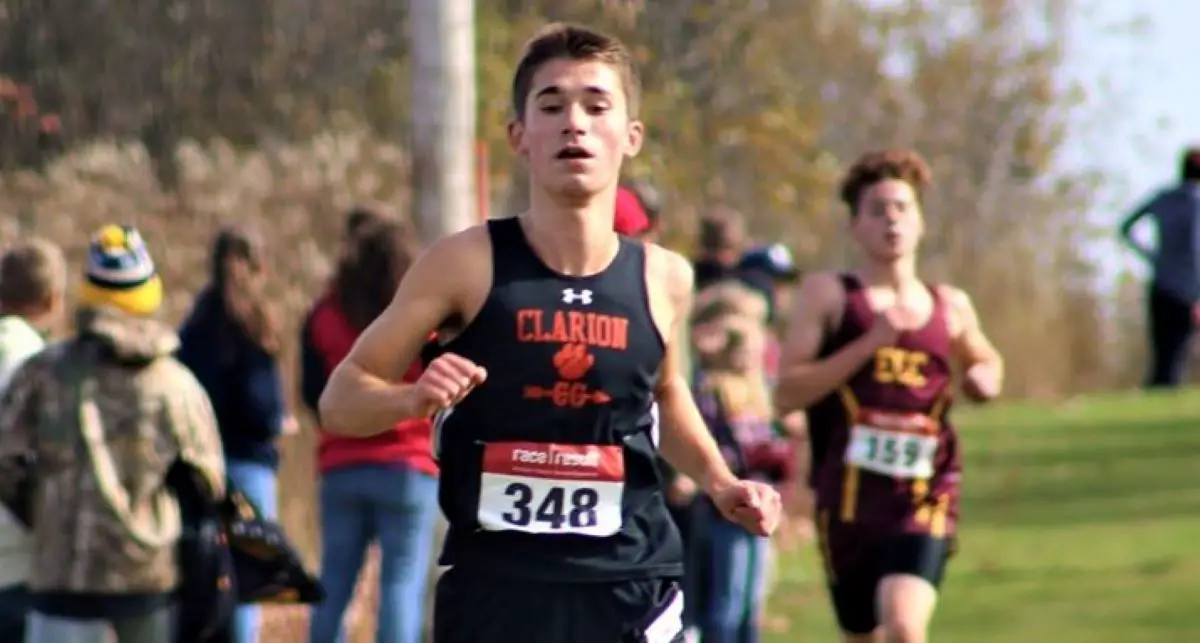 FRILLS CORNERS, Pa. – Clarion's Brenna Campbell and Nathaniel Lerch, Clarion-Limestone's Hayden Siegel and Cranberry's Kalynne Ziegler were named KSAC MVPs in volleyball, boys' cross country, golf and girls' cross country respectively Tuesday in voting by the league's coaches.
(Photo of Nathaniel Lerch of Clarion, who was named the KSAC MVP in boys' cross country. Photo by Bill Mushrush)
The conference also announced All-Conference teams in all four sports.
VOLLEYBALL
MVP: Brenna Campbell, Clarion
FIRST TEAM
Korrin Burns, Clarion
Kaitlyn Constantino, Clarion
Taylor King, Redbank Valley
Emily Wetzel, A-C Valley
Ava Ferringer, Cranberry
KK Girvan, Clarion
SECOND TEAM
Alyssa Dunlap, Keystone
Maddie Schill, Clarion
Meah Ielase, A-C Valley
Dominika Logue, Union
Emily Duncan, Cranberry
Montana Hetrick, Redbank Valley
THIRD TEAM
Aslyn Pry, Moniteau
Emma Burrows, Keystone
Gabby Schmader, North Clarion
Tara Hinderliter, Redbank Valley
Abby Hanna, Cranberry
Becca Kunselman, Redbank Valley
GOLF
MVP: Hayden Siegel, Clarion-Limestone
FIRST TEAM
Josh Craig, Clarion
Ethan McDeavitt, Moniteau
Nate Tack, Moniteau
Jackson Fox, Clarion
Kaden Park, Clarion-Limestone
SECOND TEAM
Lake Staub, Clarion
Jacob Felsing, Moniteau
Hayden Callen, Clarion-Limestone
Kyle Porciello, Clarion
Mitch Geiger, Clarion
THIRD TEAM
McKayla Kerle, Clarion
Ian Larson, Clarion-Limestone
Brock Weigle, A-C Valley/Union
Derek Christy, Moniteau
Gage Neal, Moniteau
Dakota Woolcock, Cranberry
GIRLS' CROSS COUNTRY
MVP: Kalynne Ziegler, Cranberry
FIRST TEAM
Hannah Burgoon, Moniteau
Jenna Blauser, Moniteau
Jordyn Hendrickson, North Clarion
Rachel Bauer, North Clarion
Nicole Fair, North Clarion
Ashlyn Shultz, Cranberry
Ellabay Perry, Cranberry
SECOND TEAM
Kayla Aaron, North Clarion
Katie Bauer, North Clarion
Haley Bauer, North Clarion
Jessica McCracken, Clarion-Limestone
Bella Scott, Clarion
Hailey Theuret, A-C Valley
Chelsea McKissick, Cranberry
BOYS' CROSS COUNTRY
MVP: Nathaniel Lerch, Clarion
FIRST TEAM
Matt Woolcock, Cranberry
Daniel Fisher, Cranberry
Jacob Bauer, North Clarion
Joseph Fox, Cranberry
Koby Buzard, Keystone
Gavin Hoover, Clarion
Braden Rankin, Clarion-Limestone
Christian Miller, Cranberry
SECOND TEAM
River Perry, Cranberry
Nick Frederick, Clarion
Logan Johnson, Cranberry
Keagan Phillips, Clarion
Avery Keenan, Cranberry
Kaine McFarland, North Clarion