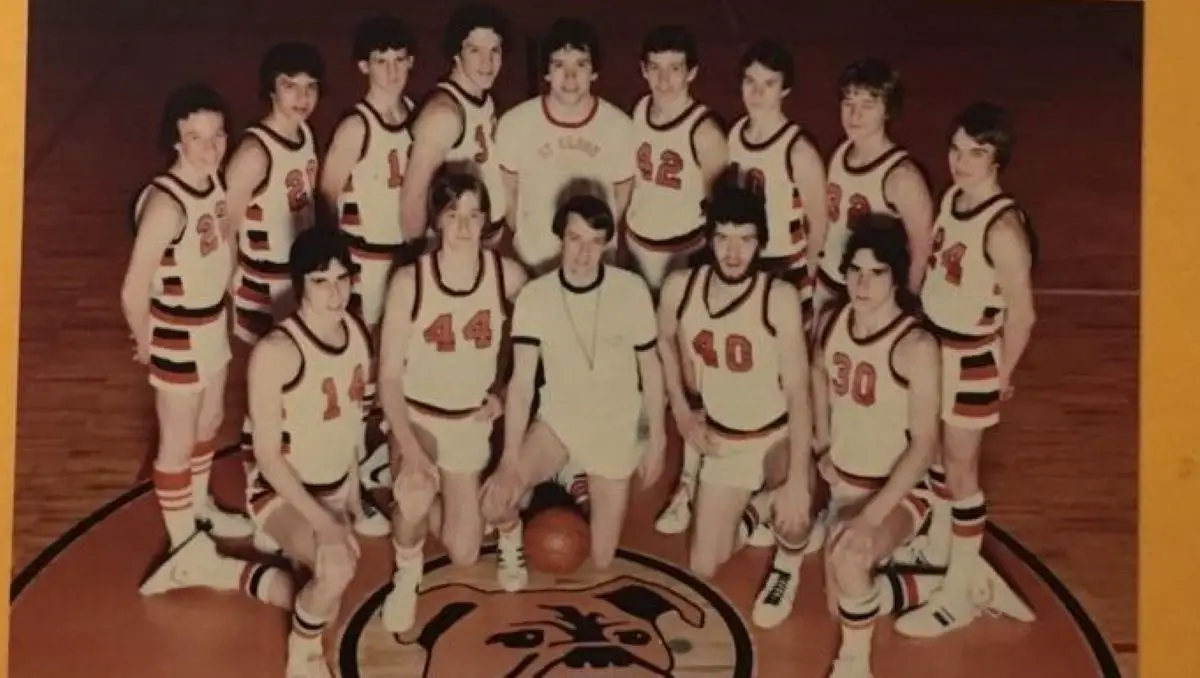 EAST BRADY, Pa. – Forty years ago this winter, the East Brady boys' basketball team delivered Clarion County's first and only PIAA basketball championship and one of just four PIAA titles won by a District 9 basketball team – boys or girls.
(Photos courtesy of Dave Kerschbaumer)
The Bulldogs went 29-2 that season and beat Darby Township, 72-66, to win the PIAA Class 1A title on March 22, 1980, at the old Hershey Park Arena in Hershey, Pa.
The team featured the twin younger brothers of Jim Kelly, Dan and Kevin, Mike Vasbinder, Bill Olcus and Dave Kershbaumer, who went on to earn PIAA state gold as an assistant coach with the Karns City girls' basketball team in 2000, in the starting lineup and a "great" sixth man in Dean Fair and were under the direction of John Jamison.
"I just remember the love we have for each other," Kershbaumer told D9Sports.com at the 2019 PIAA championships. "When you play basketball, five guys playing together, it was just a big thing for us. I really never played for myself. I was always playing for my buddies. You never wanted to let those guys down.
"We are still in touch with each other today. Danny's kids played college football and we go to see them. Kevin's kids played college football. It's just nice to keep tabs on them. It was just the family atmosphere that we have."
Olcus, who was watching some championship basketball with Kerschbaumer, said the Kelly twins led the team, which played what he described as "good old Clarion County basketball".
"How do you get from Point A to Point B?" Olcus said when asked to describe what Clarion County basketball was. "You go straight through it. That's how we did it. The Kelly twins were our leaders. They were not afraid to lead us right down the middle of the road."
Going into the 1980 season, Kershbaumer said East Brady knew it had a chance to be good as the Bulldogs had gone to the PIAA semifinals the year before and returned the Kelly twins as starters.
"We were like 29-1 as a JV team," Kershbaumer said. "We just had great chemistry between all five of us. It didn't matter who was going to score. (All that mattered) was that we had more points at the end of the (game)."
Those expectations, though, might not have included winning a state title.
"We had expectations of winning the league," Olcus said. "I will tell you, the year before when we were sophomores, Dave, Mike and I used to scrimmage the varsity team which had the Kellys and the Simpsons and the Markles and stuff like that. We held our own. I think even as our JV team we could have won half the games at the varsity level. So, yeah, we did have high expectations. We knew were going to do very well."
Kerschbaumer said the team never really got caught up in how good it was.
"We just kind of went through it and said who do we play next," Keschbaumer said. "Let's just go have fun and do what we do. Coach John Jamison just kind of kept that mentality."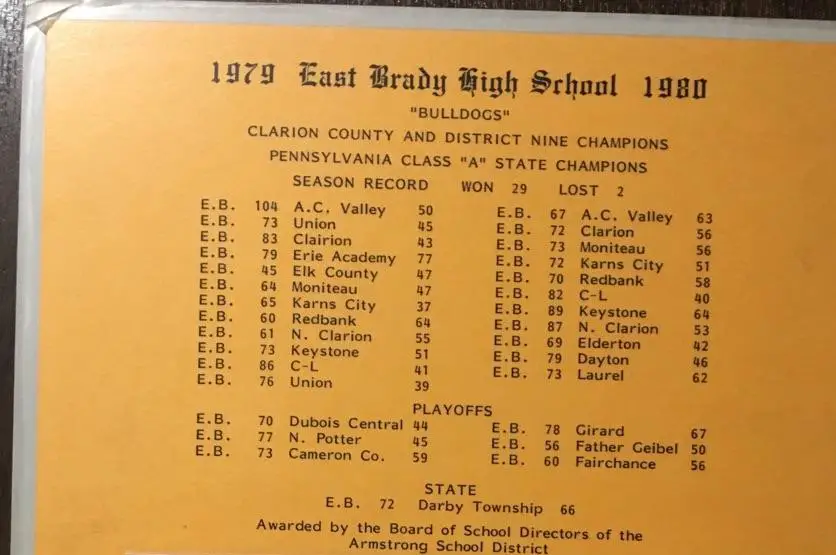 That philosophy worked well for East Brady in the PIAA playoffs.
Starting with a 9 p.m. game at Westminster March 11, 1980, against Girard, the Bulldogs played close game after close game on their way to the state title.
The Girard victory was perhaps the easiest, 78-67, and was followed by a 56-50 win over Father Geibel, who didn't have to play a first-round game, in the second round at IUP – another 9 p.m. start time on March 14. That win was a bit of getting the monkey off the back for Jamison, who watched previous squads fall to Father Geibel in the PIAA playoffs.
"We had lost to Father Geibel when Jim (Kelly) played," Kershbaumer said. "And we played them and ended up beating them. It was just a couple of hurdles that mentally coach had to get over more than us because we weren't there for those games."
Three days later, East Brady was right back at Memorial Field House in Indiana and squeaked past Bishop Caroll, 56-54, to reach the semifinals.
In the semifinals, the Bulldogs faced Fairchance-Georges, which is now part of the Albert Gallatin School District near Uniontown.
It was another late 9 p.m. start, and it was another close game.
After blowing a 13-point third-quarter lead, East Brady was tied at 53 with 2:07 to play after a 16-3 Fairchance-Georges run. But Kerschbaumer played hero hitting a layup with 1:36 to play to break the tie, and the Bulldogs went on to win 60-56 in a game Vasbinder didn't even play in because of a freak injury.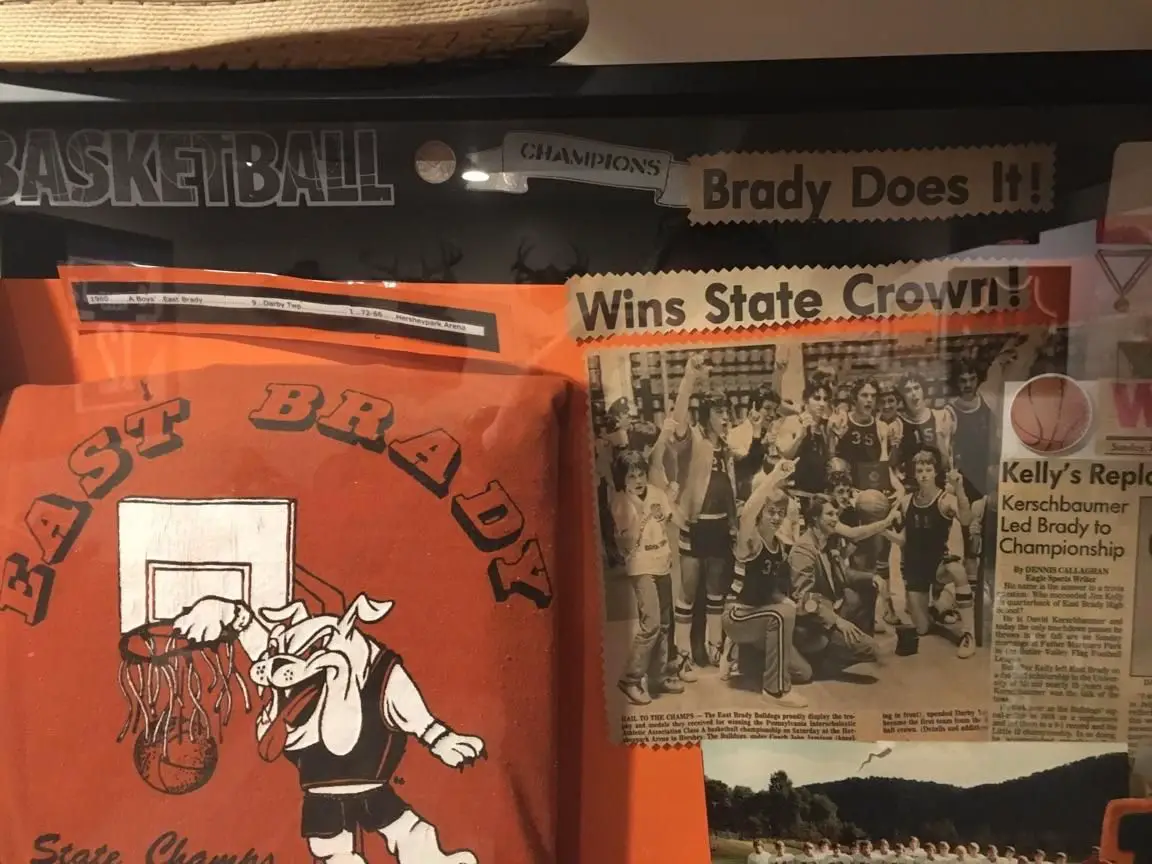 "Bill Olcus being 6-foot-5 always had to get tendinous shots in his knees," Kershbaumer said. "So he goes to the doctor with those two (Vasbinder and another player) and they stop by Sugarcreek Elementary, which was our elementary school. And they had this eight-foot hoop. And those guys, for some reason, stopped to play basketball and dunk. And Binder goes up and dunks with his left hand and pulls a muscle in his shoulder. So, he can't even get dressed (in the semifinal game). And coach was like 'what is going on with you guys.' And we were like 'nothing coach, we will figure it out.' We were like Binder can't even get dressed. He was like what? So we get through it. We didn't miss a beat."
Part of the reason the Bulldogs didn't miss a beat is that Kershbaumer, who averaged around 12 points a game, stepped up and scored 26 in the victory.
"Danny and Mike were our leading scorers the whole way through the season," Kershbaumer said. "Then we get to the playoffs, and those two had a couple of down games and Kevin and I and (Bill) picked them up and we were the leading scorers. It was a team effort all the way around. One guy didn't take credit for anything. We always say five is one. This team exemplified that."
Heading into the PIAA Championship game, East Brady wasn't exactly in unchartered territory for Clarion County League teams with six of them making the PIAA title game from 1962 to 1974 including East Brady in 1968 – a 78-48 loss to Middletown.
The thing was, no team from the league had broken through with a title with Clarion losing to Jim Thorpe (51-50) in 1962, Union falling to Upper Darby (51-44) in 1967, Karns City losing to Mount Penn (58-47) in 1972, A-C Valley dropping a 77-71 decision to Freeland MMI in 1973 and Union losing to Holy Ghost, 63-48, in 1974.
"Oh we were very nervous," Olcus said. "That was the first time I played on a court where the basketball hoop came off the floor. I had always been in gymnasiums were they hung down from the ceiling. I remember that. I was in awe."
Unlike in today's day of the internet and social media, East Brady's opponent was a bit of a mystery to the Bulldogs.
"We didn't know much about Darby Township," Kershbaumer said. "Back then, they had this banquet. And we are all in ties and suits and we're sitting having dinner and this team walks in. We are like who the hell are these guys? It was Darby. We were like oh boy we might be in trouble."
But this group of East Brady players was born for this moment.
Kerschbaumer recalls when he was in fourth or fifth grade he and Vasbinder were watching the finals on Channel 13.
"We were saying Mr. Vasbinder (Mike's dad), Mr. Vasbinder that's going to be us someday," Kershbaumer said. "He was like keep dreaming boys. It's good to have dreams. So (all those years later) Binder and I get to center court for the jump and we looked down at that peacock center and said we are here. We looked up at his dad and his dad just gave us the thumbs up."
The game didn't start out well for East Brady with Darby Township rushing out to an early 7-0 lead.
"We come out in the first foud minuses of the game and we're down 7-0," Olcus said. "We're getting outplayed, outcoached. I thought it was going to be a long afternoon. But we just stuck in it and by the end of the third quarter we had a ball game."
Kerschbaumer recalls scoring the first points of the game for the Bulldogs and his brother standing up and clapping.
"The guy next to him asks him why, and he said that's my brother," Kershbaumer said. "And the guy goes 'he ain't scoring 26 on us tonight.' My brother then has this famous line and goes 'that's alright the four other guys are going to beat you guys.'
Darby Township led 37-30 at halftime but East Brady closed outscored the eventual runners-up 28-20 in the third quarter to take a 58-57 lead into the final eight minutes. A 12-0 run had actually put the Bulldogs ahead 54-47 before Darby Township closed within the single point.
Dan Kelly had a 3-point play – before the 3-point line – and Vasbinder, who left the game with an ankle injury in the first quarter only to return, hit a pair of free throws to give East Brady the lead going to the fourth quarter.
Free throws played a key role in the victory with East Brady going 26 of 37 from the line as Darby Township was called for 30 fouls and lost the game despite outscoring the Bulldogs by four points from the floor.
Dan Kelly had 24 points while going 14 of 16 from the free-throw line including 10 of 10 in the fourth quarter.
"Danny picked us right up," Jamison told the UPI after the game. "I'm happy for him. He's a good foul shooter but only shot 55 of 60 percent for the year. During practice, he makes 19 of 20, but in the game he doesn't. In the big games, though, he comes through."
Vasbinder added 20 points in the victory.
"It took a long time for it to really sink in," Olcus said. "I mean, it was exciting, but I didn't really realize what we'd done until later on down the road. Winning the game was fantastic."
Kershbaumer remembers just looking at each other in the locker room after the win.
"We were like all right, this is pretty cool," Kershbaumer said. "It was fun."
Kerschbaumer said he also remember sharing the title with the community.
"Getting out and sharing it with our fans," Kershbaumer said. "Going around and taking the trophy to places and showing them the medals. People wanted to see things like that."
While the community shared in the championship, the team itself found its way back to East Brady without the fanfare that you would expect to accompany a state title.
"We come in in the middle of the night about 1 a.m.," Kershbaumer said. "We went 80 and came down through Clarion, and (everyone else) thought we were going the turnpike and so there was nobody to meet us. Not a single person around. The bus pulls in and we get off the bus and there was not one person around. Most of our fans had stayed the night in Hershey and didn't drive back. So it was just us. So we were like what are we going to do. So we just went to somebody's house and hung out."
In the days that followed, however, the team was celebrated in many different ways.
"I remember all the restaurants, all the bars, all the churches, everybody had a potluck dinner for us and had gifts for us and stuff like that," Olcus said. "It just wasn't the town of East Brady. There were some out of Butler, some out of Rimersburg that did little things for us. That is what I really appreciate."
PIAA BASKETBALL TITLES WON BY DISTRICT 9 TEAMS
1946 Boys' Class B (Now Class 2A) – Kane 45, Ashley 44
1980 Boys' Class 1A – East Brady 72, Darby Township 66
2000 Girls' Class 2A – Karns City 53, Bishop Hoban 39
2006 Boys' Class 1A – Elk County Catholic 71, Bishop Hannan 61