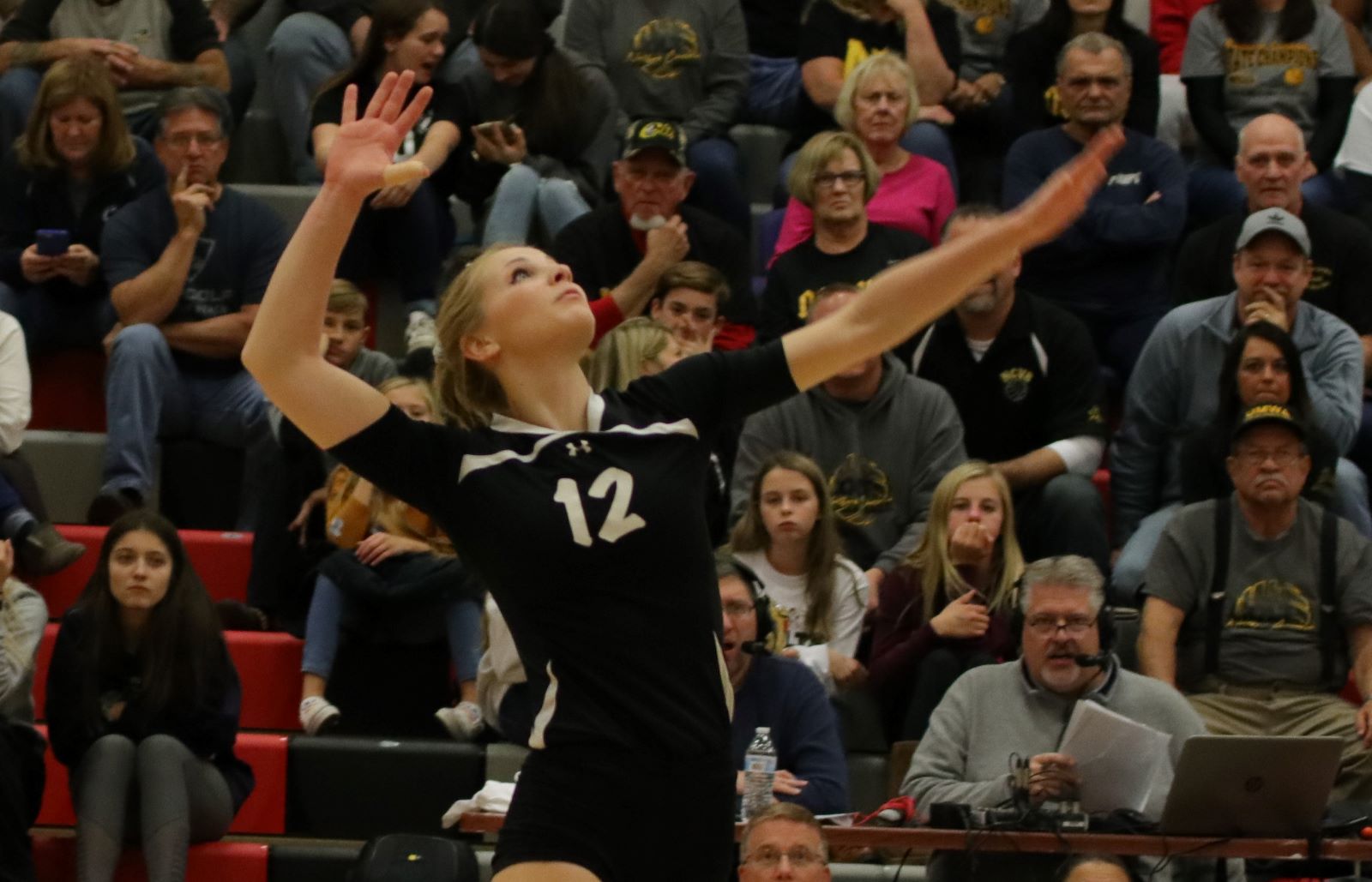 HYDE, Pa. – So close yet so far away.
(Photo: Kait Constantino goes up for a kill during the first set of Clarion's 3-1 loss to Northern Cambria Tuesday. Constantino finished with 15 kills and 12 digs in the loss. Photo by Jared Bakaysa of JB Graphics. See more of Bakaysa's work here)
That pretty much sums up Clarion's 3-1 loss to defending PIAA Class 1A champion Northern Cambria in the PIAA 1A semifinals Tuesday night at Clearfield High School.
Relisten to the match:
The Lady Cats were that close to victory but in the end, came up short losing the first set 31-29 despite four set points and losing the fourth set 27-25 despite having a set-point opportunity in that one as well.
In between, Clarion, which entered the matched ranked No. 1 in the state in Class 1A, took the second set, 25-21, and lost the third set, 25-18, to the Lady Colts, who entered the match ranked No. 2 in the state in Class 1A.
"We had our opportunities," Clarion head coach Shari Campbell, whose team fell to Northern Cambria in the postseason for the second straight year and in the semifinals for the second time in three seasons having lost to Maplewood in 2017, said. "We had our chances to take game four. We had a chance to take game one. It hurts real bad, but you want to know you left it all out there. You don't want to go in with regrets. Maybe a few. Maybe some serving errors. But we definitely battled with them and had our opportunities. Northern Cambria is a great team."
Campbell mentioned the service errors. Oh, the service errors.
In the first set, a set that saw Clarion rally from deficits of 14-5 and 23-17 to take a 24-23 lead, eight service errors kept the Lady Cats from winning the set.
That included three service errors on set point including at 24-23, 25-24 and 29-28 with the 25-24 being an uncharacteristic over-the-serving line violation on senior Kait Constantino.
Then in the fourth set with Clarion trying to force a fifth-and-deciding set, the service error issue cropped up again with six of them including again at set point at 24-23 after committing one at 23-22 as well.
Overall, Clarion had 19 service errors allowing Northern Cambria to score 18 percent of their points on those errors. Added to another 25 hitting errors for Clarion, and the Lady Colts scored 42 percent of their points because of Clarion's mistakes, a big reason the Lady Cats lost the match despite out killing Northern Cambria 46-40.
"We had a lot of unforced errors," Campbell said. "We scored a lot of points for them. You just can't do that at this point. That is definitely a lot of being in the moment. We are young. I know we have some great seniors, but we are young too."
Campbell attributed the hitting errors to a couple of factors including Clarion not being able to get into system because of passing miscues and the team's hitters perhaps not being as aggressive as they needed to be.
"We played timid," Campbell said. "You can't play timid. You have to go. You have to take your opportunities. You can't play it safe, because if you give them the ball that is when you are on your heels and you are playing a lot of defense and you are not getting great swings.
"Defensively, I thought we were there. It was the transition to our offense and a couple of timid plays at the net. Our passing just wasn't what we needed it to be. So you saw some safer swings, you saw some roll shots that we had to take because of some of the not best passing, (good passing) is something we typically have."
The number of free balls over the net led to some strong attacks from Northern Cambria, and especially from junior Maggie Hogan, who finished with a team-high 21 kills.
"Maggie Hogan can attack from anywhere," Campbell said. "She can be smart about taking hard swings. When you are not putting enough pressure on and you give her that space to take those swings, then you are on your heels and it's harder to take the next swing."
While Hogan had a strong match for the Lady Colts, Korrin Burns, a sophomore, had an equally strong match for Clarion with 22 kills, although she did have 10 errors, while adding seven digs and four aces.
Constantino also played decent on offense with 15 kills while adding 12 digs, and freshman Aryana Girvin added six kills, four digs and four aces.
The Lady Cats also got a boast in the back row with the return of KK Girvan, although the normal Libero was in a defensive specialist role after missing the quarterfinal match Saturday with an illness, she had six digs. Her replacement at Libero, Jordan Best, contributed a team-high 14 digs.
"I thought KK played great," Campbell said. "I thought Jordy played great.
"Just the fact we could have KK on the court is fantastic. She is a great player. I was also really comfortable with Jordan's play. She played really solid defense and served well."
Jenna Lutch chipped in 10 kills and four blocks for Northern Cambria, while Brenna Campbell had 42 set assists and nine digs for Clarion.
Northern Cambria improved to 22-1 with the win and will take on Nativity, a 3-2 winner over Berlin Brothersvalley in the other semifinal, in the title match at 10:30 a.m. Saturday, Nov. 16, at Cumberland Valley High School.
Clarion finishes the season 18-2 and with its second straight District 9 title.
"The next step is to process this and try to find all the good that happened in getting to this point," Campbell said. "That is why we will turn around and get back at it again because they know how close they were. The seniors will pass the torch, and we will get back at it after we take some time to come back down and celebrate all the good that has happened."