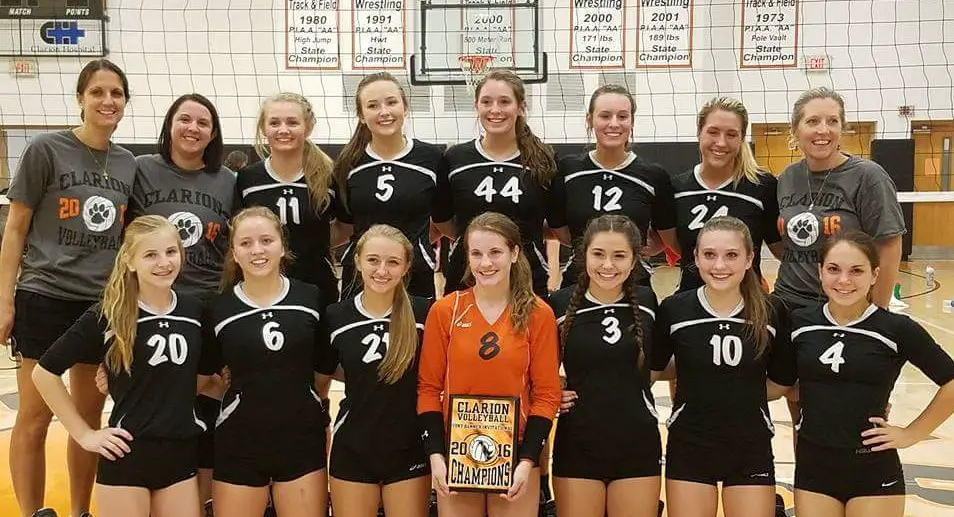 CLARION, Pa. – Topping Coudersport 2-0 (25-20, 25-20) in the championship match Clarion won its own 21-team tournament Saturday.
The Lady Cats went 6-1 on the day with the lone loss coming in pool play, 2-1 (20-25, 24-26) to Grove City.
Qualifying for the Gold Bracket as the fifth seed, Clarion beat fourth-seeded Shenango 25-16 then knocked off top-seeded Fort LeBoeuf (25-18, 25-22) to reach the championship match against 10th-seeded Coudersport.
The Lady Falcons reached the title match by beating seventh-seeded Elk County Catholic 25-18, second-seeded North Star 25-16 and sixth-seeded Cochranton 2-0 (25-22, 25-22).
Also in the Gold Bracket were Warren, Maplewood and Cambridge Springs.
Offensively, Clarion was led by Olivia Burns, who had 198 kills (4.8 per set) on the day followed by Maya Thornton with 124 kills (2.7 per set) and Hailey Sintobin with 54 kills (0.7 per set). Burns hit .263 with Thornton hitting .226.
The Lady Cats employed a three-setter rotation on the day with Gloria Kroh leading the way with 171 set assists (5.6 per set) followed by Kaylie Lutz with 157 set assists (5.1 per set) and Devon Quinn with 102 (2.5 per set).
Defensively, Burns had 41 digs (3.2 per set), Alexis Constantino 36 digs (2.8 per set), Thornton 23 (1.8 per set) and Sydney Kiser 26 (2.0 per set). Bruns also had four blocks, while Sintobin had six blocks and Maddie MacNamara four blocks.
Kiser served well with eight aces and Constantino had four.
In Silver Bracket action, Grove City topped Mercyhurst Prep 25-15 in the champion. The Lady Eagles advanced to the match by beating Altoona 2-1 (25-23, 19-25, 16-14) in the semifinals.
Mercyhurst Prep advanced to the Silver Bracket final by beating Bradford (25-23) in the quarterfinals and A-C Valley 2-0 (27-25, 25-12) in the semifinals.
Also in the Silver Bracket was DuBois, which lost to Altoona (26-24) in the quarterfinals.
In the Bronze Bracket final, North Clarion beat Franklin 25-19.
The She-Wolves advanced to the final by topping Cranberry 2-0 (25-19, 25-21).
Franklin moved into the finals by topping Huntingdon 2-1 (25-23, 21-25, 16-14) in the semifinals and Keystone (25-22) in the quarterfinals.
POOL PLAY RESULTS (Total sets won and lost)
Pool A
1. Maplewood 6-3
2. Coudersport 4-5 (Beat DuBois 2-1; Lost to Altoona 2-1; Total point differential of plus 2)
3. DuBois 4-5 (lost 2-1 to Coudersport; Beat Altoona 2-1; Total point differential of zero)
4. Altoona 4-5 (lost 2-1 to DuBois; Beat Coudersport 2-1; Total point differential of minus 17)
Pool B
1. Shenango 7-2
2. Elk County Catholic 6-3
3. A-C Valley 5-4
4. North Clarion 0-9
Pool C
1. Clarion 6-2 (Beat Cochranton 2-0; Lost to Grove City 2-0; Total point differential plus 46)
2. Cochranton 6-2 (Lost to Clarion 2-0; Beat Grove City 2-0; Total point differential plus 35; Took 2nd on head-to-head)
3. Grove City (Beat Clarion 2-0; Lost to Cochranton 2-0; Total point differential plus 35)
4. Huntingdon 2-6
5. Franklin 0-8
Pool D
1. Fort LeBoeuf 9-0
2. Warren 5-4
3. Mercyhurst Prep 4-5
4. Cranberry 0-9
Pool E
1. North Star 8-1
2. Cambridge Springs 7-2
3. Bradford 3-6
4. Keystone 0-9