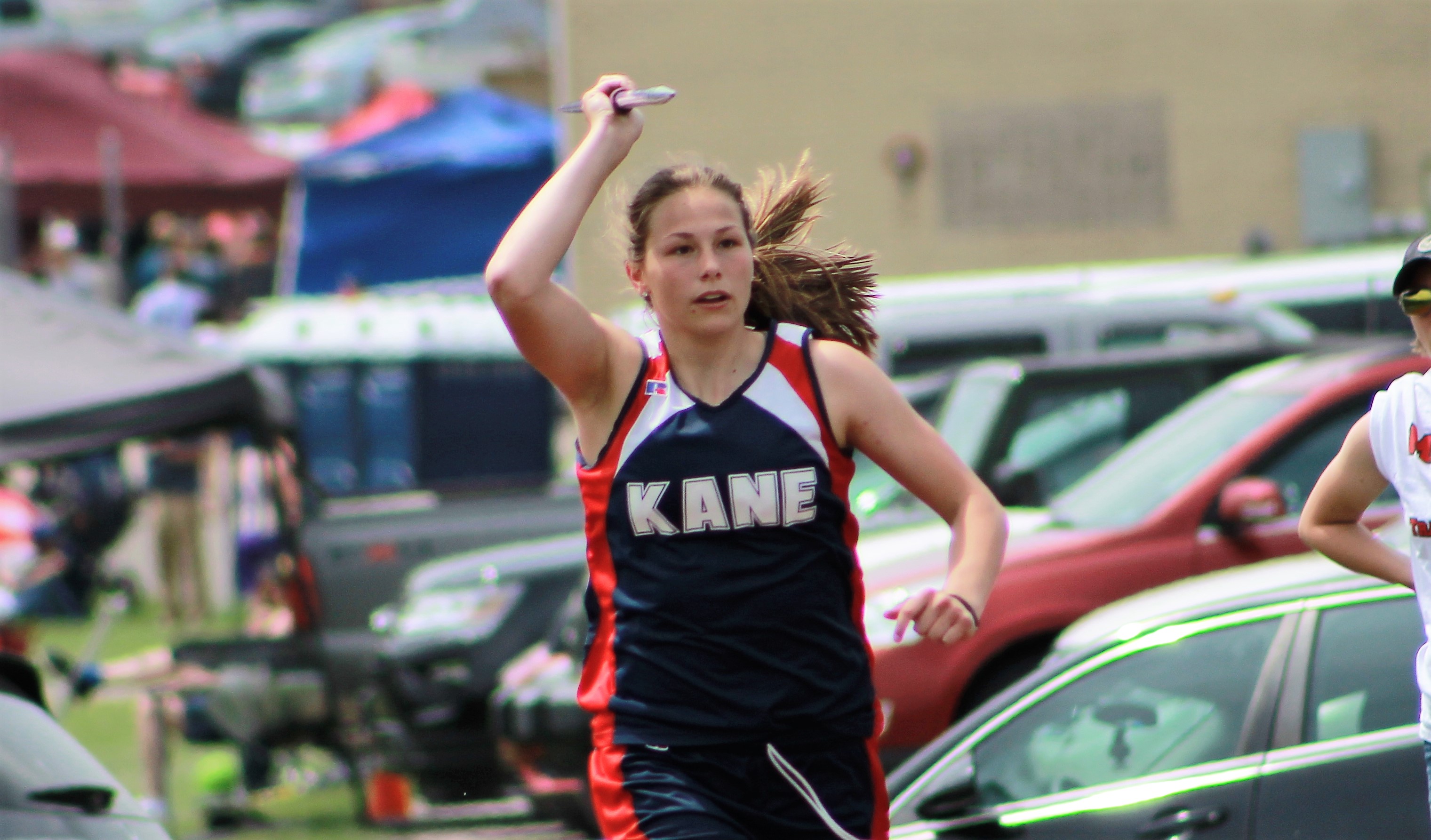 SHIPPENSBURG, Pa. – District 9 girls ruled the Class 2A javelin throw at the PIAA Championships at Shippensburg University Friday.
(Photo by Jared Bakaysa of JB Graphics. See more of Bakaysa's work here)
See full results at PIAA site (scroll to bottom)
Trinity Clark of Kane won the event with a throw of 146-feet, 9-inches, Johnsonburg's Skylar Sherry was second with a throw of 140-2 and Moniteau's Cambrie Campbell was fifth with a throw of 130-10 – Tori Obenrader of North Clarion (118-9; 14th) and Alicia Fritz of Elk County Catholic (112-8; 17th) also finished in the Top 20.
It was also a strong day for District 9 in the girls' Class 2A discus with Sam Dyson of Punxsutawney taking second with a throw of 136-4, Clarion taking fifth with a throw of 127-3 and Adrian Page of Coudersport taking seventh with a throw 123-0. Three other D9 athletes finished in the Top 30 with Karns City's Shaney Cheesman finishing 18th (106-0), Campbell finishing 26th (91-9) and Obenrader 27th (89-6).
It was also a nice day in the jumps for District 9 girls in Class 2A with Sara McKean of Oswayo Valley finishing fourth in the long jump with a leap of 17-9, ECC's Taylor Newton taking fourth in the high jump going over the bar at 5-6 and Leah Miller taking seventh in the high jump going over the bar at 5-4. Also in the high jump not scoring were Audri Marconi tied for ninth (5-2) and Lexi Lauer tying for 14th (5-2 more attempts than Marconi).
McKean also moved into Saturday action in the 200-meter dash running a qualifying time of 26.53.
There were a pair of qualifiers for Saturday action in the Class 2A 100-meter hurdles with A-C Valley's Amma Fox (16.49) and Brookville's Brooke Quairiere (16.35) both moving on. Fox missed out moving on in the 300-meter hurdles finishing in a time of 49.51.
St. Marys' Amanda Foster nearly put in a qualifying time in the 3A 1,600-meter run in a time of 5:08.54 finishing just out of qualifying position.
Three girls' relay teams nearly pushed forward into Saturday with the Johnsonburg (50.77) and Oswayo Valley (50.79) 4×100-meter teams advancing and the Brookville (4:07.49) 4×400-meter team just missing out on moving on.
This story has been updated to reflect that Amanda Foster and the three relay teams just missed out on qualifying for Saturday.