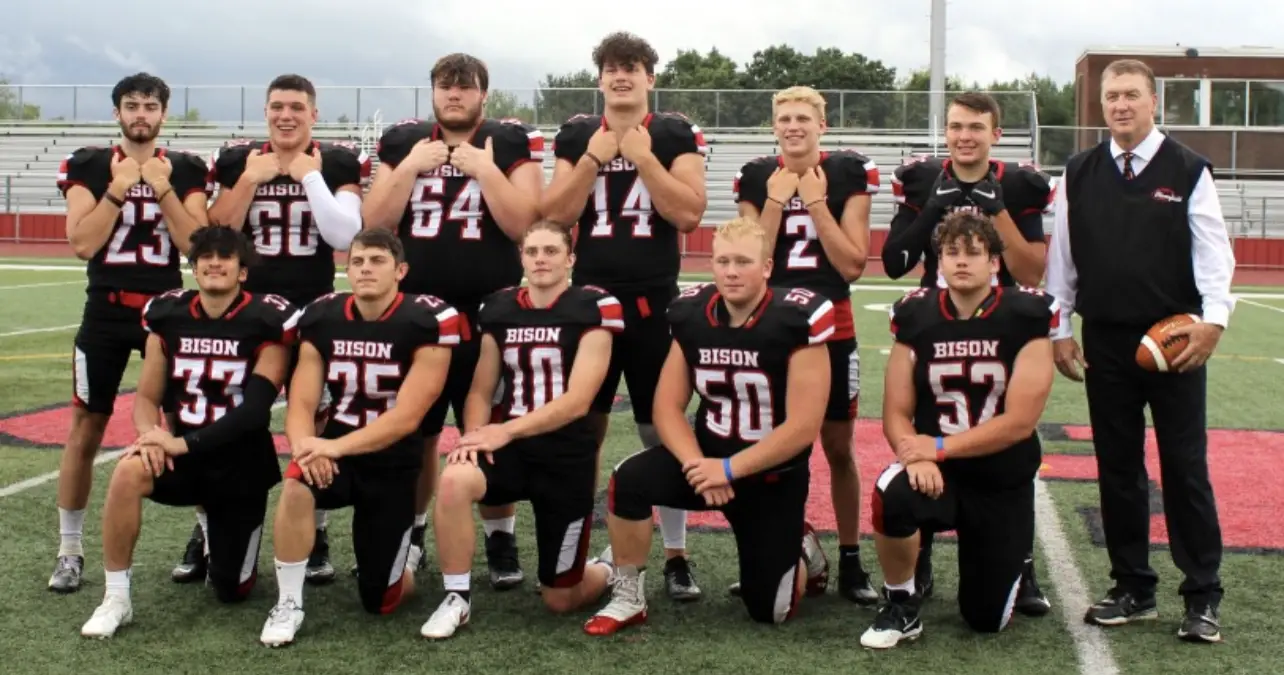 BROCKWAY, Pa. (D9/EYT) – The Clearfield Bison defeated the Dutchmen of St. Marys Area High School Friday night to win their second consecutive District 9 title over their Elk County opponent by a 49-27 final score.
The win gave longtime Clearfield Head Football Coach Tim Janocko win number 299 for his coaching career with a chance to cement 300 career victories next weekend.
(Stats provided by Dustin Parks of Gant News)
Though St. Marys struck first, Clearfield won the time of possession and forced a few turnovers to help turn the momentum their way beginning in the second quarter.
"We say all the time, effort and attitude are things you can control," said third-year St. Marys Head Football Coach Chris Dworek. "Those kids did it, and though there were some bumps and some ups and downs all season, they never hung their heads or stopped trying. They never quit and even tonight when things got pretty rough, they were still trying and hooting and hollering from the sideline for their teammates. They controlled their effort and attitude just like they knew they could."
The biggest story in this one was the six-touchdown performance from senior quarterback and Kent State commit Oliver Billotte.
His 173 yards through the air and 60 yards on the ground helped the Bison make some big plays and also finish some long drives in the second half.
Adding a 100-yard receiver and rusher played key roles in the Bison victory as senior tailback Mark McGonigal carried 16 times for 129 yards and a touchdown. Teammate and fellow senior Karson Kline recorded 115 receiving yards on six catches while accounting for three receiving touchdowns.
St. Marys quarterback Christian Coudriet broke the 7,000 career passing yard mark for the Dutchmen with a final stat line of 18 for 31 for 288 yards, three touchdowns, and an interception. He connected on passing touchdowns with Tony Lewis, Logan Mosier, and Carter Chadsey in the game.
"Really, that is 7,000 yards in two and a half seasons," said Dworek. "He is really such a great young man and a special football player because he is mentally tough.
I don't even remember telling him as a sophomore that you need to do this or that. He always knew what he needed to do or should have done. The mental toughness and the offensive lines he has had have been key to his success."
Logan Mosier went over the century mark for the game as a receiver as he was Coudriet's favorite target in this one with eight grabs for 163 yards and a score. For the Dutchmen, Matthew Davis found paydirt and was the team's leading rusher, as the sophomore compiled 46 rushing yards on 7 carries and a touchdown.
Matthew Davis opened the scoring for St. Marys as he found the end zone with 2:51 remaining in the first quarter. After a successful point after try from Coudriet, the Dutchmen led 7-0 and clung to that lead going into the second quarter.
Billotte opened the second quarter with a bang as he scored on a 7-yard keeper with 11:53 to play. The Bison tied the game on the extra point off the foot of senior Luke Sidorick, but the Dutchmen would respond on their next drive.
Coudriet connected on a 15-yard touchdown pass with Chadsey, but missed the point after to give St. Marys a six point lead. Clearfield would respond and take the lead on the next drive as McGonigal found the end zone to knot the score at 13. The successful point after from Sidorick gave the Bison their first lead of the game at 14-13; a lead they would not surrender the rest of the contest.
Billotte would help Clearfield add to their lead on their next possession as he connected with Kline for their first touchdown hookup of the evening. Kline made a highlight reel grab through two defenders on a 45-yard bomb from Billotte to make it a 20-13 lead. Sidorick connected on another kick to make it a 21-13 game with 3:27 left in the first-half.
Clearfield was not done before the half as Kline would catch another touchdown pass from Billotte, this one from 20 yards, to extend the lead to 27-13. Sidorick made it four-for-four on PATs as the Bison now scored 21 unanswered with just over a minute left.
The Bison would then get the ball back off of a turnover and made St. Marys pay. Billotte found the end zone from two-yards out with 59 seconds left in the half. Siorick connected on another kick to make it a 35-13 game going into the half.
The Bison led a nearly five minute drive to open the second-half as Kline caught his third touchdown of the game from Billotte, this one a 22-yard connection, to extend the lead to 41-13. Sidorick's sixth of seven made point afters extended the lead to 42-13 with 7:48 left in the third quarter.
The Dutchmen responded later in the quarter as Coudriet found senior wideout Tony Lewis for a 13-yard touchdown. St. Marys converted for two points as Christian Coudriet connected with Charlie Coudriet to make it a 42-21 game with 13 seconds left in the third.
The Bison then went on a drive that took over six minutes off the clock and resulted in another rushing touchdown from Billottee. This one yard quarterback keeper made it 48-21, but after another good kick from Sidorick, the score stood at 49-21.
The Dutchmen did not quit as they scored quickly once they got the ball back. Coudriet found junior wide-receiver Logan Mosier who took it 69-yards for the score. After an unsuccessful conversion, Clearfield clung to a 49-27 lead which would be the contest's final score.
After opening the season 0-1, St. Marys rattled off eight straight wins to secure the Large School title and wrapped up their season with an 8-3 record.
"Like all teams should do, we had a goal sheet at the beginning of the season," said Dworek. "We had goals like good attitude, working hard in practice, keeping the grades up, winning the conference, and other things like that. Even after we lost our first game, all our goals were still reachable.
"The kids were willing to work a little extra harder, do some things a little differently, and they really bought in and were excited to win eight in a row and win the conference."
The Clearfield Bison are now 11-0 in 2021 and have advanced to the subregional game for the chance to go to the PIAA Class AAA state playoffs. They will take on Bedford next Friday night at a time and place to be announced.