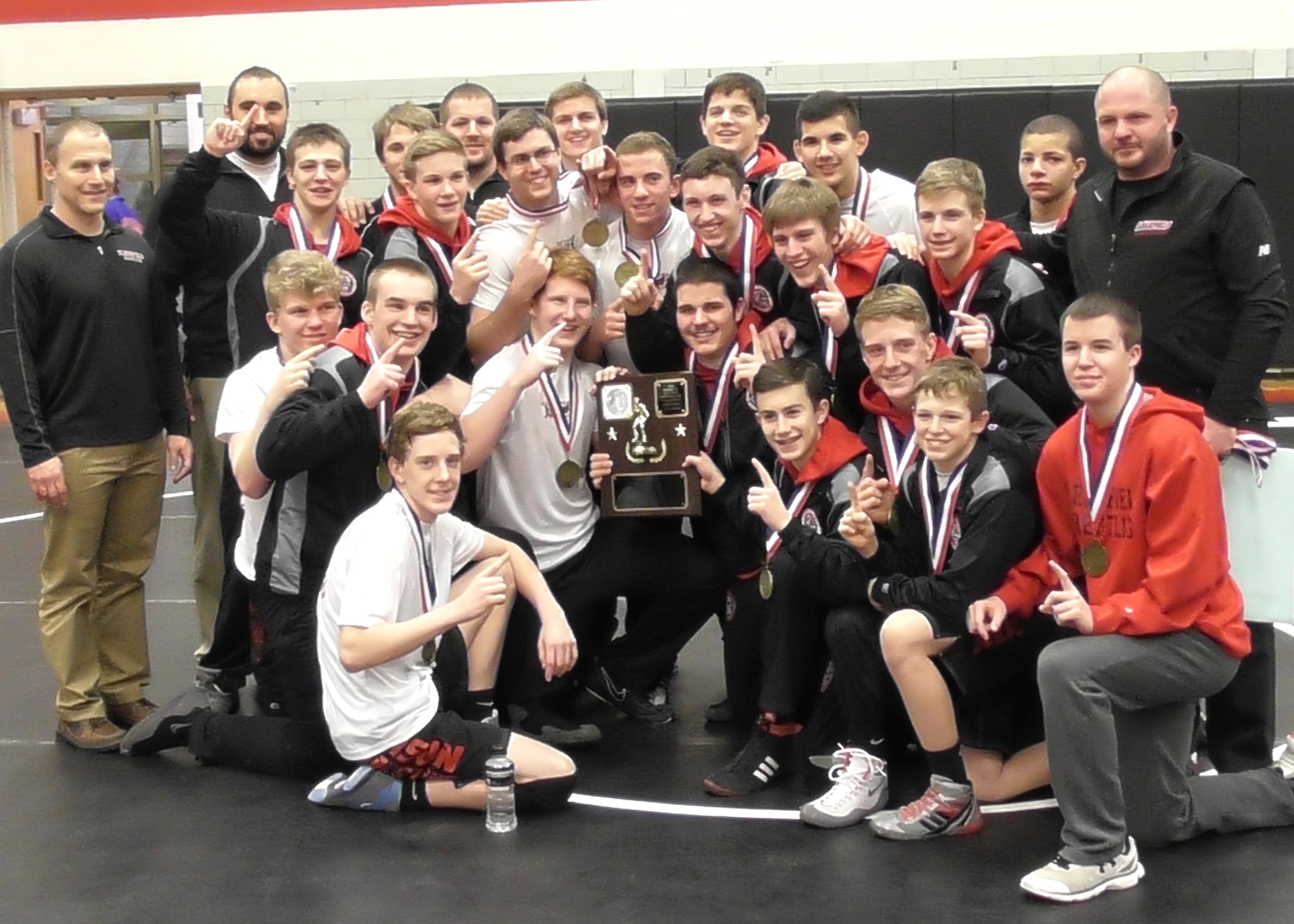 By Scott Shindledecker
DuBOIS, Pa. – There couldn't have been much more drama in the District 9 Class AAA Team Wrestling Championships Saturday afternoon as the Clearfield Bison edged St. Marys, 29-28, at DuBois Area High School.
When Dutchmen 170-pounder Zach Becker pinned Bison Hunter Wright in the final match to tie the match at 28-28, St. Marys' team and fans celebrated wildly.
But their jubilation was short-lived as coaches from both teams and officials huddled around the official scorebook to try and determine a winner. After perusing the rule book and going down through the criteria to break a tie, the match was decided on Criteria H, most first points scored.
The Bison won that battle, 14-10, and the war, 29-28, to claim its first AAA crown since 2011.
(Bison react when they hear they have won the title)
Clearfield was in its fourth straight title match, falling to St. Marys in the last two and DuBois in 2012. The championship was Clearfield's seventh overall since the tournament began in 1999, most in Class AAA, and head coach Jeff Aveni was really happy for his wrestlers.
St. Marys was trying to three-peat for the second time in school history. The Flying Dutchmen won three straight from 2000-02 and claimed their fourth crown in 2008. They were tied with Clearfield for most AAA championships at six.
Clearfield's championship was mainly won on the strength of winning several close matches. Six were decided by two points or less and the Bison won three of them. But also a big key was weighing in wrestlers at all 14 positions. The Bison won a forfeit at 126 pounds with Hunter Blake claiming the six points.
Clearfield jumped out to a 12-3 lead as the match started at 182 pounds with Luke McGonigal edged Christian Steffan, 8-7. Dutch 195-pounder Mitchell Cashmer returned the favor with an 8-7 win over Levi Wisor.
Travis Ogden put the Bison back in front with a 3-2 decision over DJ Salinas at 220 before Bison heavyweight Nate Lash pinned Raymond Kline in 1:51 to make it 12-3.
But the Dutch rattled off three straight wins to take a 15-12 lead.
Tyler Dilley pinned Cole Smay in 1:14 to begin the run, then Hayden Tettis's 4-2 win over Matt Ryan tied it at 12. Cameron Winters beat Jude Pallo, 8-2, to give the Dutch a short-lived, 15-12, lead.
The Bison roared back with four straight wins to go up 28-15. It started with Blake's forfeit win, then Josiah McClarren won a 7-2 decision over Cameron Resch at 132.
Logan Gilbert edged Dutch 138-pounder Garrett Cook, 2-0, then Thayne Morgan beat Cole Mattivi, 10-0 to make it 28-15 in favor of the Bison.
But the Dutch rallied as Kyle Pecht won a major decision at 152, then Brandon Cherry scored a 6-4 decision at 160 before Becker's fall tied it.
While St. Marys' rally put a scare into the Bison, Clearfield's aggressiveness early in matches made all the difference.
The Bison will open states at 6 p.m. Thursday against the District 1 champion at Hershey's Giant Center.
Story by Scott Shindledecker

CHAMPIONSHIP RESULTS
Clearfield 29, St. Marys 28
* Clearfield won on Criteria H, most first points scored
182-Luke McGonigal, C, dec. Christian Steffan, 8-7.
195-Mitchell Cashmer, S, dec. Levi Wisor, 8-7.
220-Travis Ogden, C, dec. DJ Salinas, 3-2.
HWT-Nate Lash, C, pinned Raymond Kline, 1:51.
106-Tyler Dilley, S, pinned Cole Smay, 1:14.
113-Hayden Tettis, S, dec. Matt Ryan, 4-2.
120-Cameron Winters, S, dec. Jude Pallo, 8-2.
126-Hunter Blake, C, won by fft.
132-Josiah McClarren, C, dec. Cameron Resch, 7-2.
138-Logan Gilbert, C, dec. Garrett Cook, 2-0.
145-Thayne Morgan, C, maj. dec. Cole Mattivi, 10-0.
152-Kyle Pecht, S, maj. dec. Tallin Norris, 13-4.
160-Brandon Cherry, S, dec. Zane Morgan, 6-4.
170-Zach Becker, S, pinned Hunter Wright, 2:56.