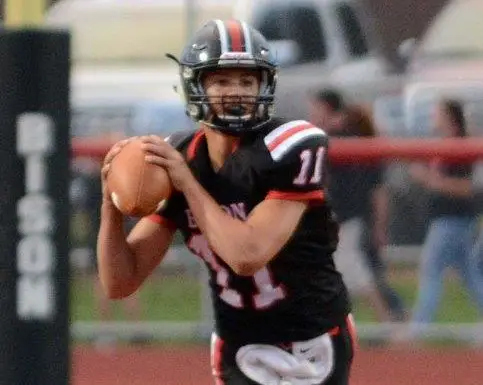 CLARION, Pa. – Facing fourth-and-7 from the Central-Martinsburg 35-yard line without any timeouts and with just over a minute to play and trailing by four, things looked bleak for the Clearfield Bison Friday night.
(Cover photo of Isaac Rumery by Logan Cramer III)
But sophomore quarterback Isaac Rumery, making just his third career start, ran the Bison's no-huddle attack to perfection hitting Micah Heichel in stride with a 35-yard game-winning scoring pass to give Clearfield a 30-28 victory.
For his efforts, which included a 15 of 29 passing performance for 311 yards, two touchdowns and an interception to go with 74 yards rushing, Rumery is the D9sports.com District 9 Football Player of the Week for Week Two of the 2016 season.  
Watch the game-winning touchdown pass
Joining Rumery in being honored are 15 players on the District 9 Honor Roll including Heichel and fellow Bison Matt Collins and Seth Caldwell.
The Player of the Week and Honor Roll honors will continue through the conclusion of the regular season.  
D9SPORTS.COM PLAYER OF THE WEEK
Isaac Rumery – Clearfield: 15 of 29 passing, 311 yards, 2 touchdowns, 1 interception; 8 carries, 74 yards; Threw the game-winning 35-yard touchdown on a fourth-and-7 pay with just over a minute left – Clearfield 30, Central-Martinsburg 28
D9SPORTS.COM HONOR ROLL  
Kyle Kirk – Bradford: 5 of 8 passing, 154 yards, 2 touchdowns; 1 carry, 17 yards – Bradford 76, Cameron County 12
Donny Pattison – Bradford: 6 carries, 218 yards, 2 touchdowns; 1 catch, 12 yards, 1 touchdown – Bradford 76, Cameron County 12
Hunter Miller – Brockway: 9-for-13 passing, 165 yards, 1 touchdown, 1 interception; 2 carries, 29 yards, 1 touchdown – Brockway 72, Port Allegany 0
Colton Rapp – Clarion: 22 carries, 189 yards, 2 touchdowns; 7 tackles – Clarion 31, Brookville 0
Mike Macefe – Clarion-Limestone: 22 carries, 150 yards, 2 touchdowns – Clarion-Limestone 15, St. Marys 14
Seth Caldwell – Clearfield: 26 carries, 164 yards, 2 touchdowns; 4 tackles – Clearfield 30, Central-Martinsburg 28
Matt Collins – Clearfield: Made 21 tackles – Clearfield 30, Central-Martinsburg 28
Micah Heichel – Clearfield: 7 catches, 190 yards, 2 touchdowns; Caught the game-winning touchdown from 35 yards out on a fourth-and-7 play with just over a minute left; Made six tackles and caused a fumble – Clearfield 30, Central-Martinsburg 28
Nick Stewart – Curwensville: 19 carries, 129 yards, 4 touchdowns; 3 catches, 87 yards, 1 touchdown; 2 sacks and 5 tackles – Curwensville 43, Sheffield 0
Kyle Hopson – DuBois: 6 catches, 123 yards, 2 touchdowns – Meadville 52, DuBois 26
Nate DaCanal – Elk County Catholic: 7 of 14 passing, 146 yards, 3 touchdowns; Ran for 20 yards (all in first half as game was called because of weather at halftime) – Elk County Catholic 31, Otto-Eldred 0
Erik DeLong – Kane: 28 carries, 226 yards, 3 touchdowns – Kane 43, Coudersport 8
Chandler Turner – Karns City: 11 carries, 91 yards, 2 touchdowns – Karns City 34, Redbank Valley 12
Jeff Wehler – St. Marys: Three interceptions; 8 carries, 54 yards, 3 catches, 52 yards, 1 touchdown – Clarion-Limestone 15, St. Marys 14
Lane Chalmers – Union/A-C Valley: 21 carries, 101 yards, 2 touchdowns; 1 catch, 9 yards; 5 tackles – Union/A-C Valley 54, Keystone 14
2016 PLAYERS OF THE WEEK
Week Zero: Braden Paulinellie, DuBois
Week One: Nick Stewart, Curwensville
Week Two: Isaac Rumery, Clearfield
Week Three:
Week Four:
Week Five:
Week Six:
Week Seven:
Week Eight:
Week Nine: