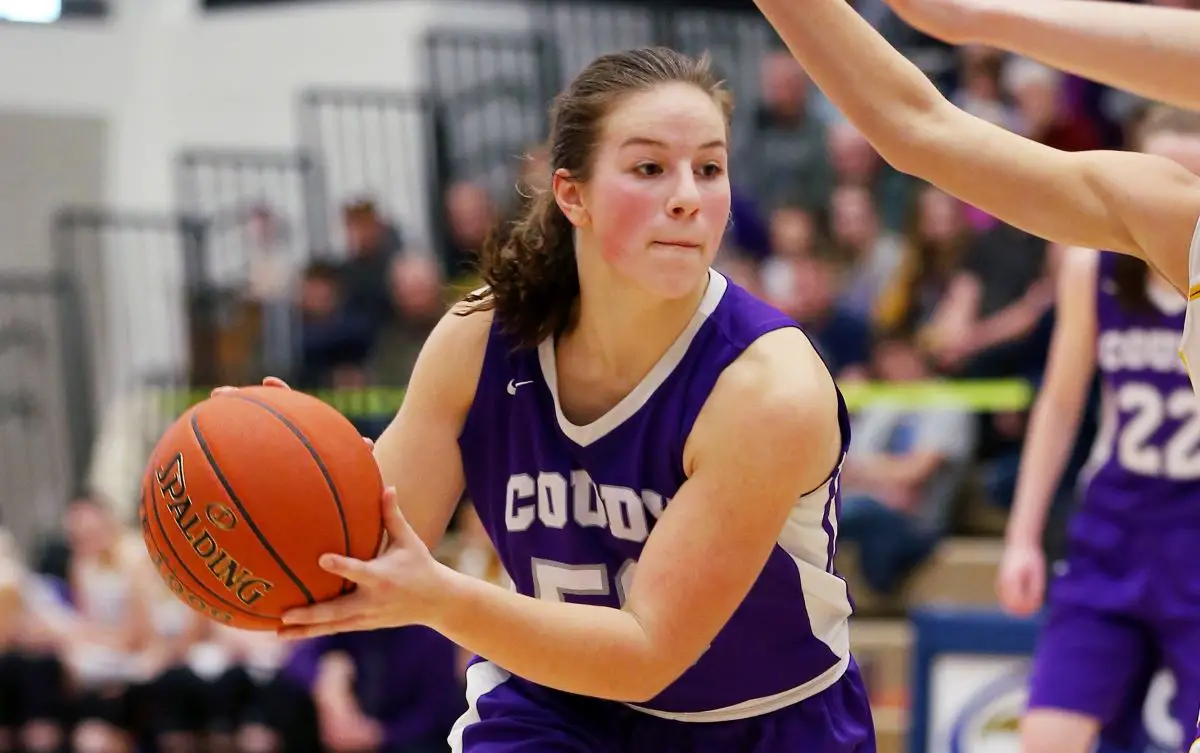 CLARION, Pa. – A pair of District 9 girls' basketball teams advanced into the second round of the PIAA playoffs with first-round wins Saturday.
(Photo of Coudersport's Rosalyn Page, who helped the Lady Falcons beat Avella Saturday. Photo by Paul Burdick. Check out more of Burdick's work here)
Coudersport and North Clarion both won games in Class 1A, while Elk County Catholic and Otto-Eldred dropped Class 1A contests and Punxsutawney fell in overtime in Class 4A.
Full coverage of District 9 teams in the basketball postseason can be found here.
COUDERSPORT 48, AVELLA 41
ST. MARYS, Pa. – After watching a 10-point second-half lead disappear, Coudersport found a way to beat Avella, 48-41, in the opening round of the PIAA Class 1A girls' basketball playoffs at St. Marys High School.
The Lady Falcons led 36-26 in the fourth quarter only to watch the Eagles go on a 10-0 run to tie the game at 36 with around three minutes to play.
But behind the play of Rosalyn Page, Coudersport was able to go on an 8-3 run to take back control of the game. Page scored six points during the run.
Coudersport won despite committing 27 turnovers.
Sarah Chambers was one of four Coudersport players in double digits with 13 points, while Page, Mikalya Gunn and Emma Chambers each scored 11 points.
Katie Dryer led Avella with 10 points, six in the fourth quarter, while Bess Lengauer added seven points, five in the fourth quarter with all five coming from the free-throw line.
Coudersport will take on Blacklick Valley, the third-place team out of District 6, who knocked off WPIAL third-place finisher Clairton, 43-37. That game will be Wednesday, March 11, at a site and time to be announced.
Coudersport postseason information is brought to you by: Team Minard • Potter County Family Campground • Close's Lumber Company • Kaytee's Family Restaurant in Coudersport • Rhonda Ramsey Hair Salon in Emporium • E& G Auto Plus, Inc. in Coudersport
NORTH CLARION 47, SEWICKLEY ACADEMY 36
CLARION, Pa. – Using an 11-0 run at the end of the first half, North Clarion shook off a slow start and beat Sewickley Academy, 47-36, in the opening round of the PIAA Class 1A girls' basketball playoffs at Clarion University's Tippin Gym.
Nothing went right for the District 9 runner-up She-Wolves in the first 13 minutes and change, as North Clarion shot 3 of 19 from the field and turned the ball over 14 times while falling behind the Lady Panthers, the fourth-place team out of the WPIAL, 14-9, late in the first half.
Reslisten to the game:
But then, with 2:20 to play in the half, the switch flipped, and North Clarion went on the half-ending run that changed the complexion of the game.
"We called timeout, and I tried to get them focused on what I wanted them to do and what our game was," North Clarion head coach Terry Dreihaup said. "Because the first 12 minutes, we weren't doing any of that. We got them focused, and they played a really nice end of the second quarter. We outscored them 17-4 in the second quarter, which was a big boost for us. Then we came out in the third quarter and just kept pressuring them, kept forcing them to do things they're probably not used you."
Abby Gatesman was at the front of the run, scoring six points, including two off an offensive rebound and another with just 5.7 seconds left in the half, while also handing out an assist on a bucket by Mackenzie Bauer that turned into an old-school 3-point play with 1:18 left in the half that gave the She-Wolves a 16-14 lead, their first since 4-3.
Bauer played a key role in keeping North Clarion in the game when nothing else was happening, scoring the first seven points for the She-Wolves and finishing with a game-high 18 points.
Six more points from Bauer in the first four minutes of the third quarter helped push the lead to double digits, 28-18, before Gatesman hit a 3-pointer to make it a 13-point game, 31-18, with 2:13 to play in the third quarter.
"My shots were just falling," Bauer said. "I just got lucky, and I was open."
Watch Bauer's full postgame interview
Another Gatesman three in the final minute of the quarter helped the She-Wolves take a 34-25 lead into the fourth quarter.
The game seemed well in hand when Gabby Schmader scored off a Bauer assist at the 4:25 mark to make it a 38-28 lead.
But Sewickley Academy answered with a quick 7-0 spurt and closed within three, 38-35, on a 3-pointer by Mia DelVecchio with 2:41 left.
"We got a little careless," Dreihaup said. "We were taking our press breaker up the side, which we don't like to do. We like to keep it in the middle. We didn't do a good job of that."
The Lady Panthers then had a chance to get within a point when Shea McCoy was sent to the line to shoot two, but McCoy missed both free throws.
That seemed to be the spark North Clarion needed, as Haley Sherman started an 8-0 run with two free throws before back-to-back baskets by Trinity Thompson off Gatesman assists made it 44-35 with 1:18 left.
North Clarion will take on Berlin Brothersvalley in the second round after the Mountainers, the third-place team out of District 5, beat St. Joseph's Catholic Academy, 44-31, on Wednesday, March 11, at a time and place to be announced.
NOTES: North Clarion's cause was helped in some ways by an unfortunate injury to Sewickley Academy's leading scorer, Bree Warner, who collided with Sherman after Sherman ball-faked Warner. Both players went down hard, but while Sherman popped right back up, Warner had to be attended to and then helped off the court and didn't return … This was the third time in four years these teams met in the PIAA first round. North Clarion won in 2017 and Sewickley Academy won last year … Thompson had a strong game on the boards with a team-best 10 rebounds while also blocking at least five shots and altering many others … Gatesman added nine rebounds with Gabby Schmader chipping in seven to go with four points.
North Clarion postseason information is brought to you by: Delta Contracting & Design/Ace Concrete & Excavating • Burford & Henry Real Estate Services • Tin Town Metal Works • State Representative Donna Oberlander (Paid for by Friends of Donna Oberlander) • Tuck'D Inn Farm • Snyder's Autobody • Hunter Station Golf Club and Restaurant
TUSSEY MOUNTAIN 41, ELK COUNTY CATHOLIC 32
JOHNSTOWN, Pa. – Trailing by nine at halftime and seven entering the fourth quarter, Elk County Catholic rallied within two points before falling to Tussey Mountain, 41-32, in the opening round of the PIAA Class 1A girls' basketball playoffs at Pitt-Johnstown.
The Lady Crusaders, the third-place team out of District 9, fell behind 24-15 at the break and 30-23 going to the fourth quarter but pulled within two before the Titans, the District 5 runner-up, was able to hold on for the win.
Taylor Newton concluded her stellar ECC career with another double-double finishing with 20 points, 10 rebounds and five steals. But she was the only Lady Crusader to score more than four points.
Sophie Brumbaugh led Tussey Mountain with 14 points with Meghan Molosky adding 12.
Tussey Mountain will take on WPIAL champion Rochester in the second round of the playoffs Wednesday, March 11, at a site and time to be announced. Rochester beat Otto-Eldred, 69-40.
Elk County Catholic postseason information is brought to you by: Fran Morelli Sales & Service
ROCHESTER 69, OTTO-ELDRED 40
SEWICKLEY, Pa. – Falling behind 44-18 at halftime, Otto-Eldred was no match for WPIAL champion Rochester losing to the Rams, 69-40, in the opening round of the PIAA Class 1A girls' playoffs at Sewickley Academy.
Jasmine Mack scored nine first-quarter points and all 14 of her points before halftime, while Alexis Robinson tallied seven first-quarter points and all 11 of her points before the break to lead the early onslaught by Rochester.
Corynne Hauser, meanwhile, scored 11 of her game-high 22 points in the third quarter helping the Rams expand the lead to 64-26 after three.
McKenzie Robinson also added 14 points in the win.
Reilly Raught led Otto-Eldred with nine points with Morgan Dalton adding seven points, four rebounds and a steal.
Rochester will play Tussey Mountain, a 41-32 winner over ECC, in the second round Wednesday, March 11, at a site and time to be announced.
Otto-Eldred postseason information is brought to you by: Team Minard • Potter County Family Campground • Close's Lumber Company
CENTRAL VALLEY 59, PUNXSUTAWNEY 56
CLARION, Pa. – Trailing by nine with just over four minutes to play in regulation, Punxsutawney rallied to take a four-point lead only to watch Central Valley tie the game with a late 3-pointer and then outscored the Lady Chucks in overtime to pick up a 59-56 win in the opening round of the PIAA Class 4A playoffs at Clarion University's Tippin Gym.
The Lady Chucks, the District 9 champion, were down 42-33 with 4:38 to play but went on a 14-1 run to take a 47-43 lead on an old-school 3-point play by Kiersten Riley with 55.4 seconds to play. A pair of Riley Presloid 3-pointers and a triple by her cousin, Chloe Presloid, helped fuel the comeback.
"We are fighters," Punxsutawney head coach Mike Carlson said. "I can also guarantee they thought, there's that breathing room we needed against them. Our kids just kept battling. It was nothing special x's and o's wise. Our kids just knocked down some shots under pressure."
But Christiane Frye hit two free throws to cut the lead to two before Bella Martino went one of two from the line for Punxsutawney with 31.6 seconds to go in the fourth quarter to give the Lady Chucks a 48-45 lead.
Allyson Kirby, however, hit a game-tying 3-pointer from deep on top of the key with 19.9 to play to tie the game at 48 for Central Valley.
"We're trying not to lose her," Carlson said. "It just happened in transition. Not blaming any of our kids, we were kind of helping in transition and she kind of flashed out there deep. She hit that one, and credit to her for hitting a big shot when she needed it."
Punxsutawney had a chance at the end of regulation to win the game, but a wild shot by Cholie Presloid was high and to the side just before the horn sending the game to overtime.
"They were really face guarding Riley," Carlson said. "We were trying to involve her in screens and popping out after thinking that they would be so concerned with her that we could slip Katelyn (Griebel) to the hoop. Then late, we tried to get a double for her, but, again, probably my fault, I had never had that lineup on the court together. I didn't quite have the play to go to there."
The Lady Chucks took an early lead, 50-48, in overtime on two Riley Presloid free throws but both Sarah Weaver and Chloe Presloid fouled out, and coupled with Ryley Casaday being on the bench with an injury suffered earlier in the game, Punxsutawney was without three starters.
"Arguably, not one starter was in from what it could have been in October," Carlson said. "Credit to our kids. They stepped up when they needed to. Unfortunately, we couldn't get the stops when we needed to in overtime. But for those kids to be in that situation, I know they were feeling nervous but they did well."
Central Valley was able to take a 54-50 lead on back-to-back driving layups by Kirby and then Frye, and then Frye hit 5 of 6 free throws in the final minute to seal the victory.
Fyre led Central Valley with 22 points with Kirby adding 20 and Alysa Gillin 10.
Riley Presloid, who hit four fourth-quarter 3-pointer and fifth in overtime paced the Lady Chuck with 23 points.
"Riley hasn't played the beginning of the game quite the way she wanted to these past couple of games over here," Carlson said. "But then, man, does she answer the call and played great for the rest of the game. Tonight was no different."
Chloe Presloid added 13 points and Riley and Weaver each eight. Riley also had a team-high eight rebounds.
NOTES – The game had a couple of bizarre officiating administrative errors, one that possibly could have kept the game from going to overtime.
In the first quarter, Riley Presloid was fouled while taking a shot and should have been awarded two free throws. But after making the first shot, the ball was awarded to Central Valley. The mistake wasn't caught until about a minute-and-half later when Presloid was then allowed to go to the line to hit her second free throws, which she made. The correct ruling was made by allowing Presloid to go to the line, but, still, it was a mistake that should never have happened in a PIAA playoff game and especially one officiated by officials who have been in the PIAA championship game.
"I questioned it early, and basically there was nothing they could do at the point," Carlson said. "But then later they did go and check things out at that point and gave her that shot. I've never seen that. I actually turned to my coaches and said 'did I miss the first shot when I was talking to the kids?' That's exactly what I said. Apparently, I didn't. Then I said something."
Then in overtime, when one of the Punxsutawney players fouled out, the Central Valley player was allowed to shoot her first free throw before the Lady Chuck was made to leave the court. That error, while not nearly as egregious as the free-throw mistake, also can't happen in a PIAA playoff game.
Punxsutawney postseason information is brought to you by: Lezzer Lumber • Fran Morelli Sales & Service
D9Sports.com's District 9/PIAA basketball playoff coverage Powered by Lezzer Lumber is brought to you by:
Lezzer Lumber • Delta Contracting & Design/Ace Concrete & Excavating • Team Minard • Fran Morelli Sales & Service • Burford & Henry Real Estate Services • Potter County Family Campground • Close's Lumber Company • Tin Town Metal Works • State Representative Donna Oberlander (Paid for by Friends of Donna Oberlander) • 120 Pub and Grub in Clearfield • Campbell Bus Lines • Hunter Station Golf Club and Restaurant