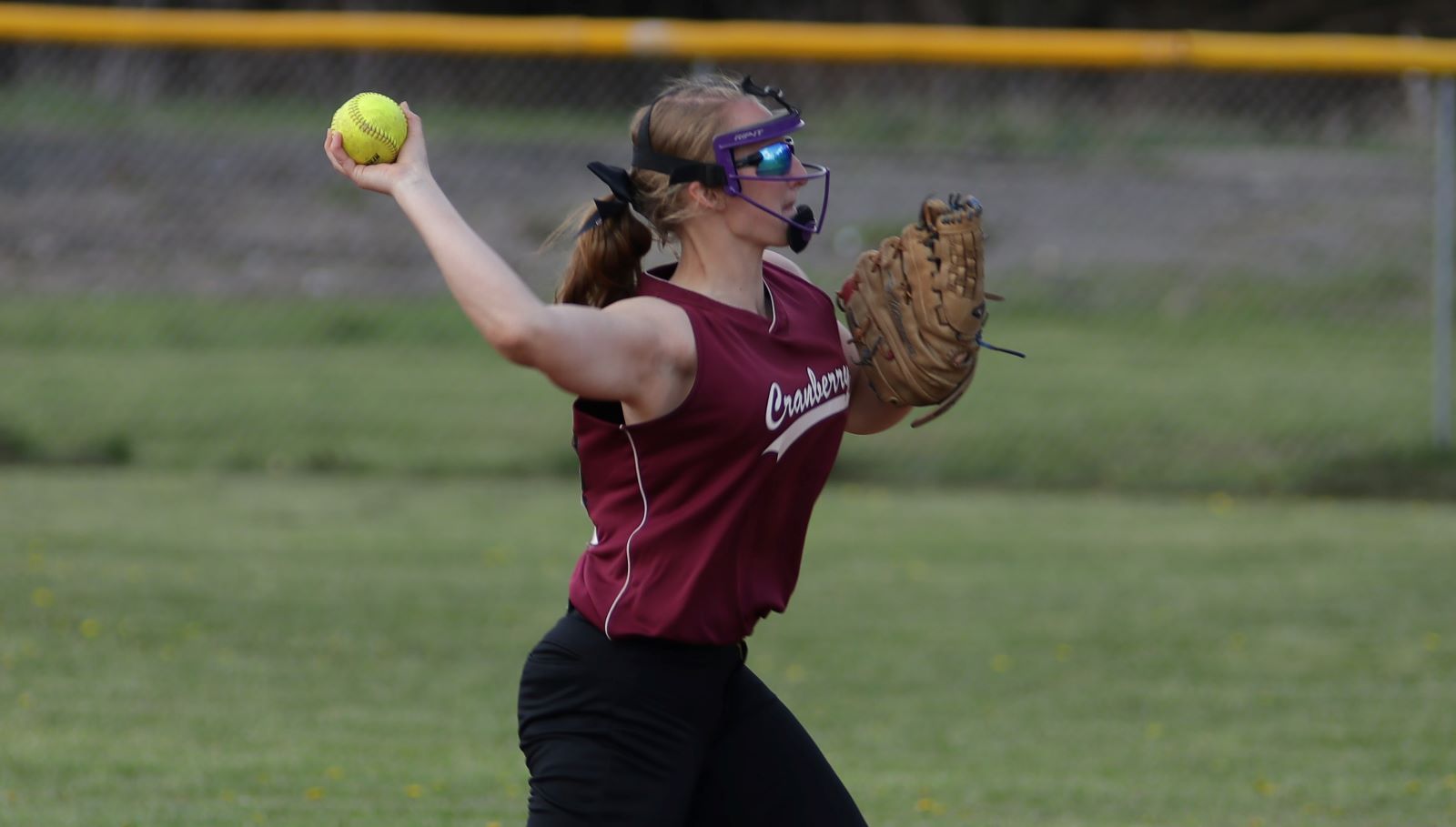 SLIPPERY ROCK, Pa. – At different points in history, sports team end up getting an identity.
(Photo of Cranberry's Malliah Schreck. Photo by Jared Bakaysa of JB Graphics. See more of Bakaysa's work here)
Relisten to the game:
Perhaps the identity of the 2019 Cranberry softball team is that of a squad that never quits.
Trailing 4-1 after a four-run fifth inning by WPIAL champion Laurel, Cranberry rallied, as it has done so many times this year, to score four runs in the sixth and two more in the seventh before holding off a last-ditch comeback attempt by the Spartans to claim a 7-6 win in the PIAA Class 2A quarterfinals Friday afternoon at Slippery Rock University.
"They had ever reason to put their heads down, pack it in and call it a season," Cranberry manager Glenn Barcinas said. "They didn't. This team just will not go away. To respond the way they did in the sixth and get a couple of insurance runs in the seventh, it's huge. These kids are amazing."
A three-run home run by Mackenzie Latess two batters after a throwing error by pitcher Andrea Watson helped extend the fifth inning, helped Laurel erase a 1-0 deficit and take the 4-1 lead.
But Cranberry answered with a four-spot of its own in the top of the sixth inning with the last two runs scoring on a sacrifice fly to left field by Maddie Cornelius that scored pinch runner Alisha Beggs from third base and then pinch runner Olivia Plummer from second base when the throw home got away from Laurel catcher Bekah Valenti.
"We knew we couldn't get down," senior shortstop Malliah Schreck, who started the sixth-inning rally with a leadoff single, one of three hits on the day and scored on a triple by Megan Hadden, said. "We knew we had to stay up. We definitely always work down from the bottom and bring it back up. We just have the drive and determination not to fall back."
Watch Schreck's postgame interview.
Cranberry pitcher Andrea Watson then helped maintain the lead in the bottom of the sixth working out of a second-and-third, no-out jam with some help from her defense when Emily Duncan threw to Schreck covering third to get pinch runner Jenna Fabian, who had strayed too far from third when Duncan pump-faked a throw to third on a ball hit by Olivia Lombardo for the second out.
"That was huge," Barcinas. "That is a play we worked on. She is good at it. It was a great opportunity, and it worked. That was a big play in the game."
Watson had started working her way out of the jam by striking out Alyssa Miller, and then finished off the escape act by getting Brooke Atkins to ground out to Duncan at third.
Cranberry had two, what turned out to be crucial, insurance runs in the seventh with Schreck right in the middle of the action action singling with one out and stealing second with two outs before going to third when Maria Anderson reached on an error. Duncan then drove a double to right field scoring both runs to make it 7-4.
"That was huge," Barcinas said. "They were in the meat of their lineup. They were going to make noise, and they did."
Laurel did make noise in the bottom of the seventh.
A leadoff double by Latess was followed by a single to left by Kayla Ruperto, who went to second when Duncan held the ball at third despite appearing to have a good shot at throwing Ruperto out at second.
Watson, though, struck out Kaylee Witherow and got Maddie Boyd to fly out to left to get the Berries within an out of the win.
Frankie Duddy, however, lined a single to the ball in centerfield to score two runs and make it 7-6. A faster runner or a weaker armed centerfielder than Cranberry's Hadden might have put Duddy at second.
As it was, pinch runner Rileigh Moyer ended up at second anyhow when Watson walked Allie Andre, but the senior pitcher for Cranberry then got Miller to ground the ball to Shreck at shortstop, who threw across the diamond to secure the win.
"I wanted it hit to me," Schreck said. "I was a little nervous but I knew Rachel (first baseman Rachel McCauley) would be there if anything went wrong."
It was fitting that Schreck was in the middle of a couple of key late defensive plays considering she made the defensive play of the game to end the third inning when she made a diving catch in shallow center field on a ball hit by Atkins in the third.
"It was hit right behind second," Schreck said. "I just knew I had to get there. I had to cover all the ground that I can and do what I can."
Barcinas said the play could have been an early difference maker.
"That was an amazing catch there early in the game," Barcinas said. "It could have been a difference maker then. What a tremendous effort. That girl is a stud. She just is."
Cranberry, in the PIAA semifinals in softball for the first time in school history, will take on WPIAL runner-up Frazier at 4 p.m. Monday, June 11, at Slippery Rock University.
"It's pretty surreal," Schreck said. "We are all just so excited. We can't wait to see what's coming."
CRANBERRY 7, LAUREL 6
Score by Innings
Cranberry 010 004 2 – 7
Laurel 000 040 2 – 6
CRANBERRY – 7
Andrea Watson p 3010, Maddie Cornelius rf 3021, Kaylie Bruce dp 4000, Jenna Reynolds c 0000, Rachel McCauley 1b 4000, Malliah Schreck ss 4330, Megan Hadden cf 4121, Maria Anderson lf 3101, Emily Duncan 3b 4022, Alisha Beggs pr 0100, Jenna Seigworth 2b 2011, Olivia Plummer pr 0100. Totals 31-7-11-6.
LAUREL – 6
Olivia Lombardo ss 3100, Brooke Atikins cf 4000, Mackenzie Latess 3b 4243, Kayla Ruperto p 4220, Kaylee Withrow rf 3011, Maddie Boyd lf 4000, Frankie Duddy 1b 4022, Jenna Fabian pr 0000, Rileigh Moyer pr 0000, Allie Andre 2b 3000, Alyssa Miller dp 4110, Bekah Valenti c 0000. Totals 33-6-10-6.
LOB: Cranberry 8. Laurel 9. Errors: Cranberry 3. Laurel 2. 2B: Duncan. Ruperto, Duddy. 3B: Hadden. HR: Latess (2 on, 2 out in 5th inning). SB: Schreck. Lombardo, Andre. PO: Seigworth. SF: Cornelius. HBP: Watson by Ruperto, Seigworth by Ruperto. Withrow by Watson. DP: Cranberry (Seigworth to McCauley).
PITCHING
Cranberry
Andrea Watson 7 IP, 10 H, 6 R, 2 ER, 2 BB, 4 K, 1 HBP
Laurel
Kayla Ruperto 7 IP, 11 H, 7 R, 4 ER, 2 BB, 4 K, 2 HBP
Winning pitcher: Andrea Watson
Losing pitcher: Kayla Ruperto