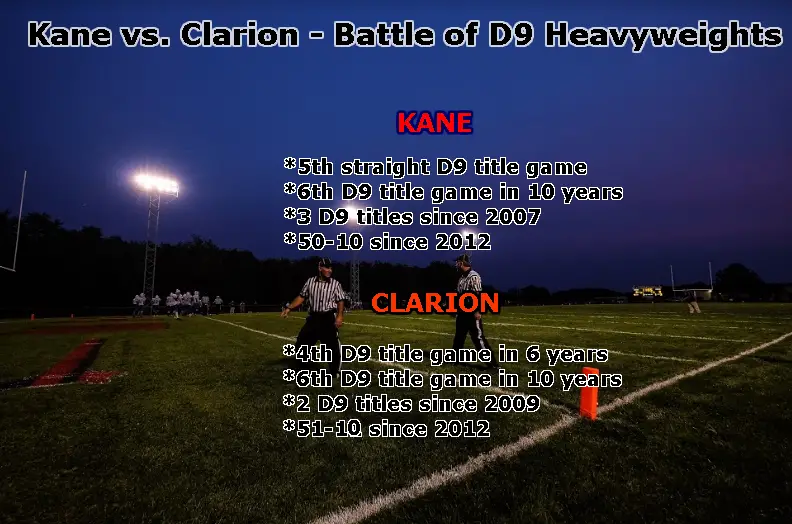 By Chris Rossetti
BROCKWAY, Pa. – A couple of District 9 powerhouse programs will meet for the D9 Class 2A football title at 7 p.m. Friday night at Brockway's Varischetti Field.
Third-seeded Clarion (9-1) is in a District 9 title game for the sixth time in the past 10 seasons and has gone 51-10 since 2012.
"It's been a week-to-week approach," Clarion head coach Larry Wiser said. "I've been saying that all year, and I think our kids have approached it that way."
Top-seeded Kane (11-0) is in a District 9 championship contest for the fifth straight year – the Wolves lost in 2A in 2012 and 2013 and won in 1A in 2014 and 2015 – and for the sixth time in 10 seasons while going 50-10 since 2012.
"I think it's exciting," Kane head coach Todd Silfies said. "I think you set out every year trying to get to this point. We've been blessed with some really great kids, and, obviously, great assistant coaches who work hard to get us to this point. Really, it's not about looking backward at what the last four years were but being excited for this year's bunch."
Clarion, which co-ops with North Clarion, is experiencing a bounce-back season after going an uncharacteristic 6-5 last year losing in the opening round of the District 9 1A playoffs. The Bobcats lone loss came to Karns City, which was playing Thursday night for the District 8-9 3A title.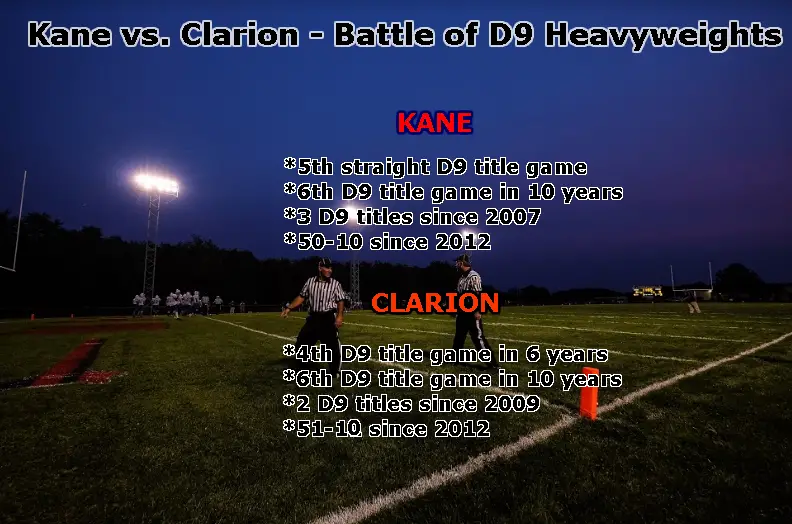 "Clarion runs the football," Silfies said. "They just want out and played a more physical game, and I'm sure that's their game plan going against us. My hats off to Clarion. To do what they've done for not just the last handful of years but since Coach Wiser has been there. He is just kind of a legend of coaching in our area and does a great job year in and year out, and this year is no different."
To reach the title game, Clarion knocked off fellow one-loss foe, Brockway, 40-24. The game was a lot closer than the final score indicated with Brockway leading 24-21 going to the fourth quarter. The Bobcats were able to get the game despite not having the services of starting quarterback Spencer Miller (arm injury). Miller was 56 of 110 for 1,035 yards, 19 touchdowns and eight interceptions while running for 164 yards and two scores prior to getting hurt in the regular-season finale against St. Marys.
Sophomore Archer Mills stepped in for Millers and was decent in his first career start going 6 of 10 for 52 yards, a touchdown and two interceptions. He also ran for 33 yards and a touchdown.
"I wasn't surprised," Wiser said. "We've been taking the time all year making sure our backup quarterbacks are ready to go. The extra reps in practice, he took about the same number of reps whereas a lot of times in years past we may have a situation you came out of the first two weeks of practice and you're your second-team quarterback is lucky to see any snaps. But Archer has been taking some snaps, has played well in JVs and is a good athlete."
But the semifinal win wasn't so much about Mills as it was about Clarion's running game led by junior Colton Rapp. Rapp, who was named the KSAC Large School Offensive MVP earlier in the week, had 169 yards and two touchdowns in the win and has run for 1,506 yards and 15 touchdowns on the season. Mike McCloskey added a pair of scoring runs in the semifinal victory and has rushed for 308 yards and eight touchdowns this year.
"The line and our running game were just going so well for us," Wiser said about Rapp's performance in the semifinals.
Ty Burford gives Clarion a legitimate outside threat with 23 catches for 567 yards and 12 touchdowns.
Clarion's offense will be challenged by a Kane defense that yields just nine points per game, the second-best number in D9 this season.
The Wolves, who co-op with East Forest, have been a tad bit more generous over the last four weeks giving up 59 of their 99 points over that span but did hold Moniteau to seven in a 55-7 win in the semifinals last week.
"I kind of like our matchups (up front)," Wiser said. "I'm not going to take second fiddle with our offensive line. They've been doing well all year against some good opponents. I think more than anything else, Todd is going to prepare for us well up there. We've got to make sure we're able to make the adjustments to some of the things he is probably going to do."
Erik DeLong, 8.9 tackles per game, and Ange Costanzo, 6.8 tackles per contest, lead the defense.
DeLong is also the key to the offense for Kane, which averages 42.5 points per game.
The junior running back set the single-season rushing record at the school last week when he rushed for 137 yards and three touchdowns on just 13 carries giving him 1,577 yards on the year. That breaks the previous Kane record of 1,529 yards set last year by Shane Rolick.
"It's kind of crazy when it was set last year and then to see it go again," Silfies said about the record. "I think it's a credit to our offensive scheme and our offensive line, of course. But Erik is a special player. They don't come around like Erik very often."
Team's can't just concentrate on DeLong, though, thanks to the play of junior quarterback Reed Williams, who took over the reigns this year from Rolick.
Williams is 87 of 144 on the year for 1,783 yards, 24 touchdowns and four interceptions. He was 11 of 15 last week for 258 yards and four scores.
"Reed got some experience early on in the season last year, which I think played right into our hands going into this year," Silfies said. "But he has grown up quite a bit throughout the season."
Williams has a couple of fantastic receivers to help make his life easier in Ray Maze and Davis Gardner.
Maze has 27 catches for 738 yards and nine touchdowns on the year, while Gardner has 34 grabs for 503 yards and nine scores.
"The guys we have this year put time in the offseason to try to get back and try to have the opportunity to defend our title," Silfies said.
The winner plays the District 5-8 champion next week.
CLARION SINCE 2007
YR – REC – DISTRICT FINISH
2016 – 9-1 – ?
2015 – 6-5 – First Round D9 1A
2014 – 10-2 – D9 1A Semifinals
2013 – 14-1 – D9 1A Champs; PIAA Semifinals
2012 – 12-1 – D9 1A Runner-up
2011 – 8-5 – D9 1A Runner-up
2010 – 5-6 – First Round D9 1A
2009 – 10-4 – D9 1A Champs
2008 – 8-5 – D9 1A Runner-up
2007 – 4-6 – Missed playoffs
KANE SINCE 2007
YR – REC – DISTRICT FINISH
2016 – 11-0 – ?
2015 – 12-1 – D9 1A Champs
2014 – 9-4 – D9 1A Champs
2013 – 11-1 – D9 2A Runner-up
2012 – 7-4 – D9 2A Runner-up
2011 – 4-5 – Missed playoffs
2010 – 4-6 – First Round of D9 1A
2009 – 5-5 – D9 2A Semifinals
2008 – 8-3 – D9 2A Semifinals
2007 – 14-1 – D9 1A Champs; PIAA Semifinals